Can E-Cigarette Businesses Survive in Rhode Island?
A ban on flavored e-cigarettes in Rhode Island has health care professionals, users and sellers divided.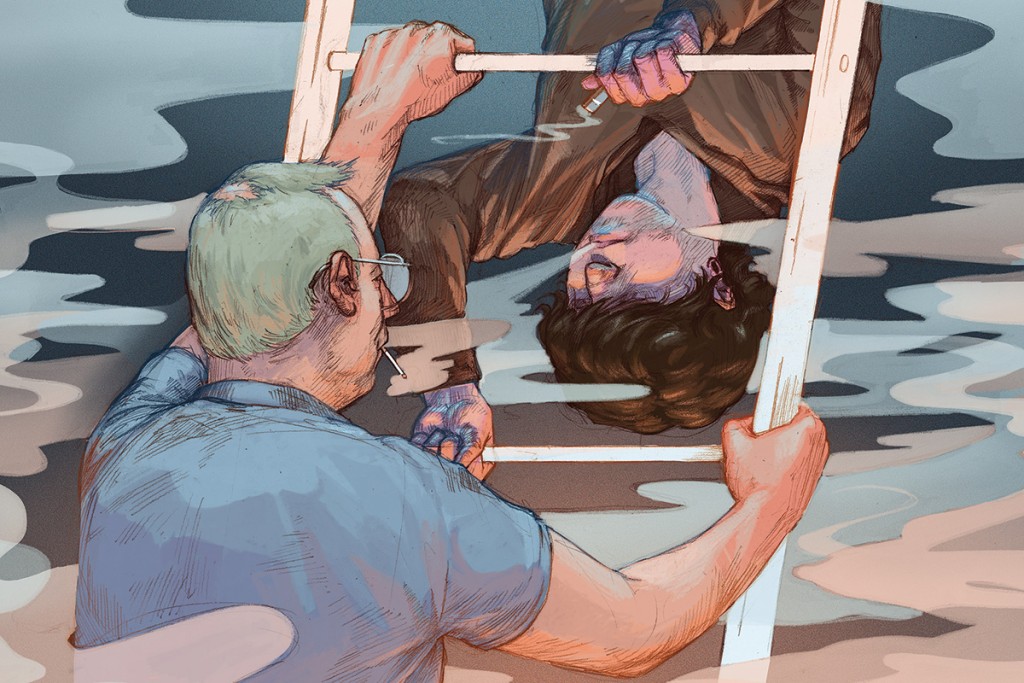 Three hundred years ago, tobacco was only good for chewing, cigar-chomping and growing as a temporary crop. But slavery made tobacco farming profitable, the Bonsack machine mechanized cigarette-making and cigarettes, with their ability to deliver highly addictive nicotine more efficiently to the lungs and the brain, made more smokers.
By January 1964, when United States Surgeon General Luther Terry's first report on the health hazards of smoking dominated the news, nearly 42 percent of Americans ages eighteen years and older — more than fifty-two million adults — smoked. In 2018, that number plummeted to 14 percent because more smokers quit, older smokers died and fewer Americans ever started.
Smoking has not been eradicated, but social attitudes toward cigarettes changed from a sexy prop to a menace increasingly unwelcome on the commons. Epidemiologists regard the steep decline in smoking as a public health success story.
Inventors have been tinkering with electronic smoking devices since the 1930s, but the modern e-cigarette — a battery-operated device that heats a liquid solution into an aerosol that is inhaled — was born in 2003. Four years later, sales took off in the same way their predecessors did more than a century ago.
Vaping — a misnomer for gas produced by thermal process — had its adult fans. In 2018, 3.2 percent reported using e-cigarettes. But the real market growth was in the next generation. With the sleek new design of Juul, the dominant brand on the market, and fruity e-liquid flavors, e-cigarette use among high schoolers rose 1,800 percent between 2011 and 2019, from 1.5 percent who had vaped in the past 30 days to 27.5 percent.
By junior year, Mount Hope High School senior Sean Palumbo found himself surrounded.
"Between ninth and tenth grade, a lot of kids were hitting the Juul in classes, in the bathroom and passing them around at lunches. Kids would hide it in their sweatshirts and no adult teacher actually knew what they were doing," Palumbo says. "In eleventh grade, it became even bigger. It felt like more than half of the school was vaping."
In September, Rhode Island joined six other states and one major city, San Francisco, in clamping down on vaping. Governor Gina Raimondo issued an executive order for a 120-day ban on the sale of flavored e-cigarettes and directed the state department of health to promulgate emergency regulations to that effect. The health department issued temporary regulations prohibiting the sale or manufacture of flavored vaping products and convened a vaping advisory committee to guide future policy. In January, the health department extended the temporary ban for another two months, and expects to issue permanent regulations in April.
"In 2017, we had some data and we were concerned," says James Rajotte, chief of the health department's Center for Health Promotion. "In 2018, the Surgeon General declared vaping a youth epidemic and action needed to be taken. And then we got these 2019 numbers that were more alarming than we previously thought."
Groups like the American Lung Association support the ban "as a good first step," the organization said in a statement. "But it doesn't go far enough.
Flavors hook kids. Legislators must act to end the sale of all flavored tobacco products, including e-cigarettes, menthol cigarettes, flavored cigars and other flavored tobacco products, in order to protect our youth from a lifetime of
addiction and disease."
The policy prescriptions are also getting significant pushback from sellers and adult users who argue that vaping is safe — or at least safer than smoking — and that bans don't work.
"Prohibition is a mistake," says Jonathan Shaer, executive director of the New England Convenience Store and Energy Marketers Association, which represents 480 retailers in Rhode Island. "These products have demand, and further demand among youth. A ban will continue to push all users to markets that are not regulated, not taxed, not transparent and, by virtue of that, more dangerous. That's what happened with the black-market THC vapes and that's where people get sick."
In October, the Centers for Disease Control coined the term EVALI (e-cigarette or vaping product use-associated lung injury) to describe a constellation of symptoms — shortness of breath, fever, cough, chest pain, vomiting, abdominal pain and diarrhea — that were linked to liquid solutions containing tetrahydrocannabinol (THC) and the additive Vitamin E acetate. The outbreak, affecting mainly young adults, led to 2,711 hospitalizations and sixty deaths as of late January. Rhode Island had six cases. Since a peak in September, the injuries and deaths have declined.
The CDC regards the EVALI epidemic as distinct from the upward trend of youth vaping. But public health officials worry because vaping is so new, no one knows what the long-term health effects might be.
"E-cigarette aerosol generally contains fewer toxic chemicals than the deadly mix of 7,000 chemicals in the smoke from regular cigarettes. However, safer is not the same as safe," Dr. Brian King, deputy director for research translation in CDC's office on smoking and health, writes in an email. "E-cigarette aerosol can contain harmful and potentially harmful substances, including nicotine, heavy metals like lead, volatile organic compounds and cancer-causing agents. There is no safe tobacco product."
Nonetheless, lifelong adult smokers consider vaping a lifeline. E-cigarettes not only helped Lou Del Sesto quit traditional cigarettes after a bout of smoking-related pneumonia, they freed him from his dependence on disability payments. In 2013, Del Sesto opened the Ecig Shed in Barrington, Rhode Island's first brick-and-mortar vape shop.
"In six months, all of a sudden, it exploded and the business did very, very well," he says. After the temporary flavored e-cigarette ban went into effect "my sales went down 70 percent. I just couldn't sustain it. I closed at the end of October and, after around two months, I went back to disability. I lost everything."
So far, the biggest quitters the ban has produced are people who sell vape products. Convenience stores are likely to survive it; tobacco products represent a third of inside sales — mostly traditional cigarettes. But vape shops have been devastated, and several have already closed. Mike Runshe, CEO of Giant Vapes, has seen proliferating state bans cut into sales at his online shop, but revenue loss is almost beside the point.
Like Del Sesto, Runshe entered the business seven years ago as a convert. A smoker for thirteen years, Runshe began trying to quit in his late twenties but nothing worked. On June 4, 2012, he tried his first e-cigarette and never lit up another American Spirit again. The flavors were key: "That wet ashtray, musty, moldy, nasty burnt cigarette smell — that's what tobacco vapes taste like," he says. "That's why nobody uses them, and that's why they don't help people to quit, because they are disgusting."
You can take away the products, but the nicotine addicts remain, he says.
"We have a marketing problem," Runshe, a member of the state's Vaping Advisory Group says. "We need better programming and education. There's a middle ground."
Thoracic radiologist Terrance Healey, who stares at lung X-rays for a living, agrees that the conversation about how to respond is just beginning. To be clear, Healey doesn't like cigarettes of any kind. The human lung was designed to absorb nothing but air. And science has not yet validated the claims that flavored vape products help people to quit, or that vaping is safe. The odds are that vaping will eventually produce serious lung injuries such as emphysema and cancer, because the aerosol allows more fine particles to enter the lungs more deeply, and the vaping oil stays in the tissues.
"There are two groups: chronic smokers looking to a potentially safer product to ease off traditional cigarettes with the goal of quitting everything and young adolescents who were never tobacco smokers, and directly marketed to by big industry to be addicted to nicotine through flavored vaping products," he says. "We have to tailor our response, and I don't think there can be one message for everybody."
South Kingstown State Representative Teresa Tanzi, a former smoker, blames the high stakes of today's debate on yesterday's political apathy. Seven years ago, she began working on legislation to raise the legal smoking age from eighteen to twenty-one years old. Her bills never made it past a hearing.
"Not only were we allowing the next generation to become addicted to nicotine, we were also allowing this industry to take hold, only to be shut down abruptly," she says. "The leadership allowed this happen. It was irresponsible on both ends."