Go Off-Road in West Greenwich and Discover the Hidden Dahlia Patch
This hidden gem stands out from the rest of the pick-your-own flower farms, but remains unseen to most of the state.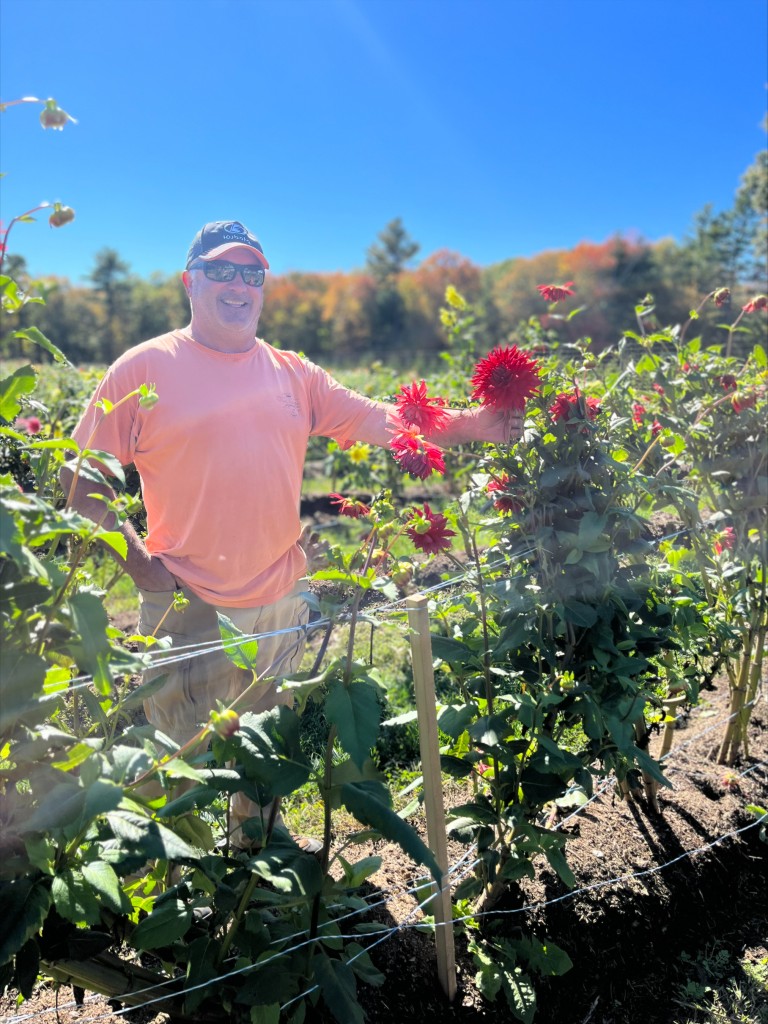 While fall is typically reserved for crop harvests, it's the Dahlia Patch's season to shine. With more than twenty varieties of blooms, a bee farm, adjacent winery and sunflowers in late summer, the flower farm has plenty to see.
Where it all started
Owners Jerry Celio and Brian Leyden took a budding elementary school friendship and turned it into a business. "We're lifelong friends and we really enjoy the outdoors," Celio says.
Both Celio and Leyden have full-time jobs during the week and use the patch as an therapeutic activity. "It's therapy without the doctor's note," Celio says.
The pair built everything from scratch, including the cart that stands out front to signal visitors that they're in the right place, with materials sourced from South Dakota. Neither have backgrounds in botany or agriculture, but that hasn't stopped Celio from continuing to grow his passion. He is self-taught and used to grow roses for twenty years, but he never knew about dahlias. After his girlfriend went to a dahlia show and came back with tubers, Celio became intrigued once they bloomed and decided to pursue them.
"We've put a lot of time and passion into this," Leyden says. With the support of his wife and daughters and Celio's girlfriend, "we're the only help we have."
As you stroll through the varieties of dahlias, you'll find names such as "Pooh Swan Island," "Micks Peppermint" and "Nick SR." That's just a few of the wonky names given to each flower. Some can even grow up to fourteen inches in diameter.
"When people hear dahlias, they don't know there are tens of thousands of varieties," Celio says. "Every one is a little different even though they're the same."
Sometimes, you can even find two completely different flowers from the same plant. Depending on the DNA, you could find an all-purple flower with no white, while its neighbor can be white with streaks of purple. Celio says it's unique within the dahlias and it's extra exciting for them as they watch them grow.
Pick 'em yourself
Once you find the best in show, you can cut it yourself, but they show you a specific way to trim your new centerpiece. Find a flower that is almost fully open, make sure there aren't any new buds on the stem (so others can continue to grow) and nip it close to the bottom of the stem on a bias. Gather as many as you can in your basket and head out to the front where they can give you a mason jar with fresh water for the ride home. Dahlias typically last four to six days, but you can get a few extra days out of them when placed in floral foam.
Before choosing the ones standing tall and strong, pay attention to those lying on the ground due to the effects of seasonal hurricanes and tropical storms. They're just as good as the others, and sometimes easier to cut if they've been uprooted.
Celio and Leyden are only three years into the business, but they plan to continue for as long as possible. "This is something we can do later in life as we retire and spend more time doing this."
The Dahlia Patch is completely open and exposed to the sun. Even after the extreme heatwave and drought this summer, the dahlias powered through. Celio says the drought doesn't really hurt them, as they tend to love the sun and heat, but thirty or so consecutive days of no rain did stunt some growth and cause the bulb to enter a dormant state and hibernate to protect itself from dying. Luckily, the farm installed an irrigation system to keep the plants hydrated for as long as possible.
The farm is constantly improving itself. Celio and Leyden bought a potato digger to help pull up bulbs faster, and they hope to display some of the flowers, especially sunflowers, out front in the cart next year to draw people off the road and down onto the farm.
"We like when people come here," Celio says. One weekend, the Photographic Society of Rhode Island came for the winery, looked out onto the field and stayed for the flowers.
While the farm is PYO, you're more than welcome to grab a prepared bouquet from the stand. But to get the full tour and a rundown of their favorites, enter the farm and chat up Celio or Leyden. If you're looking for extra large pops of color in your bridal bouquet, make sure to ask them about weddings and events.
Admission $5. Open weekends 11 a.m. to 5 p.m.
The Dahlia Patch, 120 Plain Meeting Rd., West Greenwich, 862-6228, facebook.com/dahliapatch