Cranston "Bright Box Project" to Showcase Local Artists Throughout its Six Wards
Six artists have been chosen to paint electrical boxes to add flair to the city.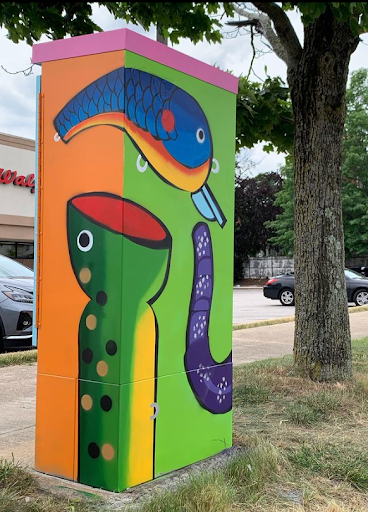 If you happen to see someone painting an electrical box in Cranston, most likely it isn't your typical graffiti. Out of seventeen applicants, six local artists were chosen to each paint an electrical box around the city. The project is a collaboration between the Cranston Arts Commission and the Cranston City Council. These artists are experienced in all different media, but they each picked up a paintbrush (or spray paint can) to add some color to the community.
"All of the submissions were of high quality and well thought out, but the 6six that were chosen had the combination of artistic appeal as well as visibility and approachability for where they would be viewed as public art," says Leah Hill, vice-chair of the Cranston Arts Commission.
The commission hopes to unify the city by exploring the artistic community and increasing visibility for these talented artists; it aims to make this sort of public art part of the "Cranston Experience." This project to beautify the city's electrical boxes is just one thing the arts commission has done for the community. They promote artistic achievement and education and serve as a resource for artists and art-lovers alike to engage with each other.
The winning artists are as follows: Forrest Curl, Ward One; Ryan Dean, Ward Two; Sharli Polanco, Ward Three; Carolyn Jayne, Ward Four; Cory Bergeron, Ward Five; and Kyle Machado, Ward Six. Stay informed about the Cranston Arts Commission on its website or Facebook page. Meetings are held on the third Monday of the month, 6 p.m., at The Artists' Exchange, 50 Rolfe Sq., Cranston. Open to the public.