Inside the CBD Center of Rhode Island
CBD use is on the upswing and people can sample the wares at three local stores.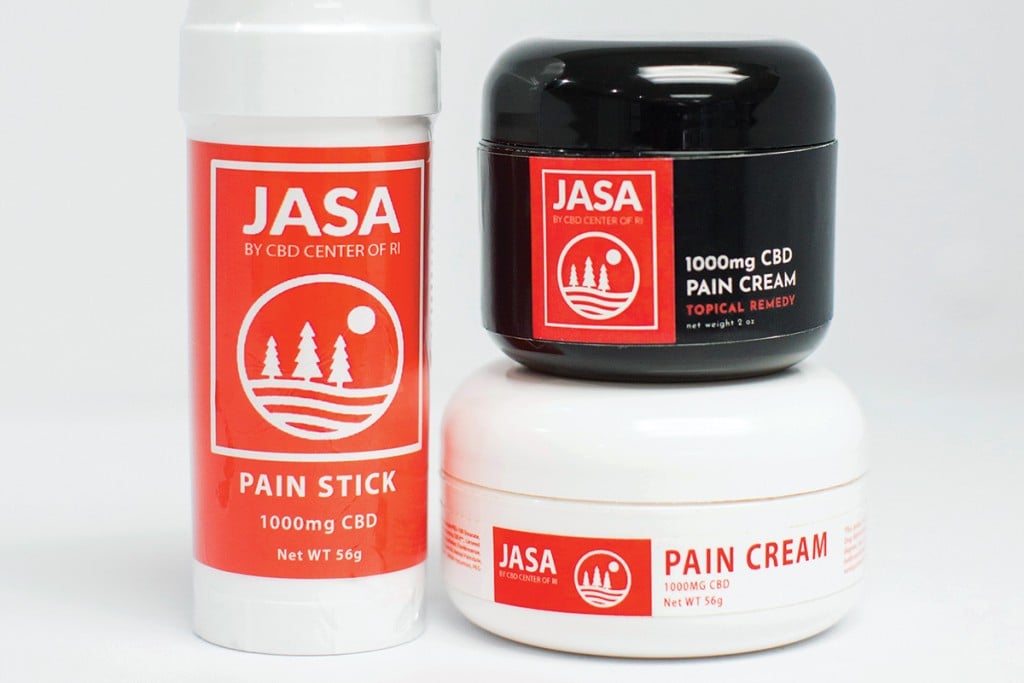 o this day, Chris Morgan still doesn't know if a chance bump to the head, a high fever the next day, or some combination of both caused his daughter, Jaylin, to begin experiencing seizures at two years old. But he does know, according to his podcast, JASA Talks, that when she refused to wake from what he and his wife perceived to be a night terror, it "was the worst day of [his] life."
The young parents were quick to drive Jaylin to the hospital and, after numerous tests, Jaylin's doctors put her on traditional medicines. Two months later, however, Morgan's second worst day came when Jaylin had another episode.
That's when they started talking CBD.
For the unfamiliar, CBD is the abbreviation for cannabidiol, a non-psychoactive, non-intoxicating compound derived from cannabis plants (read: not pot). Many CBD products are derived from hemp plants, and though hemp is classified as Cannabis Sativa L, the species carries high amounts of CBD and very low amounts (.3 percent or less) of THC; its "cousin," marijuana, carries the opposite. However, like THC, CBD has been thought, and in some cases proven, to hold remedial properties. In fact, in the United States, the FDA has approved CBD-infused Epidiolex as a treatment for two forms of childhood epilepsy: Dravet's Syndrome and Lennox-Gastaut Syndrome. When discussing options with their daughter's pediatric neurologist, the Morgans knew CBD wouldn't replace Jaylin's traditional meds, but all parties involved agreed that it might be beneficial to introduce it to her daily regimen. Jaylin has been seizure-free for almost three years now and no longer takes conventional seizure medicines — just CBD.
But that wasn't the only silver lining: Morgan also discovered a newfound purpose. He partnered with longtime friend Matt Resnick and the two opened the CBD Center of RI in March 2019.
"I had a background in the cannabis side of things already, so when hemp became federally legal in 2018, it was an easy decision for us to pivot and move right into this space," Morgan says. "It's all about health and wellness and helping people at this point; breaking down these walls and stigmas. Letting everyone know it's an all-inclusive club and it's such a low risk for a high reward. Who better to bring CBD to the masses than people who are personally invested in it?"
The two have also created their own line of CBD products under the name JASA. Each letter represents the first initial of the owners' respective daughters: J and S for Morgan's daughters, Jaylin and Sophia, and two As for Resnick's daughters, Aria and Ava. They created the line with the intent of providing customers with the best of the best.
"We go above and beyond as far as testing is concerned. Our products are put through rigorous testing protocols and have to meet a few check boxes: the products have to be grown in America, grown with organic practices, be non-GMO and vetted by a local Rhode Island lab," says Morgan. "And I think the really cool part is that we are Rhode Islanders dealing with Rhode Islanders. We want to be that trusted local source so people in our community can consume with confidence."
The colorfully labeled JASA line includes everything from topical applications (including creams, lotions, massage oils, salves, sticks and sprays) to smoke and vape products to edibles and tinctures. But where does one begin?
"It depends on what you're coming in for, what works best for you and what goes best with your routine. Some people smoke because it has the fastest onset of relief while others stir CBD honey into their morning coffee or take a tincture right before they go to bed," Resnick says. "Due to FDA regulations, or lack thereof, we can't just come out and say that CBD, for a matter of a fact, helps this or fixes this. One thing we can say, though, is there are people who come in here on a daily basis and they use the products for things like insomnia, anxiety, chronic pain, inflammation and more."
Morgan and Resnick have witnessed firsthand how their products have affected different individuals, from an employee who uses CBD to ease chronic pain caused by spina bifida to friends who rely on CBD to keep their nausea at bay and their spirits high while struggling through chemotherapy.
While it's clear that both Resnick and Morgan are knowledgeable on the subject, they are also quick to praise the efforts of the center's medical liaison, Dr. Albert Marano, a board-certified neurologist who has practiced for more than twenty-eight years. He bought the Hartford Medical Building — where the original CBD Center of RI now resides — in July of 2017.
"The theme of this whole building was health, wellness and beauty," Marano explains. "We're interested in helping people not just through conventional medicine but through unconventional means as well. So, I had the idea that maybe this was a good place for a CBD center, and Chris, who played baseball with my son, was the first one to come by and look at the building, study the demographics and align with my desire for helping people. That's how this whole thing was born."
Marano was no stranger to CBD, having championed the benefits of medical marijuana throughout his career.
"Then, looking at CBD, which is a natural product that doesn't have psychoactive properties, I found that even more attractive. And with CBD having, I believe, more medicinal benefits than THC, it made it even more attractive still."
He found that not only did his own patients see positive results from usage, but he also came across a lot of compelling research from independent studies.
"There is no disease-specific treatment for Alzheimer's, but doing some reading on CBD and neurological conditions, there is a lot of literature suggesting potential benefits in humans by diminishing the amount of amyloid beta and tau protein in the brain — two hallmarks of Alzheimer's disease. The research goes beyond Alzheimer's, too; we're talking Parkinson's disease, Huntington's disease and other degenerative conditions."
Additionally, Marano has looked into studies suggesting that CBD interacts with serotonin receptors, leading to improved anxiety symptoms; potentially interacts with opioid receptors that can assist with pain relief; and has anti-inflammatory benefits that can treat chronic pain (the FDA even has a patent on this). Other studies are being conducted to see if CBD may reduce cardiac and cancer risks or reduce the development of diabetes or even acne.
Then there's what he says he's seen with his own eyes.
"I had one patient with wet macular degeneration, a progressive disorder that makes you lose your eyesight. Patients have to get injections into their retina on a regular basis. His wife had used CBD and he said, 'I just want to try it and see if it helps with the aches and pains,' " Marano recalls. "He started CBD and after that he did not require another injection. His retina specialist is now going to present it to a board of other specialists. That's just one case where it's not a placebo effect."
It's important to note that the Food and Drug Administration hasn't approved CBD for treatments beyond the product used in treating rare forms of epilepsy and emphasizes on its website that it is currently illegal to market CBD by adding it to food or labeling it as a dietary supplement. Some CBD products are marketed with unproven medical claims and are of unknown quality.
And Marano wants to make clear that he is not suggesting that CBD should replace your conventional medicines; it's always a good idea to consult your doctor.
Still, why hasn't the FDA approved CBD for more treatments?
"It's hard to speak for these large pharmaceutical companies, but one of the reasons may be that this is a readily available, natural product. Should they bother producing a product that you can just grow naturally? I'm a cynic, so I will say part of it is money," he says. "The other is it takes time. The FDA has very strict guidelines; you have to go through multiple phases of trials, show efficacy for a specific goal, do dose studies. It's a science that's growing. But I think in time, with the research going as it is, you're going to see additional FDA-approved categories."
Until then, Marano will be sharing what he knows with his own patients as well as those who visit any of the CBD Center of RI's three locations: Johnston, East Greenwich and Wakefield.
"I have made myself readily available to any patron of the center," he says. "So, when things are a little bit more complex or when there are certain patrons who want to ask specific, more difficult questions medically, then I'm there to answer them." And though Marano is based in Johnston, he is just one quick phone call away from the other two stores (and available in-person by appointment), which Resnick says were added so they could cater to those in the southern part of the state.
"We have our online store where people can order products, but they usually want to come in, ask questions and see, feel or sample the products. We're definitely growing rapidly, but we're trying to separate the sales from the educational side and the consumer side of things. There are so many people who come in and spend an hour asking all sorts of questions, or they even put us on the phone with their physician. There's no cost — it's never, 'you didn't buy anything so don't come back again.' It's, 'you're gonna leave with the right information and we're here whenever you're ready.' "
The East Greenwich location in particular, with its built-out media room, allows the center to spread their message even further.
"It looks like you're walking into a mini Channel 12," Morgan says with a laugh. "We've started a series of live podcasts and videocasts called JASA Talks. We educate listeners about CBD itself, industry updates or other related aspects. We're bringing in guests and having some fun with it."
Marano is proud of how everything has come together.
"The center is well-rounded and welcoming, and it provides the best education, the best service, the best products and the best results. Because the end result is really helping people," he says. "Even though it's a business and anyone who gets into a business wants to be successful, the success here comes from doing the right thing and not compromising anything any step of the way. And I think that's what makes this tick; the three of us jive so well together. We have different components that we bring to the table, but we all have the basic values of never compromising and getting people to a better place."
5750 Post Rd., East Greenwich; 1239 Hartford Ave., Johnston; 17 Columbia St., Wakefield; 439-5240, cbdcenterofri.com