Catch (Food) Flights, Not Feelings at Blackstone Herb + Martini Bar
Get a taste of everything before committing to full size portions at this Coventry coffee, cocktail and tapas spot.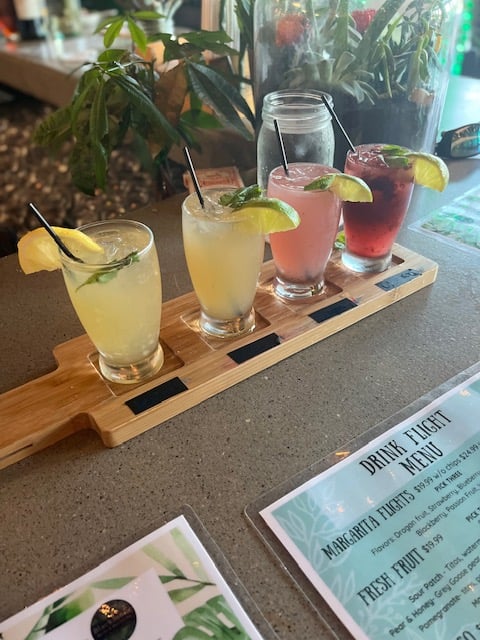 Why choose one dish when you can sample them all at miniature size? Even the most indecisive eaters can make a choice when it comes to ordering at Blackstone Herb + Martini Bar in Coventry due to its wide variety of coffee, cocktails, smaller appetizers and entrees.
This coffee shop and bar dual business operates on similar schedules. All flights are offered at any time, save for food that begins at 5 p.m. 
All ingredients are prepped to order from a scratch kitchen, impressive for the size of the menu (which continues to grow as business booms). Choose from a variety of egg rolls (Thanksgiving and buffalo chicken? Yes, please!), tacos, nachos, wings, sliders and French fries (you can even choose your fry shape: waffle, thin cut or sweet potato). The extensive menu offers vegan options featuring Impossible™ ground beef and vegan cheese so you're not limited to one item. Choose three-of-a-kind in each category or dive into a full-sized portion.
For a spot that offers miniature samples, the shop has two full-sized bars: one for the cafe, the other for cocktails. We ordered a flight of mojitos ($15.99), because nothing beats a cool drink with mint on a hot summer day. We ordered the original flavor, lemon balm, blackberry and dragon fruit. They arrived in beer tasting glasses, and just a few sips in and we were tipsy. Drink flights vary in quantity: margaritas, vodka cocktails and espresso martinis come in threes, whereas mimosa, mojito and the new sangria flights tack on another glass.
We indulged in two flights of food: tacos and fries. We ordered a solid variety of fish tacos, sweet chorizo, chicken tinga and carne asada. The meat-to-toppings and tortilla ratio was solid with no extra drippings, so completely a cutlery-free experience. And as always, with tacos, you're either completely full or hungry for more, so we moved onto fries as a supplement. Small towers of poutine, truffle and sweet potato fries arrived, piping hot out of the fryolator. A thick, glossy honey served on the side was the perfect addition for a sweet and salty combination.
Specialty coffee drinks such as seasonal lattes and espresso infused with CBD will give you that morning jolt but keep you mellow throughout your work morning. If you're not a coffee drinker but still want the Blackstone experience, try one of the many matcha flavors, natural lemonade or organic loose-leaf tea, all of which can have ten milligrams of CBD added.
You may recognize a similar name from a former location in Cumberland, Blackstone Herb + Coffee Bar, now rebranded as Apothica Herbs + Coffee Bar. The Coventry location smack in the middle of the Centre of New England park is growing in popularity for breakfast, lunch and dinner.
Blackstone Herbs + Martini Bar is open Monday 7 a.m. to 5 p.m., Tuesday through Thursday 7 a.m. to 11 p.m., Friday and Saturday 7 a.m. to 1 a.m. and Sunday 8 a.m. to 5 p.m.
710 Centre of New England Blvd., Coventry, 471-7218, blackstonecoventry.com