At Aquapalooza, Boat Life is Pure Revelry
Half of the fun of owning a boat is naming it. The other half is Aquapalooza in Potter's Cove.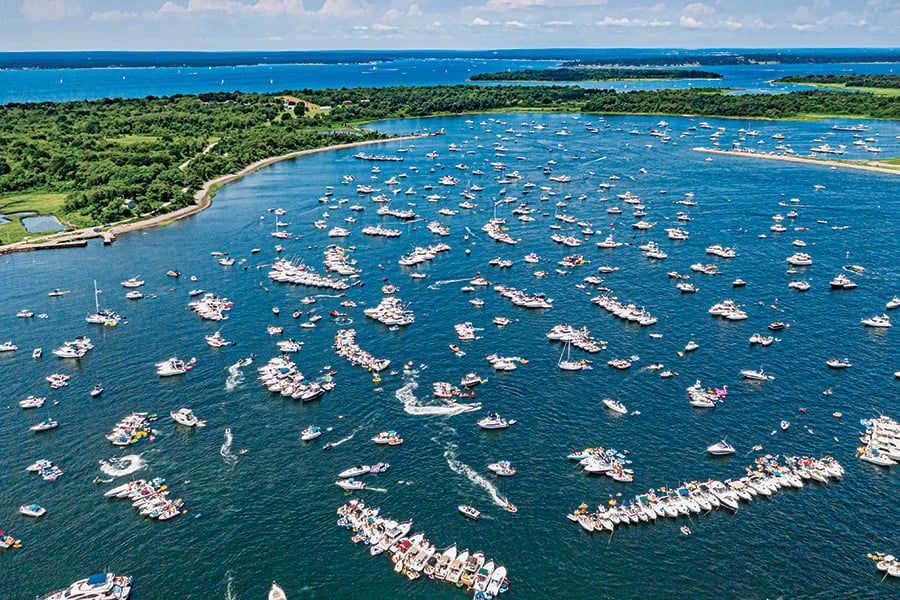 Keeping It Reel. Beer Necessities. Getting Nauti.
Half the fun of owning a boat is naming it. After all, if you're going to do all of the work associated with ownership, then it's mandatory to squeeze every ounce of fun out of it during the limited weeks of New England's mild weather when you can actually be out on the water.
The other half of the fun of owning a boat is planning a yearly outing to Aquapalooza. The boating extravaganza is held annually in Potter's Cove off the coast of Prudence Island, an otherwise tranquil spot — at least until the boaters in search of bacchanalia arrive for a wild day spent on the water. It usually takes place the last Saturday in July, this year, on July 31, but some like to extend it into an entire weekend. After last year's COVID-19 hiatus, many are looking forward to bringing back Aquapalooza, some in a socially distant fashion. So am I.
My husband and I bought a boat back in fall of 2017. Andre spent about nine months renovating it after work and on weekends, at night and into the early morning hours, just trying to get it ready in time for that summer's Aquapalooza outing in July of 2018. That was the lofty goal. He rebuilt some of the hull, reconstructed the fiberglass, repaired the seat cushions with new upholstery, bought and installed a new windshield and kicked in new carpeting (good thing he owns a flooring business). While he did all of this work, I, of course, had sole dinner, bath time and bedtime duty wrangling our two little ones, ages one and four at the time, as he went to "work" refurbishing the vessel while nursing a beer. He was clearly taking one for the team.
I didn't know what to expect once we officially became "boat people." I had heard the phrase: "The two happiest days in a boat owner's life: the day you buy the boat, and the day you sell the boat." And to me, this was quickly becoming apparent as I lay in bed alone late at night, awake, tossing and turning, and then finally getting up and peeking out my bedroom window only to see the light still on outside, and Andre still at work under the boat tarp.
On weekends in the early spring, instead of going on family outings together, he stayed home on Sundays, sewing the vinyl upholstery at our kitchen table with his sewing machine, finally installing the new seat cushions. I barely looked at that boat until it was complete, just because I had already built up so much resentment toward it in the first place. But once I saw the final product — bright, gleaming white seat cushions with nautical navy striping, new carpeting and immaculate fiberglass — I flashed forward to visions of me in my hot bikini in the sun with a cocktail in hand. Was it really all going to be worth it? Methinks, yes.
I quickly forgot all of the late nights of losing my husband to a sexy eighteen-foot 2000 FourWinns Horizon. It turned out that the benefits of welcoming this third wheel into our relationship outweighed the negatives. I was ready to finally accept it into our marriage with open arms, a garden hose and a chamois. I began online shopping for a few new swimsuits and worked on my abs whenever I could remember, in anticipation for lazy days on the bay on my boat. I envisioned sprawling out on the bow, while taunting "I'm on a Boat," on Instagram just like the viral "Saturday Night Live" music video with Andy Sandberg and T-Pain. "I'm on a boat. I'm on a boat. Everybody, look at me, because I'm sailing on a boat." I got my flippy floppies and a nautical pashmina, and I bought a giant, bright pink flamingo float, a blow-up peacock raft and a pink frosted doughnut tube. You know, for the kids. It was only a coincidence that these flotation devices all had built-in cup holders.
As my friends learned that the boat was almost ready to go out on the water, I noticed some of them became extra friendly. As May came around, we seemed to make new friends out of nowhere, or friends we hadn't talked to in a while suddenly became very chatty. When I was younger, I used to joke around about making friends with someone who owns a boat, and now I own the boat. Don't worry. We always use this to our advantage.
Regarding who to invite on our boat for Aquapalooza, in-home conversations go like this: Who's going to be the most fun? Who's going to bring the best craft beer? The magnum of Champagne? Who is going to roll up with a fancy charcuterie board, cheese and all the accoutrements? Who's going to make a run to the local sandwich shop or burrito joint? They're in. Guests wielding a gas station-purchased bag of chips and a jar of salsa simply would not make the cut.
The next step is to secure a babysitter for the all-day adventure and officially invite the friends and family who have made the roster (our boat can fit a whopping eight people total). When the big day arrives, we are more than ready to go with a cooler stocked with bevvies and snacks upon snacks, awaiting our gifts of gold, frankincense and myrrh.
We venture out with our party on the choppy waters under Mount Hope Bridge and notice yachts, powerboats, houseboats, kayaks, dinghies and Jet Ski packs heading in the same direction toward Prudence Island. Some look like they are about to sink from the weight of their over-packed passengers (in fact, in 2019, one boat actually did sink, possibly due to this fact). We spy vessels from Newport, Portsmouth, Fall River, Warwick and more. Once we motor up to the "promised cove," there are dozens of boats tied up together with rope in long formations and colorful rafts and giant rainbow unicorn and pink flamingo floats every which way. One boat has a live band on it, big hair and all, rocking out to classic covers. Another yacht is filled with ladies in fluorescent bikinis and thongs, dancing wildly with bass pumping to music reminiscent to MTV's '90s deejay show, "The Grind." There is another houseboat with a waterslide built into the side of it, and people are lining up to plummet into the deep.
We motor to several other boats filled with friends and acquaintances and tie up for the day. We pop bottles, toast cups and hop from boat to boat, grilling burgers, chourico and hot dogs, sipping on sangria and rosé and waving and shooting spray guns at people who drift by on dinghies and tubes. In the middle of the day, we see a guy jet out of the water on a Flyboard, propelled by water from a Jet Ski, thirty feet in the air. He stands on the flyboard and carefully weaves his way around the boats in the cove, looking down below from his aquatic king's perch. I later meet him and find out his name is Tim Cummings, and he's been coming to Aquapalooza for years, making a weekend out of it by camping out on boats.
He invites me to try the Flyboard sometime, which I politely decline. "It is like riding a ball bearing. I can teach anyone to fly," he says. "Three easy steps. Feet flat, knees locked, body vertical. That gets you in the air within minutes."
I also later connect with the founder of the local Aquapalooza, Derek Leigh, who started it here as a sponsored event for Sea Ray back in 2009. He now owns Blue Water Boat Sales. "The first rule was 'no water balloons' and the second rule was 'no rain date' (people who have been going since day one will know that reference)," he says. "As the years went on the party grew and grew, and we get calls in January about the date now."
Before the coronavirus pandemic hit, the event had only been canceled once due to weather. It is no longer a sponsored event due to potential liability, but the show goes on by word of mouth and alerts from a Facebook page with more than 6,300 members. It wasn't officially held last summer due to the pandemic, but people still went out on their own and are anticipating the event's official comeback. After all, isn't boating the best social-distancing activity? You can remain with your pod, but still have a great day of fun in the sun.
Which brings me back to one of the best things about owning a boat: naming it. Unfortunately, with all of the coronavirus commotion, a skipped Aquapalooza adventure and a summer spent mostly with family last year, we still hadn't come up with a good name. But my husband is back outside this spring on chilly late nights and weekends, preparing the boat for the upcoming season. He's gently wiping it down, inspecting seat cushions for tears, touching up blemishes, and I swear, sometimes I see him caressing and kissing the steering wheel while he sits in the captain's chair. Recently, we sat down and finally settled on a moniker for our beloved boat: Seaduction.