Are Retail Clinics the Future of Heath Care in RI?
Urgent cares and MinuteClinics are booming in the Ocean State.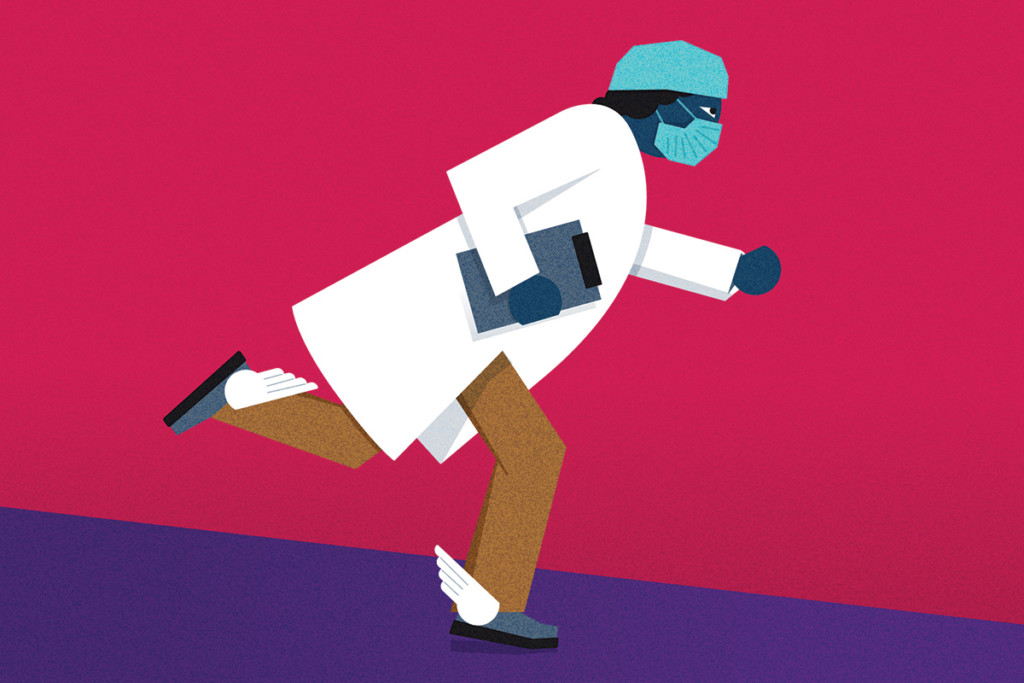 Last winter, as Pam DePaul awaited the birth of her second grandchild, she took a shortcut to health care. Normally, DePaul would call her primary care doctor to schedule a flu shot with her annual physical. But her pregnant daughter, who lived in her parents' Cranston home with her husband and two-year-old, urged her not to delay. So, DePaul signed up for a time slot online at the CVS MinuteClinic nearby and headed over. The clinic was running late, and she waited for twenty minutes but, overall, the experience was painless.
"The man on duty was great," DePaul says. "He explained flu shots with live virus versus without live virus. He was interesting, personable and made me forget the wait. [I got] much more information than a doctor would give without specific questions. Plus, I loved that we could sign up the same day and it was so close to home."
The first retail clinics — medical treatment facilities located within chain supermarkets, such as Kroger's, or pharmacies, such as Walgreens — opened in the United States in 2000. By 2014, there were 2,737, mostly located in the South and Midwest. Rhode Island currently hosts seven CVS MinuteClinics. These facilities offer treatment for patients for a range of low-acuity conditions such as ear infections, skin rashes or sinusitis for patients eighteen months or older.
Their entrance into the health care marketplace was heralded and decried. Proponents argued that retail clinics would lower costs by diverting people from expensive and inappropriate care at hospital emergency rooms. Opponents, such as the American Medical Association, argued that retail clinic staff would over-prescribe antibiotics and disrupt traditional doctor-patient relationships. Nearly twenty years later, neither prediction appears to have come to pass. Instead, retail clinics have joined other non-traditional, freestanding health care outlets, such as urgent care clinics, in an evolving delivery system to treat people immediately at different levels of medical need.
"We have these weird two trends moving in parallel, but conceptually in conflict," says Ateev Mehrotra, associate professor of health care policy and medicine at Harvard Medical School. "In the U.S., the health care system is focused on coordinating care and patient-centered medical homes. At the same time, we see the rise of retail clinics and the huge growth in telemedicine and urgent care centers."
In 2016, the RAND Corporation published its research into the business and medical model of retail clinics. It examined who used them, what services they sought, quality of care and the economic impact on the health care system, which according to one estimate would be $4.4 billion saved annually in emergency department visits for nonemergency conditions. The studies did not find low-quality care nor did they find any cost savings. The largest group of clinic users was young adults, ages eighteen to forty-four, who accounted for 43 percent of patients; only a third had a primary care physician. About 40 percent of the visits represented care the patient might have received at a physician's office visit, but 60 percent went to a retail clinic for a condition they otherwise would've waited to resolve on its own.
"We wanted to test the assumption that these retail clinics led to reductions in emergency department admissions for low acuity conditions and we found a relatively modest effect on those types of admissions," says Grant R. Martsolf, a RAND researcher and professor of acute and tertiary care at the University of Pittsburgh's School of Nursing. "And that was only amongst folks with private insurance. For all patients, we did not see a reduction. They don't substitute for more expensive care locations, but they are generating demand among the worried well."
In 2014, the Rhode Island Department of Health licensed seven CVS MinuteClinics to some controversy. CVS, unhappy with provisions on charitable care and referrals to primary care physicians imposed by then-Director Dr. Michael Fine, complained to political leaders, who negotiated changes. There were initial fears that retail clinics would poach patients and further frag- ment the health care system. The Rhode Island Medical Society published a white paper emphasizing Rhode Island's embrace of the patient-centered medical home model, which promotes coordinated and comprehensive care in the context of a patient's relationship with a primary care physician.
And that is still the society's position, says society President, Dr. Peter Hollmann.
"Primary care is comprehensive and longitudinal and minute clinics are neither," he says. "In Rhode Island, there's been a lot of effort to create patient-centered medical homes, and we've made a lot of good progress. And, you really don't want anything that degrades that. But there are some things they do extremely well, such as they make adult immunizations more convenient."
The state's eight community health centers, which have long combined comprehensive care with easy access, were initially concerned about competition, says Jane Hayward, president and CEO of the Rhode Island Health Center Association, but "we continue to see increases in the number of people using the health centers, and the MinuteClinics are routinely referring patients to primary care."
According to a statement from CVS, which opened its first retail location in 2000 and now has 1,100 locations inside its pharmacies and Target stores in thirty-three states and the District of Columbia, the referrals go both ways. According to the Woonsocket-based company, 50 percent of MinuteClinic patients do not have a primary care physician; after treatment, those patients are offered a resource list of primary care providers in the region.
While the expansion of retail clinics is levelling out, urgent care clinics are on the rise. Like retail clinics, urgent care centers offer expanded hours and walk-in access, but they are staffed by doctors, physician assistants and nurse practitioners and can treat a spectrum of non-life-threatening illnesses and injuries. Urgent care centers also offer radiology and laboratory services.
The Urgent Care Association reports that by mid-2017, the United States had 7,639 urgent care centers. Rhode Island has at least forty; some are licensed by the state as organized ambulatory care facilities, but others, owned by single physicians who structure and market their practices as urgent care centers, do not need a facility license.
"There's a role for urgent cares and MinuteClinics; it can be a much better choice than an emergency room," says state health department medical director Dr. James McDonald. "The challenge is having enough primary care providers in the state. We do pretty well, but we can always do better — especially in rural areas."
Some urgent care centers see themselves as partners in this effort, converting one-time patients into long-term primary care patients and giving more doctors opportunities to practice primary care. South County Hospital, for example, owns two Express Care centers in East Greenwich and Westerly, which "give patients access to the continuity of care across the South County health system," says Kim O'Connell, the hospital's vice president and chief strategy officer. "You really want to make sure you are delivering the right care at the right time in the appropriate setting for the presenting condition. In 2018, we had our highest [number of patients]. It has been very successful for us and we see it as successful for the patient, because it connects them to any other care they might also need."
Ocean State Urgent Care, with ten outlets and six primary care practices, takes a similar view. Co-founder Dr. Robert Crausman, an internist who served as the health department's director for the Center for Epidemiology and Infectious Diseases, had been thinking about creating a statewide health care network since 2009 when he was charged with delivering a rapid response to the H1N1 influenza pandemic. Ocean State Urgent Care offers primary care in underserved areas and is adding medical specialties like addiction treatment. Such networks can identify prescription-shopping opioid addicts and shepherd them into treatment.
"We could only do that with a quasi-network to develop and share expertise," Crausman says. "We tailor what we offer to meet the local needs and we offer less expensive and more efficient access."
This model works for doctors, too, says Ocean State Urgent Care's chief medical officer Dr. Victor Pinkes, in an era of increasing complexity of practicing medicine and younger generations of patients conditioned to expect immediate access in a two-day shipping world.
"There's a lot of pressure put on standalone physician practices," he says. "The new quality requirements mean that time with patients has decreased and time doing administrative duties has increased, and a lot of standalone physicians can't justify doing the bureaucratic work. It's become really hard to hang out a shingle."
Pam DePaul isn't giving up her primary care doctor but was so pleased with the MinuteClinic she wouldn't hesitate to go back.
"If I've got to make an appointment just to get a shot, you can shrug it off as something not so important. When something is more convenient, you are much more apt to do it."