AGONZA is Redefining Public Art in RI
The artist explores issues of race, immigration and identity in her murals at Providence's Hartford Public Housing complex.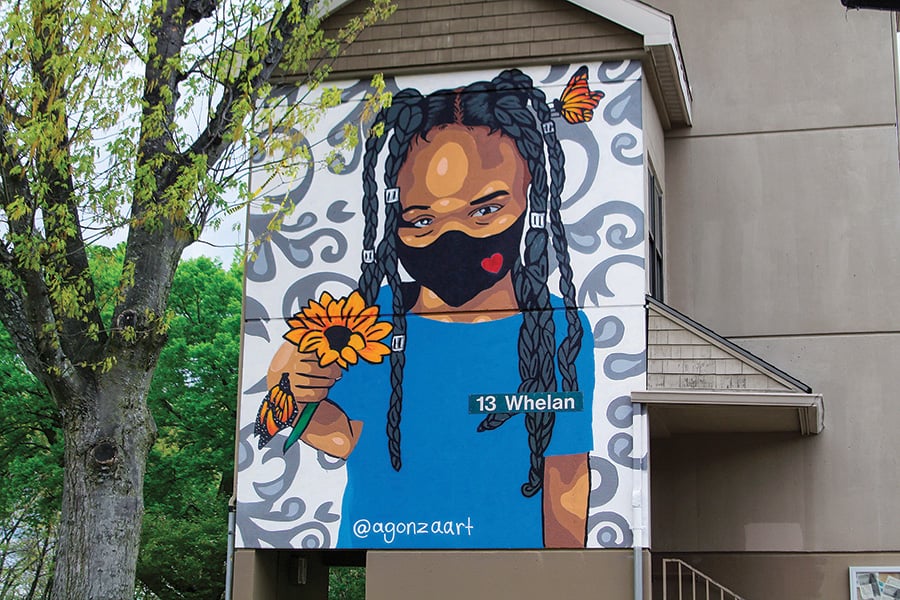 When Angela Gonzalez, the muralist known as AGONZA, was awarded a public art residency with the city's Department of Art, Culture and Tourism (ACT) for Providence Housing Authority's (PHA) Hartford Park, it brought back vivid childhood memories. Growing up in PHA's Manton Heights, amid the turmoil of her childhood, AGONZA used art as her coping skill. "My art has saved my life. I truly believe that," she says. "So I would say to kids, 'Do what you believe in.' "
Despite the hardships, including time spent living in adoptive care in the Dominican Republic during her teenage years, she felt connected to her Manton neighbors. Now as a social worker by profession at Hartford, and an artist-in-residence, it's that feeling of belonging she wanted to capture in her murals.
"I was trying to make a point of that sense of community," she says. "I think we forget the life we are living. We are trying to live a life of luxury and keep up with social media. And we are not realizing we need each other right now."
Decades ago, the development's population was mostly Black, Hispanic, Irish and Italian. Hartford's High Tower, AGONZA learned, was built so strong by immigrants that a failed attempt to dynamite it in the late '80s made national news and it was deemed "the Leaning Tower of Providence."
Today, her murals bring color and inspiration to an often-overlooked neighborhood. The "past" portrait is a blend of former and current immigrant residents. A mature woman's wavy hair hearkens the Italians. The handmade bracelets nod to a time when Providence was the jewelry capital of the world. The head covering pays tribute to a current tenant, while the sunflower is inspired by a woman who sells flowers on the street corner. The butterflies, a signature of AGONZA's work, symbolize growth.
The "present" is where the children currently play in Merino Park.
For the "future," she chose to paint a hopeful scene with bright blues, yellows and oranges. The young girl with braided hair represents our modern multicultural society. The mask, of course, a lasting reminder of the times.
She paints these images through the eyes of youth and people of color. But the messaging also speaks to AGONZA's own lived experience.
"You think when you're a kid in this lifestyle, you can't get out because your family can't send you to a good school. To see where I am now I think, 'I did this.' And hopefully the kids walk away feeling they can do something big, too."
She says her past helped her get to where she is today. "When you go through dark things, and you accomplish great things, it's so much more vibrant because you had a dark past, and you overcame that. You can appreciate the brightness."
AGONZA has also worked with the Avenue Concept on murals that focus on themes of feminism, socialism and issues within urban communities, and she says she hopes to one day have a direct impact on students at Providence Public Schools. Success starts with a combination of "education, self-expression and awareness," she says, and every child deserves it no matter where they call home. instagram.com/agonzaart