A Family Trades Big City Life for Scarborough
After moving with just a few belongings, they commissioned an HGTV-worthy design for busy domestic life.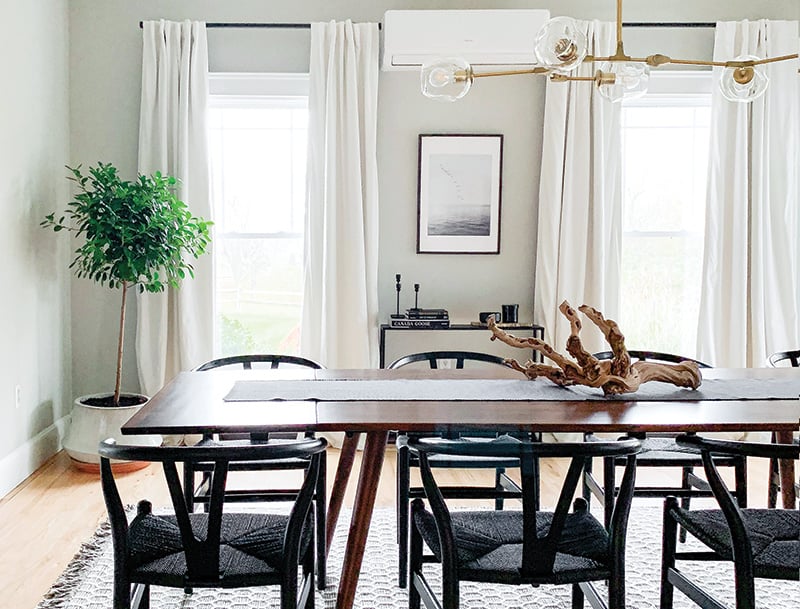 Glowing Up
At really any point in history, a small Manhattan apartment shared by a couple and two young children would conjure scenes from Bedlam. Amid a once-in-a-generation pandemic, a tight situation felt tighter for this family of four. So, relishing a dramatic cost of living differential, they traded city life for a sprawling four-level, four-bedroom Cape on two acres near Scarborough in Narragansett.
Just before signing the papers on their new digs, the family commissioned Julie Sanford of White Slate Studio to handle whole-house interior design — read: furnishing and decorating all 3,800 square feet.
Early on, Sanford gauged their personal styles (midcentury and neutral for her, colorful and unfussy for him; she had her work cut out for her) through collaborative vision boards. Then, she got to work.
"The number one thing is really understanding their design style and what their needs and wants are," says Sanford. "It's us listening to what they want."
Layered In
With just their clothing, a dining table and a few odds and ends, the family moved from New York City into the near-empty house for a month while Sanford stockpiled hundreds of pieces of furniture, soft finishes and plants. Then, at install time, they rented a nearby Airbnb so the White Slate team could pull everything together onsite.
The house didn't require any major renovations; Sanford's team painted the walls and updated some electrical fixtures — she relies on a specialty vendor in Vermont for custom lighting — but, she says, "What this entailed for them was fully furnishing it from top to bottom."
Sanford, who got her start in commercial interior design as a regional manager for lululemon, says this type of project relies on layers of product — not just sofas and console tables and beds but also chotchkes for the built-ins, greenery to anchor each room and organizational systems behind every door and drawer.
"One thing we really feel is important is not just designing an aesthetically beautiful space, but designing a functional space," she says.
Up Close and Personal
A collection of products — no matter how functional or well-made — doesn't make a house a home. As she sourced from retailers and wholesalers, Sanford combed through the homeowners' belongings for inspiration, too.
"It becomes a personal process," she says. "There's such trust involved."
Sanford guesses about 75 percent of her clients are families and, with three children of her own, she's adept at accounting for sticky fingers and scattered toys without sacrificing aesthetics.
She says she leaned hard on tough fabrics and accessible storage throughout the house, particularly in the playroom. Here, Sanford hung black and white art from the homeowners' collection — edgy yet playful portraiture that speaks to the adults in the room — opposite colorful drawings by the eldest child that Sanford had matted and framed.
"This home is for the family, so we created spaces where mom and dad and the kids can coexist," she says.
Meet Cute
After five days of installation, the homeowners returned for an HGTV-worthy reveal. Sanford says she waited outside so the family could explore the place together. The eldest child was particularly excited about a cubby in her bedroom complete with a mural and twinkle lights (and a new dress-up outfit with fairy wings, to boot).
The grownups felt similarly about their discoveries, including a photograph from their personal collection that Sanford hung in their new bedroom.
"It spoke to the room and it tied it all together," she says.
The family uncovered more surprises in the days thereafter, including new picture books mixed into the kids' library and a longboard from Drift Surf Shop in South Kingstown for the husband, who had just wet his feet in a new — and very South County — hobby.
"It's such joy when you work so hard and see these people fall in love," Sanford says, "and just know they could open the door and have a place to put their keys."