A Clean Release
A popup recovery community center inside the women's ACI teaches inmates how to stay sober on the outside.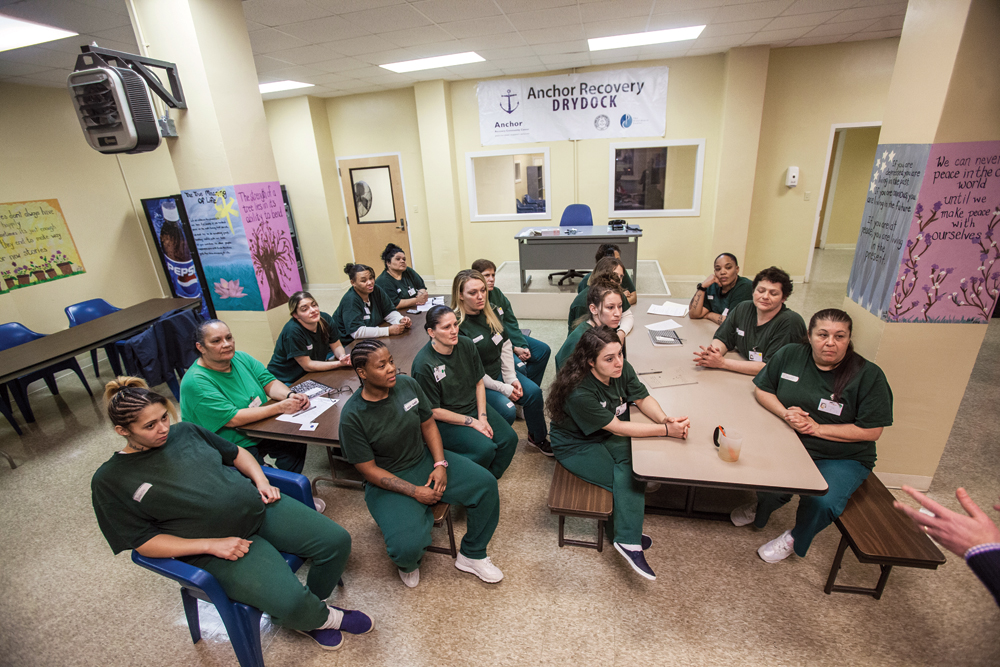 Tarah Dorsey gets her strength from her sisters.
A powerhouse of a woman with constellations of tattoos stretched across honey brown arms, Dorsey has the presence of someone who's been there. So when she tells you you're worth it, you'd better believe her.
"I remember this one girl, I looked at her and I could tell she was an addict," thirty-six-year-old Dorsey says. "She was malnourished and she was losing her hair. So I went up to her and said: 'You're sick; you have a disease. Just because you have a disease doesn't mean you're not worth it.' "
Dorsey patiently inched into the woman's life. "I would read literature with her. I'd give her a shoulder to cry on. Don't get me wrong; I don't pressure nobody, I don't tell nobody what they need to do. What I do is, I talk to them, I listen to them, I empower them. I let them find their own way — their own path to recovery."
Dorsey has connections that make the path a little smoother, too: She helps women battling addiction find sober housing and, when necessary, she reaches out to substance abuse treatment providers on their behalf. The girl Dorsey yanked out of the troughs of addiction? She's living at the Eastman House, an inpatient facility for recovering alcoholics in Pawtucket. "She writes me on a regular basis, lets me know how she's doing," Dorsey says.
And while she makes calls and tracks down treatment resources, Dorsey wears green. She's been a minimum security inmate at the Rhode Island Adult Correctional Institutions (ACI) since June of 2013 for a parole violation, and she's been in recovery coach training through Anchor Recovery Community Center for nearly as long. "I'd heard about recovery coaches before I came to prison," she says. "But I could train to be one in here? I wanted to know if it was real."
Dorsey enrolled in the ACI's first-ever recovery coach class in August of 2013 — which teaches people in recovery how to support peers who are struggling with drug and alcohol addiction — and discovered her purpose. "It strengthens me. It gives me so much hope and helps me with my own demons," she says. "I'm a person again. I'm not just an inmate."
And the good news kept coming. "First, I did the recovery coaching class, then the next month they announced we were getting DryDOC," she says. "In this dark place, they brought light. A place where there was no hope. All the things I went through in my life, the hurt, the pain, the loss, I look back. This is all part of a plan and a purpose."
Anchor DryDOC, a popup recovery community center inside the prison walls, provides female inmates with ties that help them stay clean once they're released. "It's about connecting with the outside, but it's also a place where we can learn about addiction," Dorsey says. "A girl would say to me, 'I'm trying to get my kids back, I don't know what to do,' or 'My boyfriend beats me, I don't know what to do,' or 'I need to get an apartment, I need to get a job,' I need to do this, I need to do that. And I'm like, wait, hold up, what are we going to do today? We always look too far ahead and it gets overwhelming. So let's start with being sober first. Let's learn about our disease."
Anchor DryDOC and the existing Anchor Recovery Community Centers are sponsored by the Providence Center, the only community mental health center in Rhode Island with a recovery service division and the exclusive provider of substance abuse treatment at the ACI. The two brick-and-mortar Anchor community centers in Pawtucket and Warwick — as well as DryDOC, which costs very little to operate — are supported by donations from a local benefactor, some state funds, some revenue from the Providence Center and other donations.
"[The Providence Center] is good at doing treatment, but in reality it's not just about seeing a counselor or taking a pill," Providence Center President and CEO Dale Klatzker, Ph.D., explains. "Anchor is not a treatment environment, it's recovery support."
The white-haired CEO has worked for the Providence Center for a decade, and he's made it his mission to help people move beyond their addictions — and stay there.
"We incarcerate a lot of people who have addiction disorders," he says. "I'm not saying they didn't do something illegal, but we don't arrest people because of cancer or another malady. There are a lot of people who have relapsed and have untreated mental health issues in the prison system."
A study by the Rhode Island Department of Corrections reports that 71 percent of inmates indicated their current substance use had an impact on their criminal behavior. Another study found that 48 percent of offenders returned to prison within three years of their release.
It's no coincidence that, according to a Providence Center report, 53 to 76 percent of Rhode Islanders who sought inpatient substance abuse treatment from 2010 to 2012 were also readmitted within three years. According to a National Institutes of Health report on addiction and the criminal justice system, "Drug abuse and crime continue to be linked…. Chronic drug abuse causes long-lasting brain changes that contribute to an addicted person's compulsion to seek and use drugs despite catastrophic consequences. These brain changes persist long after drug abuse ends, leading to high rates of relapse (as with other chronic diseases) and the need for continuing treatment to help an individual achieve recovery."
Klatzker says community supports drastically reduce the chance of relapse but, for many people, those supports just can't be found in the same places their addictions thrived. "We believe that in order for treatment to be effective, what's missing are those intangible pieces that make treatment successful," he says. "If that's all you're getting and you have no job, no roof over your head, no place to go on Super Bowl Sunday, chances are you are going to relapse."
That's why, in 2010, the Providence Center opened Rhode Island's first all-recovery community center in Pawtucket. The Anchor Recovery Community Center was so successful — logging 100,000 visitors in its first eighteen months in operation — that, three years later, the Providence Center opened the Warwick location in partnership with the Kent County YMCA. Anchor DryDOC, located inside the women's prison, came shortly thereafter.
"There are people who are further in their sobriety who can help those who are newer, even inside the prison," Klatzker says. "What landed them in prison doesn't have to put them back. It improves the odds: Education and support inside shows them what to do and where to go on the outside."
The Providence Center plans to monitor the success of the in-prison recovery community center by capturing information on participants once they're released from the ACI. While that data is not yet available — DryDOC is just eight months old — most if not all inmates who participated in the DryDOC program have maintained their involvement with Anchor on the outside.
Jim Gillen, a charismatic fellow in recovery from drug and alcohol abuse with years of advocacy experience, works as Anchor's director and says DryDOC was a natural next move for the organization. "The women's facility has always been a magical place," Gillen says, seated in his hot, eclectically decorated office in Anchor's Pawtucket facility. "It took off even more so than we thought it would."
Anchor's recovery coaches might draw a comparison to Alcoholics Anonymous sponsors but the training is more rigorous: Participants must complete a recovery coach 101 course, a weeklong recovery coach academy, a recovery advocacy class, 500 hours of volunteer field work, an ethics class and, lastly, they must pass a state certification test. All the while, recovery coaches work directly with peers struggling with addiction and earn forty-three continuing education courses in the process.
Anchor's recovery coaches have visited the men and women's facilities at the ACI for several years and staged large-scale rallies for recovery in both the women's minimum and medium security facilities, as well. But DryDOC takes the recovery mission one step further by allowing inmates to train to become recovery coaches themselves, earning course and volunteer credits within the prison walls. "It's empowering women that they count, they matter, they're important and they're special. And they're taking it seriously," Gillen says.
He remembers a talent show in which the women of the Bernadette minimum security facility shared spoken word poetry and sang songs about recovery, as well as a holiday party organized by the inmates where they resourcefully made a Christmas tree out of T-shirts and snowmen out of white garbage bags. "When they get to prison, they feel like losers. It's drilled into their heads that they're dirty, scummy addicts. But DryDOC tells them, you're not a dirt bag, you're important. And it makes it a lot more likely they'll stay committed when they get out."
Unlike twelve-step programs like Alcoholics and Narcotics Anonymous, which are both offered inside the prison, Gillen says Anchor's DryDOC is a celebratory place where participants don't have to claim anonymity or abide by set recovery goals and rules. Anchor's recovery coaches visit the women's minimum and medium security facilities twice a week to lead activities and discussions on recovery, to watch films, to train inmates to become recovery coaches and to introduce Anchor's free services.
Gillen says the inmates, who do not receive good time for attending DryDOC meetings, learn about Anchor's programs — from reptile shows for families to movie nights to employment and housing services — while they're in prison. They're embraced by a community before they even enter it, Gillen says, and several of DryDOC's women have visited Anchor the day of their release.
"I freak out," he says. "They're like, 'I told you I'd be here.' I ask them when they got out, and they say, '11:30 this morning.' They've gotten to know us, and see that recovery really is possible as a lifestyle. And you don't got to do nothing. They're not mandated to come here."
Stephanie DaRosa, who was an inmate when DryDOC first launched, didn't waste any time, either. After serving six months for four consecutive DUIs, DaRosa immediately visited Anchor's Pawtucket center and began volunteering. "At DryDOC, it was really powerful to see a group of women getting together to share stories of recovery and strength and hope," she says. "It was a blessing to know that I had a place to come when I got out, that I had resources."
DaRosa grew up in California but moved to Rhode Island two years ago to live with family after her fiance died. "After that, my addiction just took off," she says. "That's when I got in trouble."
Now thirteen months into her recovery, twenty-five-year-old DaRosa says it's a reward to volunteer for Anchor and help newcomers navigate the sober life. "It's not like, oh, look at me, give me credit," she says. "For me, I have a life, I have my freedom, I have a whole network of women to connect with, I have a better relationship with my family, I have true relationships with friends. It's about showing people what they can do in recovery."
After she finishes her home confinement sentence, DaRosa says she'll work on her volunteer hours and become a certified Anchor recovery coach. Until then, she's employed as a server, pursuing higher education goals and staying sober for herself and her community.
Tarah Dorsey never misses a DryDOC meeting. She's often the first to arrive and she likes to hang up the vinyl DryDOC banner, which transforms the Bernadette minimum security facility's community room into a place just for women in recovery. When the meetings get going, Dorsey sits towards the back and listens as her sisters in recovery discuss how, and why, they'll stay clean on the outside.
It's a big change for an inmate Warden Carole Dwyer once called a menace to her prison.
Dorsey, who grew up in Pawtucket, spent a majority of the last two decades in trouble with the law. Her rap sheet documents arrests for simple assault, larceny, heroin possession and robbery. The crimes prevented her from raising her children on her own, a boy and girl born when Dorsey was a teenager. "You hang with certain people, I used to call it thuggin' and buggin' in the streets," she says. "I always had access to drugs and alcohol and I used to commit petty crimes, but it didn't get crazy until after my twin sister died. I did heroin here and there, but I became a full-blown addict after that."
In 2002, Dorsey's sister Tiffany, twenty-four at the time, was stabbed twenty-eight times by her domestic partner. Dorsey's possession charges racked up shortly thereafter. "After she got murdered, I didn't care anymore," Dorsey says. "I just didn't care. So one day I was sick because of the heroin; I couldn't get any anywhere. I was so sick, I said you know what, I'm gonna go rob this gas station. And I did."
Dorsey didn't consider the impact of her crime until she faced her victim in the courtroom. "I apologized, I felt awful," she says. "I just felt like I was a messed up person."
She was deemed a habitual offender and received thirty-two years in prison with twelve to serve. The sentence sent her into a downward spiral; in 2006, her addiction nearly killed her. "I overdosed inside the prison, in here," Dorsey says, not with shame but as if she can't believe it herself. "That's not to say the officers weren't doing their jobs, but I am an inmate. So I got the drugs, I'm not going to say how. I took a bunch of methadone pills (which treat narcotic drug addiction and control withdrawal symptoms) and I woke up in the hospital. Then I went to segregation for a long while."
After she was released from segregation, also known as solitary confinement, Dorsey enrolled in a treatment program with the Providence Center and knocked her sentence down by several years. She earned her freedom in 2011, but addiction still loomed in her life. "After my sister got murdered, my mom didn't tell nobody she was sick," Dorsey says. "She died this past Mother's Day from the disease of alcoholism."
Just before her mother's death, Dorsey was picked up for driving without a license, a violation of her parole. She was sentenced to another year at the ACI. "I came to prison the day after my mom's funeral," Dorsey says. "After that, I knew I couldn't do it anymore. None of it."
Three months into her sentence, Dorsey started training to become a recovery coach with Holly Cekala, a manager at Anchor Recovery Community Center and a former inmate herself. Fast forward six months: Dorsey is happy to report that Warden Dwyer and Deputy Warden Donna Collins now call her a model inmate.
Clockwise from top left: Holly Cekala hugs a DryDOC participant; Anchor director, Jim Gillen; Cekala and Anchor volunteer Stephanie DaRosa.
A twenty-five-year prison system veteran, Deputy Warden Collins has worked at the women's facility for nearly three years and says the transition has been refreshing. "Yes, there are some women who do exhibit criminal behavior, a criminal mindset," she says. "But you have a lot of women who are starting down a road where their drug use turns to prostitution. Then they become pacified by their addiction. They don't have job skills, they don't have an educational foundation. This cycle of drug use, of dependency — a big reason they don't escape that is because of their addiction. It's a foundation for everything: their self-esteem, their maturation process. Women who start using get very stalled in their maturation process."
DryDOC, Collins says, is a much-needed bridge to the recovery community. "While they're here in our custody, we can give all the programs in a very controlled environment," she says. "They have very little decision-making, they have very few temptations. Nothing about being in a correctional facility translates into being in a community."
Once they walk out the door, she says, ex-offenders must meet their own basic needs, face economic challenges and provide for their families — all while trying to stay clean. "DryDOC helps with that," she says. "And they identify because they have familiarity with the Holly Cekalas and the Jim Gillens of the world. It's a familiar face."
Collins says she thinks the DryDOC program could work in the men's facilities, "but I think women gravitate towards it much more readily," she says. "Anchor has just made this very dynamic, like, let's sound the bells and whistles and have a party."
Because the DryDOC program is still in its infancy, Collins is reluctant to speak to its effect on recidivism. But she says, "I'm very optimistic that when it is time to answer that question, we're going to like the answer."
You can't keep it if you don't give it away. It doesn't matter where you live, it's how you live. Knowledge is power and wisdom is divine.
On a cold and wet night in late February, thirty or so inmates at Anchor's DryDOC chime in as their leader, Holly Cekala, speaks the recovery gospel. "I had thirty-three funerals to go to last year," Cekala, an Anchor manager and recovery coach trainer, says. "A lot of people who are here behind the walls, not too many people are thinking about you. But I was somebody behind the walls, and I want you to know that you count, too. I guess my biggest hope is that, um, that I don't have to bury any of you."
Cekala chokes up, surprising herself. She coughs and sniffles, roughly brushing away tears. Several women in the group murmur words of consolation; another simply says, "That's the truth."
Cekala went to prison for the first time when she was eighteen for felony possession. "I didn't even do drugs, but the possession was in my car, so…." Several heads bob around the room. "But I came to prison with eight cartons of cigarettes. It wasn't a tragic experience, actually. I found people I could talk to there, a level of comfort that I didn't have outside, where I was in life."
Cekala says that's part of the reason she returned to prison again and again. "I didn't use the tools out there because they were so sparse, they were hard to find," she says. "It was a fifteen-year cycle of in and out of prison, in and out of recovery."
After completing her last sentence, Cekala pieced her life together. She fought for custody of her daughter and won, picked up two jobs and eventually enrolled in courses at Rhode Island College. That's when she met Anchor's director, Jim Gillen.
"Jim came into one of the classes and he was this really wiry, exciting guy," Cekala says. "And when he spoke, his experience resonated with me. I knew he was a real individual and had real feelings for the community he was speaking about."
Cekala showed up at the Anchor Recovery Community Center in downtown Pawtucket and sat on the couch in the waiting area, observing for several days. After she trusted that the center, a bright and wide-open space used by people from all walks of life, was actually helping the vulnerable recovery population, Cekala offered herself up as a full-time volunteer.
"In my experience, there's not a lot of truth out there," she tells the inmates huddled before her around cafeteria tables. "Oh yeah, we care about you, but your insurance doesn't cover this. Oh yeah, by the way you're late on your probation payment. Oh yeah, you violated because you relapsed. But with Jim Gillen, I found truth. He was really trying to bring the community together so we can help each other out. And I'm still there."
Cekala says she benefitted from cognitive behavioral therapy, but struggles with the systematic approach to the treatment of addiction disorders. "I'm a fairly intelligent individual; I know that I'm sick," she says. "But you're telling me that it's a choice and I'm telling you that this is me needing water in the desert after three days. And you're telling me a choice and I'm telling you it's not. And for fifteen years that's what I heard. Oh, we're going to make you better, just give us your insurance card. Oh, we're going to make you better — when they didn't even acknowledge I was sick."
However times are changing for the better, Cekala says, and she cites Anchor's DryDOC and recovery coach services as forward-thinking movements. "Clinical work, indeed, is very helpful and necessary for some people," Cekala says. "But the peer experience is a level of understanding that can only come from a peer; they have valuable understanding that purely educated people probably couldn't have.
"I think that's what makes DryDOC so successful. Because as I tear up, they know why I tear up. I'm not the only one who has buried friends."
Cekala says the stigma of addiction — and the criminality that comes with seeking out drugs, legal and illegal, that dull the pain — prevent most of society from recognizing addiction as the disease it is. "I've been clean for eleven years. When people say to me, 'Oh, I'm so proud of you,' part of me thinks that's nice," she says. "But the other part thinks, what do you mean you're proud of me? You ain't proud of me with sickness? This disease will kill you. Just like cancer, just like diabetes. Yeah, if I got an A on my exam, I got that part. But I haven't succumbed to my disease, and you're proud of me?"
Cekala graduates this spring with a degree in psychology from Rhode Island College. She hopes the DryDOC women will follow a similar path to education, she says, because knowledge is power. The voices of the inmates swell together: "And wisdom is divine."
A few months back, Cekala approached Dorsey and told her that Anchor director Gillen was coming to the ACI to throw her an appreciation party.
"My eyes got watery, and I said, 'Why me, Holly?' " Dorsey remembers. "And she said, 'Tarah, why not you?' So I went upstairs and I was like, yeah, why not me! Every day I think to myself, every single morning I think, why not me?"
Dorsey knew Cekala as an inmate. But she's back, Dorsey says, and she's spreading the good recovery word. "I always thought recovery came through AA and NA," Dorsey says. "I didn't know you could find recovery through your own path. So I didn't want nothin' to do with it. I went to NA meetings, they didn't work for me. It was just like, sober and miserable.
"But now that I'm in recovery, I'm living," she says, drawing out the hard "G," her forefingers and thumbs pinned together like a yogi. "I know my behaviors, I know where my strengths are, I know my weaknesses. I'm always humble in this, because each day I give it away. If I didn't help nobody else, it wouldn't work."
Dorsey remembers sitting in a prison window, watching her fellow inmates kick stones in the courtyard. "I just started crying," she says. "She's a mother, this one's an aunt. One's here for drinking and driving, another for possession. These are good people who did messed up things. And that's because they have a disease. Being a criminal is not an excuse because I expect us to do time for what we did. But why not help? So DryDOC coming here is like, woah."
Dorsey, who will be released in June, says she's preparing for a clean break by reading books like Healing the Addicted Brain and forgiving those who harmed her on the outside. "I forgave the person who did that to my sister. I forgave the murderer; that was healing," she says. "I had to, because I'm about something here. If I didn't have this, yeah, I'd get out and I'd do my construction job. But now I'm on a path where I want to be a recovery coach; I want this to be my job."
And it probably will. Funds permitting, Cekala and Gillen both expressed interest in hiring Dorsey at Anchor when she leaves the ACI. She's taken several of the required recovery coach courses and performed the 500 volunteer hours; all that's left is the weeklong recovery coach academy and the state certification, both of which can be taken at Anchor after her release.
For now, Dorsey works with an inmate with a longer sentence, helping her understand the privilege of recovery coaching. "Somebody has to do this when I leave and when the next one leaves," Dorsey says. "This is history right here. It's amazing just to see the results in such a short time. Upstairs, where I am, it's a dormitory setup, rooms on each side, four roommates. It's called E-Wing, and the recovery is spreading so wild up there that the [correctional] officers are like, 'E-Wing is a recovery mod.' Okay, we'll take that!"
She bursts into the sort of belly laugh that grandchildren relish; Dorsey has two little ones waiting for her at home. "All in all, I bring it down to this: I have a different understanding of what life is," she says. "I'm not leaving this world without leaving a legacy for my kids and grandkids. I'm not going to leave this world as a heroin addict or a prisoner.
"I'm not," she continues, thumping her hands on the table. "I will not. I won't."