A Balanced Home Life
Monique Sabatino of Balanced Interiors shares her unique spin on turning a house into a home.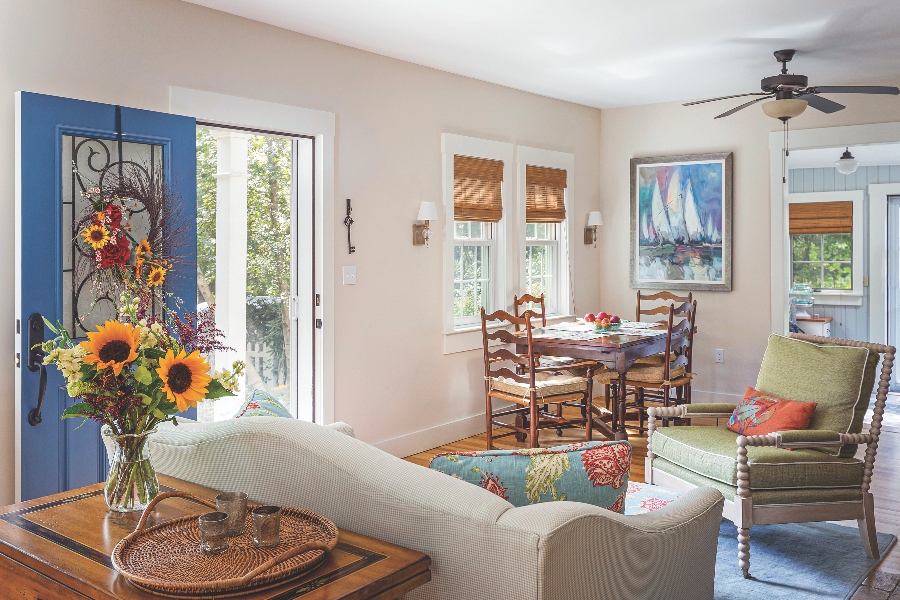 "We used to call ourselves Narragansett wannabes," says Monique Sabatino, owner of Balanced Interiors. She and her husband, Mike, met while attending the University of Rhode Island and thus once spent many a day by the ocean. "Upon graduation, we said someday we'd be back to live in this beach community."
Thirty years and three children later, they made good on that promise when they came across a "diamond in the rough" property within Narragansett's coastal Bonnet Shores neighborhood. Built in 1930, the two-bedroom, one-bath property had been on the market for two years.
"It was as though it was waiting for us," she recalls. "My husband turned to me when seeing it for the first time and asked, 'Can you do anything with this?'"
Sabatino, who established Balanced Interiors after graduating RISD's interior design program in the early 2000's, answered with a resounding 'yes.' There was plenty of work to be done.
"We were urged by contractors to knock the house down and start all over, but we really wanted to preserve the charm of yesteryear that beckoned us here," she says. The house had good bones and we wanted to avoid unnecessary waste."
And so, they kept the large field stone fireplace, fir floors and cottage-style woodwork intact while opting to gut and renovate the kitchen and bathroom in order to make the property livable for a couple of summers. Then, once they sold their home in Lincoln and decided to turn the South County property into a year-round home, they employed Kettelle Building Movers and O'Hearne Home Development to put on an addition in the form of a new basement, construct a master suite and expand the sunroom.
"Having downsized from our home of twenty years, we wanted a home that wasn't too big for the two of us but big enough to welcome our adult children home whenever they needed a landing pad. Adding the addition under the existing house really made the whole project come together," she says. "And then we love the outdoors, so having a yard to garden in, patios to relax on and enjoy and space for the dog to roam were just as important to us."
In fact, Sabatino's style stems from blending the outside world with the inside world. She strives to create visual interest by integrating natures' beauty and elements into her designs. For example, she brought this home alive through the use of natural elements, like wool rugs, cotton sheets and linen curtains, the mixing of organic elements like woods and metals, and the recurrent placement of plants.
"I feel being in tune with nature's rhythms allows us to feel more in harmony with our homes and the world around us," Sabatino says. "I firmly believe that surrounding yourself in an aesthetically pleasing environment is vitally important."
She also believes that the way we care for our homes and ourselves can largely impact our overall health and wellness as well as the environment. A new household renovation, even if it involves just one small room, creates an opportunity to establish new and improved habits, whether it be devoting less cabinet space to plastic food storage or repurposing old furniture so it doesn't rot away in a landfill.
"I help my clients design their homes and workplace so that they are a reflection of who they are and how they want to live. I accomplish this through mindful communication, my professional design expertise and my commitment to being environmentally conscious," Sabatino says. "I believe we can make not just beautiful rooms, but a beautiful world."
Small Ways to Bring Balance to Your Home
Filters + Foods
Be mindful of what you put in your kitchen and in your body. A water filter by the kitchen faucet will ensure your water is free from toxins like lead, arsenic and mercury, while relying on EWG's dirty dozen and clean fifteen cheat sheets will allow you to feel good about your produce purchases.
Safe + Sustainable
For ease of mind, make sure your laundry cabinets are free of synthetic fragrance, cover your walls with VOC-free paints and / or invest in a good air purifier for your home.
Repurpose + Reuse
To avoid unnecessary and wasteful landfills trips, repurpose old furniture or buy secondhand and have upholstered. On a smaller scale, try utilizing glass containers over plastic food storage or investing in a sturdy to-go mug rather than a daily drive-thru foam paper cup.
BALANCED INTERIORS, Narragansett, 401-640-1591.