40 Things to Do, Eat and Hear in Rhode Island in July
Dig into PVD Restaurant Weeks, catch fireworks near you, cuddle up for Classical tunes on gilded lawns and other fun events.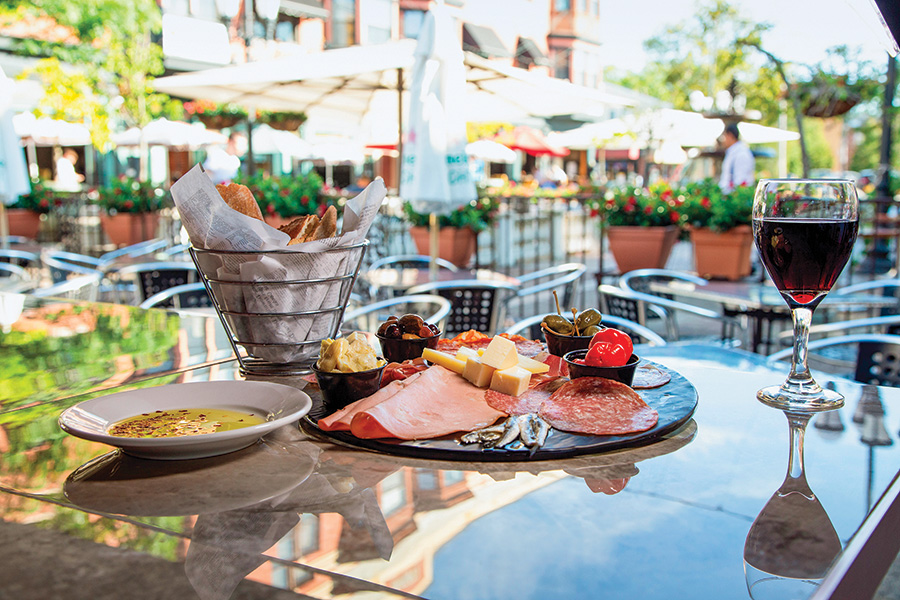 7/11–24 Providence Restaurant Weeks
Why: For two weeks, dine at a myriad of restaurants in downtown Providence and neighboring areas for ultimate meals and deals. Participating restaurants have you covered for breakfast, brunch, lunch, dinner, drinks and dessert; need we say more? Visit your usual Saturday night spot or take your taste buds for a ride at a new location. Use the hashtag #prw and #pvdeats on social media to show off your delicious dishes.
Where: Various locations in Providence.
More info: goprovidence.com.
7/4 Family Fourth of July Fireworks
Why: At Narragansett Town Beach, watch a showcase of colorful fireworks explode into the moonlit sky with sand between your toes. Stock up on drinks and snacks to enjoy alongside family and friends. Arrive early for pre-fireworks concerts at the North Beach Clubhouse. Rain date July 5. Concerts start at 2 p.m. and 6:30 p.m., fireworks start at 9 p.m. Free.
Where: 79 Boston Neck Rd., Narragansett.
More info: 782-0658, narragansettri.gov.
7/4–20 Newport Music Festival
Why: Cuddle up under a blanket and listen to world-class artistry on the grounds of several historic venues including the Breakers lawn and Bellevue House. Create new memories in the City by the Sea, where the combination of Classical music and breathtaking scenic views will move music lovers and connoisseurs alike.
Where: Various locations in Newport.
More info: 849-0700, newportmusic.org.
Editor's note: Please call ahead to confirm event details.
Theater
Trinity Repertory Company
Ongoing: Don't miss the theater's digital content, including a Facebook Live series, Your Half Hour Call with Curt; stories and readings from the resident acting company; clips from past shows; and episodes of Trinity Rep Radio Theater. Free to stream. 351-4242, trinityrep.com
Sandra Feinstein-Gamm Theatre
Ongoing: Brush up on Shakespeare with season two of the Gamm's streaming series on the Bard featuring Ricardo Pitts-Wiley, Marianna Bassham, John Douglas Thompson and other contemporary stage luminaries. Free to stream. 723-4266, gammtheatre.org
The Wilbury Theatre Group
Ongoing: Catch up on the theater's stellar virtual offerings, including the Wilbury crowd-pleaser Roadhouse: The Musical and others. Free to stream. Call or visit the website for show times and ticket prices. 400-7100, thewilburygroup.org
Contemporary Theater Company
Through July: Each Thursday, visit the patio for fun Riverfire cabarets. 8 p.m. $20. July 16–17, 23–24, 30–31: Catch Fools of Another Nature, which follows three fools through a normal day at home (think: imaginary friends, weird bedside companions and infatuations with inanimate objects). 7 p.m. $20. 327 Main St., Wakefield, 218-0282, contemporarytheatercompany.com
Fairs and Festivals
PVD Artisans Market
Ongoing: Support local artists at the PVD Artisans Market while revamping your home with a variety of new and unique art. From sculptures to paintings, you're bound to fall in love with some eye-catching items. Saturdays 9 a.m.–2 p.m. Free. Lippitt Park, 1015 Hope St., Providence, facebook.com/pvdartisansmarket
FringePVD
July 18–31: Watch some unusual performances during the eighth annual Providence Fringe Festival, presented by the Wilbury Theatre Group in collaboration with WaterFire Providence. Keep an open mind; the one-of-a-kind festival features hundreds of performing artists (think: talented dancers, visual artists, actors and the like) from across the nation. All ticket sales support the performing artists. Tickets up to $15. Both online and outside in various venues in Providence, 400-7100, fringepvd.org
Wickford Art Festival
July 10–11: Admire one-of-a-kind works made by acclaimed local and national artists, both new and returning, at the fifty-ninth annual Wickford Art Festival. Soak up gorgeous views and historic homes within the waterside village and take home some new decor, whether it be a painting, photo- graphy, jewelry, ceramics or furniture. Also check out the launch of the new virtual Wickford Art Festival Shop, where you can browse through many talented artists' works until September 30. 10 a.m.–5 p.m. Free admission. Wilson Park, Roosevelt Avenue, North Kingstown, 294-6840, wickfordart.org
Trips and Tours
Rail Explorers Tours
Ongoing: Take a bite out of Sunday brunch or check out the night sky with Rail Explorers in themed, pedal-powered tours — with snacks — from the Southern Circuit to Bayside Station. See website for tour times and ticket prices. 1 Alexander Rd., Portsmouth, 877-833-8588, railexplorers.net
Rhode Island Red Food Tours
Ongoing: Explore your favorite capital city neighborhoods on a food tour. Walking tours in Providence include food samplings plus beverage pairings at six local restaurants. Reservations are required. Noon–3:15 p.m. $69–$84. Various locations, rhodeislandredfoodtours.com
Providence Kayak Tours
Ongoing: Paddle through bodies of water such as the Providence and Woonasquatucket rivers and Olney Pond at Lincoln Woods State Park. Rent a kayak in Providence or Lincoln or go on a guided tour in Providence to learn more about the Creative Capital. See website for tour dates and times. $20–$75. Providence location: 15 Bridge St., Providence; Lincoln location: 2 Manchester Print Works Rd., Lincoln, 829-1769, providencekayak.com
Haunted Boat Tours
Ongoing: Brave the dark waters of the Providence Marina during the Haunted Boat Tour, where passengers can learn more about the city's deceased and restless souls while getting a view of the Capital City's historic architecture, moonlit bridges and cobblestone walkways. Reserve your spot online and dress according to the weather. Wed. and Sun. 8–9 p.m. $25–$30. Providence Marina, 15 Bridge St., Providence, 580-2628, providenceriverboat.com
Whale Watching and Nature Excursions
Ongoing: Aboard the Frances Fleet, keep your eyes peeled when searching for whales, dolphins and other sea animals off the Port of Galilee. Fun fact: The finback whale is the most common off the coast of Rhode Island in the summer and can fit an entire VW bus inside its mouth. For an extra challenge, search for different types of sea birds flying above you. Reserve your spot online. Tues., Thurs., Fri. and Sat. 1–5:30 p.m. $45–$55. 33 State St., Narragansett, 783-4988, francesfleet.com
Secret Garden Tours
July 9–11: It's Earth Day every day during the Secret Garden Tours, which commemorate bountiful properties in historic Newport. Take a self-guided tour of the private gardens while soaking in views of striking landscapes, fountains, waterfronts and more. 10 a.m.–1:30 p.m. and 1:30–5 p.m. $20 in advance, $25 day of. Storer Park, Newport, 439-7253, secretgardentours.org
Pettaquamscutt Paddle
July 23: The Narrow River Prevention
Association's fourteenth annual Pettaquamscutt Paddle is the perfect time to take advantage of discounted canoe, kayak and stand-up paddleboard rentals, as well as a guided paddle to witness the sunset settle into the horizon. 94 Middlebridge Rd., Narragansett, 789-0334, narrowriver.org
Kids' Stuff
Asian Lantern Spectacular
Through July 4: Head to Roger Williams Park Zoo after dark for a wonderland of illuminated, larger-than-life lanterns inspired by the wild. Admire the interactive displays while indulging in Asian-inspired cuisine and drinks with your family. Tickets sold online only. Wed.–Sun. 5:30–10 p.m. Children $23, adults $25, babies one and younger free. Roger Williams Park Zoo, 1000 Elmwood Ave., Providence, 785-3510, rwpzoo.org
Dinner and Disney
July 18: Sing and dance along to the sound- tracks of several Disney films featuring beloved characters. Bring your family and enjoy the live musical performances while eating tasty food. 6–9 p.m. $280–$840. Weekapaug Inn, 25 Spray Rock Rd., Westerly, 888-565-5023, weekapauginn.com
Music
Gazebo Summer Concerts
Ongoing: Vibe out to live performances by local bands and musicians like Brass Attack, Dan Moretti and the Hammond Boys and Take It to the Bridge. Bring a lawn chair, snacks and beverages and your dancing shoes. Fridays 6–7:30 p.m. Gazebo Park, 25 Ocean Rd., Narragansett, 782-0658, narragansettri.gov
Knick Live
Ongoing: Check out this ten-week series of full virtual concerts from the Knick stage and co-presented by the United and the Knick. Tune into Madison McFerrin, Cowboy and Lady, the Bruce Harris Trio and more. Free to stream. unitedtheatre.org
Newport Folk Festival
July 23–25, 26–28: Folk on at Fort Adams State Park for the Newport Folk Festival. Experience intimate performances, workshops and storytelling by surprise guests. 11 a.m.–7 p.m. $20–$230, children two and younger free. 84 Fort Adams Dr., Newport, newportfolk.org
Galleries
Coastal Living Gallery
July 10: Within her collection of Goddess photos, Hillary Annelle displays a multitude of women and showcases their raw beauty and confidence. Join her in celebrating female empowerment at the Coastal Living Gallery. Free admission. 2 Meetinghouse Ln., Little Compton, 835-8967, coastallivinggallery.com
IMAGO Foundation for the Arts
Through August. 1: A group show featuring artists Eileen Mayhew, Yolanda Mazzoni, Lindsay Mac and Meredith Wolf. Free admission. Fri. 4–8 p.m., Sat.–Sun. 11 a.m.–3 p.m. 36 Market St., Warren, 245-3348, imagofoundation4art.org
Benefits
Newport Art Museum's Art Party
July 16: Celebrate the museum's summer exhibition, "Hair Stories," at a cocktail party that's a highlight of the social season. Dress in bright colors and bold patterns and enjoy hors d'oeuvres on the museum campus. Proceeds from the event benefit exhibition programming. 6–9 p.m. $250–$500. 76 Bellevue Ave., Newport, 848-8200, newportartmuseum.org
Save The Bay Swim
July 17: Swim or kayak 1.7 nautical miles to raise money and awareness to protect and restore the Narragansett Bay. Daylong. Call or visit the website for fundraising information. Naval War College, 686 Cushing Rd., Newport, 272-3540, savebay.org
Cocktails by the Castle
July 31: Support the Izzy Foundation with some creatively crafted cocktails on the grounds of historic Belcourt of Newport. Get an exclusive tour of the mansion, then continue the night outdoors with libations and cuisine during live music performances. Wear your finest cocktail attire. Tickets are limited. 6 p.m. $50–$2,500. Belcourt of Newport, 657 Bellevue Ave., Newport, 331-4999, theizzyfoundation.org
Etcetera
Art on Tap: TroopTop Deck at the WaterFire Arts Center
Through August 26: Order wine and beer from Troop PVD on top of the WaterFire Arts Center. Lounge while sipping drinks and watching the sunset. In case it rains, the party continues indoors. Thursdays 5–9 p.m. Reserve your spot online. 475 Valley St., Providence, 473-2900, trooppvd.com
Oktoberfest at the Weekapaug Inn
Ongoing: Experience Weekapaug Inn's Biergarten during Oktoberfest and indulge in authentic German cuisine and cold brews. Tap your feet to live music by the Schwarze Schafe German Band while competing in lawn games. Reserve your family's seats online. Wednesdays 6–9 p.m. Adults $75, children $25, children three and younger free. Weekapaug Inn, 25 Spray Rock Rd., Westerly, 888-565-5023, weekapauginn.com
Food Truck Friday at Roger Williams Park
Ongoing: Select from more than fifteen local food trucks as well as beer from Trinity Brewhouse during Food Truck Friday at Roger Williams Park Zoo and Carousel Village. Enjoy live music, hop on the carousel or play on Hasbro's Boundless Playground. Fridays 5–8 p.m. Admission is free; just pay for food, drinks and rides. 1000 Elmwood Ave., Providence, foodtrucksin.com/food-truck-events
Bloom Collective Pop Ups
Ongoing: Pop into the Bloom Collective pop-ups, which feature a variety of clothing, accessories, jewelry, candles and so much more. Explore and support local creatives and designers and stop by neighboring eateries afterwards. Thurs.–Sun. 11 a.m.–6 p.m. Free. 1455 Westminster St., Providence, wearebloomcollective.com
Providence Flea
Ongoing: The outdoor Providence Flea
allows visitors to feel the fresh air while shopping and obsessing over vintage finds and locally sourced products. Gather your family and start searching for your next hidden gem. Sundays 10 a.m.–3 p.m. Free. Across from 345 South Water St., Providence, 484-7783, providenceflea.com
Newport International Polo Series
Ongoing: Watch action-packed events every Saturday during the thirtieth anniversary season of the Newport Polo Series, including Newport vs. Los Angeles and USA vs. Italy. Enjoy fan prizes, special weekly features and concessions. Saturdays 5–7 p.m. $30–$80, children fifteen and younger free. 250 Linden Ln., Portsmouth, 846-0200, nptpolo.com
newportFILM Outdoors
Through September 9: Catch flicks — think: Misha and the Wolves and Summer of Soul (…Or, When The Revolution Could Not Be Televised) — at Aquidneck Island's iconic mansion lawns, sports fields and public parks. July 29: The newportFILM annual picnic contest is themed "zero-waste picnic" this year, so gather your finest environment-friendly picnic gear to win the best spread and watch a screening of the documentary, To Which We Belong, which highlights the work of regenerative farmers. Call or visit the website for show times and ticket prices. Various venues in Newport, newportfilm.com
Bristol Fourth of July
Fireworks Display and Parade
July 4–5: The nation's oldest Independence Day celebration starts with some popping fireworks, then continues at 10:30 a.m. next day with the iconic parade. Get there early; Chestnut Street, Naomi Street and Sherry Avenue are closed off for the parade route. Free. Hope Street, Bristol, fourthofjulybristolri.com
Linden Place Fourth of July Picnic
July 5: The historic mansion hosts its annual parade picnic. 8 a.m.–8 p.m. $85. 500 Hope St, Bristol, lindenplace.org.
Saturn and Jupiter Viewing
July 12: Peek at the galaxy in time to see Saturn at its closest point to Earth. Check out its magnificent rings, as well as its largest moon, Titan. 9–10:30 p.m. Free. Weekapaug Inn, 25 Spray Rock Rd., Westerly, 888-565-5023, weekapauginn.com
In the Kitchen: Summer Classics
July 15: Part of Ocean House for the In the Kitchen series: Learn how to spice up the usual sides and classics. 3–4:30 p.m. $75. Ocean House, 1 Bluff Ave., Westerly, 888-853-2919, oceanhouseevents.com