38 Fun Things to Do in Rhode Island this August
From folks festivals to open air Saturdays in the capital city, we've compiled all the activities to add to your to-do list this month.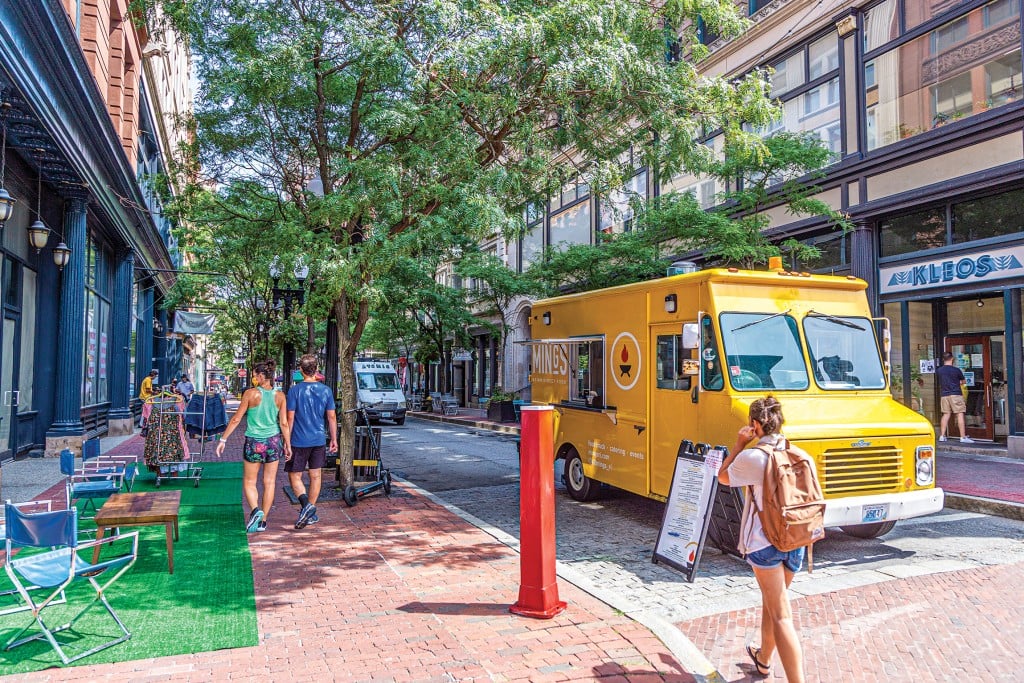 FEATURED
8/20: Warren Folks Festival
WHAT: The Collaborative's biggest fundraiser combines melodious live music — on two stages! — from Rhode Island-based acts with craft beer and cocktails, food from local restaurants, creative goods from several artisans and more. Choose from a variety of eateries and beverage retailers such as Basil and Bunny, Hunky Dory, Chomp Kitchen and Drinks, Dips Dips and Granny Squibb's iced tea, then check out the vendors stocked with intriguing wares. Stop by the kids' craft table so your younger ones can explore their inner artists, too. 1–7 p.m. Free; donations encouraged. WHERE: 30 Cutler St., Warren. MORE INFO: 903-0969, thecollaborative02885.org.
8/6: Open Air Saturdays
WHAT: Shop to your heart's content during Downcity's breezy Open Air Saturdays. In between your shopping ventures, enjoy live music performances, take part in outdoor games, chill out at the beer gardens and replenish with food truck fare or sit down at restaurants like Kin, Durk's Bar-B-Q and Rosalina. Visit a variety of locations throughout Downcity such as Grant's Block, Union Street and Biltmore Park. Every first Saturday of the month. Noon–6 p.m. WHERE: Various locations throughout downtown Providence. MORE INFO: indowncity.com.
COURTESY OF GO PROVIDENCE/NICK MILLARD
Ongoing: Rosecliff Exhibit: 'Anything You Want'
WHAT: Take a closer look at intricate objects dating back from the late 1400s to the early 1900s, collected throughout the Gilded Age. Ceramics, furniture, sculptures, photographs and more from around the globe give exhibit-goers a unique perspective on the different skills, tastes and styles of several craftspeople. Included with regular admission: $25; $10 ages six–twelve. WHERE: Rosecliff, 548 Bellevue Ave., Newport. MORE INFO: 847-1000, newportmansions.org.
THEATER
Theatre by the Sea
THROUGH AUG. 13: Rodgers and Hammerstein's Tony Award-winning Cinderella musical is a fun contemporary take on the magical tale. Think: the masked ball, the pumpkin ride and the glass slipper — all brought to life through stunning music and breathtaking transformations as new plot twists keep guests on the edge of their seats. Run time is two hours and twenty-five minutes with intermission. Wed.–Sun. AUG. 17–SEPT. 11: Follow the story of drag queen cabaret singer Lola and Charlie Price, who's looking to keep his family shoe company in business, in Kinky Boots — a fabulous musical including songs by musical icon Cyndi Lauper and book by Broadway legend Harvey Fierstein. The show runs for two hours and thirty minutes. Visit the website for times. $59–$84. 364 Cards Pond Rd., Wakefield, 782-8587, theatrebythesea.com
FAIRS AND FESTIVALS
Food Truck Friday at Roger Williams Park Carousel Village
ONGOING: Choose from more than fifteen local food trucks as well as beer from Trinity Brewhouse during Food Truck Friday. Enjoy live music from Sidy Maiga Music, Catnip Junkies, Pat Lowell Acoustic and more while picnicking on the lawn. Hop on the carousel ride, train or play on Hasbro's Boundless Playground for additional pricing. Fri. 5–8:30 p.m. Free admission. 1000 Elmwood Ave., Providence, rwpzoo.org/food-truck-friday
Providence Flea Summer Markets
ONGOING: The Providence Flea has returned outdoors for its tenth season, allowing visitors to feel the fresh air while shopping and obsessing over vintage finds and locally sourced products. Gather your flea crew and start searching for your next hidden gem. Sun 10 a.m.–3 p.m. Free admission. 275 South Water St., Providence, 484-7783, providenceflea.com
Field of Artisans
ONGOING: At the Field of Artisans markets, surround yourself with creatives from all over New England to shop, support and share your findings at the intimate pop-ups while encouraging others to support local, too. Tues. at Whalers Brewing Company, 5–9 p.m.; Sat. at South Kingstown Town Beach, 11 a.m.–4 p.m.; Sun. at the General Stanton Inn, 10 a.m.–3 p.m.; last Thurs. of the month at Narragansett Brewery, 4–8 p.m. Whalers Brewing Company, 1174 Kingstown Rd., South Kingstown; South Kingstown Town Beach, 719 Matunuck Beach Rd., South Kingstown; The General Stanton Inn, 4115 Old Post Rd., Charlestown; Narragansett Brewery, 271 Tockwotton St., Providence, fieldofartisans.com
Wakefield RiverFire
THROUGH AUG. 18: Stroll down Wakefield's Main Street and participate in the annual RiverFire summer series. Visit restaurants, local shops and businesses, and explore downtown once the music gets started. Remember to bring a nonperishable food item with you to donate to the Jonnycake Center's food pantry in Peace Dale. Thurs. 6–10 p.m. Free. Saugatucket River off Main Street, Wakefield, 474-4700, wakefieldvillageassociation.com
Charlestown Seafood Festival
AUG. 5–7: Satisfy your seafood cravings with fresh lobsters, fish and chips, steamers, chowder and clam cakes, a raw bar and more. Don't forget about the carnival rides, Saturday night fireworks, beer and wine tents and car show on Sunday. Fri. noon–11 p.m.; Sat. 11 a.m.–11 p.m.; Sun. 11 a.m.–10 p.m. $12; seniors and military $9; children ten and younger free. Ninigret Park, 5 Park Ln., Charlestown, 364-4031, charlestownseafoodfestival.com
Food Trucks and Concerts at Chase Farm
AUG. 6: Enjoy a variety of locally owned food trucks and beer from Trinity Brewhouse on the grounds of Chase Farm while vibing out to live music. Bring a blanket or chair to sit on the lawn. Select Saturdays from 5–8:30 p.m. Free admission. Chase Farm, 669 Great Rd., Lincoln, foodtrucksin.com/food-truck-events
Washington County Fair
AUG. 17–21: Feel like a kid again as you walk through the massive midway, tap your feet to lively concerts, take part in old-fashioned games and contests like tug-o-war, and leave the concession stands with a smile on your face and a mouth-watering burger or ice cream in hand. 8 a.m.–11 p.m. $11; children ten and younger free. 78 Richmond Townhouse Rd., Richmond, 539-7042, washingtoncountyfair-ri.com
TRIPS AND TOURS
Rail Explorers Tours
ONGOING: Take a bite out of Sunday brunch or check out the night sky with Rail Explorers in themed, pedal-powered tours — with snacks — from the Southern Circuit to Bayside Station. See website for tour times and ticket prices. 1 Alexander Rd., Portsmouth, 877-833-8588, railexplorers.net
Rhode Island Red Food Tours
ONGOING: Explore your favorite Rhody neighborhoods in the capital city and the City by the Sea with a food tour. Walking tours include delicious food samplings with or without alcohol pairings at six local restaurants. Reservations are required. Thurs.–Sun. at noon. $74–$89. Various locations in Providence and Newport, rhodeislandredfoodtours.com
Newport Foodies Stroll
ONGOING: Throughout the 1.75-mile walking food tour, rediscover Thames Street with the help of great meals. Wander the historic thoroughfares with tour guides Thomas and Susan Maxwell in between three-course meals and wine pairings at notable restaurants and pubs — taste the delicious cuisine from places like Knot Norm's and Cold Fusion Gelato. Reserve your spot online. Wed., Fri. and Sat. 11:30 a.m. and noon. $88; children twelve and younger $37. Meeting location in front of wave statue, 337 Thames St., Newport, 619-3019, newportfoodiesstroll.com
Experience Rhode Island
ONGOING: Fall deeper in love with the Creative Capital during the Discover Providence Tour, where you'll hear stories about the city's exciting neighborhoods and the people in them. Explore and take photos of locations including College Hill, Federal Hill and the State House. 11 a.m.–2 p.m. $35. Meet at the Rhode Island Convention Center, 1 Sabin St., Providence, 886-0733, experienceri.com
Rhode Island Bay Cruises
ONGOING: Go on a thirty-mile cruise as you pass by ten beautiful islands and ten iconic Rhode Island lighthouses along Narragansett Bay. The Newport Harbor, mansions and historic Fort Adams will be some of the many sights you take in during the breezy voyage. Visit the website for cruise rates and times. Sat.–Thurs. Quonset Point, North Kingstown, 295-4040, fastferry.com
Lighthouse and Mimosa Cruise
ONGOING: On a seventy-five-minute narrated lighthouse cruise ride, admire the sights of scenic Newport Harbor and
Narragansett Bay, including the Rose Island Lighthouse, Goat Island Lighthouse, Castle Hill Lighthouse and others. Visit the website for dates. 11 a.m.–12:15 p.m. $10–$35. 5 Bowen's Landing, Bowen's Wharf, Newport, 423-9900, coastalqueencruises.com
Providence River Boat Company
AUG. 18 AND 29: Travel the waterways with the Providence Preservation Society during the Providence Architecture Boat Tour. Every landmark and hidden gem has a story, so learn about the 300 years of architectural history from a different view. A portion of the proceeds benefits the Providence Preservation Society. 4–5:15 p.m. $45. 101 Dyer St., Providence, 580-2628, providenceriverboat.com
KIDS' STUFF
Studio Playground
AUG. 15–26: In Lincoln Woods State Park, morning and afternoon theater classes are in session for children ages six through twelve. Attendees can expect a full week of fun theater games and laughter while building confidence and bonding with other theater mates. The summer camp concludes with an end-of-week performance. Morning sessions 9 a.m.–noon; afternoon sessions 1–4 p.m. $250–$450. Visit website for reservations. 2 Manchester Print Works Rd., Lincoln, studioplayground.org
Audubon Society of Rhode Island
AUG. 27: Witness and learn about bird banding, where experts capture, band, measure then gently release songbirds to record and monitor their movements. As the birds are gently removed from the tall "mist nets" on the grounds of the Nature Center and Aquarium, the experts will demonstrate the techniques before releasing the birds back into the wild. Stick around to discuss the life history and migratory habits of each banded species. 9:15–11:15 a.m. $14; children $7. 1401 Hope St., Bristol, 949-5454, asri.org
Music
Contemporary Theater
THROUGH AUG. 25: Jam out to live bands like the Copacetics, James and the Giants and Billy Lord on the Contemporary Theater patio during the Afterglow Summer Concerts. Don't miss the epic Wakefield Idol Summer Concert on Aug. 18! Arrive early to watch the RiverFire and the sunset from the theater's new balconies. Thurs. 8–10 p.m. $10–$40. 327 Main St., Wakefield, 218-0282, contemporarytheatercompany.com
The Knickerbocker
AUG. 4: Allysen Callery, free. AUG. 6: Roger
Ceresi's All Starz, $15. AUG. 12: Bobby Christina's Caravan, $20 online; $25 at the door. AUG. 14: Tre Burt, $20 online; $25 at the door. AUG. 17: Caleb Klauder and Reeb Willms Country Band, $15 online; $20 at the door. AUG. 18: Sandy Allen, free. AUG. 19: The Honk and Arrowhead, $10. AUG. 20: Ryan Montbleau Band, $30. AUG. 21: Sweet Mercy, 7 p.m., free. AUG. 26: Stephane Wrembel Band, $25. AUG. 27: Duke Robillard Band, $20. Doors open at 7 p.m., most shows begin at 8 p.m. 35 Railroad Ave., Westerly, 315-5070, knickmusic.com
FirstWorks
AUG. 7 AND 14: Dive into the soul of Providence during FirstWork's Summer Beats concert series, presenting toe-tapping music such as hip-hop, ancient Ukrainian folk melodies from quartet DakhaBrakha and Afro-Rican jazz from trombonist William Cepeda. 6 p.m. Free. (Aug. 7: DakhaBrakha) Columbus Theatre, 270 Broadway, Providence. (Aug. 14: William Cepeda) Roger Williams Park Bandstand, 1000 Elmwood Ave., Providence, firstworks.org
Watch Hill Sunset Concerts
AUG. 9 AND 23: Sway to the beat of the Rowan Brothers and Ward Hayden and the Outliers on the Village Green during the Watch Hill Sunset Concerts alongside other eclectic music lovers. Search "Watch Hill Sunset Concerts" on Facebook for more information. 6–8 p.m. Free admission and parking. Bay Street, Westerly, 207-2515
SPORTS
Newport International Polo Series
THROUGH SEPT. 24: Watch action-packed events every Saturday during the thirtieth anniversary season of the Newport Polo Series, including Newport versus Palm Beach and USA versus Jamaica. Enjoy fan prizes, special weekly features, concessions and more. Sat. 5 p.m.; 4 p.m. in Sept. $20–$125; children fifteen and younger free. 250 Linden Ln., Portsmouth, 846-0200, nptpolo.com
BENEFITS
Life in the Garden: A Gala at Blithewold
AUG. 6: In your cocktail ensemble, admire more than 1,300 tree species among thirty-three acres of shoreline and open space within one of the last remaining nineteenth-century New England estates to preserve its authenticity. The gala also serves to honor nonprofit community volunteer, board member and philanthropist Noreen Ackerman. Funds raised benefit the Water's Edge Project to protect the property's shoreline from threatened sea level rise, as well as support new conservation habitats. 6–11 p.m. $300. 101 Ferry Rd., Bristol, 253-2707, blithewold.org
Cool Jazz at Mount Hope Farm
AUG. 14: Wind down at Mount Hope Farm's Cool Jazz fundraiser, which helps continue construction of its much-needed animal barn. By the shores of Mount Hope Bay, indulge in hors d'oeuvres and seasonal pies, and visit the open bar, raw bar with iced littlenecks and oysters, and buffet before hitting the dance floor for the live music played by Mystique. RSVP by Aug. 5. 4–8 p.m. $160. 250 Metacom Ave., Bristol, 254-1745, mounthopefarm.org
MUSEUMS
RISD Museum
ONGOING: Plan your visit in advance online and check out exhibitions on view including "Drawing Closer," "Striking Chords" and "Variance." Wed., Sat., Sun. 10 a.m.–5 p.m.; Thurs. and Fri. noon–7 p.m. $17; seniors $12; youth $8; children five and younger free. Free admission Thurs. and Fri. after 5 p.m. and all-day Sun. 20 North Main St., Providence, 454-6500, risdmuseum.org
Audrain Automobile Museum
ONGOING: The Audrain Automobile Museum's twenty-fifth exhibition highlights the larger-than-life fifties American cars, dubbed "land yachts," that ruled the roads during the post-war era. Daily 10 a.m.–4 p.m. $8–$18. 222 Bellevue Ave., Newport, 856-4420, audrainautomuseum.org
GALLERIES
Jamestown Arts Center
ONGOING: The Jamestown Arts Center's Biennial Outdoor Arts Experience has
returned, bringing the community publicly accessible art with outdoor installations. The exhibit showcases a variety of works as it seeks to further inspire others by engaging residents and visitors throughout the island with the artists. Various locations throughout Jamestown, 560-0979, jamestownartcenter.org
ETCETERA
Afternoon Tea at Stoneacre Brasserie
ONGOING: Sit down to an enchanting meal for the whole family at the Stoneacre Brasserie. Sip tea and order a triple-tiered display of sweet and savory bites for the table such as buttermilk biscuits, salmon belly BLTs and macarons. For the kids, order a Vermont cheddar grilled cheese or an almond butter and grape jelly "uncrustable." Specialty add-ons are available on Friday afternoons. Fri.–Sun. 2–4 p.m. $28. Stoneacre Brasserie, 28 Washington Sq., Newport, 619-7810, stoneacrebrasserie.com
Weekapaug BBQ on the Guest Lawn
THROUGH AUG. 29: Spend your Monday evening at Weekapaug Inn indulging in some low-and-slow barbecue fare with classic summer sides. House beer and wine go well with the live music and s'mores by the fire pit. Mon. 6–8 p.m. $120; children four through twelve $48; three and younger free. Weekapaug Inn, 25 Spray Rock Rd., Westerly, 888-565-5023, weekapauginn.com
Ranger Walkabouts
THROUGH AUG. 25: Take a guided tour through the Blackstone River Valley National Park, headed by park rangers every Thursday evening throughout the summer, to dive into the many stories behind the Blackstone River Valley. Topics and locations vary depending on the day. Thurs. 6:30 p.m. Visit the website for dates and locations throughout Rhode Island and Massachusetts. 725-8638, nps.gov/blrv
Outdoor Yoga in the Park
THROUGH AUG. 20: From novice to pro, all yogis are invited to join Woods Yoga for the hour-long Outdoor Yoga in the Park at Lincoln Woods State Park with Woods Yoga trainees. Bring your yoga mat, water and sunscreen. Pre-registration required. Sat. 10 a.m. Free. Lincoln Woods State Park, 2 Manchester Print Works Rd., Lincoln, 722-0099, thewoodsyoga.com
WaterFire
AUG. 13: Supported by the Papitto Opportunity Connection, celebrate the state's Black, Indigenous and People of Color communities during this full lighting. 7:45–11:55 p.m. AUG. 27: Watch the river light up the night with the help of the Clear Currents Community at this full lighting paddling event. 7:25–11:55 p.m. Free. 4 North Main St., Providence, 273-1155, waterfire.org
Connecting With Canoes
AUG. 20: Through the Blackstone River, row, row, row your canoe equipped with paddles, life jackets and a guide to lead you toward adventure. Just bring your water shoes and a water bottle to stay
hydrated. Call to reserve your spot. 10 a.m. Blackstone River Watershed Council Environmental Center, 100 New River Rd., Lincoln, 644-3215, blackstoneriver.org
Art Night Bristol Warren
AUG. 25: Art Night Bristol Warren showcases lively and local art scenes throughout the East Bay. Visitors can check out art-related businesses, museums, galleries and studios while taking in dance and music performances at various venues. Last Thursday of each month through August. 5:30–8:30 p.m. Various locations throughout Bristol and Warren, artnightbristolwarren.org
Brew at the Zoo
AUG. 27: This year's Brew at the Zoo offers a variety of activities including animal
encounters and live music from the Farm Dog band and the Niteflies. Sample from 170 beers from more than eighty brewers — local, regional and national — at this twenty-one-plus event. 5–9 p.m.; VIP admission begins at 4 p.m. Roger Williams Park Zoo, 1000 Elmwood Ave., Providence, 785-3510, rwpzoo.org
LOOKING AHEAD TO SEPTEMBER
SEPT. 1–NOV. 6: The Inheritance:Part 1 and 2, Trinity Rep, Providence, trinityrep.com
SEPT. 1–30: Veg Out: Vegan Eats and Treats, Various locations throughout Rhode Island, rifoodfights.com
Sept. 10: Mac and Cheese Festival, LineSider Brewing Company, East Greenwich, linesiderbrewing.com
SEPT. 10–11: RI Seafood Festival, Providence, riseafoodfest.com
SEPT. 16–18: Newport Mansions Wine and Food Festival, Newport, newportmansions.org