37 Things to Watch, Sip and Do in Rhode Island in August
Eat your heart out at Charlestown Seafood Festival, hear from some folks in Warren, cheer the day on a mimosa sail and more fun things to do.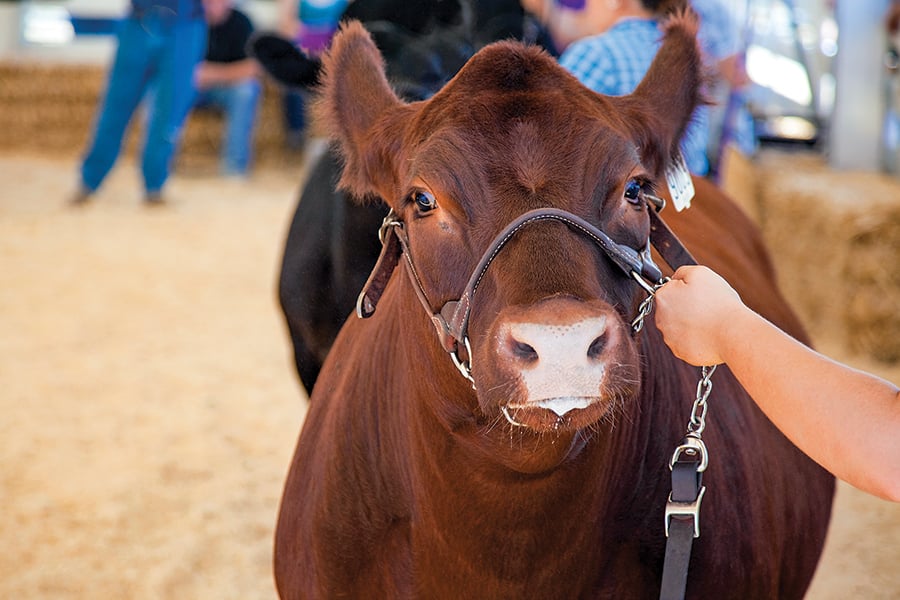 8/11–15
Washington County Fair
Why: Feel like a kid again as you walk through the massive midway, tap your feet to lively concerts, participate in old-fashioned games and contests like tug-o-war, and leave the concession stands with a smile on your face and a mouth-watering burger or ice cream in hand. The fifty-fifth annual Washington County Fair has thrills in store for the entire family with its riveting activities and delicious food.
8 a.m.–11 p.m. Adults $11, children ten and younger free.
Where: 78 Richmond Townhouse Rd., Richmond.
More info: 539-7042, washingtoncountyfair-ri.com.
8/6–8
Charlestown Seafood Festival
Why: Celebrate the thirty-sixth annual Charlestown Seafood Festival by getting your grub on with tasty meals and beverages, served by food vendors including Breachway Grill, Chili Bros Food Company, Riga Bello's Fried Dough, Jungle Juice Smoothies and plenty more to satisfy your seafood and sweet tooth cravings. Don't forget about the carnival rides, Saturday night fireworks, beer and wine tents and the car show on Sunday. Fri. noon–11 p.m., Sat. 11 a.m.–11 p.m., Sun. 11 a.m.–10 p.m.
Where: Ninigret Park, Charlestown.
More info: 364-4031, charlestownseafoodfestival.com.
8/5, 12, 19
Wakefield RiverFire
Why: Stroll Wakefield's bustling Main Street and participate in the annual RiverFire summer series. Visit restaurants, local shops and businesses, and explore downtown once the music gets started. Take a break from the festivities to glimpse the glowing fires placed along the river. Bring a non-perishable food item to donate to the Jonnycake Center Food Pantry of Peace Dale. 6–10 p.m.
Where: Saugatucket River off Main Street, Wakefield.
More info: 474-4700, wakefieldvillageassociation.com.
Editor's note: Please call ahead to confirm event details.
Theater
Trinity Repertory Company
Ongoing: Don't miss the theater's digital programs, including clips of behind-the-scenes stories, videos and blog posts from actors, scenes from past shows, and episodes of Trinity Rep Radio Theater. Free to stream. 351-4242, trinityrep.com
Sandra Feinstein-Gamm Theatre
Ongoing: In preparation for the theater's thirty-seventh season beginning in late September, brush up on your Shakespeare with season one and two of the Gamm's streaming series on the Bard featuring Ricardo Pitts-Wiley, Marianna Bassham, John Douglas Thompson and other contemporary stage luminaries. Free to stream. 723-4266, gammtheatre.org
The Wilbury Theatre Group
Ongoing: Catch up on the theater's stellar virtual offering, with videos from the archives including the Wilbury crowd-pleaser Roadhouse: The Musical and others. Free to stream. 400-7100, thewilburygroup.org
Contemporary Theater Company
Aug. 6–25: Witness improvisation at its finest while watching the Patio Musical. Engage with the improvisers by coming up with a title for them and choosing a pitch for the one-of-a-kind show. Visit the website for show times. Wed. 7 p.m., Fri. 9 p.m. $10–$20. AUG. 12: This Wakefield Idol season, catch some talented singers belt out several classics on the Riverfront Performance Patio. Past Idol winners will take the stage alongside the top singers for the ultimate concert. 7 p.m. $20. 327 Main St., Wakefield, 218-0282, contemporarytheatercompany.com
Fairs and Festivals
Providence Flea
Ongoing: The outdoor Providence Flea allows visitors to feel the fresh air while shopping and obsessing over vintage finds and locally sourced products. Gather your family and friends and start searching for your next hidden gem. Sundays 10 a.m.–3 p.m. Free. Across from 345 South Water St., Providence, 484-7783, providenceflea.com
PVD Artisans Market
Ongoing: Support local artists at the PVD Artisans Market while revamping your home with a variety of new and unique art. From sculptures to paintings, you're bound to fall in love with some eye-catching items. Sat. 9 a.m.–2 p.m. Free. Lippitt Park, 1015 Hope St., Providence, facebook.com/pvdartisansmarket
Field of Artisans
Through Aug 28: Meet artisans and creatives from all over New England and express your support by showcasing their work in your home, around your neck and in your hair. Sat. 11 a.m.–4 p.m. Free, just pay beach parking fee. South Kingstown Town Beach, Matunuck Beach Rd., Wakefield, fieldofartisans.com
Warren Folks Festival
Aug. 28: This annual folk festival combines live music from ten Rhode Island-based acts, craft beer, local food, creative art from thirty local artisans and more. Snap some pics at the mobile photo booth and stop by the kids' craft table so your younger ones can explore their inner artists. Proceeds go toward the Collaborative's family-fun events for the community and support local talent. 1–8 p.m. 30 Cutler St., Warren, 903-0969, thecollaborative02885.org
Trips and Tours
Rail Explorers Tours
Ongoing: Take a bite out of Sunday brunch or check out the night sky with Rail Explorers in themed, pedal-powered tours — with snacks — from the Southern Circuit to Bayside Station. See website for tour times and ticket prices. 1 Alexander Rd., Portsmouth, 877-833-8588, railexplorers.net
Rhode Island Red Food Tours
Ongoing: Explore your favorite capital city neighborhoods on a food tour. Walking tours in Providence include food samplings plus beverage pairings at six local restaurants. Reservations are required. Noon–3:30 p.m. $69–$84. Various locations, rhodeislandredfoodtours.com
Providence Kayak Tours
Ongoing: Paddle through bodies of water like the Providence and Woonasquatucket rivers, and Olney Pond within Lincoln Woods State Park. Rent a kayak in Providence or Lincoln or go on a guided tour in Providence and learn more about the Creative Capital. See website for tour dates and times. $20–$75. Providence location: 15 Bridge St., Providence; Lincoln location: 2 Manchester Print Works Rd., Lincoln, 829-1769, providencekayak.com
Haunted Boat Tours
Ongoing: Brave the dark waters of the Providence Marina during the Haunted Boat Tour, where passengers can learn more about the city's deceased and restless souls while getting a view of historic architecture, moonlit bridges and cobblestone walkways. Reserve your spot online and dress according to the weather. Wed. and Sun. 8­–9 p.m. $25–$30. Providence Marina, 15 Bridge St., Providence, 580-2628, providenceriverboat.com
Matunuck Oyster Farm Tour
Ongoing: Expand your aquaculture and fisheries knowledge during a one-hour tour of the Matunuck Oyster Farm on Potter Pond. Rain or shine, visitors can get an inside look at the various shellfish species the restaurant serves its customers. The tour package also includes a bottle of Veuve Clicquot and one dozen Matunuck oysters. Visit the website to check out tour dates and times and to reserve your spot. $150–$500. Matunuck Oyster Bar, 629 Succotash Rd., South Kingstown, 783-4202, rhodyoysters.com
Rhode Island Bay Cruises
Ongoing: Go on a thirty-mile cruise ride as you pass by ten beautiful islands and iconic Rhode Island lighthouses along Narragansett Bay. The Newport bridges, mansions and historic Fort Adams will be some of the many sights you take in during the breezy voyage. Visit the website for cruise rates. Mon.–Thurs. 1–2:40 p.m. Quonset Point, North Kingstown, 295-4040, rhodeislandbaycruises.com
Mimosa Sail
Ongoing: Climb onto the schooner Aurora with brunch lovers alike, and the classic drink in mind. This sailing package comes with three drink tickets for mimosas and a personal appetizer box full of brunch faves to munch on while sailing by the City by the Sea. Purchase your ticket online. Sun. 11 a.m.–1 p.m. $45. 5 Marina Plaza, Newport, 849-6683, newportexperience.com
Whale Watching and Dolphin Excursion
Through Aug. 28: Aboard the Frances Fleet, keep your eyes peeled when searching for whales, dolphins and other sea animals off the Port of Galilee. Fun fact: The finback whale is the most common off the coast of Rhode Island in the summer and can fit an entire VW bus inside its mouth. For an extra challenge, search for the different types of sea birds flying above you. Reserve your spot online. Tues., Thurs., Fri. and Sat. 1–5:30 p.m. $45–$55. 33 State St., Narragansett, 783-4988, francesfleet.com
Providence Architecture Tour
Aug. 4 and 16: Have you ever stopped to appreciate the buildings and landmarks that surround you in the Creative Capital? Learn about the fascinating architectural history of the city during a seventy-five-minute boat ride down the Providence waterways, led by the Providence Preservation Society. View the skyscrapers, as well as hidden gems and subtle details you might've missed. BYOB in your own small cooler or grab a drink from the Fish Co. before climbing aboard. 4–5:15 p.m. $40. Providence Marina, 15 Bridge St., Providence, 580-2628, providenceriverboat.com
Kids' Stuff
David Rogers' Big Bugs at Green Animals
Ongoing: Try not to squirm when walking under the humongous ten-foot-tall daddy long legs structure or passing the eighteen-foot-long praying mantis. Traverse through the Green Animals Topiary Garden, teeming with sculptures of various pollinators and creepy crawlers on a massive scale. Daily 10 a.m.–5 p.m. Adults $18, children six to seventeen $8. Green Animals Topiary Garden, 380 Cory's Ln., Portsmouth, 683-1267, newportmansions.org
Studio Playground
Aug. 16–20: In Lincoln Woods State Park, morning and afternoon theater classes are in session for kids ages five through ten. Attendees can expect a full week of fun theater games while building confidence and bonding with other theater mates. Morning sessions 9 a.m.–noon; afternoon sessions 1–4 p.m. $225–$400. Visit website for spot reservations. 2 Manchester Print Works Rd., Lincoln, studioplaygroundtheatre.com
Music
Gazebo Summer Concerts
Ongoing: Vibe out to live performances by local bands and musicians like the Black Tie Band, James Montgomery Band and more. Bring a lawn chair, snacks and beverages, and your dancing shoes. Fri. 6–7:30 p.m. Gazebo Park, 25 Ocean Rd., Narragansett, 782-0658, narragansettri.gov
Music at Sunset Concert Series
Ongoing: Musical groups like the DMB Project and Colby James and the Ramblers will have you on your feet as the sun sets over Narragansett Bay. On thirty-three acres of luxurious gardens and grounds, spread out your picnic blanket with treats to snack on and enjoy the view and evening heat. Tickets are sold by the carload and can be purchased in advance online. Wed. 6–8 p.m. Member cars $45; non-member cars $55. Blithewold Mansion, Gardens and Arboretum, 101 Ferry Rd., Bristol, 253-2707, blithewold.org
Galleries
Jessica Hagen Fine Art and Design
Through Sept. 3: Check out "Places We Love," an exhibit of paintings featuring beaches, shorebirds, sunshine and more by artists Rob Diebboll and Jill Madden in celebration of summer. 10 a.m.–5 p.m. 9A Bridge St., Newport, 835-7682, jessicahagen.com
The Queer Art Collective
Through Oct. 5: View the exhibit "When the Colors Fade: A Queer Riot Against Corporate Pride," which includes artists such as Lauren Packard, Nicole MelNicky, Joe Welch and T. Taumanu. Visit website for times. 172 Exchange St., Suite 101, Pawtucket, 236-5093, thequeerartcollective.org
Art Night Bristol Warren
Aug. 26: Bike, walk, drive or take the route sixty RIPTA bus down to the last Art Night Bristol Warren of the tenth season, where venues and galleries like IMAGO Gallery and the Church Palace invite guests to explore local artwork, listen to music and eat food from the Taco Box food truck. 5:30–8:30 p.m. Various locations in Bristol and Warren, artnightbristolwarren.org
Museums
RISD Museum
Ongoing: During the museum's after hours (plan your in-person visit in advance online!), experience art through performances, snippets of conversation, hands-on art making and encounters with artists. There are several exhibitions on view including "Defying the Shadow," "Black Flyyy," "On the Surface: Contemporary Ceramics" and more. Wed., Sat., Sun. 10 a.m.–5 p.m.; Thurs. and Fri. noon–7 p.m. Adults $17, seniors $12, youth $8, children five and younger free. Free admission Thurs. and Fri. after 5 p.m. and all day Sun. 454-6500, risdmuseum.org
Benefits
Heart Walk Gala
Aug. 27: Join the Bryant Physician Assistant program in raising money for the American Heart Association during the fourth annual Heart Walk Gala. Dance along to the live music and participate in the raffle to potentially take home a prize. 6–10 p.m. $40–$70. Newport Officers Club, 95 Perry Rd., Newport, 232-6556, facebook.com/bryantuniversitypa
Etcetera
Food Truck Friday at Roger Williams Park
Ongoing: Select from more than fifteen local food trucks as well as beer from Trinity Brewhouse during the seventh annual Food Truck Friday at Roger Williams Park Zoo and Carousel Village. Enjoy live music from Third Wheel, Charlie Marie, Sidy Maiga and more while picnicking on the lawn. Hop on the carousel ride or train or play on Hasbro's Boundless Playground for extra fun. Fri. 5–8 p.m. Admission is free; food, drinks and rides are an additional price. 1000 Elmwood Ave., Providence, foodtrucksin.com/food-truck-events
Roller Disco
Ongoing: Show off your grooviest moves (and outfit) as you glide through the Providence Rink, rigged with a spinning disco ball and lights. Music, courtesy of local deejays and live acts, starts at 6 p.m., and the Trinity Beer Garden provides snacks and beverages to skaters, as well. Thurs. and Fri. 5–10 p.m. The BankNewport City Center, 2 Kennedy Plaza, Providence, 680-7390, theprovidencerink.com
Lobster Boil and BBQ on the Guest Lawn
Ongoing: Select a little bit of everything from the buffet line at the Lobster Boil and BBQ, including lobster, salads, clams, chowder and more. Save some room for desserts and s'mores by the fire. Tables are set for ten guests; reserve your seats online. Thurs. 6–10 p.m. Adults $110, children four to twelve $45, children three and younger free. Weekapaug Inn, 25 Spray Rock Rd., Westerly, 888-565-5023, weekapauginn.com
Newport International Polo Series
Ongoing: Watch action-packed events every Saturday during the thirtieth anniversary season of the Newport Polo Series, including Newport vs. Palm Beach and USA vs. Jamaica. Enjoy fan prizes, special weekly features, concessions and more. Sat. 5–7 p.m. $30–$80, children fifteen and younger free. 250 Linden Ln., Portsmouth, 846-0200, nptpolo.com
newportFILM Outdoors
Through Sept. 9: Catch flicks at Aquidneck Island's iconic mansion lawns, sports fields and public parks. Call or visit the website for show times and ticket prices. Various venues in Newport, 649-2784, newportfilm.com
Cut Your Own Lavender
Aug. 7: Choose from 4,000 lavender plants to cut and add to your basket. These herbs add a pop of color — and scent — to any room in your home. Pick your preferred time slot and reserve your spot online. $20. 3814 Commodore Perry Hwy., South Kingstown, lavenderwavesfarm.com
British Motor Cars
Aug. 20–21: Admire exotic British motorcars cruising down the streets of Bristol's waterside village. Friday morning, take a scenic tour of Bristol and southern New England before the British car parade into downtown Bristol begins along with an evening block party and live band. The main event is on Saturday, where attendees will see more British cars at Colt State Park with the view of Narragansett Bay. Admission and public parking free; visit website for times and car registration prices. Various locations in Bristol, 508-395-6663, britsinbristol.com