37 Things to Do, Watch and Celebrate in RI in June
Commemorate Juneteenth at the park, catch Festival Ballet's new outdoor show, celebrate Pride in Newport and more fun happenings.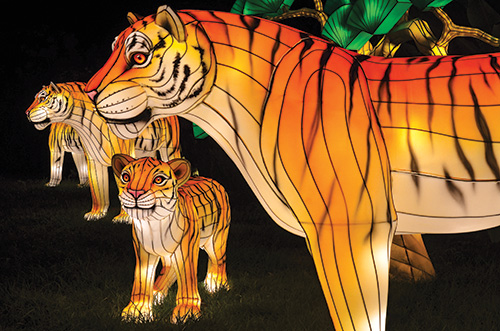 Through 7/4
Asian Lantern Spectacular
Why: Head to Roger Williams Park Zoo after dark to witness a wonderland of illuminated, larger-than-life lanterns inspired by the wild. Admire the interactive displays while indulging in Asian-inspired cuisine and drinks with your family. Tickets sold online only. Wed.–Sun. 5:30–10 p.m. Children $23, adults $25, babies one and younger free.
Where: Roger Williams Park Zoo, 1000 Elmwood Ave., Providence.
More info: 785-3510, rwpzoo.org.
6/18–20
"Back in Bloom"
Why: Explore ornate floral design exhibits in the ballroom, salon and terrace of Rosecliff mansion while taking a self-guided tour. Themes such as "Harvest Moon," "Garden Nymph" and "A Garden at Nighttime" will transport you to a world of earthly art. Join other floral enthusiasts in admiring the creations of various designers. 9 a.m.–noon and noon–3 p.m. $20–$40.
Where: 548 Bellevue Ave., Newport.
More info: 847-1000, newportmansions.org.
Through 6/30
Leyden's Wine Tasting
Why: Choose five tasty wines to sip and savor. You can also purchase a wine bottle to enjoy in the tasting room, patio or on the grounds of Leyden Farm's vineyard. Here's an extra special treat: The wine glass is yours to keep. Go with a significant other or your pals to talk wine. Daily noon–4 p.m. $12–$22.
Where: Leyden Farm Vineyard and Winery, 160 Plain Meeting House Rd., West Greenwich.
More info: 392-1133, leydenfarm.com.
Editor's note: Please call ahead to confirm event details.
Theater
Trinity Repertory Company
Ongoing: Don't miss the theater's digital content, including a Facebook Live series, Your Half Hour Call with Curt; stories and readings from the resident acting company; clips from past shows; and episodes of Trinity Rep Radio Theater. Free to stream. 351-4242, trinityrep.com
Sandra Feinstein-Gamm Theatre
ongoing: Brush up your Shakespeare by renewing season two of Gamm's streaming series on the Bard featuring Ricardo Pitts-Wiley, Marianna Bassham, John Douglas Thompson and other contemporary luminaries. Free to stream. 723-4266, gammtheatre.org
The Wilbury Theatre Group
ongoing: Catch up on the theater's stellar virtual offerings, including a reading of Invoice for Emotional Labor by Christopher Johnson, Wilbury crowd-pleaser Roadhouse: The Musical and others. Free to stream. 400-7100, thewilburygroup.org
Contemporary Theater Company
ongoing: Tune into high-quality (and free!) virtual performances including Love Stories and Other Sonnets, plus silly Family Play Date offerings from Jay and Leslie Cady. Free to stream. 218-0282, contemporarytheatercompany.com
Fairs and Festivals
Festival of Gardens
June 12-13: Gaze upon various private gardens hosted by the Providence Preservation Society and the Garden Conservancy. On Saturday, take self-guided tours of a curated selection of unique gardens within distinct city neighborhoods, featuring flowering perennials encircling a garden folly, a boxwood parterre garden and more. On Sunday, the Garden Conservancy hosts guided tours of an historic city garden on College Hill and Swan Point Cemetery (sold out). Visit the website for locations and ticket information. Various gardens in Providence, gardenconservancy.org; ppsri.org
Juneteenth Festival
June 19: Attend the third annual Juneteenth celebration, commemorating June 19, 1865, and the liberation of enslaved African-Americans throughout the nation's Confederate states. Dance, eat and support local vendors. Noon–8 p.m. Free. Roger Williams Park Temple to Music, F C Greene Memorial Boulevard, Providence, 288-7864, juneteenthri.com
Trips and Tours
Newport: Rhode Island's Spectacular City by the Sea Tour
ONGOING: Explore the historic and breathtaking scenes of Marble House, Cliff Walk, Brick Market Place and more. This bus tour includes lunch and some room to explore on your own. Five and a half hours will not feel like enough time. Saturdays 10 a.m.–3:30 p.m. $50–$65, children five and younger free. 1 Eddy St., Providence, 886-0733, experienceri.com
Rail Explorers Tours
Onngoing: Take a bite out of Sunday brunch or check out the night sky with Rail Explorers in themed, pedal-powered tours — with snacks — from the Southern Circuit to Bayside Station. See website for tour times and ticket prices. 1 Alexander Rd., Portsmouth, 877-833-8588, railexplorers.net
Rhode Island Red Food Tours
Onngoing: Explore your favorite capital city neighborhoods on a food tour. Walking tours in Providence include food samplings plus beverage pairings at six local restaurants. Reservations are required. Noon–3:30 p.m. $69–$84. Various locations, rhodeislandredfoodtours.com
Providence Kayak Tours
Onngoing: Paddle through bodies of water like the Providence and Woonasquatucket rivers and Olney Pond within Lincoln Woods State Park. Rent a kayak in Providence or Lincoln, or go on a guided tour (Providence only) and learn more about the Creative Capital. Visit website for tour dates and times. $20–$75. Providence location: 15 Bridge St., Providence; Lincoln location: 2 Manchester Print Works Rd., Lincoln, 829-1769, providencekayak.com
Haunted Boat Tours
Onngoing: Brave the dark waters of the Providence Marina during the Haunted Boat Tour, where passengers can learn more about the city's deceased and restless souls while getting a view of historic architecture, moonlit bridges and cobblestone walkways. Reserve your spot online and dress according to the weather. Wednesdays and Sundays 8–9 p.m. $25–$30. Providence Marina, 15 Bridge St., Providence, 580-2628, providenceriverboat.com
Napatree Point Oystercatchers Tour
June 6: Napatree Point, the one-and-a-half-mile long peninsula, is the ideal location to see shorebirds in the spring and summer. Observe American Oystercatchers on this three-hour tour and also learn about the historic Fort Mansfield ruins. 9 a.m.–noon. $20. Weekapaug Inn, 25 Spray Rock Rd., Westerly, 888-565-5023, oceanhouseevents.com
Driftwood Booze Cruise at Sunset
June 13 AND 19: Breeze through Narragansett Bay aboard the Coastal Queen with a cocktail or beer in hand. Admire breathtaking sights of the island of Jamestown, such as historic forts, lighthouses, harbor estates and more. The cruise ride is ninety minutes long, and a face covering and valid ID is required for boarding. Departs at 7:15 p.m. $35. 1 East Ferry Wharf, Jamestown, 423-9900, coastalqueencruises.com
Father's Day Boat Tours
June 20: Show dad just how much you appreciate him (and his corny jokes!) as you cruise through Riverwalk, Providence River, Waterplace Park and the Providence Harbor. The fifty-minute cruise tour will be narrated, and you can choose to BYOB in a personal cooler or get a drink from Fish Co. before climbing aboard. Tours run from 11 a.m.–7 p.m. $5–$23. Providence Marina, 15 Bridge St., Providence, 580-2628, providenceriverboat.com
Family Stuff
Food Truck Friday at Roger Williams Park
Onngoing: Select from more than fifteen local food trucks during the seventh season of Food Truck Friday at Carousel Village. Enjoy live music from Third Wheel, Charlie Marie, Sidy Maiga and more while picnicking on the lawn. (Wine and beer from Trinity Brewhouse is also available for purchase.) Play on Hasbro's Boundless Playground, or hop on the carousel or train for additional charge. Fridays 5–8 p.m. Admission is free, just pay for food and drinks. 1000 Elmwood Ave., Providence, foodtrucksin.com/food-truck-events
Food Trucks Roll into Richmond
June 10: No matter what type of food you're craving, the selection of spaced out food trucks at this event will satisfy your appetite. Bring lawn chairs or some blankets and enjoy the live music while munching on delicious food. 5–8 p.m. Admission is free, just pay for food and drinks. 5 Richmond Townhouse Rd., Wyoming, foodtrucksin.com/food-truck-events
Wakefield RiverFire
June 24: Stroll down Wakefield's Main Street and participate in the annual RiverFire summer series. Visit restaurants, local shops and businesses, and explore downtown once the music gets started. Remember to bring a non-perishable food item with you to donate to the Jonnycake Center's food pantry in Peace Dale. 6–10 p.m. Free. Saugatucket River off Main Street, Wakefield, 474-4700, wakefieldvillageassociation.com
Dance
Festival Ballet Providence
June 17–27: Festival Ballet Providence is returning to the stage, where performers will dance under the sky of Providence's East Side. In an outdoor setting with socially distant seating, attendees can marvel at the live showcase and enjoy the music during a new series of summer performances, including "Emergence," a reimagining of the black box series Up Close on Hope. Call or visit the website for show times. $20–$50. 825 Hope St., Providence, 353-1129, festivalballetprovidence.org
Music
Summer Concerts
Onngoing: Vibe out to live performances by local bands and musicians like Reckless Blues, Granite City Rock and Mary Pierce. Bring a lawn chair, snacks and beverages, and your dancing shoes. Fridays 6–7:30 p.m. Gazebo Park, 25 Ocean Rd., Narragansett, 782-0658, narragansettri.gov
Knick Live Stream
Onngoing: Check out this ten-week series of full virtual concerts from the Knick stage and co-presented by the United and the Knick. Tune into Madison McFerrin, Cowboy and Lady, the Bruce Harris Trio and more. Free to stream. unitedtheatre.org
FirstWorks Live: Music at Roger Williams Park
JUNE 27: Return to the thrill of live performances through summer concerts in a gorgeous outdoor setting. Join FirstWorks for a journey from global jazz to hip-hop to sounds from the mountains and rhythms of the sea. Grab your lawn chair (or blanket) and enjoy extraordinary artists in the park. Performances will take place at the Dalrymple Boathouse Lawn and Bandstand. 5 p.m. Visit website for full lineup and schedule announcements. Roger Williams Park, 1000 Elmwood Ave., Providence, 421-4278, first-works.org
Museums
RISD Museum
Onngoing: Experience art through virtual performances, conversation, hands-on art making and encounters with artists. All through June, sign up for Family See and Sketch, an intergenerational online program that explores art through discussion and practice with common household materials. Virtual programs are free. 454-6500, risdmuseum.org
Benefits
Cause for Paws Car Show
JUNE 13: Admire antique and exotic cars and trucks in support of the thirteenth annual Cause for Paws Car Show. Enjoy food and drinks while listening to live music and stick around until the end to see which top fifty cars receive an award. Funds raised during the event will benefit homeless animals at Warwick Animal Shelter. 9 a.m.–2 p.m. (Rain date July 18.) Free for spectators, $15 entry fee per car. 171 Service Ave., Warwick, 468-4377, friendsri.org
Etcetera
Art on Tap: Troop-Top Deck at the WaterFire Arts Center
Onngoing: Order wine and beer from Troop PVD on top of the WaterFire Arts Center. Lounge with your buddies while sipping on great drinks and watching the sunset. Reserve your spot beforehand. In case it rains, the party continues indoors. Thursdays 5–9 p.m. $5. 475 Valley St., Providence, 473-2900, trooppvd.com
Bloom Collective Pop Ups
Ongoing: Pop into the Bloom Collective, which features a variety of clothing, jewelry, candles and more. Explore and support local creatives and designers, and stop by neighboring eateries afterwards. Thurs.–Sun. 11 a.m.–6 p.m. Free. 1455 Westminster St., Providence, wearebloomcollective.com
Newport International Polo Series
ongoing: The thirtieth anniversary season of the Newport Polo Series kicks off on June 5 and opens with U.S.A. vs. Switzerland. Watch action-packed events every Saturday like the Newport Cup and U.S.A. vs. Argentina, and enjoy fan prizes, special weekly features, concessions and more. Saturdays 5–7 p.m. $30–$80, children fifteen and younger free. 250 Linden Ln., Portsmouth, 846-0200, nptpolo.com
PVD Artisans Market
ongoing: Support local talented artists at the PVD Artisans Market while revamping your home with a variety of new and unique art. From sculptures to paintings, you're bound to fall in love with some eye-catching items. Saturdays 9 a.m.–2 p.m. Free. Lippitt Park, 1015 Hope St., Providence, facebook.com/pvdartisansmarket
SOMM 101 at Nomi Park
Through June 30: Talk about wine like an expert during the hour-and-a-half wine education class at Nomi Park restaurant. Each class will have different representatives discussing the wine from their distinct vineyards. Reserve your spot online. Wednesdays 5:30–7 p.m. Free. Nomi Park in the Wayfinder Hotel, 151 Admiral Kalbfus Rd., Newport, 849-9880, nomiparknpt.com
Movie Night: A Celebration
of the Silent Screen
June 2: Catch a flick and a musical concert all in one Zoom program, hosted by Music on the Hill. Watch the Miller-Porfiris Duo perform pieces by Chopin, Irving Berlin, Copland and more during the hour of silent shorts including Tango Tangles and The Great Train Robbery. 7:30–8:30 p.m. $20. musiconthehillri.org
Providence Flea
June 6, 13, 20 AND 27: The Providence Flea has returned outdoors, allowing visitors to feel the fresh air while obsessing over vintage finds and locally sourced products. Gather your family (and masks) and start searching for your next hidden gem. 10 a.m.–3 p.m. Free. Across from 345 South Water St., Providence, 484-7783, providenceflea.com
In the Cellar: Rum and Foods of the Tropics
June 12: Take your taste buds to the Caribbean during this Ocean House event. Inside the intimate Center for Wine and Culinary Arts, experiment with the unique cuisine and the taste of various rums. 3–4:30 p.m. $75. Ocean House, 1 Bluff Ave., Westerly, 888-853-2919, oceanhouseevents.com
Stock Your Cellar
June 13: Sample various wines and discover new favorites to add to your cellar. Work one-on-one with wine vendors and discover the perfect selections to bring home. Wines are available for purchase from producers and vineyards such as Cloudy Bay, Hourglass Vineyards and Phelan Segur. 4–6 p.m. $35. Ocean House, 1 Bluff Ave., Westerly, 888-853-2919, oceanhouseevents.com
Bryant University Women's Summit
June 16: Get inspired during the Bryant University Women's Summit and engage in conversations with a wide-ranging audience that includes many women leaders in Rhode
Island and beyond. The virtual conference will focus on themes such as growth and resiliency and features keynote speakers including Angela Duckworth, Amy C. Edmondson, Ph.D., Jody Hoffer Gittell, Ph.D., and Arlan Hamilton. Register for the event online. 232-6000, news.bryant.edu
Newport Pride Weekend
June 25–27: Celebrate love, acceptance,
inclusivity and diversity during Newport Pride weekend. Purchase a Newport Pride 2021 pin, support small shops during the market and festival at Equality Park, go for a three-mile bike ride through town and more during this annual celebration of LGBTQIA Rhode Islanders. Visit website for event times. Various locations, 248-1190, newportout.com/newportpride