36 Things to See, Taste and Celebrate in September
Fallfest weekend is upon us. Fill up on funnel cake and Ferris wheel rides, then enjoy craft markets, group tours and other fun things to do in September.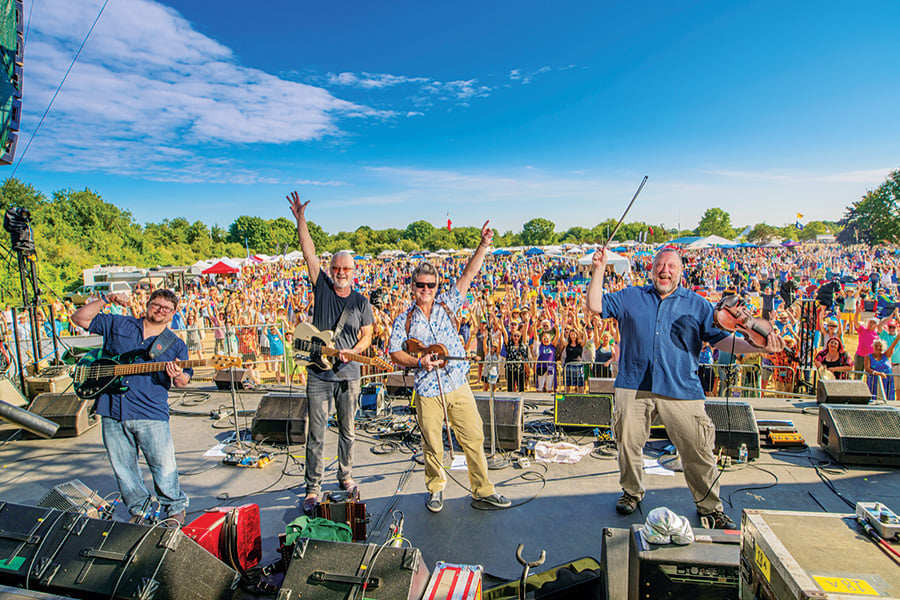 9/3–5
Rhythm and Roots Festival
Why: In front of the big stage and on the 4,400-square-foot wooden floor, dance to performances by Will Evans and Rising Tide, Donna the Buffalo and plenty more. Replenish your energy by snacking on meals like potato pancakes, chili, po' boys, fish tacos, Thai noodles and smoked meats, and drinking craft beers on tap. For the full experience, stay overnight on the campgrounds to hear musicians play into the evening. $49–$249; kids twelve and younger free.
Where: Ninigret Park, Charlestown.
More info: rhythmandroots.com.
9/16–19
Newport International Boat Show
Why: Test out your nautical knowledge while walking the docks and checking out several new sailboats and powerboats at one of the largest boat shows in the country. Get a refreshing view of the national historic sites and coastal scenery, then stop by the nearby restaurants and trendy boutiques. Visit the website for times and ticket prices.
Where: Newport Yachting Center Marina, 20 Commercial Wharf, Newport.
More info: 800-582-7846, newportboatshow.com.
Theater
Trinity Repertory Company
Ongoing: As we await Trinity Rep's upcoming season, don't miss the theater's digital programs, including clips of behind-the-scenes stories, videos and blog posts from actors, scenes from past shows, and episodes of Trinity Rep Radio Theater. Free to stream. 351-4242, trinityrep.com
Sandra Feinstein-Gamm Theatre
Ongoing: Prepare for season thirty-seven of the Gamm Theatre, which brings new, captivating shows to its audiences beginning in late September. Look out for Henrik Ibsen's An Enemy of the People, It's a Wonderful Life: A Live Radio Play and more. Meanwhile, brush up on your Shakespeare with season one and two of Gamm's streaming series on the Bard featuring Ricardo Pitts-Wiley, Marianna Bassham, John Douglas Thompson and other local stage luminaries. Free to stream. 723-4266, gammtheatre.org
Contemporary Theater
Ongoing: Settle down on the Riverfront Performance Patio and get ready to laugh at the scenes from Native Gardens by Karen Zacarías, a comedy that shows us what it takes to love thy neighbor. Fri.–Sun. 7 p.m. $20. 327 Main St., Wakefield, 218-0282, contemporarytheatercompany.com
The Wilbury Theatre Group
Ongoing: Catch up on the theater's stellar virtual offerings, and prepare for 2021/2022 shows helmed by regional artists including Haus of Glitter, Charlie Thurston, Shey Rivera Rios and more. Free to stream. 400-7100, thewilburygroup.org
Fairs and Festivals
PVD Artisans Market
Ongoing: Support local artists at the PVD Artisans Market while revamping your home with a variety of new and unique art. From sculptures to paintings, you're bound to fall in love with some eye-catching items. Sat. 9 a.m.–2 p.m. Free. Lippitt Park, 1015 Hope St., Providence, facebook.com/pvdartisansmarket
Providence Flea
Through Sept. 26: The outdoor Providence Flea allows visitors to feel the fresh air while shopping for vintage finds and locally sourced products. Gather your family and friends and start searching for your next hidden gem. Sundays 10 a.m.–3 p.m. Free. Across from 345 South Water St., Providence, 484-7783, providenceflea.com
Gaspee Days
Sept. 11–12: Celebrate the return of fall with the annual Arts and Crafts Festival. Browse work by more than 100 Rhode Island artisans in quaint Pawtuxet Village. Don't miss activities for children and performances by local bands. Sat. 10 a.m.–5 p.m., Sun. 10 a.m.–4:30 p.m.; music begins at 1 p.m. Free. Narragansett Parkway, Warwick.
Sept. 11: At the Block Party, it's all about neighborhood fun. Enjoy a night of music and drinks at this twenty-one-and-older event. 6–11 p.m. $5. Pawtuxet Park, Warwick, 781-1772, gaspee.com
Misquamicut Fallfest Weekend
Sept. 17–19: Get a bird's-eye view of the entire fest from the Ferris wheel and other fun rides, and check out cool classic cars at the annual car show. With multiple food, craft and commercial vendors, there's always something to do and see. Visit website for times and amusement park prices. Admission is $9, children younger than seven free. Misquamicut State Beach, 257 Atlantic Ave., Westerly, 322-1026, misquamicutfestival.org
Gansett Days: A Celebration of Narragansett
Sept. 17–19: Attend a three-day celebration full of fun and educational activities for every family member. Various concerts including John Cafferty and the Beaver Brown Band, tours and even kayaking are some of the many festivities to enjoy on and by the beach. Check out the Main Exhibit Tent in Gazebo Park for more information on the weekend events. Narragansett Town Beach, Narragansett, 789-1044, narragansettri.gov
Exeter Fall Festival
Sept. 25: Pumpkin painting, raffles, face painting and artisan craft vendors are some of the many activities in store for the day. Attendance helps support the Exeter Public Library and funds support community programs and resources. 10 a.m.­–3 p.m. Free admission; activity tickets are six for $5. 160 Yawgoo Valley Rd., Exeter, 294-0294, yorkerhill.com/exeterfriends
Newport Mansions
Wine and Food Festival
Sept. 17–19: Taste unique dishes prepared by local and regional chefs paired with wines from around the world and enjoy a breathtaking view of the ocean from the terrace. Dive into Sunday brunch, insightful seminars and delicious wine dinners during this year's festival at Rosecliff and the Breakers Stable. Call or visit the website for event times and ticket prices. Newport, 847-1000, newportmansions.org
Trips and Tours
Rail Explorers Tours
Ongoing: Take a bite out of Sunday brunch or check out the night sky with Rail Explorers in themed, pedal-powered tours from the Southern Circuit to Bayside Station. See website for tour times and ticket prices.
1 Alexander Rd., Portsmouth, 877-833-8588, railexplorers.net
Rhode Island Red Food Tours
Ongoing: Explore your favorite city neighborhoods through local cuisine. Walking tours in Providence or Newport include food samplings plus beverage pairings at six local restaurants. Reservations are required. Thurs.–Sun. noon–3:30 p.m. $69–$84. Various locations, rhodeislandredfoodtours.com
Haunted Boat Tours
Ongoing: Brave the dark waters of the Providence Marina during the Haunted Boat Tour, where passengers can learn more about the city's deceased and restless souls while getting a view of historic architecture, moonlit bridges and cobblestone walkways. Reserve your spot online and dress according to the weather. Wed. and Sun. 8–9 p.m. $25–$30. Providence Marina, 15 Bridge St., Providence, 580-2628, providenceriverboat.com
Matunuck Oyster Farm Tour
Ongoing: Expand your aquaculture and fisheries knowledge during a one-hour tour of the Matunuck Oyster Farm on Potter Pond. Rain or shine, visitors can get an inside look at the various shellfish species the restaurant serves its customers. The tour package also includes a bottle of Veuve Clicquot and one dozen Matunuck oysters. Visit the website for tour times. $150–$500. Matunuck Oyster Bar, 629 Succotash Rd., South Kingstown, 783-4202, rhodyoysters.com
Rhode Island Bay Cruises
Through Sept. 20: Go on a thirty-mile cruise ride as you pass ten beautiful islands and iconic Rhode Island lighthouses along Narragansett Bay. The Newport Bridges, mansions and historic Fort Adams are some of the many sights you take in during the breezy voyage. Visit the website for cruise rates and dates. 1–2:40 p.m. Quonset Point, North Kingstown, 295-4040, rhodeislandbaycruises.com
Mimosa Sail
Through Sept. 26: Climb onto the Schooner Aurora with friends and other fellow brunch lovers. This sailing package comes with three drink tickets for mimosas and a personal appetizer box full of brunch faves to munch on while sailing by the City by the Sea. Purchase your ticket online. Sun. 11 a.m.–1 p.m. $45. 5 Marina Plaza, Newport, 849-6683, newportexperience.com
Providence Architecture Tour
Sept. 1 and 20: Have you ever stopped to appreciate the buildings and landmarks that surround you in the Creative Capital? Learn about the fascinating architectural history of the city during a seventy-five-minute boat ride down the Providence waterways, led by the Providence Preservation Society. View the skyscrapers, as well as hidden gems and subtle architectural details you might've missed. BYOB in your own small cooler or grab a drink from the Fish Co. before climbing aboard. 4–5:15 p.m. $40. Providence Marina, 15 Bridge St., Providence, 580-2628, providenceriverboat.com
Gardening with the Masters Tour
Sept. 25–26: The URI Master Gardeners have opened their seventeen unique gardens to the guests of this year's Gardening with the Masters Tour, where inspiration blooms amid environmentally sound gardening practices. Take notes and photos and bask in the beauty of each garden. 10 a.m.–4 p.m. Tickets $30, guests eighteen and younger free. Various locations, 874-2900, uri.edu/mastergardener/tour
Kids' Stuff
David Rogers' Big Bugs at Green Animals
Through Oct. 3: Try not to squirm when walking under the humongous ten-foot-tall daddy long legs structure or passing the eighteen-foot-long praying mantis. Traverse through the Green Animals Topiary Garden, teeming with sculptures of various pollinators and creepy crawlers on a massive scale. Daily 10 a.m.–5 p.m. Adults $18, children six to seventeen $8. Green Animals Topiary Garden, 380 Cory's Ln., Portsmouth, 683-1267, newportmansions.org
Audubon Raptor Weekend
Sept. 11 and 12: Spot several stunning species of birds such as owls, falcons, eagles and hawks at the Audubon Nature Center and Aquarium for this year's Raptor Weekend. Get a closer look at some birds of prey at the Audubon, with their hooked beaks, sharp talons and highly developed sight and hearing. 10 a.m.–3 p.m. 1401 Hope St., Bristol, 949-5454, asri.org
Music
Music at Sunset Concert Series
Through Sept. 29: Musical groups like the Honky Tonk Knights and Comanchero will have you on your feet as the sun sets over Narragansett Bay. On thirty-three acres of luxurious gardens and grounds, spread out your picnic blanket with treats to snack on and enjoy the view and early fall chill in the air. Tickets are sold by the carload and can be purchased in advance online. Wed. 6–8 p.m. Member cars $45; non-member cars $55. Blithewold Mansion, Gardens and Arboretum, 101 Ferry Rd., Bristol, 253-2707, blithewold.org
Summer Pops Concert Series
Sept. 5: The Rhode Island Philharmonic Orchestra continues its tribute to the human spirit with a concert series at Bristol's Independence Park presenting music by Williams, Tchaikovsky, Copland and more. 6 p.m. Thames Street, Bristol. SEPT. 19: Enjoy the last concert of the series at Pawtucket's Slater Memorial Park. 5:30 p.m. 401 Newport Ave., Pawtucket, 248-7070, riphil.org
FirstWorks Live — Music at Roger Williams Park
Sept. 12: Witness the Rhode Island-based Latin jazz master Carlos de Leon in person, as the trumpet powerhouse will have you dancing the entire evening. SEPT. 19: During this concert, performing-songwriter Thea Hopkins presents a new kind of Americana. 5 p.m. Free. Roger Williams Park Dalrymple Boathouse Lawn, 1000 Elmwood Ave., Providence, 421-4278, first-works.org
Museums
RISD Museum
Ongoing: Plan your in-person visit with an advance ticket purchase on the website and check out exhibitions on view including "Defying the Shadow," which presents anti-portraits by Black artists and of Black figures; and "Any Distance Between Us," which explores the power of intimate relationships in works of contemporary art, particularly those made by artists identified as queer and of color. Wed., Sat., Sun. 10 a.m.­–5 p.m.; Thurs. and Fri. noon–7 p.m. Adults $17, seniors $12, youth $8, children five and younger free. Free admission Thurs. and Fri. after 5 p.m. and all day Sun. 20 North Main St., Providence, 454-6500, risdmuseum.org
Galleries
The Queer Art Collective
ONngoing: View the exhibit "When the Colors Fade: A Queer Riot Against Corporate Pride," which includes work by artists Lauren Packard, Nicole MelNicky, Joe Welch and T. Taumanu. Visit website for times. 172 Exchange St.,
Suite 101, Pawtucket, 236-5093, thequeerartcollective.org
Benefits
Harvest for Health Gala
Sept. 24: The harvest-themed gala features an evening of food, cocktails on this scenic South County golf course, music by local band Take It to the Bridge and a silent and live auction. Funds help the nonprofit Wood River Health Service provide dental, medical, behavioral health and supportive services to the community. RSVP by September 7. 6–11 p.m. $125. Weekapaug Golf Course, 265 Shore Rd., Westerly, 539-2461, woodriverhealthservices.org
Etcetera
newportFILM Outdoors
Through Sept. 9: View a variety of award-winning documentaries, live music and more at Aquidneck Island's iconic mansion lawns, sports fields and public parks. Call or visit the website for show times and ticket prices. Various venues in Newport, 649-2784, newportfilm.com
Plein Air Pawtucket
Sept. 10–12: Review the artworks of twelve different talented artists while they work on their painting en plein air during a 1.25-mile walking tour throughout the city of Pawtucket. The pieces will join other works as part of the exhibition of the inaugural paintings of the Pawtucket Collection. 3–6 p.m. Pitcher-Goff House, Pawtucket, 725-4400, pawtucketfoundation.org
Poolside Yoga at the Wayfinder Hotel
Through Sept. 12: Pull out your yoga garb and visit the Wayfinder Hotel for poolside yoga. Afterwards, cool down with a swim in the pool for an hour then grab a bite to eat at Nomi Park. Yoga mats are available at the hotel or bring your own. Reserve your spot through the hotel, then Venmo yoga instructor Meredith Ewenson at @meredithewenson. Sun. 9–10 a.m. $15, hotel guests free. 151 Admiral Kalbfus Rd., Newport, 849-9880, thewayfinderhotel.com
Food Truck Friday at Roger Williams Park
Through Sept. 24: Select from more than fifteen local food trucks as well as beer from Trinity Brewhouse during the seventh season of Food Truck Friday at Roger Williams Park Zoo and Carousel Village. Enjoy live music while picnicking on the lawn. Hop on the carousel ride or train and play on Hasbro's Boundless Playground for extra fun. Fri. 5–8 p.m. Admission is free; food, drinks and rides are an additional price. 1000 Elmwood Ave., Providence, foodtrucksin.com/food-truck-events
Newport International Polo Series
Through Sept. 25: Watch action-packed events every Saturday during the thirtieth anniversary season of the Newport Polo Series, including USA vs. England and the Turkish Airlines Finals. Enjoy fan prizes, special weekly features, concessions and more. Sat. 4–6 p.m. $20–$80, children fifteen and younger free. 250 Linden Ln., Portsmouth, 846-0200, nptpolo.com
Roller Disco
Through Sept. 30: Show off your grooviest moves (and outfit) as you glide around the Providence Rink. Music, courtesy of local deejays and live performers, starts at 6 p.m., and the Trinity Beer Garden provides snacks and beverages to skaters, as well. Thurs. and Fri. 5–10 p.m. The BankNewport City Center, 2 Kennedy Plaza, Providence, 680-7390, theprovidencerink.com
Wickford Harbor Lights
Sept. 30: On the last day of the annual event this season, take in the calming ambience and great music. Try some delicious treats from different food trucks as you stroll by the illuminated harbor with the fam. 6–9 p.m. Free admission. Brown and Main Sts., Wickford, 368-1200, wickfordvillage.org
Looking Ahead: October
Through Oct. 3: The Audrain Newport Concours and Motor Week, Newport, audrainconcours.com
Through Oct. 30: Picnic at the Newport Mansions, Newport, newportmansions.org
Oct. 2–30: Autumn in New England Tours, various locations, experienceri.com
Oct. 9–11: Scituate Art Festival, North Scituate, scituateartfestival.org
Oct.9–16: Pretty Woman: The Musical, PPAC, Providence, 421-2787, ppacri.org