36 Holiday Events Happening in Rhode Island in December
Get in the seasonal spirit with performances, tree lightings, music and more fun for the whole family.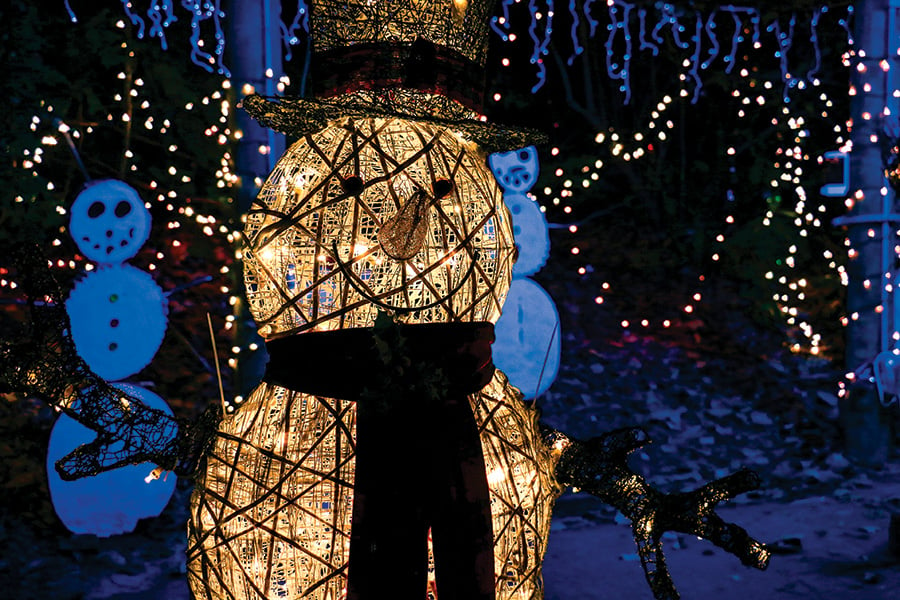 Holiday Lights Spectacular at Roger Williams Park Zoo
Through Jan. 2: Let your holiday spirit roam free at the walk-through Holiday Lights Spectacular at Roger Williams Park and witness more than a million illuminated lights all around you. Rain or shine, escape reality for a bit while admiring the dazzling lights that contrast against the night sky, and listen (or sing along) to irresistible holiday music alongside family and friends. Trail runs from 5–9:30 p.m. Purchase your timed ticket in advance online; adults $12, children $10. Roger Williams Park Zoo, 1000 Elmwood Ave., Providence, 785-3510, rwpzoo.org.
Theater
Trinity Repertory Company
Through Jan. 2: The annual showing of A Christmas Carol shares the story of Ebenezer Scrooge and his transformative journey with the ghosts of Christmas Past, Present and Future. Directed by Joe Wilson Jr. Show is available in-person and for virtual streaming from Dec. 6–Jan. 16. Call or visit the website for show times and streaming information. $25–$69. Chace Theater, Trinity Repertory Company, 201 Washington St., Providence, 351-4242, trinityrep.com
Sandra Feinstein-Gamm Theatre
Through Dec. 24: Back by popular demand, the captivating, life-affirming It's a Wonderful Life live radio play, based on the holiday movie classic, is a treat for the entire family. Call or visit the website for show times. $30–$69. The Gamm Theatre, 1245 Jefferson Blvd., Warwick, 723-4266, gammtheatre.org
Stadium Theatre
Dec. 10–19: This adaptation of A Christmas Carol, by David Edgar from the Royal Shakespeare Company, puts a different spin on the classic story, and it's filled with stunning scenery, costumes, dramatic fog, lighting and, of course, ghosts with good intentions. Visit the website for dates and times. $26–$36. 28 Monument Sq., Woonsocket, 762-4545, stadiumtheatre.com
Providence Performing Arts Center
Dec. 17–18: During Cirque Dreams Holidaze, watch holiday storybook characters including nutcrackers, snowmen, reindeer and gingerbread people perform gravity-defying stunts while jamming out to songs like "Deck the Halls" and "Jingle Bell Rock." Fri. 7:30 p.m., Sat. 3 p.m. and 7:30 p.m. $20–$70. Providence Performing Arts Center, 220 Weybosset St., Providence, 421-2787, ppacri.org
Fairs and Festivals Festival of Lights
Dec. 2–5: Enter a winter wonderland — a.k.a. Wickford Village — for its thirty-sixth annual Festival of Lights. Witness the official tree lighting at Updike Park, check out holiday displays as you and your fam window shop, and wave to Santa once he arrives by boat at the Town Dock, followed by a horse-drawn hayride around the village. Sport your "elfiest" costumes during the Elf Parade on Saturday, then dance and drink hot cocoa from the Boy Scouts. Most shops open until 9 p.m. on Friday and Saturday. Historic Wickford Village, 345-4200, wickfordvillage.org
Bristol Christmas Festival
Dec. 4: Bundle up in your warmest flannel and fleece and commemorate the thirty-fifth annual Bristol Christmas Festival, starting with the Grand Illumination of the epic Christmas tree. Take part in the parade, which will feature the Bristol County Fifes and Drums, the Mount Hope High School Band and Santa Claus, who will have the honor of lighting the tree. 5:30 p.m. Rain date Dec. 5. Free. DEC. 11–12: The two-day European-style Christmas market has plenty in store for the family, including live wood-carving demonstrations, craft tables, free photos with Santa and traditional holiday fare. Finish your holiday shopping while listening to carolers and other entertainers. Sat. 10 a.m.–8 p.m., Sun. noon–6 p.m. Free. In front of the Burnside Building, 400 Hope St., Bristol, christmasbristolri.com
Trips and Tours
Holidays at the Newport Mansions
Through Jan. 2: Marvel at the colorful lights decorating the exterior and landscape of the Breakers mansion, then check out the Christmas extravaganza inside the Breakers and the Elms mansion, filled with dressed-up evergreens, wreaths, flowers, the famous fifteen-foot-tall poinsettia tree (Breakers only) and other festive touches. Visit the Breakers Children's Cottage with the young ones and look inside Santa's workshop. The Breakers and the Elms mansions, Newport, 847-1000, newportmansions.org
Hearthside House
Dec. 4, 5, 11 and 12: Go on a self-guided tour with docents sporting period attire to add to the charm of an old-fashioned Christmas. Capture the essence of Christmas by taking photos and walking at your own pace. 1–4:30 p.m. DEC. 28 AND 30: Within the 1810 Federal-style mansion, hear engaging stories about the eleven families that once lived in the house that love built from 1814 to 1996. The Home for the Holidays tours begin on the half hour and go for an hour and fifteen minutes. 4:30–7:30 p.m. Hearthside House, 677 Great Rd., Lincoln, 726-0597, hearthsidehouse.org
Clouds Hill Museum
Dec. 4–18: Check out the Clouds Hill mansion in all its holiday glory; go on a tour and gape at the decked-out interior, which will remain decorated until January 1. Sat. and Sun. 1–4 p.m. Adults $12, seniors $10, military and students with ID $8, children six through twelve $5. Clouds Hill Museum, 4157 Post Rd., Warwick, 884-9490, cloudshill.org
Kids' Stuff
Ocean House
Dec. 10, 11, 17 AND 18: Get your milk and cookies ready as Santa checks in at Ocean House. At Santa's Secret Hideaway, meet one-on-one with Saint Nick, take a photo with him and bring home a special gift. 5–7 p.m. $45. DEC. 18: Celebrate the jolly holidays at the Seaside Ballroom and the Drawing Room with arts and crafts, photos with Santa and storytelling while enjoying light refreshments. 11:30 a.m.–1:30 p.m. Adults $35, children free. Ocean House, 1 Bluff Ave., Watch Hill, 888-853-2919, oceanhouseevents.com
Polar Express Movie Night
Dec. 23: Grab a seat with the kiddos and watch the classic holiday film, Polar Express. Rediscover the journey of a skeptical boy as he finds his Christmas spirit aboard the magical train. RSVP for the free event. 7 p.m. 28 Monument Sq., Woonsocket, 762-4545, stadiumtheatre.com
Music
Veterans Memorial Auditorium
Dec. 3: Witness the Edwards Twins recreate the holiday variety shows from the '70s and '80s, featuring music by Cher, Dolly Parton, Andrea Bocelli, Barbra Streisand and more. 8–10 p.m. $33–$104. DEC. 9: Discover the unifying pillars of the holiday season with violist Wil B. and violinist Kev Marcus. On stage, Black Violin is joined by DJ SPS and drummer Nat Stokes to amplify their playful storytelling, hard-hitting beats and appealing string melodies. Dance along to songs from Black Violin's Take the Stairs album and holiday hits from their Give Thanks album. 7 p.m. $29–$59. The Vets, 1 Avenue of the Arts, Providence, 421-2787, thevetsri.com
Newport Classical
Dec. 3–4: Support the Providence-based chamber choir, Ensemble Altera, as they showcase their melodic harp, organ and singing at Emmanuel Church. The group, led by director and countertenor Christopher Lowrey, presents English composer Benjamin Britten's holiday favorite "Ceremony of Carols" and other ethereal tunes. Fri. 7:30 p.m., Sat. 2:30 p.m. $25. Emmanuel Church Chapel, 42 Dearborn St., Newport. DEC. 12: Listen to an hour-performance of Handel's iconic Messiah on the grounds of Rosecliff, which includes the Hallelujah Chorus and features the Brown University Chorus, the Choir School of Newport County and the Providence Baroque Orchestra performing on period instruments. 4 p.m. and 6:30 p.m. $60–$75. Rosecliff Mansion, 548 Bellevue Ave., Newport, 846-1133, newportclassical.org
Blackstone River Theatre
Dec. 4: Shop from twenty-four local craft vendors while supporting programming for Blackstone River Theatre. Catch up on gift purchases and delicious baked treats at the thirteenth annual Holiday Craft Fair and Festival; enjoy live music from Bob Drouin, Ed Sweeney, Russell Gusetti, the Broad Street Fiddlers and more, as well as raffle prizes. 9 a.m.–3 p.m. Free admission. DEC. 5: Irish band Lúnasa and special guest singer Dave Curley present Christmas from Ireland with a melodic blend of string and wind instruments including the flute, whistle, fiddle and pipes. 3 p.m. and 7 p.m. $32; $36 at the door. Blackstone River Theatre, 549 Broad St., Cumberland, 725-9272, riverfolk.org
Narragansett Bay Symphony Community Orchestra
Dec. 18: Celebrate the season with the Narragansett Bay Symphony Community Orchestra during a holiday concert led by music director Kristo Kondakçi. Donate a non-perishable food item to support the Rhode Island Community Food Bank. 8–9:10 p.m. Tickets are pay-what-you-can. Cathedral of Saints Peter and Paul, 30 Fenner St., Providence, 274-4578, nabsco.org
Dance
Island Moving Company
Through DEC. 3: Follow Clara on her adventures during the two-hour Newport Nutcracker at Rosecliff production. Enter detailed rooms in the mansion, then take a seat in the ballroom as Clara dances with the Snow Queen and battles the Mouse King with the Nutcracker by her side on the way to the Land of Sweets. Visit the website for show times. $105–$210. Rosecliff Mansion, 548 Bellevue Ave., Newport, 847-4470, islandmovingco.org
Festival Ballet Providence
Dec. 17–24: Get excited for the brand-new production of The Nutcracker, which features unique costumes and sets (think: colorful tutus, a thirty-eight-foot tall tree and a Nutcracker character by Big Nazo Lab), as well as extravagant choreography by Yury Yanowsky. Applaud the children's cast of several young dancers, performing alongside the Festival Ballet Providence Company of resident artists. Visit the website for show times. $20–$85. The Vets, 1 Avenue of the Arts, Providence, 353-1129, festivalballetprovidence.org
Benefits
Holiday on the Common
Dec. 12: Dance along to folk legends Atwater Donnelly and special guest Bank of Ireland during a holiday concert benefiting Hope and Main's Nourish Our Neighbors program, which ensures that local families with food insecurities and other vulnerable individuals can obtain prepared nutritious meals to maintain good health. Stick around for caroling on the Common and light refreshments. 3–5 p.m. Suggested donations for tickets are $15, but pay what you can. First United Methodist Church of Warren, 25 Church St., Warren, 245-7400, makefoodyourbusiness.org
Museums
Worcester Art Museum
Dec. 5: The Worcester Art Museum, partnered with the Worcester JCC and the Jewish Federation of Central Mass., invites you and your family to celebrate Hanukkah with them for the third year in a row. 10 a.m.–4 p.m. Free admission. Worcester Art Museum, 55 Salisbury St., Worcester, Mass., 508-799-4406, worcesterart.org
Galleries
Pawtucket Arts Collaborative
Through Jan. 6: Members offer a little something for everyone in this holiday show, which features a range of work for $300 or less. Thurs. 5:30–7:30 p.m., Sat.–Sun. 1–5 p.m. 560 Mineral Spring Ave., Pawtucket, 724-2200, pawtucketartscollaborative.wildapricot.org
Providence Art Club
Through Dec. 23: Take home a treasured little picture — think: rich oil still-life, iconic landscapes and colorful mixed-media paintings — smaller than sixteen-by-sixteen inches for $300 or less in the 117th annual Little Pictures Show and Sale. Sun.–Fri. noon–4 p.m. 11 Thomas St., Providence, 331-1114,
providenceartclub.org
Wickford Art Association
Through Dec. 22: Forty-five artists from the Wickford Art Association decorate the walls of the gallery with as many affordable tiny works — $25–$350, fourteen inches or smaller — as they can fit in the space. Wed.–Sat. noon–4 p.m., Sun. noon–3 p.m., subject to change. 36 Beach St., North Kingstown, 294-6840, wickfordart.org.
South County Art Association
Through Dec. 19: The historic Helme House Gallery transforms into a holiday gift store, containing the work of more than ninety artist members. Grab a little something for everyone in the family, including paintings, small framed prints, handmade pottery, jewelry, woodwork and more. Wed.–Sun. 10 a.m.–6 p.m. 2587 Kingstown Rd., Kingston, 783-2915, southcountyart.org
Bosgraaf Stained Glass Studio
Dec. 4–5: View original glass pieces, with themes like holiday, whimsical, nature and enchanting, by more than fifty student artists at the Bosgraaf Stained Glass Studio's sixth annual holiday sale. Sip on complimentary hot chocolate and try your luck with the raffle entry. Also on Saturday, partake in the wine tasting with Gooseneck Vineyards at the studio from 1–3 p.m. A portion of the art proceeds benefit the Wildlife Rehabilitation Association of Rhode Island. Sat. 10 a.m.–4 p.m., Sun. 10 a.m.–3 p.m. Free admission. Bosgraaf Stained Glass Studio, 1214 Kingstown Rd., Peace Dale, 782-1288, bosgraafstudio.com
Jamestown Arts Center
Dec. 10–11: Join the Jamestown Arts Center in supporting the creative work of several artisans and artists at the Holiday Arts Market. Fri. 5:30–7:30 p.m. Sat. 10 a.m.–4 p.m. Free admission. 18 Valley St., Jamestown, 560-0979, jamestownartcenter.org
Etcetera
La Salette Festival of Lights
Through Jan. 2: Take a relaxing stroll at the La Salette Festival of Lights during the sixty-ninth annual Christmas celebration, brimming with thousands of bright lights to fill up the night. Other festive attractions include hot chocolate and cider, the carousel, Clopper the Donkey and more. 5–9 p.m. Free. The National Shrine of Our Lady of La Salette, 947 Park St., Attleboro, Mass., 508-222-5410, lasaletteattleboroshrine.org
Blithewold Mansion
Dec. 3: Admire the Night Lights and handmade bamboo ornaments that light the paths surrounding Blithewold's gardens and arboretum. Sip hot chocolate, coffee, non-alcoholic cider and some hot drinks with a kick provided by RI Cruisin' Cocktails from the 1961 Shasta Trailer. 5–8 p.m. $3–$10. Blithewold Mansion, 101 Ferry Rd., Bristol, 253-2707, blithewold.org
WaterFire Providence
Dec. 4: Let the fire from the basin lighting warm you and light up the night while celebrating the holidays. 4:15–10 p.m. Free. Waterplace Park, Memorial Boulevard, Providence, 273-1155, waterfire.org
Hanukkah Celebration
Dec. 5: Celebrate Hanukkah with a dazzling festival of laser light, which brings to life the Hanukkah story and philosophy in a way that appeals to all ages. 12:30–3 p.m. Free. Temple Beth-El Silverstein Meeting Hall, 70 Orchard Ave., Providence, temple-beth-el.org