34 Things to Explore, View and Taste in Rhode Island in October
All your fall festival favorites are back in 2021. Plus, Halloween happenings, live theater and more fun things to do this month.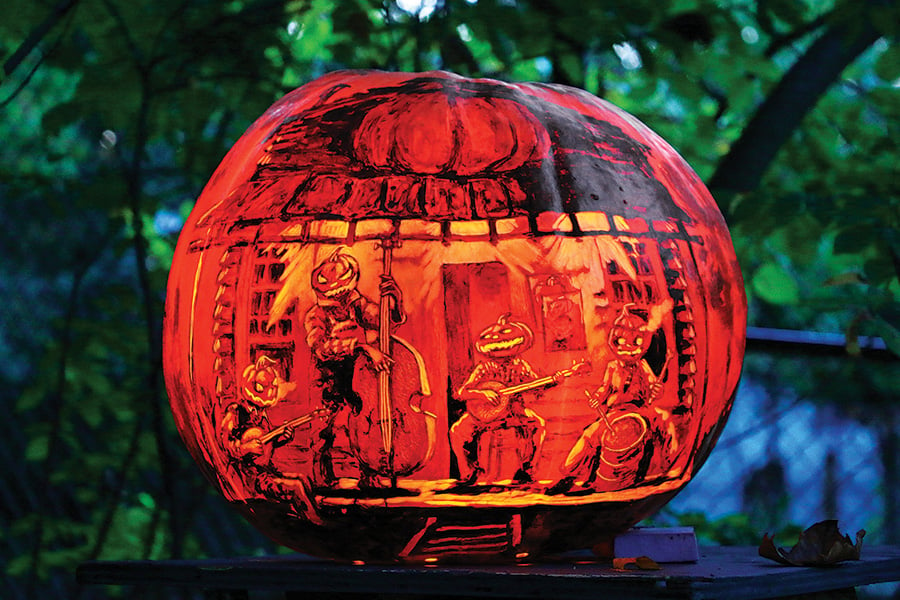 Through 10/31 Jack-O-Lantern Spectacular
Why: Get into the Halloween spirit this season by admiring the iconic symbol of autumn. As the late afternoon turns into a dark evening, behold the sight of thousands of creatively carved pumpkins at the Jack-O-Lantern Spectacular. Traverse through the zoo's Wetlands Trail and celebrate some of the greatest musical hits of the last 150 years carved into the pumpkins, from ragtime to hip hop and rock n' roll. 6–10:30 p.m., last admission 10 p.m. Visit the website for admission prices.
Where: Roger Williams Park Zoo, 1000 Elmwood Ave., Providence.
More info: 785-3510, rwpzoo.org.
10/9–16 Pretty Woman: The Musical
WHY: The Providence Performing Arts Center's hiatus has finally ended, meaning there's plenty of acclaimed productions to enjoy once again in the stunning theater. As a part of the Taco/White Family Foundation Broadway series, the 2021/2022 season kicks off with Pretty Woman: The Musical, the beloved romantic comedy film-turned-musical that captures the love story between an unlikely couple.
Where: Providence Performing Arts Center, 220 Weybosset St., Providence.
More info: 421-2787, ppacri.org.
10/9–11 Autumnfest
WHY: Fill your Columbus Day weekend with fun music, amusement rides, food, crafts and an elaborate parade along- side local residents and visiting families. The largest fall festival in northern Rhode Island is the place to prepare for seasonal traditions and meet other lovers of this time of year.
Where: Diamond Hill Road and Social Street, Woonsocket.
More info: 771-8900, autumnfest.org.
Theater
Trinity Repertory Company
Ongoing: As we await Trinity Rep's upcoming season (especially the annual staging of A Christmas Carol), don't miss the theater's digital programs, including clips of behind-the-scenes stories, videos and blog posts from actors, scenes from past shows, and episodes of Trinity Rep Radio Theater. Free to stream. 351-4242, trinityrep.com
The Wilbury Theatre Group
Ongoing: Keep tabs on Wilbury's 2021/2022 offerings, including the regional premiere of Charlie Thurston's take on the Icarus tale, Lifted, and the world premiere of Shey Rivera Rios's queer/Latinx interpretation of Sophocles' Antigone, AntigonX. Call or visit the website for show times and ticket prices. 475 Valley St., Providence, 400-7100, thewilburygroup.org
Sandra Feinstein-Gamm Theatre
Through Oct. 24: Catch A Lie Agreed Upon, a contemporary twist on Henrik Ibsen's An Enemy of the People by the Gamm's Tony Estrella, which centers on alternative facts amid a different sort of public health disaster. Call or visit the website for show times. $35–$69. 1245 Jefferson Blvd., Warwick, 723-4266, gammtheatre.org
Newport Playhouse and Cabaret Restaurant
Through Nov. 4: Don't miss Murder at the Howard Johnsons, a complex story about love and murder. Also enjoy the buffet, with its varying options including hot and cold entrees, side dishes, desserts and drinks. Call or visit the website for show times. $15–$54.95. Newport Playhouse and Cabaret Restaurant, 102 Connell Hwy., Newport, 848-7529, newportplayhouse.com
Contemporary Theater Company
Oct. 1–3: Settle down on the Riverfront Performance Patio and laugh at scenes from Native Gardens by Karen Zacarias, a comedy that shows us what it takes to love thy neighbor. 7 p.m. $20. 327 Main St., Wakefield, 218-0282, contemporarytheatercompany.com
Fairs and Festivals
Providence Flea
Ongoing: Obsess over vintage finds and locally sourced products while searching for hidden gems. Sundays 11 a.m.–3 p.m. Free. Farm Fresh RI Market Hall, 10 Sims Ave., Providence, 484-7783, providenceflea.com

PVD Artisans Market
Through Oct. 30: Support local artists at the PVD Artisans Market while revamping your home with a variety of new and unique art. Sat. 9 a.m.–2 p.m. Free. Lippitt Park, 1015 Hope St., Providence, facebook.com/pvdartisansmarket
Clark Farms Fall Festival
Through Oct. 30: On fall weekends, get lost (on purpose) in the corn maze, go on a hayride through the Matunuck countryside, fire ears of corn out of a corn cannon, pet the donkeys and goats, show off your go-karting skills and much more. Call or visit the website for activity times and admission prices. 2984 Commodore Oliver Hazard Perry Memorial Hwy., Wakefield, 783-8844, clarkfarms.com
Scituate Art Festival
Oct. 9–11: From antiques to handmade crafts and fine art, the fifty-fifth annual Scituate Art Festival always showcases the most intriguing original works. Stick around for the food and drinks (menu items like doughboys, steak sandwiches, apple cider and pumpkin pie) and live music from 2nd To None, the Billy Harpin Band and more. Sat. and Sun. 10 a.m.–5 p.m., Mon. 10 a.m.–4 p.m. Free. 554 West Greenville Rd., Scituate, scituateartfestival.org
Newport Food Truck and Craft Beer Festival
Oct. 16–17: Catch some of your favorite food trucks at the two-day Newport Food Truck and Craft Beer Festival. Save room for treats from trucks such as Friskie Fries, Cookie Monstah, Butter Ur Biscuit, and so much more. Also try drinks from dozens of national and regional craft breweries like Citizen Cider and Medusa Brewing. Noon–5 p.m. $5–$94. Fort Adams State Park, 80 Fort Adams Dr., Newport, foodtruckfestivalsofamerica.com
Glocester Scarecrow Festival
Oct. 16: Can you make a scarecrow frightening enough to keep the crows away? Register your scarecrow by October 1 and have it displayed along Main Street before October 16 by 11:30 a.m. Your creation will be judged based on quality, visibility and creativity, and the three categories are scariest, humorous and creative. The family fun continues all day with pony rides, face painting, crafts and food from various vendors. Noon–5 p.m. Chepachet Union Church, 1138 Putnam Pike, Chepachet, 568-3243, glocesterscarecrowfestival.org
Bowen's Wharf Seafood Festival
Oct. 16–17: Fresh, local seafood is on the menu at Bowen's Wharf Seafood Festival. Think: stuffies, fried calamari, oysters, lobster rolls, clams and fish tacos to pair with signature cocktails or beer. And don't worry, your sweet tooth can get a treat, too, whether you're in the mood for doughnuts or kettle corn. Dance to surf rock and Caribbean music with the fam during this fun and food-filled festival. Sat. 11 a.m.–6 p.m. Sun. 11 a.m.–5 p.m. Free admission. Bowen's Wharf, Newport, 849-2243, bowenswharf.com
Trips and Tours
Rhode Island Red Food Tours
Ongoing: Explore your favorite capital city neighborhoods on a food tour. Walking tours in Providence or Newport include food samplings plus beverage pairings at six local restaurants. Reservations are required. Thurs.–Sun. noon–3:30 p.m. $69–$84. Various locations, rhodeislandredfoodtours.com
Haunted Boat Tours
Through Oct. 31: Brave the dark waters of the Providence Marina during the Haunted Boat Tour, where passengers can learn more about the city's deceased and restless souls while getting a view of historic architecture, moonlit bridges and cobblestone walkways. Visit website for times and to reserve your spot. Dress according to the weather. Wed. and Sun. OCT. 31–NOV. 1: The twenty-one plus Boo-zy Boat Ride during Halloween and the Day of the Dead features complimentary wine and prosecco, as well as spooky chills all throughout the night. Passengers are encouraged to wear costumes. 6 p.m. and 7:30 p.m. $25–$30. Providence Marina, 15 Bridge St., Providence, 580-2628, providenceriverboat.com
Matunuck Oyster Farm Tour
Oct. 2: Expand your aquaculture and fisheries knowledge during a one-hour tour of the Matunuck Oyster Farm on Potter Pond. Rain or shine, visitors can get an inside look at the various shellfish species the restaurant serves its customers. The tour package also includes a bottle of Veuve Clicquot and one dozen Matunuck oysters. Visit the website to check out tour dates and times and to reserve your spot. $150–$500. Matunuck Oyster Bar, 629 Succotash Rd., South Kingstown, 783-4202, rhodyoysters.com
Newport Foodies Stroll
Through Oct. 30: Throughout the 1.75-mile walking food tour, rediscover Thames Street with your taste buds. Wander the historic streets of the City by the Sea with tour guides Thomas and Susan Maxwell in between trips to notable restaurants and pubs including the Reef, Karma Pizza and Knot Norm's. Wed., Fri. and Sat. 11:30 a.m.–noon. 365 Thames St., Newport, 619-3019, newportfoodiesstroll.com
Autumn in New England Tours
Oct. 2–30: The sights of autumn in New England are beyond compare, and these tours prove it. Take the backroads under the color-changing trees, visit the state's oldest country store, learn how to make maple syrup and, of course, stuff yourself with apple cider doughnuts. Expect to visit places such as Chepachet Farms and Appleland Orchard throughout the six-hour tour. Sat. 10 a.m. $60–$75; children five and younger free. Departure location: 1 Eddy St., Providence, 886-0733, experienceri.com
Kids' Stuff
David Rogers' Big Bugs at Green Animals
Through Oct. 3: Try not to squirm when walking under the humongous ten-foot-tall daddy long legs structure or passing the eighteen-foot-long praying mantis. Traverse through the Green Animals Topiary Garden, teeming with sculptures of various pollinators and creepy crawlers on a massive scale. Daily 10 a.m.–5 p.m. Adults $18, children six to seventeen $8. Green Animals Topiary Garden, 380 Cory's Ln., Portsmouth, 683-1267, newportmansions.org
Halloween Spooktopia and Trunk or Treat
Oct. 16: Bring your competitive side to the Halloween Spooktopia and Trunk or Treat, where guests can participate in costume and pumpkin contests, along with games and prizes. As the kiddies play, parents can visit the multiple vendors on hand and purchase snacks like cotton candy, hot dogs, hot apple cider and more. Stick around for the trunk or treat and collect candy from creatively decorated cars. 3–8 p.m. Activities for kids twelve and younger free. Assembly Theater, 26 East Ave., Harrisville, facebook.com/burrillvilleartsandcraftsfestival
Music
The Knickerbocker Music Center
Ongoing: From blues piano to jazz, swing, and high energy rhythm and blues, your nights at the Knickerbocker are full of promising toe-tapping music from groups like the Cartells, Soul Shot, and Dr. G and the Believers. Snack on fish tacos and cocoa-dusted churros in between songs. Don't forget to bring your dance partner. Visit the website for dates and times. 35 Railroad Ave., Westerly, 315-5070, knickmusic.com
Benefits
NAMIWalks Your Way Rhode Island
Oct. 24: Fight stigma and help raise awareness about mental illness during the National Alliance on Mental Illness's second-annual walk. Choose between completing your walk solo, in a team full of family and friends, or join one of the NAMIWalks teams to accomplish your goals on the grounds of Roger Williams Park or virtually. Also participate in the walk using the hashtag #NotAlone on social media and connect with other walkers supporting the cause. 10 a.m.–2 p.m. Roger Williams Park, 1000 Elmwood Ave., Providence, 331-3060, namirhodeisland.org
Museums
RISD Museum
Ongoing: Plan your in-person visit in advance online and check out exhibitions on view including "Defying the Shadow," which presents anti-portraits by Black artists and of Black figures; and "Any distance between us," which explores the power of intimate relationships in works of contemporary art, particularly those made by artists identified as queer and of color. Wed., Sat., Sun. 10 a.m.­–5 p.m.; Thurs. and Fri. noon–7 p.m. Adults $17, seniors $12, youth $8, children five and younger free. Free admission Thurs. and Fri. after 5 p.m. and all day Sun. 20 North Main St., Providence, 454-6500, risdmuseum.org
Pop Up Porsche Exhibit
Through Oct. 31: Car enthusiasts unite: The Pop-Up Porsche Exhibit in the Newport Car Museum features car models from the '50s all the way to 2019. These artful cars are not to be missed, with their sleek interiors and precise detailing. Daily 10 a.m.–5 p.m. Adults $8; students, senior and military $15; children five to fifteen $8; children four and younger free. 1947 West Main Rd., Portsmouth, 848-2277, newportcarmuseum.org
Galleries
The Queer Art Collective
Through Oct. 5: View the exhibit "When the Colors Fade: A Queer Riot Against Corporate Pride," which includes artists such as Lauren Packard, Nicole MelNicky, Joe Welch and T. Taumanu. Visit website for gallery hours. 172 Exchange St., Suite 101, Pawtucket, 236-5093, thequeerartcollective.org
Chazan Gallery
Through Oct. 16: The gallery presents drawings and prints by Yizhak Elyashiv and Ken Horii. Mon.–Fri. 3–6 p.m., Sat. 11 a.m.–4 p.m.; Sun. noon–4 p.m. (and by appointment). Free admission. The Wheeler School, 228 Angell St., Providence, 528-2227, chazangallery.org
Coastal Contemporary Gallery
Through Oct. 31: A group show with work by Karin Gielen, Fleur Thesmar and Susan Emmerson. Opening reception Oct. 23, 6–8 p.m. Regular hours Wed.–Thurs. noon–4 p.m., Fri.–Sun. noon–6 p.m. Free admission. 91 Thames St., Newport 612-6121, coastalcontemporarygallery.com
Etcetera
Open Air Saturdays
Ongoing: Breathe in the fresh autumn air while you browse a variety of clothing, jewelry, books and more. Explore and support local businesses and creatives with live music and, afterwards, stop by neighboring eateries. Sat. noon–6 p.m. Westminster Street, Providence, indowncity.com
Food Trucks Roll into Richmond
Oct. 14: No matter what type of food you're craving, the selection of food trucks will satisfy your appetite. Bring folding chairs or blankets and enjoy live music while munching on bites. 5–8 p.m. Admission is free, just pay for food and drinks. 5 Richmond Townhouse Rd., Richmond, foodtrucksin.com/food-truck-events
Smith's Castle Paranormal Events
Oct. 16: Become a part of the Paranormal Legend Society and probe the grounds of Smith's Castle and Annex to witness some paranormal happenings. Investigations are limited to twelve people, so make sure to reserve your spot by calling or emailing. 7 p.m.–midnight. $35. 55 Richard Smith Dr., North Kingstown, 294-3521, smithcastle55@gmail.com, smithscastle.org
Harvest Moon Paddle
Oct. 19: Nothing is more relaxing than watching the sun settle into the horizon as the moon takes its place, especially from the water. Participants paddle from the Weekapaug Inn's dock by a remote stretch of beach and enjoy the night on tranquil water. Dress accordingly and bring a flashlight or headlamp. 5–7 p.m. Hotel guests and members $30, day guests $40. Weekapaug Inn, 25 Spray Rock Rd., Westerly, 888-565-5023, oceanhouseevents.com
Spooky Views: A Halloween Stargazing Experience
Oct. 29: Observe Saturn, Jupiter, the remains of dying stars and more under the dark Halloween sky. More fun can be found in the Sky Theatre, where attendees can take part in activities to celebrate astronomy, Halloween and the darker half of the year, with candy served throughout the night. 6:30–10 p.m. $5 Suggested Donation. Ninigret Park, 62 Park Ln., Charlestown, 859-1450, frostydrew.org
Looking Ahead: November
Nov. 4–Jan. 2: A Christmas Carol, Trinity Rep, Providence, trinityrep.com
Nov. 5: Mardi Gras Masquerade Ball, Graduate Hotel, Providence, sojournerri.org
Nov. 6: Ninth Annual WaterFire Salute to Veterans, Providence, waterfire.org
Nov. 6–7: Harvest Soup Fest, Langworthy Farm Winery, Westerly, langworthyfarm.com
Nov. 20: In the Cellar: Thanksgiving 101, Ocean House, Westerly, oceanhouseri.com