31 Things to Do, Taste and Discover in Rhode Island in November
From vineyard jaunts and holiday performances to tiny art sales for checking off your list, Rhode Island is full of fun events and happenings in November.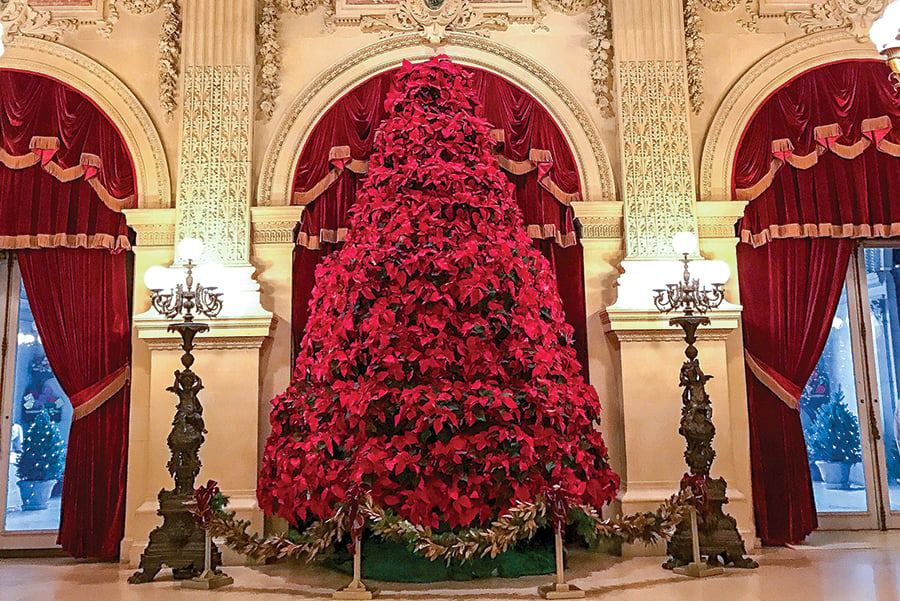 11/20–1/2
Holidays at the Newport Mansions
Why: Marvel at the colorful lights decorating the exterior and landscape of the Breakers mansion, then take in the Christmas extravaganza inside the Breakers and the Elms mansion, filled with dressed-up evergreens, wreaths, flowers, the famous fifteen-foot-tall poinsettia tree (Breakers only) and other festive touches along the way. As holiday music fills the air, visit the Breakers Children's Cottage with the young ones and look inside Santa's workshop.
Where: The Breakers and the Elms mansions, Newport.
More info: 847-1000, newportmansions.org
Through 11/23
Tasting Tuesdays at Newport Vineyards
Why: Can you sip and tell? Enjoy the remnants of fall at Newport Vineyards while tasting a variety of wines and beer, and maybe discover a new favorite to savor and bring home. Pair some dainty snack food options with the beverages, which is $17 per wine tasting, $15 per beer tasting, or wine and beer by the glass for $7 to $8. 11 a.m.–5 p.m.
Where: Newport Vineyards, 909 East Main Rd., Middletown.
More info: 848-5161, newportvineyards.com
11/19
Under a Partial Crimson Moon
Why: Witness the partial lunar eclipse until the sun rises at 7 a.m. at Frosty Drew. Bring a lawn chair, blankets, binoculars and some treats to celebrate as the almost-full moon passes into the Earth's dark shadow (the umbra) with only a partial piece remaining in Earth's secondary shadow (the penumbra). During the period near maximum eclipse, a part of the moon will glow a crimson red. 12:30–7 a.m. $5 suggested donation.
Where: Ninigret Park, 62 Park Ln., Charlestown.
More info: 859-1450, frostydrew.org
Theater

The Wilbury Theatre Group
Through Nov. 23: Lifted, a new play by Charlie Thurston, puts a modern twist on the story of Icarus, featuring topics of family drama and theatrical fantasia. WaterFire Arts Center, 475 Valley St., Providence, 400-7100, thewilburygroup.org
Trinity Repertory Company
Nov. 4–JAN. 2: The annual showing of A Christmas Carol shares the story of Ebenezer Scrooge and his transformative journey with the ghosts of Christmas Past, Present and Future. Directed by Joe Wilson Jr. Show is available in-person and for virtual streaming from Dec. 6–Jan. 16. Call or visit the website for show times and streaming information. $25–$69. Chase Theater, Trinity Repertory Company, 201 Washington St., Providence, 351-4242, trinityrep.com
The Contemporary Theater Company
Nov. 5, 6, 12, 13: Settle down on the Riverfront Performance Patio and get ready for a classic Shakespeare comedy, The Tempest. Watch the turmoil escalate as the storm, shipwreck and deserted island reveal family issues, magic and newfound love. 7 p.m. $30. The Contemporary Theater Company, 327 Main St., Wakefield, 218-0282, contemporarytheatercompany.com
Newport Playhouse and Cabaret Restaurant
Nov. 17–DEC. 31: See the world premiere of A Christmas for Carol, a Christmas farce about a woman who forgets the real meaning of the holiday season. $15–$54.95. Newport Playhouse and Cabaret Restaurant, 102 Connell Hwy., Newport, 848-7529, newportplayhouse.com
Sandra Feinstein-Gamm Theatre
Nov. 26–DEC. 24: Back by popular demand, the captivating, life-affirming It's a Wonderful Life live radio play based on the holiday movie classic. Call or visit the website for show times. $30–$69. The Gamm Theatre, 1245 Jefferson Blvd., Warwick, 723-4266, gammtheatre.org
Providence Performing Arts Center
Nov. 30–DEC. 12: Hamilton presents the story of one of the most influential founding fathers, along with other notable individuals including Eliza Hamilton and Thomas Jefferson, and their journey in making a mark on the new nation. Visit the website for dates and times. $69–$399. Providence Performing Arts Center, 220 Weybosset St., Providence, 421-2787, ppacri.org
Fairs and Festivals

Providence Flea
Ongoing: Obsess over vintage finds and locally sourced products while shopping at the Providence Flea. Gather your family and friends and get a head start on shopping for gifts to give family and friends during the holidays. Sun. 11 a.m.–3 p.m. Free admission. Farm Fresh RI Market Hall, 10 Sims Ave., Providence, 484-7783, providenceflea.com
Steel Yard Art Markets
Nov. 6: Check out intricate handmade work created by local artists. Get creative and search for original, trendy art you won't find elsewhere. 10 a.m.–3 p.m. Free admission. The Steel Yard, 27 Sims Ave., Providence, 273-7101, thesteelyard.org
Trips and Tours
Rhode Island Red Food Tours
Ongoing: Explore your favorite capital city neighborhoods on a food tour. Walking tours in Providence or Newport include food samplings plus beverage pairings at six local restaurants. Reservations are required. Thurs.–Sun. noon–3:30 p.m. $69–$84. Various locations, rhodeislandredfoodtours.com
Kid's Stuff

Holiday Lights Spectacular at Roger Williams Park Zoo
Through JAN. 2: Let your holiday spirit roam free at the Holiday Lights Spectacular and witness more than a million illuminated lights all around you. Admire the dazzling lights and listen to classic holiday jingles alongside family and friends. 5 p.m. Roger Williams Park, 1000 Elmwood Ave., Providence, 785-3510, rwpzoo.org
Music
The Knickerbocker Music Center
Ongoing: From blues piano to jazz, swing and high-energy rhythm and blues, the Knickerbocker is full of toe-tapping music. Snack on fish tacos and cocoa-dusted churros between songs. Visit the website for show times and ticket prices. 35 Railroad Ave., Westerly, 315-5070, knickmusic.com
Rhode Island Philharmonic Orchestra
Nov. 12–13: Catch "Romantic Rachmaninoff," conducted by Kensho Watanabe with Natasha Paremski on the piano. Fri. Amica rush hour performance 6:30 p.m. $15–$77. Sat. 8 p.m. $15–$154. Veterans Memorial Auditorium, 1 Avenue of the Arts, Providence, 248-7000, riphil.org
Dance

Island Moving Company
Nov. 24–DEC. 3: Follow Clara on her adventures during the two-hour Newport Nutcracker at Rosecliff production. Enter several detailed rooms in the mansion, then take a seat at the ballroom as Clara dances with the Snow Queen and battles the Mouse King with the Nutcracker by her side on the way to the Land of Sweets. Visit the website for dates and times. $210. Rosecliff Mansion, 548 Bellevue Ave., Newport, 847-4470, islandmovingco.org
State Ballet of Rhode Island
Nov. 27: In the historic romantic comedy ballet "Coppélia," the adventures of Swanhilda, Frantz and friends will have the audience in fits of laughter as they try to find out who the girl on the balcony really is. 1 and 6 p.m. Visit the website for ticket prices. 52 Sherman Ave., Lincoln, 334-2560, stateballet.com
Benefits

Sojourner House's Eleventh Annual Masquerade Ball
Nov. 5: At this Mardi Gras-themed masquerade ball, "let the good times roll" while recognizing the pivotal work done by Sojourner House. The emcee stylings of Joe Wilson Jr. and entertainment by Toys 2 Men will keep you on your feet throughout the night. Proceeds fund Sojourner House's counseling, housing programs, emergency shelter and other services for domestic abuse, sexual assault and human trafficking victims. 7–11 p.m. $250–$15,000. The Graduate Hotel, 11 Dorrance St., Providence, 861-6191, sojournerri.org
Be The Light Gala
Nov. 13: Join the MAE Organization in supporting homeless individuals in need of clothes, toiletries, counseling and mental health programs. Enjoy a complimentary wine bar during cocktail hour, appetizers by local chef Frank Terranova, and participate in a silent and live auction including prizes like a trip to Portugal and a helicopter ride over Newport. 6:30–10 p.m. $100–$5,000. Crowne Plaza Hotel, 801 Greenwich Ave., Warwick, maeorg.org
Museums

RISD Museum
Ongoing: Plan your in-person visit in
advance online and check out exhibitions on view including "Defying the Shadow," which presents anti-portraits by Black artists and of Black figures; and "Any distance between us," which explores the power of intimate relationships in works of contemporary art, particularly those made by artists identified as queer and of color. Wed., Sat. and Sun. 10 a.m.–5 p.m.; Thurs. and Fri. noon–7 p.m. Adults $17, seniors $12, youth $8, children five and younger free. Free admission Thurs. and Fri. after 5 p.m. and all-day Sun. 20 North Main St., Providence, 454-6500, risdmuseum.org
Audrain Automobile Museum
Through Nov. 14: At the Street to the Strip: New England Hot Rods show, check out hot rods and customs from the 1940s through the '60s and appreciate work by designers from Rhode Island, Massachusetts and Connecticut who built the stylish automobiles. 10 a.m.–4 p.m. Members free; adults $18; seniors, military and students with ID $10; children six through seventeen $8. Audrain Auto Museum, 222 Bellevue Ave., Newport, 856-4420, audrainautomuseum.org
Galleries

Jamestown Arts Center
Through DEC. 4: View "Friend of the Morning," a solo exhibition with work by artist Seamus O. Hames. THROUGH DEC. 15: Don't miss the annual members' show with works from the JAC community of artists. Wed., Fri., Sat. 11 a.m.–7 p.m., Thurs. 11 a.m.–7 p.m. 18 Valley St., Jamestown, 560-0979, jamestownartcenter.org
Pawtucket Arts Collaborative
Nov. 11–JAN. 6: Members offer a little something for everyone in this holiday show, which features a range of work for $300 or less. Thurs. 5:30–7:30 p.m., Sat.–Sun. 1–5 p.m. 560 Mineral Spring Ave., Pawtucket, 724-2200, pawtucketartscollaborative.org.
Providence Art Club
Nov. 7–DEC. 23: Take home a treasured little picture smaller than sixteen by sixteen inches for $300 or less in the 117th annual Little Pictures Show and Sale. Sun.–Fri. noon–4 p.m. 11 Thomas St., Providence, 331-1114, providenceartclub.org.
Wickford Art Association
Nov. 26–DEC. 22: Affordable tiny works — $25–$350, fourteen inches or smaller — by association artists. Wed.–Sat. noon–4 p.m., Sun. noon–3 p.m., subject to change. 36 Beach St., North Kingstown, 294-6840, wickfordart.org
Etcetera

Lord of the Pies
Nov. 1–30: During RI Food Fights' Lord of the Pies, at least twenty participating pizza shops offer either one free pizza slice or an entire pie to individuals with coupons. $25. Various locations in Rhode Island, rifoodfights.com
Rhode Island Comic Con
Nov. 5–7: Show off your clever cosplay and get starstruck at the Rhode Island Comic Con. Bump into celebrities from "The Mandalorian," "Cobra Kai" and "Leave It to Beaver." Fri. 3–9 p.m., Sat. 10 a.m.–7 p.m., Sun. 10 a.m.–5 p.m. Visit the website for ticket prices. Dunkin' Donuts Center, 1 La Salle Sq., Providence, 331-6700, ricomiccon.com
WaterFire Providence
Nov. 6: Pay tribute to veterans during the ninth annual WaterFire Salute to Veterans. The full lighting features more than eighty lit-up braziers from Waterplace Park all the way down to South Main Street Park. 5–11 p.m. Free. 5 North Main St., Providence. 273-1155, waterfire.org
Signature Sunday Family Pasta Night
Nov. 14: An evening of delicious handmade pasta, ending with a mini pumpkin cheesecake and espresso sabayon. 5–8 p.m. Adults $30–$40, children $15. Weekapaug Inn, 25 Spray Rock Rd., Westerly, 322-0301, weekapauginn.com
In the Cellar Series
Nov. 20: Learn the secret of the perfect wine pairing for this year's holiday feast during the Thanksgiving 101 class. 3–4:30 p.m. $75. Ocean House, 1 Bluff Ave., Westerly, 888-853-2919, oceanhouseri.com
Rhode Island Family Turkey Trot Five-K and Kids Trot
Nov. 25: The Turkey Trot Five-K and Youth Fun Run course through Pawtucket and Central Falls, starting from the Pawtucket City Hall. After the race, celebrate at Murphy's Law Irish Pub (2 George St., Pawtucket). Funds support the Pawtucket Soup Kitchen. 10 a.m.; kids start at 9:30 a.m. $15–$35. 137 Roosevelt Ave., Pawtucket, familyturkeytrot.com