31 Fun Things to Do in Rhode Island This February
From foodie fests and art classes to musical and theatrical events on the stage, we've compiled all the activities to add to your to-do list this month.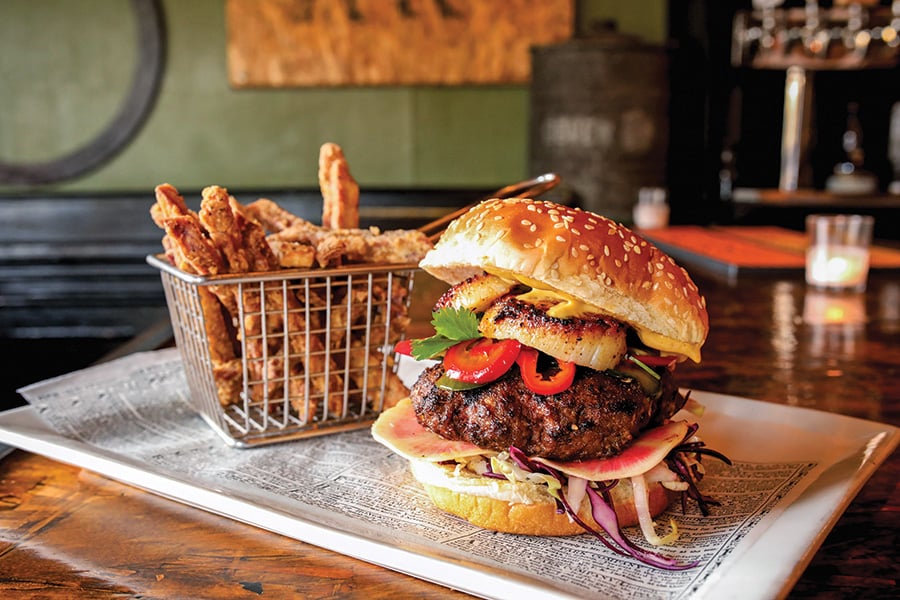 2/18–27
Newport Burger Bender
What: Meat lovers and vegans: Whether you like your burger oozing with hot sauce or egg yolk or topped with every ingredient under the sun, consider your burger cravings cured when you partake in the Newport Burger Bender. Step into select burger joints throughout Newport and Bristol with an open mind as you taste-test each location's creative take on the ultra-stacked sandwich. No order is complete without a milkshake, fries or onion rings on the side.
Where: Restaurants in Newport and Bristol counties.
More info: 849-8048, discovernewport.org.
2/1–28
#BestDonutsRI Love Fest
What: Throughout the month of February, help determine which local doughnut shop takes the top spot in RI Food Fights' annual competition. The #BestDonutsRI LoveFest features irresistible frosting and sprinkle-covered or jam-filled doughnuts from at least fifteen stores and bakeries all over the Ocean State. Use the hashtag #bestdonutsri on social media when posting a photo of your picture-perfect treat.
Where: Various doughnut shops and bakeries throughout Rhode Island.
More info: rifoodfights.com.
Ongoing
Festive Igloo Pop-Up
What: After gliding up and down the ice rink for an hour or two, unwind and dine in warmth under the stars with up to four people inside an igloo at Gurney's Newport Resort and Marina. Skim the après ski menu, or the resort's full lunch or dinner menu, on the lounge and fire pit deck while sipping on specialty cocktails. 11:30 a.m. through 3 p.m. and 5:30 p.m. through 8:45 p.m. Reserve your spot online or by calling.
Where: Gurney's Newport Resort and Marina, 1 Goat Island, Newport.
More info: 849-2600, gurneysresorts.com/Newport.
Theater
Sandra Feinstein-Gamm Theatre
Through Feb. 20: Directed by Joe Wilson Jr., An Octoroon follows George Peyton and the beautiful Zoe, a one-eighth black "octoroon," in a play that examines the context of race and identity in American society. Visit the website for dates and times. 1245 Jefferson Blvd., Warwick, 723-4266, gammtheatre.org
Providence Performing Arts Center
Feb. 18–20: The timeless love story, An Officer and a Gentleman, displays the importance of honor, courage and friendship during Zack Mayo's journey to find himself as he experiences both tragedy and love. Enjoy a night filled with classic hits from the '80s and a score featuring the Grammy and Oscar-winning song, "Up Where We Belong." Visit the website for times. $20–$80. Providence Performing Arts Center, 220 Weybosset St., Providence, 421-2787, ppacri.org
Stadium Theatre
Feb. 18–20: Based on the book by James Lapine and music by Stephen Sondheim, Into the Woods brings to life your favorite storybook characters. Fri. and Sat. 7:30 p.m., Sun. 2 p.m. $26–$36. Stadium Theatre, 28 Monument Sq., Woonsocket, 762-4545, stadiumtheatre.com
Trinity Repertory Company
Feb. 24–Mar. 27: Based in Pittsburgh circa 1904, August Wilson's Gem of the Ocean, directed by Jude Sandy, explores elements of freedom, redemption and justice during a time when slavery is still a living memory. Follow Citizen Barlow on his journey to the City of Bones, sent by his ancient Aunt Ester, for some soul cleansing. Visit the website for dates and times. Run time is two hours and forty-five minutes. $25–$77. 201 Washington St., Providence, 351-4242, trinityrep.com
Fairs and Festivals
Mount Hope Farmers Market
Ongoing: Head over to Mount Hope Farm for your weekly groceries, courtesy of local farmers and artisans such as Edible Homescapes, Roots Farm, Delicious Deli, Buns Bakery and Two Gals Cocktails. Inside the barn, browse through unique gifts, enjoy live entertainment and more. Sat. 10 a.m.–12:30 p.m. Free admission. Mount Hope Farm, 250 Metacom Ave., Bristol, 254-1745, mounthopefarm.org
Providence Flea
Ongoing: Obsess over vintage finds and locally sourced products while shopping at the Providence Flea, now at the Farm Fresh RI market hall. Sun. 11 a.m.–3 p.m. Free. 10 Sims Ave., Providence, 484-7783, providenceflea.com
Trips and Tours
Clouds Hill Museum
Ongoing: Visit the Victorian private home-turned-museum and inspect the house's interior, the Center for the Outdoors, the Arboretum Trail and other parts of the historic site. Call to schedule a tour. Adults $12, seniors $10, military and students with ID $8, children six through twelve $5. 4157 Post Rd., Warwick, 884-9490, cloudshill.org
Seal Watch Tours
Ongoing: New Englanders have no shame in enjoying the chill of their iced coffee during the winter months, and migratory harbor seals are no different. The "dogs of the sea" love the Narragansett Bay's chilly waters, so it's the perfect time to go on a seal watch tour and nature cruise to observe the local wildlife. Visit the website for dates and times. Adults $22; seniors, military, Save the Bay members and children three through twelve $17. 30 Market Sq., Newport, 203-7325, savebay.org
Kids' Stuff
United Theatre
Ongoing: The Book Meets Movie event, presented by the United education department, invites young book lovers to a storytime session followed by a cinema screening of a movie based on the book. The ticket comes with a small popcorn, a granola bar and water. Although this is a youth program, the event is open to all ages. Savoy Bookshop will also have a table onsite selling children's books. Every third Sunday. 10 a.m. $8. 5 Canal St., Westerly, 388-8208, unitedtheatre.org
Winter Acting Classes
Feb. 2–Mar. 12: Find your voice and grow your theatrical skills with Studio Playground. The six-week long sessions offer theater games, performance projects and more to learn clever storytelling and how to engage an audience. Visit the website for session times. Sat. and Wed. Grades K through nine. $225–$250. Rhode Island School for the Deaf, 1 Corliss Park, Providence (Sat.); Hope Artiste Village, Kismet Improv, Pawtucket (Wed.), studioplayground.org
Festival Ballet
Feb. 5, 6, 13 and 20: Watch a classic telling of Goldilocks and the Three Bears at Festival Ballet Black Box Theatre, choreographed by international ballet dancer Nadia Yanowsky. Visit the website for times. $20–$25. 825 Hope St., Providence, 353-1129, festivalballetprovidence.org
Music
Contemporary Theater Company
Through Mar. 31: Rule the stage and put your vocal chords to the test during Wakefield Idol, Contemporary Theater's famed singing competition with a $1,500 grand prize. Or, join the audience and support Wakefield's talented performers. Thurs. 7 p.m. $30. 327 Main St., Wakefield, 218-0282, contemporarytheatercompany.com
Blackstone Valley High School Jazz Concert
Feb. 10: Dust off your jazz shoes and put your hands together for local talent from Blackstone Valley high schools, including North Smithfield High School, Blackstone-Millville High School, Woonsocket High School and Mount Saint Charles Academy. 7 p.m. $8. Stadium Theatre, 28 Monument Sq., Woonsocket, 762-4545, stadiumtheatre.com
Rhode Island Philharmonic Orchestra
Feb. 11 and 12: "Scheherazade!" led by guest conductor Lina González-Granados with cellist Oliver Herbert featuring "Frank's Apu: Tone Poem for Orchestra," Barber's "Cello Concerto" and Rimsky-Korsakov's "Scheherazade." Fri. 6:30 p.m., Sat. 8 p.m. $15–$109. The Vets, 1 Avenue of the Arts, Providence, 248-7000, tickets.riphil.org
FirstWorks
Feb. 13: Four-time Grammy Award winner Angélique Kidjo is visiting the Creative Capital to present new music from her recently released album, Mother Nature, which centers around human rights and environmental preservation. Kidjo will also perform fan favorites ranging from Afropop to gospel and Congolese rumba. 7 p.m. $39–$69. The Vets, 1 Avenue of the Arts, Providence, first-works.org
Sports
Dunkin' Donuts Center
Feb. 11: Providence Bruins vs. Rochester Americans, 7:05 p.m. $20–$46.
Feb. 12: Providence College Men's Basketball vs. DePaul Blue Demons, 6:30 p.m.
FEB. 15: Providence College Men's Basketball vs. Villanova Wildcats, 8 p.m. FEB. 18: Providence Bruins vs. Hershey Bears. 7:05 p.m. $20–$46.
FEB. 23: Providence College Men's Basketball vs. Xavier Musketeers, 7 p.m. $15–$41.
FEB. 26: Providence College Men's Basketball vs. Creighton Bluejays. 8:30 p.m. $38–$150.
Dunkin' Donuts Center, 1 LaSalle Sq., Providence, 331-0700, dunkindonutscenter.com
Museums
RISD Museum
Ongoing: Plan your in-person visit in advance online and check out exhibitions on view including "Any Distance Between Us," "Complete Definitions" and "Variance." Wed., Sat., Sun. 10 a.m.–5 p.m.; Thurs. and Fri. noon–7 p.m. Adults $17, seniors $12, youth $8, children five and younger free. Free admission Thurs. and Fri. after 5 p.m. and all day Sun. 20 North Main St., Providence, 454-6500, risdmuseum.org
Audrain Auto Museum
Ongoing: Behold the extensive Nick Begovich Collection, composed of cars accumulated by the engineer, philanthropist and car collector. Daily 10 a.m.–4 p.m. Members free; adults $18; seniors, military and students with ID $10; children six through seventeen $8. Feb. 19–May 8: Compare the iconic motors of the 1980s and '90s to today's hybrid super cars during the "New Age of Supercars" exhibit. 222 Bellevue Ave., Newport, 856-4420, audrainautomuseum.org
Galleries
IMAGO Gallery
Through March 6: ​​"Herding Cats" features IFA artist Howard Windham and guest artist Livia St. Florian. Thurs. 3–6 p.m., Fri. and Sat. noon–6 p.m., Sun. noon–4 p.m. IMAGO Gallery, 36 Market St., Warren, 245-3348, imagofoundation4art.org
Wickford Art Association
Feb. 8–March 1: Expand your 2-D drawing skills with the help of paper, pencils, pens, a stylus and a smartphone or tablet during the 2-D Animation Basics classes at the art association. Add to your art portfolio and/or post your 2-D sketches on social media. Tues. 6–9 p.m. Ages sixteen and up. Members $160, non-members $195.
36 Beach St., North Kingstown, 294-6840, wickfordart.org
South County Art Association
Through Feb. 5: The Member's Invitational features creative works in a variety of media by artist members of the South County Art Association. Office and gallery hours Wed.–Sun. 1–5 p.m. 2587 Kingstown Rd., Kingston, South Kingstown, 783-2915, southcountyart.org
Benefits
Annual Misquamicut Luau
Feb. 4: At the Windjammer Surf Bar, sport your brightest lei at the annual Misquamicut Luau, hosted by the Misquamicut Business Association. Enjoy music, food, raffles and a silent auction. Proceeds help towards beach area events and a cleanup. 6:30–9:30 p.m. $20–$250. 321 Atlantic Ave., Westerly, misquamicut.org
Etcetera
Artists' Exchange Winter Art Classes
Through Feb. 19: Participate in winter classes hosted by the Artists' Exchange, offering lessons in sewing, jewelry making, storytelling theater and more. Available for all ages and abilities. Virtual classes and workshops are also offered. Tues.–Sat. 4 p.m. Artists' Exchange, 50 Rolfe Sq., Cranston, 490-9475, artists-exchange.org
Newport Winter Foodies Stroll
Ongoing: Bundle up: Throughout the one-mile walking food tour, rediscover Thames Street with the help of some great meals. Wander the historic streets of the City by the Sea with tour guides Thomas and Susan Maxwell in between three-course meals and wine pairings at some notable restaurants and pubs, including Bar and Board Bistro, Midtown Oyster Bar and Vieste. Reserve your spot online. Fri.–Sat. 6–9 p.m. $108. Meeting location in front of O'Brien's Pub at 501 Thames St., Newport, 619-3019, newportfoodiesstroll.com
The Bit Players
Ongoing: Witness improvisation at its best from this group of energetic and fun-loving souls. Inspired by the hit show "Whose Line Is It Anyway?", the award-winning comedy troupe presents side-splitting musical numbers, quick-witted responses, games and amazing characters made up on the spot from the audience's suggestions, so every show is unique in this BYOB venue. 7 p.m. and 9 p.m. $18. Firehouse Theater, 4 Equality Park Pl., Newport, 849-3473, bitplayers.net
Stargazing Nights at Frosty Drew Observatory
Ongoing: Visit the Frosty Drew Observatory's Sky Theater and Science Center to admire star clusters, the bright moon, vast galaxies and more. Fri. 7–10 p.m. Adults $5 suggested donation, kids younger than five free. 61 Park Ln., Ninigret Park, Charlestown, 859-1450, frostydrew.org
Blithewold Mansion
Feb. 4–25: Architectural historian John Tschirch's winter lecture series explores a variety of exceptional gardens. During the "Inspired Gardens: Windows onto Magical Worlds" lectures, observe innovative plant forms and designs with themes of meditation and paradise. Make an appearance in person ($25–$90) or via Zoom ($12–$45). Fri. 11 a.m.–noon. 101 Ferry Rd., Bristol, 253-2707, blithewold.org
Greenwich Odeum
Feb. 18: Calling all Ramones fans: The Rock' n' Roll Hall of Fame inductee Marky Ramone is making an appearance at the Greenwich Odeum for the interactive speaking show "My Life As A Ramone." Get an inside scoop from the remaining Ramones member on previously unheard tales behind the music as well as vintage photos and video clips. After the show, watch the screening of Rock 'n' Roll High School. Doors open at 7 p.m., show begins at 8 p.m. $35–$77. Greenwich Odeum, 59 Main St., East Greenwich, 885-4000, greenwichodeum.com
Looking Ahead: March
March 8–13: The Prom, PPAC, Providence, ppacri.org
March 10: Crash Test Dummies, Greenwich Odeum, East Greenwich, greenwichodeum.com
March 12: Newport St. Patrick's Day Parade, Newport, newportirish.com
March 19: The Feast of St. Joseph, Federal Hill, Providence, federalhillprov.com
March 22–27: Oklahoma! PPAC, Providence, ppacri.org