Top Dentists Rhode Island 2021
153 dentists who will make you smile.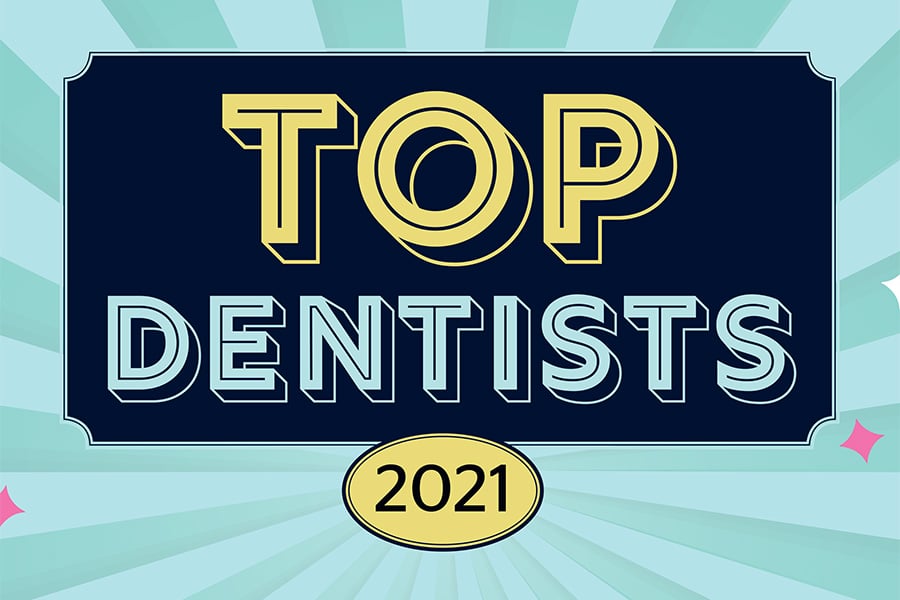 Double up
These twin dentists teamed up to give COVID the one-two jab.
It's one of those "Aha" moments. Dentists give shots to nervous patients all day long; could COVID vaccinations be a logical pivot? In fact, a number of Rhode Island dentists have volunteered to jab people's arms since the vaccine became available, including Lincoln dentists Karyn Ward and her twin sister, Lynn Vaudry. Working with DMAT, a public health nonprofit, the sisters' first vaccination clinic was in Central Falls in January, and since then they've been to group homes and other densely populated settings, including housing authorities. Ward estimates that she and her sister, who've been in general practice together for twenty-two years, have each vaccinated about 1,000 people. Vaudry points out they're just doing what comes naturally. They also like the idea of giving back to the community. Patients are nervous about needles, she says. "I'm used to that."
Her sister agrees. "Doing vaccinations is a thousand times easier than giving shots in the mouth," says Ward. "An arm is a much bigger target."
---
Did you know?

Tooth decay is the single most common chronic childhood disease.
---
Tooth or Consequences
Some tooth truths about those pearly whites.
Truth
According to the U.S. Department of Health, cavities could be contagious. Bacteria found in saliva that causes tooth decay can be transmitted, most often from parent to child. So parents, think twice before sharing your kiddo's cup.
Truth
"Good Morning America" host Michael Strahan considered closing the famous gap between his front teeth, but opted not to. He told Elle magazine, "there's too much pressure to be perfect. I don't want to try to be perfect."
Truth
Parents can start flossing kids' teeth as young as two. Germs and food get stuck in these areas and can cause trouble down the road.
Truth
As part of CareLink's mobile dentistry program, Woonsocket dentist Jeffrey Dodge led a team that made 14,083 visits and served more than 3,000 patients in local nursing homes last year. Many of those treated have significant cavities as well as complex medical histories. Being cared for in a familiar setting reduced the trauma for those with cognitive impairments.
Truth
If you've just burned the top of your mouth with a sizzling slice of cheese pizza, a salt or saline rinse can help relieve the pain, and lower the risk of infection.
---
Did you know?

When Isaac Newton's tooth was sold in 1816, it went for today's equivalent of nearly $36,000.
---
Click here to access the winners' list.
---
Did you know?
Giraffes only have bottom teeth.
---