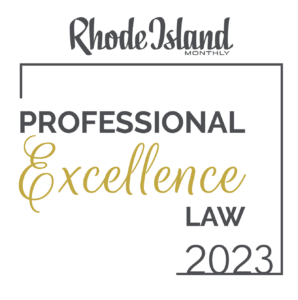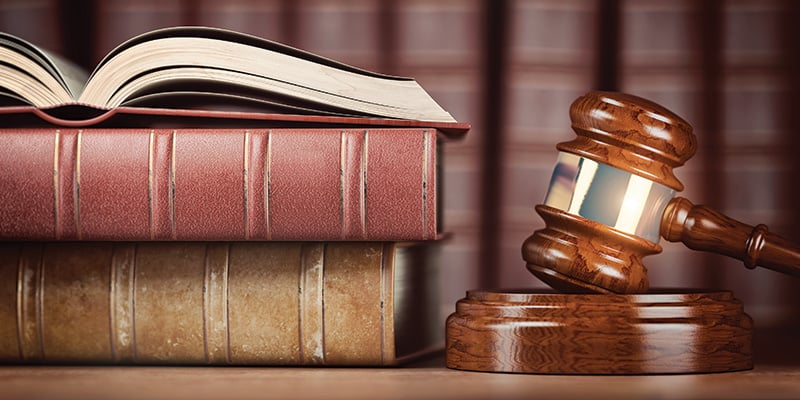 Rhode Island Monthly is proud to celebrate and showcase our fifth annual Professional Excellence in Law awards in the following pages. These honorees have been nominated and chosen by their peers, exemplifying the leading local lawyers in their respective areas of practice, from personal injury and general counsel to criminal defense and civil litigation.
Professional Excellence in Law Disclaimer:
Rhode Island Monthly Communications Inc. asked Rhode Island licensed lawyers to vote for their peers in a range of law practice areas. Rhode Island Monthly contracted DataJoe Research to conduct the survey using an online ballot for collecting, vetting and tallying votes. Any lawyer who has been disciplined for an infraction by the state regulatory board was excluded from the results. Otherwise, inclusion in the list is based on the opinions of responding lawyers in the region. DataJoe takes time and energy to ensure fair voting, although the results of this survey nomination and internet research campaign are not an objective metric.
Rhode Island Monthly believes that information about professional service providers should be made available to its readers, so that they can make informed decisions for themselves, their businesses and families. Rhode Island Monthly does not endorse, recommend or make representations with respect to the research presented, nor has it interviewed or met with the professionals listed herein.  All information was believed to be correct at the time of inclusion, but is subject to change and is not intended to supply all information necessary for selection of a legal professional.  We encourage our readers to fully investigate their options personally to assure that they are appropriate for individual needs.
DataJoe uses best practices and exercises great care in assembling content for this list. DataJoe does not warrant that the data contained within the list are complete or accurate. DataJoe does not assume, and hereby disclaims, any liability to any person for any loss or damage caused by errors or omissions herein, whether such errors or omissions result from negligence, accident, or any other cause. All rights reserved. No commercial use of the information in this list may be made without written permission from DataJoe.
Adoption Marital And Family Law
Rui P. Alves
Barton Gilman LLP
bglaw.com
Kristy J. Garside
The Law Offices of Howe & Garside LTD
counselfirst.com
Gregory N. Hoffman
Savage Law Partners LLP
savagelawpartners.com
Jane Fearing Howlett
Howlett Law Offices
howlettlawoffices.com
Erica S. Janton
The Law Office of Erica S. Janton PC
jantonfamilylaw.com
See ad
Evan M. Kirshenbaum
Kirshenbaum Law Associates Inc
kirshenbaumlaw.com
See ad
Angelina Landi
Burns & Levinson LLP
burnslev.com
John Larochelle
Larochelle Law
larochellelaw.com
Dadriana A. Lepore
Coia & Lepore LTD
coialepore.com
Sheri M. Lepore
Coia & Lepore LTD
coialepore.com
Bill Lynch
WJ Lynch Law
wjlynchlaw.com
See ad
Elisha Morris
Elisha Morris Esq Attorney at Law
divorcelawyersrhodeisland.com
Jesse Nason
Kirshenbaum & Kirshenbaum
kirshenbaumri.com
Stephen M. Prignano
McIntyre Tate LLP
mcintyretate.com
See ad
Timothy Michael Sweet
The Law Offices of Timothy
M. Sweet LLC
timothymsweetlaw.com
Deborah Miller Tate
McIntyre Tate LLP
mcintyretate.com
See ad
Antitrust Law
Joseph A. Farside, Jr.
Locke Lord LLP
lockelord.com
Krystle Guillory Tadesse
Locke Lord LLP
lockelord.com
Robert K. Taylor
Partridge Snow & Hahn LLP
psh.com
See ad
Appellate Law
Brett V. Beaubien
Brett V. Beaubien Attorney at Law
bvbdefense.com
Nicole J. Benjamin
Adler Pollock & Sheehan PC
apslaw.com
Thomas M. Dickinson
Thomas M. Dickinson Attorney at Law
appealri.com
Derek M. Gillis
Barton Gilman LLP
bglaw.com
Kara Maguire
Roger Williams University – School of Law
law.rwu.edu
David A. Wollin Hinckley, Allen & Snyder LLP
hinckleyallen.com
Arbitration And Mediation
Melody A. Alger
Alger Law LLC
algerlaw.com
Francis A. Connor, III
Barton Gilman LLP
bglaw.com
John S. Coughlin
Ciccone Coughlin Law Associates Inc
cicconelaw.com
James S. D'Ambra
Rice Dolan & Kershaw
ricedolan.com
William M. Dolan
Adler Pollock & Sheehan PC
apslaw.com
Kristen Sloan Maccini
K Sloan Maccini Law & Mediation LLC
ksmlawmediation.com
Christine L. Marinello
Marinello Law
marinellolawri.com
Stacey P. Nakasian
Duffy & Sweeney LTD
duffysweeney.com
William A. Poore
New England Mediations
newenglandmediationservices.com
Attorneys For Non Profit
Elizabeth O. Manchester
Partridge Snow & Hahn LLP
psh.com
See ad
Aviation, Admiralty, Maritime And Transportation
Michael J. Daly
Pierce Atwood LLP
pierceatwood.com
Banking And Financial
Edward G. Avila
Roberts Carroll Feldstein & Peirce Inc
rcfp.com
Patrick A. Guida
Duffy & Sweeney LTD
duffysweeney.com
Robert A. Migliaccio
Cameron & Mittleman LLP
cm-law.com
See ad
Alexandra W. Pezzello
Partridge Snow & Hahn LLP
psh.com
See ad
Scott A. Ritch
Ursillo, Teitz & Ritch LTD
utrlaw.com
Bankruptcy And Workout
Patricia Antonelli
Salter Mcgowan Sylvia & Leonard Inc
smsllaw.com
Steven J. Boyajian
Robinson & Cole LLP
rc.com
See ad
Daniel E. Burgoyne
Partridge Snow & Hahn LLP
psh.com
See ad
Andre S. Digou
Chace Ruttenberg & Freedman LLP
crfllp.com
See ad
John A. Dorsey
Ferrucci Russo Dorsey
frlawri.com
Bruce W. Gladstone
Cameron & Mittleman LLP
cm-law.com
See ad
Thomas S. Hemmendinger
Brennan Recupero Cascione
Scungio McAllister LLP
brcsm.com
Lisa M. Kresge
Brennan Recupero Cascione
Scungio McAllister LLP
brcsm.com
Christopher M. Lefebvre
Claude F. Lefebvre & Christopher M. Lefebvre PC
lefebvrelaw.com
Theodore Orson
Orson & Brusini LTD
orsonandbrusini.com
Charles Pisaturo
United States Bankruptcy Court – District of Rhose Island
rib.uscourts.gov
William Mark Russo
Ferrucci Russo Law
frlawri.com
Business Law
Joseph A. Anesta
Cameron & Mittleman LLP
cm-law.com
See ad
Stephen M. Brusini
Orson & Brusini LTD
orsonandbrusini.com
E. Colby Cameron
Cameron & Mittleman LLP
cm-law.com
See ad
Jeffrey B. Cianciolo
McLaughlinQuinn LLC
mclaughlinquinn.com
See ad
Jules J. D'Alessandro
Jules J. D'Alessandro Law
businesslawri.com
See ad
Kas R. DeCarvalho
Pannone Lopes Devereaux & O'Gara LLC
pldolaw.com
See ad
Carl I. Freedman
Chace Ruttenberg & Freedman LLP crfllp.com
See ad
Douglas G. Gray
Locke Lord LLP
lockelord.com
Adam J. Gwaltney
Nixon Peabody LLP
nixonpeabody.com
James H. Hahn
Partridge Snow & Hahn LLP
psh.com
See ad
W Thomas Humphreys
Cameron & Mittleman LLP
cm-law.com
See ad
Richard J. Land
Chace Ruttenberg & Freedman LLP
crfllp.com
See ad
Jeff Levy
Levy & Blackman LLP
levyblackman.com
Amy T.M. Oakley
Partridge Snow & Hahn LLP
psh.com
See ad
John D. Russell
Adler Pollock & Sheehan PC
apslaw.com
Theresa L. Sousa
Bianchi Brouillard Sousa & O'Connell PC
bbsolaw.com
John W. Wolfe
Cameron & Mittleman LLP
cm-law.com
See ad
Civil Trial
John J. Barton
Barton Gilman LLP
bglaw.com
Scott F. Bielecki
Cameron & Mittleman LLP
cm-law.com
See ad
Stephen P. Cooney
Higgins, Cavanagh & Cooney LLP
hcc-law.com
See ad
Robert Clark Corrente
Whelan Corrente & Flanders LLP
whelancorrente.com
Gerald C. DeMaria
Higgins, Cavanagh & Cooney LLP
hcc-law.com
See ad
Marc Desisto
DeSisto Law
desistolaw.com
Joseph T. Galindo, Jr.
Cameron & Mittleman LLP
cm-law.com
See ad
Steven E. Snow
Partridge Snow & Hahn LLP
psh.com
See ad
John A. Tarantino
Adler Pollock & Sheehan PC
apslaw.com
Max Wistow
Wistow Sheehan & Loveley PC
wsl-lawoffice.com
Commercial Litigation
Armando E. Batastini
Nixon Peabody LLP
nixonpeabody.com
Jeffrey S. Brenner
Nixon Peabody LLP
nixonpeabody.com
Mitchell R. Edwards
Hinckley, Allen & Snyder LLP
hcllawri.com
Christian R. Jenner
Partridge Snow & Hahn LLP
psh.com
See ad
Paul M. Kessimian
Partridge Snow & Hahn LLP
psh.com
See ad on page 92
Sally P. McDonald
Cameron & Mittleman LLP cm-law.com
See ad on page 76
Howard Merten
Partridge Snow & Hahn LLP
psh.com
See ad on page 92
Gerald J. Petros
Hinckley, Allen & Snyder LLP
hcllawri.com
Justin T. Shay
Cameron & Mittleman LLP
cm-law.com
See ad on page 76
William Wynne
Nixon Peabody LLP
nixonpeabody.com
Construction
John E. Bulman
Pierce Atwood LLP
pierceatwood.com
Paul S. Callaghan
Higgins, Cavanagh & Cooney LLP
hcc-law.com
See ad on page 90
Erin A. Hockensmith
Adler Pollock & Sheehan PC
apslaw.com
Michael A. Kelly
KSP Law
ksplawpc.com
See ad on page 89
Katharine E. Kohm
Pierce Atwood LLP
pierceatwood.com
Jackson C. Parmenter
KSP Law
ksplawpc.com
See ad on page 89
Girard R. Visconti
Savage Law Partners
savagelawpartners.com
Christopher C. Whitney
Pierce Atwood LLP
pierceatwood.com
Criminal Defense
Allison C. Abilheira
Abilheira Law LLC
abilheiralaw.com
Andrew Berg
Sammartino & Berg LLP
sbllp.net
John L. Calcagni, III
Law Office of John L. Calcagni III
calcagnilaw.com
See ad
William C. Dimitri
William C Dimitri Attorney at Law
dimitrilaw.com
David Ellison
David Ellison Law
dellisonlaw.com
John R. Grasso
Law Office of John R. Grasso
johngrassolaw.com
Kevin O. Hagan
Kevin O. Hagan Esq
kevinhaganlaw.com
Craig Hein
Craig Hein Law
craigheinlaw.com
Michael J. Lepizzera, Jr.
Lepizzera & Laprocina Counselors at Law LTD
leplaplaw.com
John E. MacDonald
Law Office of John E. Macdonald INC
aggressivelegalservices.com
Craig V. Montecalvo
Craig Montecalvo Law
craigmontecalvolaw.com
See ad
Stefanie A. Murphy
Law Offices of Stefanie A. Murphy
samurphylaw.com
Michael J. Pisaturo
The Law Office of Michael J.
Pisaturo PC
michaelpisaturo.com
Charles A. Tamuleviz
McLaughlin Quinn LLC
mclaughlinquinn.com
See ad
Education
Stephen Adams
Barton Gilman LLP
bglaw.com
Jon M. Anderson
Brennan Recupero Cascione Scungio McAllister LLP
brcsm.com
Cassandra L. Feeney
Hamel, Waxler, Allen & Collins
hwac.com
Timothy J. Groves
Barton Gilman LLP
bglaw.com
Andrew Henneous
Henneous, Carroll, Lombardo LLC
hcllawri.com
See ad
Aubrey L. Lombardo
Henneous, Carroll, Lombardo LLC hcllawri.com
See ad
Matthew R. Plain
Barton Gilman LLP
bglaw.com
Steven M. Richard
Nixon Peabody LLP
nixonpeabody.com
Elder Law
Peter A. Hainley
Brule, Nault & Hainley PC
bnhri.com
See ad
Laura G. Handwerger
Scott & Handwerger LLP
riestatelaw.com
Matthew J. Leonard
Salter Mcgowan Sylvia & Leonard Inc
smsllaw.com
Samantha McCarthy
McCarthy Law LLC
mccarthylawri.com
See ad
Elizabeth S. Phillips
Hackman & Phillips Elder Law RI LLC
elderlawrillc.com
See ad
Joseph M. Proietta
401 – Elderlaw
401elderlaw.com
Janet Katherine Scott
Scott & Handwerger LLP
riestatelaw.com
Jill E. Sugarman
Scott & Handwerger LLP
riestatelaw.com
Environmental And Land Use
Christian F. Capizzo
Partridge Snow & Hahn LLP
psh.com
See ad
Jennifer Cervenka
Cervenka Green & Ducharme LLC
cgdesq.com
Marisa Desautel
Desautel Law
desautelesq.com
Susan Forcier
State of Rhode Island Department of Environmental Management
dem.ri.gov
Jeffrey H. Gladstone
Partridge Snow & Hahn LLP
psh.com
See ad
William R. Landry
Blish & Cavanagh LLP
blishcavlaw.com
John O. Mancini
Mancini Carter
mancinicarter.com
See ad
Emily J. Migliaccio
Marine Affairs Institute – Roger Williams University
law.rwu.edu
Elizabeth McDonough Noonan
Adler Pollock & Sheehan PC
apslaw.com
Joelle Rocha
Duffy & Sweeney LTD
duffysweeney.com
Alan M. Shoer
Adler Pollock & Sheehan PC
apslaw.com
Andrew M. Teitz
Ursillo, Teitz & Ritch LTD
utrlaw.com
Government And Administrative
Richard R. Beretta, Jr.
Adler Pollock & Sheehan PC
apslaw.com
Eugene G. Bernardo, II
Partridge Snow & Hahn LLP
psh.com
See ad
Robert E. Craven
Robert E. Craven & Associates
robertecravenlaw.com
David M. DiSegna
Partridge Snow & Hahn LLP
psh.com
See ad
Amy H. Goins
Ursillo, Teitz & Ritch LTD
utrlaw.com
Moe Greenberg
Green & Greenberg
greengreenberg.com
See ad
Matthew A. Lopes, Jr.
Pannone Lopes Devereaux & O'Gara LLC
pldolaw.com
See ad
David Spunzo
Green & Greenberg
greengreenberg.com
See ad
Michael A. Ursillo
Ursillo, Teitz & Ritch LTD
utrlaw.com
Health Care Law
Christopher Browning
Nixon Peabody LLP
nixonpeabody.com
Jeffrey F. Chase-Lubitz
Husch Blackwell LLP
huschblackwell.com
Susan Leach DeBlasio
Adler Pollock & Sheehan PC
apslaw.com
Morgan A. Goulet
Husch Blackwell
huschblackwell.com
Meghan L. Hopkins
Nixon Peabody LLP
nixonpeabody.com
Leslie D. Parker
Adler Pollock & Sheehan PC
apslaw.com
Sheri L. Pizzi
Barton Gilman LLP
bglaw.com
Patricia K. Rocha
Adler Pollock & Sheehan PC
apslaw.com
Michael G. Tauber
Cameron & Mittleman LLP cm-law.com
See ad
Don Wineberg
Chace Ruttenberg & Freedman LLP
crfllp.com
See ad
Stephen D. Zubiago
Nixon Peabody LLP
nixonpeabody.com
Immigration Law
Deborah Gonzalez
Roger Williams University – School of Law
law.rwu.edu
Insurance
Peter E. Garvey
Higgins, Cavanagh & Cooney LLP
hcc-law.com
See ad
Dana M. Horton
Robinson & Cole LLP
rc.com
See ad
Travis J. McDermott
Partridge Snow & Hahn LLP
psh.com
See ad
Robert C. Shindell
Barton Gilman LLP
bglaw.com
Intellectual Property Rights
Christine K. Bush
Hinckley, Allen & Snyder LLP
hcllawri.com
George N. Chaclas
Day Pitney LLP
daypitney.com
C. Alexander Chiulli
Savage Law Partners LLP
savagelawpartners.com
Daniel J. Holmander
Adler Pollock & Sheehan PC
apslaw.com
David R. Josephs
Barlow Josephs & Holmes LTD
barjos.com
John E. Ottaviani
Partridge Snow & Hahn LLP
psh.com
See ad
Craig M. Scott
Hinckley, Allen & Snyder LLP
hcllawri.com
Labor And Employment
Robert P. Brooks
Adler Pollock & Sheehan PC
apslaw.com
Michael D. Chittick
Adler Pollock & Sheehan PC
apslaw.com
Stacie B. Collier
Nixon Peabody LLP
nixonpeabody.com
Joseph R. Daigle
Daigle Law PC
jdaiglelaw.com
Jillian S. Folger-Hartwell
Littler Mendelson PC
littler.com
V. Edward Formisano
Formisano & Company
formisanoandcompany.com
Michael A. Gamboli
Partridge Snow & Hahn LLP
psh.com
See ad
Jessica Schachter Jewell
Nixon Peabody LLP
nixonpeabody.com
Eric B. Mack
Littler Mendelson PC
littler.com
Aaron F. Nadich
Nixon Peabody LLP
nixonpeabody.com
William E. O'Gara
Pannone Lopes Devereaux & O'Gara LLC
pldolaw.com
See ad
Matthew H. Parker
Whelan Corrente & Flanders LLP
whelancorrente.com
Heather A. Pierce
Littler Mendelson PC
littler.com
Todd M. Reed
Littler Mendelson PC
littler.com
James A. Ruggieri
Higgins, Cavanagh & Cooney LLP
hcc-law.com
See ad
Alicia J. Samolis
Partridge Snow & Hahn LLP
psh.com
See ad
Julia R. Shackleton
Littler Mendelson PC
littler.com
Joseph D. Whelan
Whelan Corrente & Flanders LLP
whelancorrente.com
Medical Malpractice Defense
Angela L. Carr
Barton Gilman LLP
bglaw.com
Andrew M. Lynch
Barton Gilman LLP
bglaw.com
Andrea L. Merolla-Simister
Gidley, Sarli & Marusak LLP
gsm-law.com
See ad
Kelsey D. Peck
Adler Cohen Harvey Wakeman
and Guekguezian LLP
adlercohen.com
Michael G Sarli
Gidley, Sarli & Marusak LLP
gsm-law.com
Medical Malpractice Plaintiff
Patrick C. Barry
Decof Barry Mega & Quinn PC
decof.com
See ad
Yvette Boisclair
Mandell, Boisclair & Mandell LTD
mbmjustice.com
Douglas E. Chabot
Marasco & Nesselbush LLP
m-n-law.com
See ad
Mark B. Decof
Decof Barry Mega & Quinn PC
decof.com
See ad
Amato A.R. Deluca
Deluca & Associates
delucaandassociates.com
Jane Duket
Marasco & Nesselbush LLP
m-n-law.com
See ad
John Foley
Foley Cerilli PC
foleycerilli.com
Mark H. Grimm
Marasco & Nesselbush LLP
m-n-law.com
See ad
Mark Mandell
Mandell, Boisclair & Mandell LTD
mbmjustice.com
Zachary Mandell
Mandell, Boisclair & Mandell LTD
mbmjustice.com
Jeffrey A. Mega
Decof Barry Mega & Quinn PC
decof.com
See ad
David Morowitz
The Law Office of David Morowitz LTD
morowitzlaw.com
Michael P. Quinn, Jr.
Decof Barry Mega & Quinn PC
decof.com
See ad
Emily Trieber
Kirshenbaum & Kirshenbaum
kirshenbaumri.com
Personal Injury
Gil A. Bianchi, Jr.
Bianchi Brouillard Sousa & O'Connell PC
bbsolaw.com
Mike Bottaro
Bottaro Law Firm LLC
bottarolaw.com
Andrew J. Coughlin
Ciccone Coughlin Law Associates Inc
cicconelaw.com
Mark A. Fay
Murphy & Fay LLP
murphyandfay.com
See ad
Mark Gemma
Gemma Law Associates Inc
gemmalaw.com
Timothy J. Grimes
Decof Barry Mega & Quinn PC
decof.com
Anthony R. Leone
Leone Law LLC
leonelawllc.com
See ad
Timothy Lynch
Marasco & Nesselbush LLP
m-n-law.com
See ad
Joseph Marasco
Marasco & Nesselbush LLP
m-n-law.com
See ad
John Meara
Mandell, Boisclair & Mandell LTD
mbmjustice.com
Thomas Moran
Marasco & Nesselbush LLP
m-n-law.com
See ad
Donna Nesselbush
Marasco & Nesselbush LLP
m-n-law.com
See ad
Jennifer Gehringer Puerini
JMGP Law
jmgplaw.com
Adam J. Resmini
Law Offices of Ronald J. Resmini LTD
resminilawoffices.com
Ronald J. Resmini
Law Offices of Ronald J. Resmini LTD
resminilawoffices.com
Christopher L. Russo
Kirshenbaum & Kirshenbaum
kirshenbaumri.com
George L. Santopietro
Coia & Lepore LTD
coialepore.com
Nicholas A. Solitro
Robert E. Craven & Associates
robertecravenlaw.com
Kathleen Wyllie
Revens, Revens, St. Pierre & Wyllie PC
rrsplaw.com
See ad
Real Estate
David M. Dolbashian
Law Office of David M. Dolbashian Esq PC
dolbashianlaw.com
Diana M. Ducharme
Cervenka Green & Ducharme LLC
cgdesq.com
Allison L. Fleet
Partridge Snow & Hahn LLP
psh.com
See ad
Philip W. Gasbarro
Law Offices of Philip W. Gasbarro
gasbarroesq.com
Marc B. Gertsacov
Roberts Carroll Feldstein & Peirce Inc
rcfp.com
David M. Gilden
Partridge Snow & Hahn LLP
psh.com
See ad
Marlene Samra Marshall
Pelletier Marshall & Clark LLC
pmc-attorneys.com
Michael L. Mineau
Partridge Snow & Hahn LLP
psh.com
See ad
Jay R. Peabody
Partridge Snow & Hahn LLP
psh.com
See ad
Brad R. Pelletier
Pelletier Marshall & Clark LLC
pmc-attorneys.com
Christopher P. Rhodes
Harrington & Rhodes LTD h-rlaw.com
See ad
Carol L. Ricker Pelletier Marshall & Clark LLC
pmc-attorneys.com
Vincent J. Rinaldi, Jr.
Rinaldi Law Offices LLC
rinaldilaw.net
Charles F. Rogers
Locke Lord LLP
lockelord.com
David J. Rubin
Hinckley, Allen & Snyder LLP
hcllawri.com
Jeff St. Sauveur
Montalbano, Belliveau &
St Sauveur LLP
mbandsllp.com
Robert I. Stolzman
Adler Pollock & Sheehan PC
apslaw.com
Securities Law
Eugene W. McDermott, Jr.
Locke Lord LLP
lockelord.com
Tax Law
Cory J. Bilodeau
McLaughlinQuinn LLC
mclaughlinquinn.com
See ad
Arthur J. Leonard
Salter Mcgowan Sylvia & Leonard Inc
smsllaw.com
Thomas P. Quinn
McLaughlinQuinn LLC
mclaughlinquinn.com
See ad
Russell J. Stein
Partridge Snow & Hahn LLP
psh.com
See ad
Kathryn S. Windsor
Adler Pollock & Sheehan PC
apslaw.com
Wills, Trusts And Estates
Leon C. Boghossian
Hinckley, Allen & Snyder LLP
hcllawri.com
Paul A. Brule
Brule, Nault & Hainley PC
bnhri.com
See ad
Melissa K. Burnett-Testa
Burnett & Sherer LLC
burnettsherer.com
Gene M. Carlino
Pannone Lopes Devereaux & O'Gara LLC
pldolaw.com
See ad
Nancy Fisher Chudacoff
Cameron & Mittleman LLP
cm-law.com
See ad
David P. Craven
David Craven Attorney at Law
Pannone Lopes Devereaux & O'Gara LLC
See ad
Karen G. DelPonte
Cameron & Mittleman LLP
cm-law.com
See ad
Deborah DiNardo
Pierce Atwood LLP
pierceatwood.com
Renee A.R. Evangelista
Day Pitney LLP
daypitney.com
Leigh E. Furtado
Day Pitney LLP
daypitney.com
John M. Harpootian
Paster & Harpootian LTD
ph-estplan.com
Melissa M. Horne
Higgins, Cavanagh & Cooney LLP
hcc-law.com
See ad
Sarah Oster Kelly
Burns & Levinson LLP
burnslev.com
W Parish Lentz
Barton Gilman LLP
bglaw.com
Jason P. Marshall
Marshall Law Offices LTD
jmarshall-law.com
Kristin N. Matsko
Adler Pollock & Sheehan PC
apslaw.com
Anthony R. Mignanelli
Mignanelli & Associates LTD
mignanelli.com
Kristen Prull Moonan
Moonan, Stratton & Waldman LLP
mswri.com
See ad
Bridget L. Mullaney
Cameron & Mittleman LLP
cm-law.com
See ad
Chad Nelson
Pelletier Marshall & Clark LLC
pmc-attorneys.com
David T. Riedel
Adler Pollock & Sheehan PC
apslaw.com
Lynn E. Riley
Cameron & Mittleman LLP
cm-law.com
See ad
Amy E. Stratton
Moonan, Stratton & Waldman LLP
mswri.com
See ad
Amanda E. Tarzwell
Tarzwell & Trubiano Law LLC
tarzwelllaw.com
Worker's Compensation
John F. Cascione
Coia & Lepore LTD
coialepore.com
Robyn K. Factor
Kirshenbaum & Kirshenbaum
kirshenbaumri.com
Lawrence J. Signore
The Law Offices of Lawrence J. Signore
therhodelawyer.com
See ad
Michael St. Pierre
Revens, Revens, St. Pierre & Wyllie PC
rrsplaw.com
See ad
Rising Stars
Meagan M. Bellamy
Higgins, Cavanagh & Cooney LLP hcc-law.com
See ad
Lauren E. Moore
Higgins, Cavanagh & Cooney LLP hcc-law.com
See ad
Alexander Prinscott
Higgins, Cavanagh & Cooney LLP hcc-law.com
See ad
Vivian M. Karian
Cameron & Mittleman LLP cm-law.com
See ad
Alexandra Lancey
Locke Lord LLP
lockelord.com
Tyler J. Pare
Higgins, Cavanagh & Cooney LLP
hcc-law.com
Caitlyn Smith
Nixon Peabody LLP
nixonpeabody.com