How to Throw an Easy Backyard Bash
We have you covered from decor and drinks to crowd-pleasing recipes and covetable grilling gear.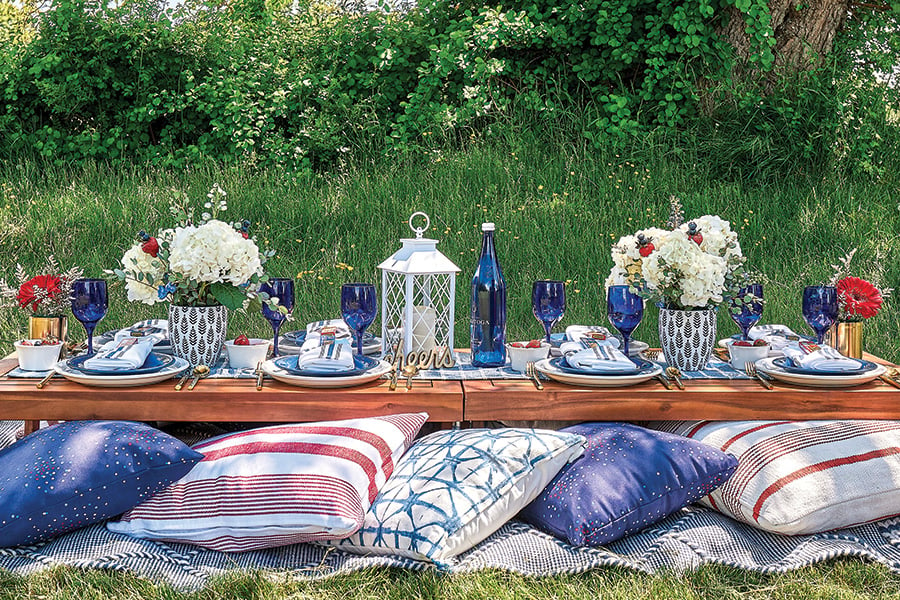 Now that we're turning the corner with COVID-19, it's time to start planning backyard get-togethers and intimate gatherings with friends and family. Whether you're game to man the grill yourself with our burger, steak, seafood and grilled fruit recipes, or you simply want to bite into beef or veggie patties from a local restaurant, we have you covered from decor, drinks and dinner to dessert.
Forbidden Fruits
Fire up the gas with these recipes for smoky pineapple, watermelon and peaches served with sexy grill marks.
By Carmen Russo
Summer grilling has its tried-and-true classics: hamburgers and hot dogs, a nice piece of steak or maybe even some shellfish. But have you ever tried grilling summer fruits? Throwing a tangy slice of pineapple or a juicy peach on the grill will caramelize the fruits' natural sugars, which will boost sweetness while adding a smoky overtone. Look for fruits that are ripe, but not overripe, and don't be afraid to let them sit — you want those grill marks to develop for a more intense flavor and that perfect charred texture.
Grilled Shrimp Salad with Watermelon, Feta and Arugula
Serves 4
2 lbs large shrimp, peeled, deveined and
tails removed
3 Tbsp olive oil
K tsp salt
K tsp black pepper
K tsp lemon juice
4 slices watermelon, about 1-inch thick
4 cups arugula
1 cup crumbled feta cheese
2 Tbsp honey
2 Tbsp balsamic vinegar
Heat the grill over medium heat. In a small bowl, whisk together 1 Tbsp of olive oil with salt, pepper and lemon juice. Add shrimp to the bowl and coat with marinade. Marinate in fridge for one hour or more.
Grill shrimp until pink in color, about 3–5 minutes. Remove from grill and set aside.
Grill watermelon slices until slightly charred, about 2 minutes per side. Cut the watermelon slices into small cubes.
In a large bowl, combine arugula, feta and cooked shrimp. In a small bowl, whisk together the rest of the olive oil with honey and balsamic vinegar. Add dressing to the large bowl and toss to combine. Divide the salad between four plates and serve.
Grilled Pineapple Short Ribs
Serves 4
2 K lbs boneless beef short ribs
1 tsp salt
1 tsp black pepper
K cup brown sugar
K cup soy sauce
L cup minced garlic
2 Tbsp rice vinegar
2 Tbsp finely grated ginger
2 Tbsp pineapple juice
K Tbsp sesame oil
1 pineapple, cored and sliced into
half-moons
¼ cup scallions, chopped
Lay the ribs in a large baking dish and rub all over with salt, pepper and brown sugar. Let the ribs sit for about 15 minutes, until the sugar has dissolved.
Make the marinade. In a mixing bowl, whisk together soy sauce, garlic, rice vinegar, ginger, pineapple juice and sesame oil. Pour the marinade over the ribs. Cover and refrigerate for at least four hours, or up to twenty-four.
Remove the ribs from the fridge 30 minutes to 1 hour before grilling to allow them to reach room temperature.
Heat the grill over medium high heat for 5 minutes. Remove the ribs from the marinade and pat dry with paper towels. Put the marinade aside.
Grill the ribs on medium high heat for about 4–5 minutes per side, or until charred on the outside and medium rare on the inside. If you want to check by temperature, the ribs should be 130 degrees.
Remove the ribs from the grill and let it rest on a plate. Meanwhile, dip the pineapple slices in marinade and grill until caramelized and charred, about 2 minutes per side.
Top the ribs with grilled pineapple and scallions and serve.
Grilled Peaches with Vanilla Bean Ice Cream and Salted Caramel Sauce
Serves 4
4 peaches, cut in half and pitted
K cup orange juice
3 Tbsp sugar
1 tsp cornstarch
2 Tbsp butter
¼ tsp salt
2 cups vanilla bean ice cream
In a small saucepan, heat the orange juice until just about simmering. In another small saucepan, melt the sugar.
When the sugar is melted and light amber in color, remove from the heat. Carefully pour the hot orange juice into the sugar; wear oven mitts because the juice will splatter. Return the pan with both the orange juice and the sugar to medium heat and stir until combined.
Put the cornstarch in a small, heatproof bowl and whisk in about 2 Tbsp of the melted orange caramel sauce until the cornstarch has dissolved. Pour this mixture back into the saucepan and whisk over medium heat until the caramel has thickened.
Remove from heat and whisk in butter and salt. Heat the grill over medium high heat. Place the peach halves face-down on the grill and leave until charred, about 2–3 minutes. Remove from heat, top with ice cream, drizzle with cooled caramel sauce and serve.