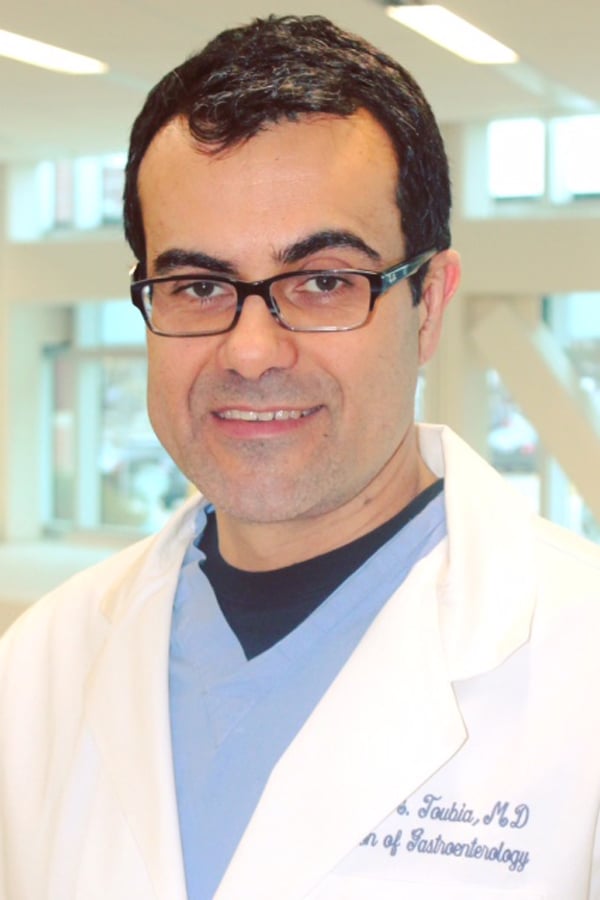 Dr. Nabil Toubia, MD
Gastroenterologist, Digestive Disease Program
Roger Williams Medical Center
1. As a gastroenterologist, you specialize in managing diseases of the gastrointestinal tract and liver. Has technology changed how you diagnose and treat patients?
Technology has significantly improved our ability to diagnose and treat patients with gastrointestinal disease. Less invasive tools, like capsule endoscopy and liver Fibroscan, are being used routinely to diagnose small bowel disease and liver fibrosis. In the last decade alone, several new technologies have been introduced that allow us to endoscopically visualize the bile duct, ablate precancerous lesions in the esophagus and place lumen-apposing stents across the stomach to drain pancreatic cysts. Other innovations like spiral enteroscopy allow us to reach further into the small bowel. More technological advances are always on the horizon and we look forward to incorporating those tools into our daily clinical practice at Roger Williams.
2. Endoscopic Ultrasound is a common tool used nowadays to obtain images and information about the digestive tract and the surrounding tissue and organs. How does it work and what is it utilized for?
Our gastroenterology team has been performing comprehensive endoscopic ultrasound services since 2004, which makes us a leader in the state. We perform close to 500 such procedures annually. This tool allows us to see through the walls of the gastrointestinal tract using ultrasound. It allows us to perform staging for esophageal, gastric, pancreatic and rectal cancers. It also helps us guide a needle into the surrounding structures to obtain a small sample for either diagnosis or the delivery of therapy. Using the same technology, we can guide delivery of lumen-apposing stents to treat large pseudocysts of the pancreas, a procedure approved by the FDA in 2016.
3. You were the first physician in Rhode Island to utilize new stent technology that helps physicians manage serious complications from pancreatitis using a minimally invasive endoscopic approach. Roger Williams' gastroenterologists have a history of being first in Rhode Island when it comes to utilizing the latest technology. How important is it to be on the cutting edge of these technological developments?
Being at the forefront of utilizing new technology is very exciting and rewarding to providers and patients alike. By embracing technology, we can offer less invasive and more effective therapies to our patients in Rhode Island. This mindset keeps us sharp as clinicians and also prompts us to be on the lookout for the latest technologies.
4. Last year, Roger Williams became the first hospital in the state to offer a new FDA-approved, non-surgical approach to weight loss. How does it work?
The concept revolves around the idea of a fluid-filled balloon that is placed endoscopically. The balloon occupies room in the stomach and allows the patient to feel full after a small of amount of food intake. The balloon is left in the stomach and is removed endoscopically after six months. Placement and removal of the balloon are done on an outpatient basis. There are no anatomical alterations of the stomach and there are no incisions involved in the process. Patients also receive a full year of personalized coaching to support their success so they can make the changes necessary for a lifetime of healthy living. The procedure is FDA-approved for patients with a Body Mass Index between 30 and 40. Roger Williams is the only place in Rhode Island where this procedure is offered, which builds on our history of instigating clinical firsts in our state.