You're a Good Man, Jon Stewart
The comedian is adopting Lily, a horse that had the misfortune of meeting an East Providence man with eight animal cruelty convictions.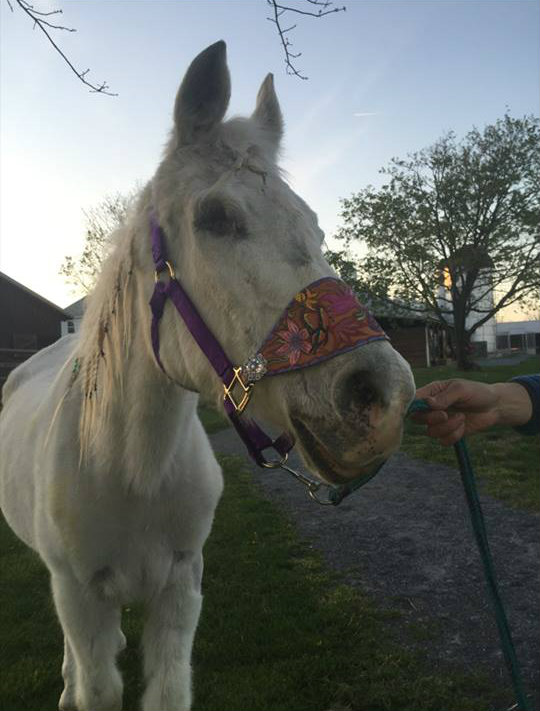 In the twilight of her life, Lily can finally bloom.
In March, Lily, a white mare between twenty and twenty-five years old, was abandoned at a sales stable in New Holland, Pennsylvania, one where some horses are sold for slaughter. Lily was rail-thin, mostly blind, covered in paint and sore to the touch.
Lily's abandoner was East Providence resident Phillip Price, who was convicted in 2015 of eight counts of animal cruelty for his treatment of horses on a farm in North Kingstown. On Friday, Price was convicted of abandonment and illegal transport in Lily's case. He's due to pay $13,000 in fines and other costs to cover Lily's rehabilitation.
According to an investigator for the Lancaster County SPCA, Price was commissioned by Lily's owner, who runs a stable with horseback riding lessons for kids, to "dispose" of Lily. The stable owner has not been charged with a crime.
Some details of Lily's past are murky — veterinarians believe she was struck by more than 100 paint balls, while Lily's former owner says her young clients finger-painted on her coat — however one thing is true: Lily's future is much brighter. After her run-in with Phillip Price, Lily was moved to Omega Horse Rescue and Rehabilitation Center, where she gained roughly 250 pounds in two months and, thanks to an experimental surgery, regained nearly 80 percent of her vision. And over the weekend, more good news came in: Comedian and former "Daily Show" host, Jon Stewart and his wife, Tracey, announced they would provide a forever home for Lily.
Tomorrow, May 25, at 1 p.m., Tracey will officially adopt Lily from Omega Horse Rescue and Rehabilitation Center and bring her to Farm Sanctuary, a farm animal protection organization that opened its forth location in Colts Neck, New Jersey. The sanctuary, which the Stewarts brought to Colts Neck, will be open to the public in 2017.