What's the Secret to Success in Lincoln?
A hint: It helps to have a game plan.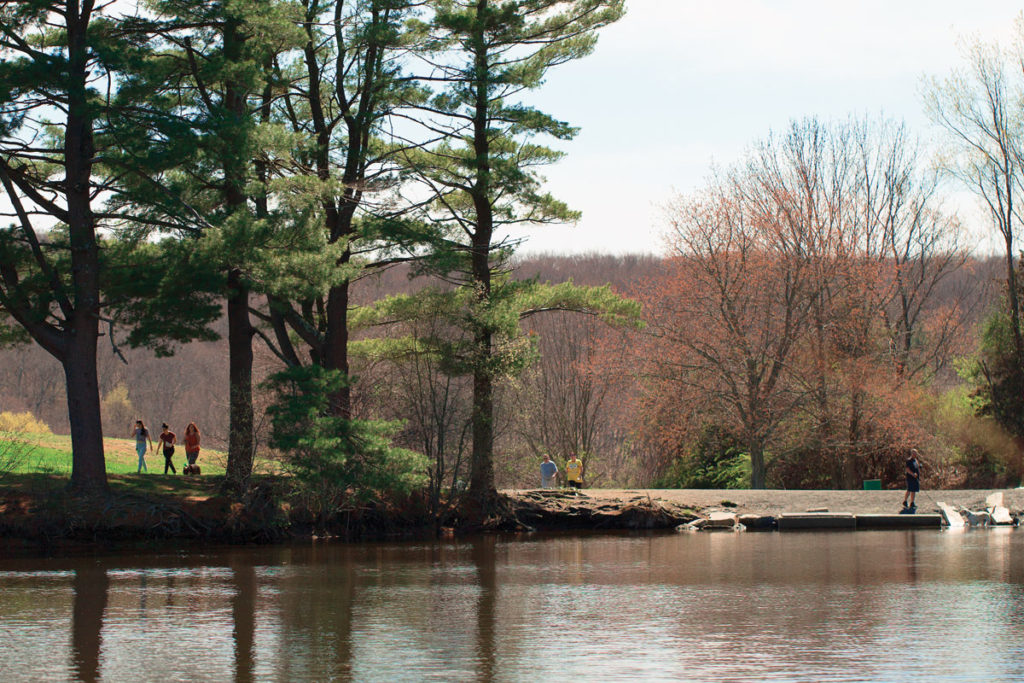 Great Places for Foodies
Lincoln
Hartley's Pork Pies
If you like meat pies, you've come to the right place. Hartley's Pork Pies sells several pies with a variety of fillings (despite the name), including chicken, pork (duh), beef and salmon. Crisp, flaky crust and a steaming-hot savory filling: What more could you ask for?
871 Smithfield Ave., Lincoln, 726-1295.
Enn Japanese Restaurant and Sushi Bar
At Enn Japanese Restaurant and Sushi Bar, you'll find just about every variety of sushi imaginable. It has more than seventy types of sushi rolls and sashimi, from conventional rolls of tuna and salmon to specialty rolls like the Alligator Maki or Trippy Roll. If raw fish isn't your thing, it has plenty of other Japanese delicacies.
600 George Washington Hwy., Lincoln, 333-1366, ennri.com.
A Short Drive Away
El Salvadoreno Restaurant
Whether you love Salvadoran food or you'd like to try this Latin American cuisine, head to El Salvadoreno Restaurant. Diners rave about the pupusas: corn tortillas stuffed with a range of delicious fillings, from cheese, meat and beans to seasoned pork. The menu offers traditional eats like tacos if you're not feeling adventurous. Authentic Latin American food doesn't get any better than this.
791 Lonsdale Ave., Central Falls, 725-2226.
Terrazza
Enjoying simple, local food and sharing a bottle of wine on a starry Mediterranean night — that's what Terrazza is trying to recreate. This restaurant offers food and an atmosphere inspired by classic Mediterranean culture. The dishes are prepared with ingredients purchased from local farms, including grass-fed beef, American Heritage Berkshire pigs and fresh Rhode Island Red eggs. Enjoy your fresh food with some fresh air: Terrazza has a sprawling patio that is perfect for warm days and nights.
645 Douglas Pike, Smithfield, 233-3223, terrazzari.com.
Great Places to Shop
Lincoln
Ryco's Trimming Co.
If you're crafty and want to get into textiles, Ryco's Trimming Co. is the place for you. Equipped with every fabric, thread and sewing tool imaginable, the shop has the right supplies for beginners and experts alike. Take some classes on sewing, quilting or design. Whatever your project, whether it be a quilt or a teddy bear, you'll find resources and inspiration at Ryco's.
25 Carrington St., Lincoln, 725-1779, rycotrim.com.
Rhode Island Skate
Remember winter? One of its few joys (at least for some) is heading to the ice rink to practice lunges, crossovers and spirals. For ice skating fanatics, Rhode Island Skate has everything from figure skating costumes to the skates themselves. It also offers a variety of services including sharpening and personalized fittings.
101 Higginson Ave., Lincoln, 722-4300, rhodeislandskate.com.
A Short Drive Away
Frog and Toad
Gift shops can seem pretty humdrum when stocked with the same generic knick-knacks and bric-a-brac. Not so with Frog and Toad. The store is filled with a quirky assortment of art, apparel and jewelry, from posters with "You can go to Hell, I'm going to Pawtucket" scrawled across them to armadillo necklaces.
795 Hope St., Providence, 831-3434, frogandtoadstore.com.
Lulu's Krazy Daisy Consignment
Are you trying to freshen up your style without spending a small fortune? Lulu's Krazy Daisy offers lightly used clothes, purses and accessories in a variety of stylish options. Items with their tags intact are sold at half the retail price, while untagged items (which are still in like-new condition) are offered at a third of their original price. For fashionistas trying to unload their closets and pad their pockets, Lulu's gives you a chance to sell your goods at a hefty profit. Whether buying or selling, Lulu's has something for everyone.
706 Saint Paul St., North Smithfield, 597-6219.
Great Places to Explore
Lincoln
R1 Indoor Karting
One of the newest additions to Lincoln's recreational facilities, R1 Indoor Karting lets customers zoom around a kart track at blistering speeds. Equipped with the latest in go-kart technology, the electric vehicles have the power of a racecar without the fumes. Its asphalt track is specifically designed for karting, meaning you'll have a fast experience all around. Plans are in the works for a number of other activities including bowling, laser tag, billiards and more.
100 Higgins Ave., Lincoln, 721-5554, r1indoorkarting.com.
Lincoln Woods State Park
Whatever your favorite outdoor recreation, Lincoln Woods State Park probably has you covered. The 627-acre park offers horseback riding, mountain biking trails, fishing, swimming and just about everything else. During the winter, the park's pond is one of the few in the state to be tested for ice safety, so feel free to skate if the Parks Department approves.
2 Manchester Print Works Rd., Lincoln, 723-7892.
A Short Drive Away
Blackstone River Bikeway
Explore Rhode Island's industrial past while on two wheels. The Blackstone River Bikeway offers spectacular views of the river and winds past some of the state's older mills and factories. The trail crosses the river several times, letting cyclists view cascading waterfalls and wildlife-filled marshes. The path goes from Cumberland to Woonsocket and is more than eleven miles long.
Cumberland, 762-0250.
Museum of Work and Culture
Not so long ago, Rhode Island was the industrial giant of the Northeast. Everything from tools to jewelry was churned out of local mills and factories. Now, most of that industry has disappeared from the state, but the Museum of Work and Culture has preserved our industrial heritage and the stories of the workers who made it possible. The museum uses video, audio and interactive exhibits to immerse visitors in the daily lives of mill workers. They also offer hands-on activities and games to keep things interesting for kids and adults alike.
42 South Main St., Woonsocket, 769-9675, rihs.org.