What's the Secret to Success in Lincoln?
A hint: It helps to have a game plan.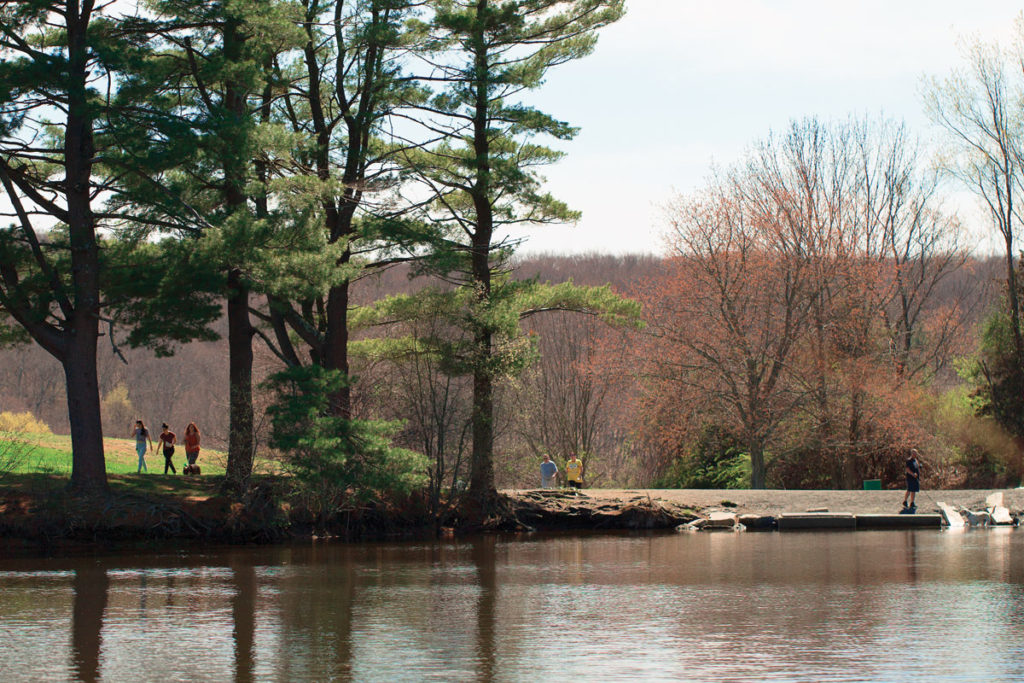 Children sprint around renovated playgrounds, students filter in and out of new schools and every home in the town is serviced by city sewers and water. From the police headquarters to the roads, everything is kept prim and proper in Lincoln. What's their secret to success?
"We stick to the plan," says Town Administrator T. Joseph Almond.
The story of the town's success is largely the story of its Comprehensive Plan. Both the town administrator and Albert Ranaldi Jr., the town planner, gave me a peek into the heart of how a town runs and what makes Lincoln's operation different. But as with most stories, it's best to start at the beginning.
"Long before Lincoln was a town, it was just part of Smithfield. It wasn't until the 1870s that it became its own thing," says Almond. But Lincoln still wasn't the place we know today.
"Central Falls was a thriving city and it was part of Lincoln. Because they were densely populated, they wanted more services, but the rest of Lincoln was rural. They separated so that both could get what they wanted."
When Lincoln's urban section split off, the rest of the town remained rural. It wasn't until the '50s and '60s, when it was in the incipient phase of development, that the town council decided to look to the future.
"They drew up this plan of how they wanted the town developed, and they stuck with it," says Almond. "It has never varied."
Whenever faced with a decision, whether it be a new business or a change in property development, the town staff refers to the Comprehensive Plan, a guideline for the town's future. Ranaldi describes a typical scenario.
"They mentioned in the plan that you have to stick to your zoning. We have controversial projects come in saying that they want to change our zoning. We say 'Look, this plan goes back to the '60s.' "
"If that is what the plan calls for, it doesn't matter who you are, it doesn't matter who your attorney is, you won't get it," adds Almond.
The Plan, adhered to with almost religious zeal, seems to be paying off. By and large, the town has just about anything you could want. I wait to hear some sinister catch, whether it be a sacrificial lottery to appease the town's gods or gladiator-style battles meant to keep the population under control, but it seems that there is no caveat. The plan is only a plan.
"The Comprehensive Plan suggested that 30 percent of the town be dedicated to open space, and right now, about 26 percent is," explains Almond. Chase Farm is one example of this. With more than eighty acres of rolling hills and meadows, it is well equipped for any nature lover. It's also home to historic reenactments and a handful of nineteenth-century buildings, so history buffs can have their fill.
Open space aside, the Comprehensive Plan has led the way for just about everything else in the town. But it's not the only reason for Lincoln's success. Besides the hard work of town administration and councils, it's something that defies the plan's highly regimented structure that makes many of the social programs possible: Twin River Casino.
"We have a casino right in the middle of town. It was around before a lot of homes were even built, so it basically grew there. But other than that, almost all our commercial development is in specific designated places," says Almond.
The state's largest gaming venue, Twin River, has been, in one form or another, at the center of Lincoln for more than sixty years. Long before the slot machines, poker tables and roulette, Twin River, then called Lincoln Downs, was a horse farm with a racetrack. Eventually, as the popularity of horseracing declined in the state, it became a greyhound track. It wasn't until 2007, after a sizable expansion and restoration project, that Twin River Casino emerged as the gambling facility we know today.
The money Lincoln receives from Twin River has allowed them to do a lot more than just pay for maintenance and upkeep. New building projects, major renovations and social programs were made possible by the casino.
"The funds let us build a beautiful senior center up in the woods, helped us renovate our entire library and build a brand new athletic complex behind the high school, just to name a few projects," says Almond. "Quite simply, we've invested all that money into the town."
Because of its planning and wise spending, Lincoln has received many well-earned accolades: Its schools have frequently been ranked as some of the best in the state and it has been twice cited as one of the top communities in the country to live in by Fortune magazine. But can it maintain its course?
"We've laid the plans for the immediate future and we feel the town's assets should be protected for at least twenty or thirty years," says Almond. "But the government after us will determine its own course."