Your Rhode Island Foodie Bucket List
Fifty-nine culinary experiences you need to have before you die.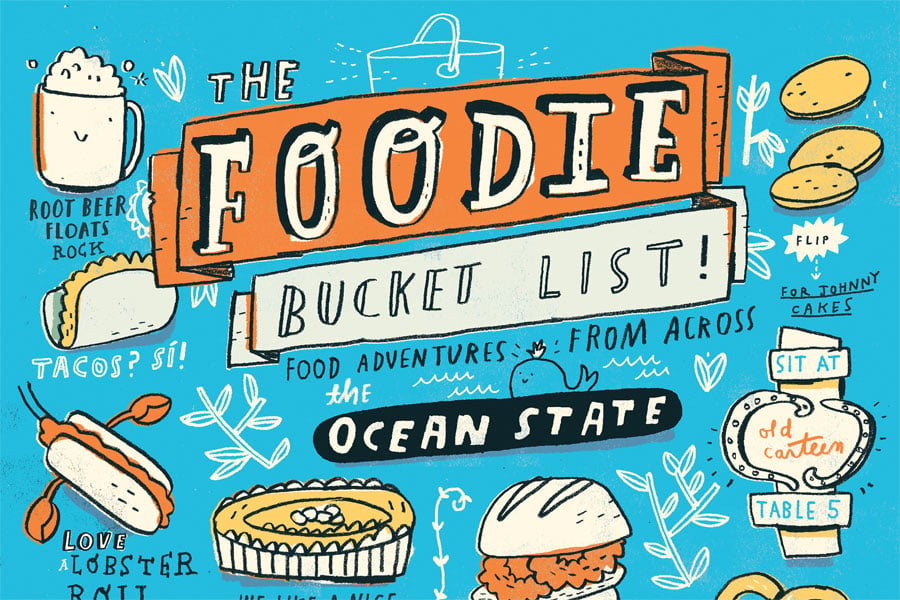 Photographed by Angel Tucker
There's no shortage of dining options in Rhode Island, but we've whittled down the choices (while fattening up our waistlines) to present you with those local dishes you must experience before you kick the aforementioned bucket. Here's the checklist: Now fill up your gas tank, loosen your belt and begin your statewide dining adventure.
Portuguese Steak at Madeira

You may know what it's like to have a good steak, but have you ever had a thick, marbleized sirloin topped with a gooey fried egg and beef gravy and served with crisp round french fries that soak up said gravy? No? Then add Madeira's bitoque, an eight-ounce version, or the larger twelve-ounce bife a casa topped with a slice of ham and an egg, to your bucket list of must-eats for carnivores.
288 Warren Ave., East Providence, 431-1322, madeirarestaurant.com
Fish and Chips at Evelyn's Drive-In
Rustic picnic tables or patio, there isn't a bad seat surrounding this waterside landmark where the food measures up to the view. Time your visit just right for sunset, and you'll be digging into dinner and a show over Nanaquaket Pond (just watch out for seagulls that expect you to share). Our top picks include clam cakes — of course — but the real standout is the lightly battered fish and chips made with fresh cod and served with french fries and coleslaw. The restaurant reopens April 11.
2335 Main Rd., Tiverton, 624-3100, evelynsdrivein.com
Shabu Shabu at Ebisu
Shabu shabu stands for swish-swish. A piping hot broth cooks your soup on the spot at this Japanese mainstay. Choose your protein or veggie option, then swish the raw ingredients around in the pot, and we'll let you take credit for the cooking. Customized orders can come with meat, seafood or veggies, a choice of one of five different broths and udon, bean thread noodles or rice, plus dipping sauces.
38 Pontiac Ave., Providence, 270-7500, ebisuri.com
Root Beer Float at A and W
The world around us may change, but the A and W stays the same. The oldest carhop joint in Rhode Island, the Smithfield restaurant has been serving car-side burgers, fries and floats since 1959. The must-order item is the root beer float complete with a frosted mug filled with soda that's made on site with a bobbing scoop of melting vanilla ice cream. It's just as you always remembered, and something you'll never forget.
460 Putnam Pike, Greenville, 949-9892, smithfieldaw.com
Crepe at Duck and Bunny
The snuggery is like sneaking away to Paris on your lunch break. The restaurant is located inside a blush pink historic home complete with fireplaces and interesting art with a duck and bunny theme — Duck with a Pearl Earring, anyone? Crepes are whisper thin and packed with sweet or savory ingredients like the Angelina (blueberries, cloumage and raspberry chocolate jam) or the Distinguished Lincoln: Black Forest ham, gruyere and caramel mustard. Carpe diem at Duck and Bunny.
312 Wickenden St., Providence, 270-3300, theduckandbunny.com
Pretzels at the Malted Barley

We've all had the trademark hot pretzel at the movies or a local fair, but you haven't truly experienced a real pretzel until you tear into the Malted Barley's version. Each one is freshly made with ingredients like asiago and Parmesan cheeses, caraway seeds, or stuffed with jalapeños and cheddar and mozzarella and tomato. Banish goopy orange cheese sauce forever with dipping options like spinach and artichoke, spicy brown house beer mustard and blue cheese, or try the pretzel buns as part of every sandwich. Dessert versions inlcude a waffle pretzel served with nutella and ice cream or cinnamon and sugar with cream cheese frosting.
42 High St., Westerly, 315-2184; 334 Westminster St., Providence, 490-0300, themaltedbarleyri.com
Ceviche at Los Andes
Los Andes' signature appetizer and Peru's national dish arrives in an elevated, clear martini glass. "It is a sexy presentation," says Cesin Curi, chef and co-owner of Los Andes, allowing diners to better admire the seasonal whitefish, squid, mussels and shrimp tossed with Peruvian spices and fresh-squeezed lime juice and punctuated by choclo Peruvian corn and the crunch of cancha (like corn nuts), along with rocoto peppers, red onions, garlic and cilantro. Bottom's up to this meal in a glass.
903 Chalkstone Ave., Providence, 649-4911, losandesri.com
Fruit Tart at Pastiche
The crisp buttery shell filled with custard and fresh seasonal fruit (blackberries, raspberries, strawberries, kiwi, mango and sometimes blood orange) is a rite of passage for Rhode Islanders. "It's still our number one seller after all these years," says general manager Amy Foster. "We go to the market three or four times a week so that we can pick out which strawberries are the best." Visit the European-style cafe for dessert and cappuccino, or order one of the cakes or tarts to go to be an instant life of the party.
92 Spruce St., Providence, 861-5190, pastichefinedesserts.com
Thali Indian Combination Platter at Kabob and Curry, Rasa and Rasoi
Experience the ancient tradition of an Indian combination plate including portions of up to four dishes served on a silver platter. Whether you choose the vegetarian or meat version, you'll get a taste of menu favorites like chicken tikka, lamb curry, saag paneer, mango curry with vegetables and other specialties paired with brown or basmati rice and naan bread, plus dessert. "It gives you a variety of different things to try," says Sanjiv Dhar, owner of the three Indian restaurants where you can experience different styles of Thali. "The whole idea is to tantalize your palate and create a balance in your diet."
Rasoi, 727 East Ave., Pawtucket, 728-5500
Kabob and Curry, 261 Thayer St., Providence, 273-8844
Rasa, 149 Main St., East Greenwich, 398-2822, indianrestaurantsri.com
Cookies at north Bakery
Almost everything in this bakery case is worth a bucket list mention, but the treat that tempts our taste buds the most is a simple chocolate chip cookie sprinkled with flaked Maldon sea salt. It's sweet, it's savory, it's crisp and buttery, just how a well made cookie should be. Go for the brown butter miso cookies for a more savory crunch punched up by umami richness.
70 Battey St., Providence, 421-4062, northbakery.com
Poutine at Thee Red Fez
French fries are fantastic enough on their own, but when they are smothered in fried Mexican cheese (queso de frier) and chourico-based gravy, the result is nothing short of spectacular. The Fez's poutine is a twist on the traditional, a Mexican/Portuguese version created by accident after a failed attempt at creating chourico in house, says owner Kevin Berglund. The sausage came out too crumbly, so they turned it into a gravy topping for poutine and it's remained on the menu ever since. We could pop the fried cheese on its own, but sprinkling it as a topping at least shows some restraint.
49 Peck St., Providence, 861-3825
Creme Brulee at Pot au Feu
Sabered Champagne and magnum Beaujolais bottles recall special occasions at Robert I. and Annie Burke's Pot au Feu, where Julia Child once savored the creme brulee. The portion is served in a large circular dish for "the best crust to custard ratio," says Burke. It's made with eggs, cream, real vanilla pods and white sugar that caramelizes under a high-powered Salamander broiler. "The crust," says Burke, "must be like the thinnest of ice on a November puddle." The restaurant uses a spoon test to determine proper thickness. "We take a spoon and rest it on our fingers and release it on the table so it's just enough weight to break the crust," he adds. "If the spoon sits on the surface when it falls and it doesn't break, then it's too thick."
44 Custom House St., Providence, 273-8953, potaufeu.businesscatalyst.com
Vietnamese Bee Bong at Apsara
Cold, thin white rice noodles blanket a bed of crisp julienned cucumber, fresh bean sprouts, lettuce and Thai basil leaves, topped with stir fried chicken, shrimp, beef or pork, bathed in a coconut milk sauce and sprinkled with chopped peanuts. One bite combines sweet and savory flavors and soft and crunchy textures, satisfying all of your senses at once. But wait: There's still a fried nime on the side. It's like an extra bonus round.
716 Public St., Providence, 785-1490, 785-0742, apsarari.com
Small Plates at the Slow Rhode
This is the spot for Southern-style food in Southern New England. The small plates are cheap enough at $4 to $9 that you can order a bunch and not break the bank nor bust your belly. Jumping on the national toast trend, try toasted slices of Seven Stars Bakery's baguettes topped with pimento, avocado and bacon or Parmesan and rabe. Bite into pillowy fried crawfish beignets, spoon spicy gumbo and don't forget the hot fried chicken served on white bread with pickles. It's as well-rounded as comfort food gets.
425 West Fountain St., Providence
Shakshuka at Julians
Two former Julians chefs who are Israeli [thank you, Ilan Dagan and David Spingold] brought this traditional Israeli breakfast dish to Julians' menu, long before shakshuka became one of the most popular recipes searched on the New York Times website. Think of a zesty, hot tomato stew simmered with peppers and onions, add two poached eggs with the yolks still golden and runny, then shovel spoonfuls of both onto toasted housemade, crusty Italian garlic bread and consume. Eggs and toast will never be the same again.
318 Broadway, Providence, 861-1770, juliansprovidence.com
Oysters at Bristol Oyster Bar
Peter Sebring knows his oysters. In fact, the owner of Bristol Oyster Bar has raised them himself for the last fourteen years at Aquidneck Oyster Company and he has built relationships with oyster farmers up and down the East Coast through his aquaculture supply business. No place else can you sample such a variety from local waters, including Chessawanocks, East Beach Blondes, Salt Ponds, Moonstones, Quonnie Points, Aquidnecks, Ninigrets and more. Slurp 'em down for $1 each Tuesday through Saturday from 4 to 6 p.m. and all day on Sundays. "I want to push the Rhode Island market," Sebring says. "I can get the oysters and serve them within twenty-four hours from these guys. It makes a difference to get them as close as possible directly from the growers."
448 Hope St., Bristol, 396-5820, bristoloysterbar.com
Tallulah's Tacos
We've eaten tacos in all kinds of places (trucks, trailers, carts and bodegas to name a few) and they've all met their match when it comes to tortillas packed by chef and co-owner Jake Rojas and team. Carnitas and barbacoa are tender and fused with flavor from cooking low and slow for ten to twelve hours. They're bathed in pork or beef bouillons, covered with guajillo, pasilla or chile de arbol, seasoned with onions, garlic and Mexican oregano and grilled to add char. Seasonal fish selections, usually from local fishmongers, can vary from striped bass and Acadian redfish to dogfish and scup. Then come the fresh toppings. "We dice onions, chop cilantro, roast chiles, smash avocados, slice radishes and bottle our own hot sauces every day," says Rojas. "We love being able to support local farmers that can keep up with the ever-growing demand for fresh ingredients." 146 Ives St., Providence, 272-8226, tallulahstaqueria.com
Grilled Pizza at Al Forno
No visit to Providence is complete without experiencing the famous grilled pizza at Al Forno. Changing seasons bring new varieties using what's available on the farms. People wait all summer for the grilled corn pizza, but one you can get anytime — starring Rhode Island's official state appetizer — is a grilled pizza topped with crispy fried calamari, arrabbiata and fresh herbs. Save room for the house-made ice cream, preferably sandwiched between two pecan brownies.
577 South Water St., Providence, 273-9760, alforno.com
Sausages at the Wurst Kitchen

At Chez Pascal's more casual little brother, the wurst is the best. Dine in the cozy kitchen for lunch and your house-made sausage will be hugged by a bun, or go for dinner and a more refined plated knockwurst, beer bratwurst, weisswurst and cheddarwurst will be yours to devour, always accompanied by sides like house-made sauerkraut, bacon jam and coleslaw. Hot links and sausages are also served out the window when the Wurst Kitchen is open for al fresco feasting or dinner to-go with an optional stroll down nearby Blackstone Boulevard.
960 Hope St., Providence, 421-4422, chez-pascal.com
$49 Four-Course Dinner at birch
The menu changes so often at birch, nailing down just one dish would be a tease. A diner's best bet is to go all-in with the $49 four-course dinner, and you can choose one menu item from each category that highlights the freshest seasonal ingredients. Don't miss the grilled cabbage with winter squash and caramelized sauerkraut, the fatty clams with capers ("cold weather makes them very delicious," says chef and co-owner Ben Sukle) and get a taste of summer with dessert. Birch preserves strawberries and serves them with whey, grains and dried beach rose, or choose a honey-themed dessert that includes local grass-fed jersey cream, beeswax ice cream, honeycomb candy and preserved honey locust flowers.
200 Washington St., Providence, 272-3105, birchrestaurant.com
Off-Season Dining at Matunuck Oyster Bar
Anytime is a good time to dine at Matunuck Oyster Bar, where you can slurp oysters that were grown in the very same Potter Pond where the restaurant is located. But come October through April, you can avoid the crowds and even make reservations through the website or restaurant app. While half the fun may be sipping a cocktail and waiting for a table outside in the summer, during winter and early spring months, a calming aura transcends the spot, proving it's magical no matter the time of year.
629 Succotash Rd., South Kingstown, 783-4202, rhodyoysters.com
Eggplant Fries at Sardella's
Sardella's opened in 1980 by the former mayor of Newport, Richard Sardella. Since then, it's been dishing out family recipes such as Veal Loretta, his mother's staple. The eggplant fries are a crowd favorite. They came to be when chef Kevin Fitzgerald got creative in the kitchen, first experimenting with zucchini. But eggplant became the favored veggie, served with black ketchup (made by adding Worcestershire sauce to the condiment) on the side.
30 Memorial Blvd., Newport, 849-6312, sardellas.com
Table Five at Joe Marzilli's Old Canteen
Buddy Cianci at the old canteen, Dana Smith.
Secure Table Five at the Old Canteen and channel the late Prince of Providence and former Providence Mayor Vincent "Buddy" Cianci at his favorite corner table by the window. "He spent every election night sitting at that table alone, just thinking and writing notes on the tablecloth," says owner Salvatore Marzilli. "It was a ritual. His mind was always working." He had a few favorite dishes, including Sicilian baked haddock, lamb chops and roasted veal, and always cold beets. Extra points if you dine solo, just like Cianci often did.
120 Atwells Ave., Providence, 751-5544, theoldcanteen.com
Lobster Roll at the Lobster Shack
The lobster roll is simple — chockfull of fresh meat with a little mayonnaise and celery on a toasted and buttered roll — but it's where the seafood comes from and where it's served that's the key. The Lobster Shack is located on the water and it has been a fisherman's cooperative since 2009, cutting out the middleman, keeping prices low and providing seafood that is always local and fresh. The seasonal kitchen, touted by DEM, keeps Rhode Island fishermen working in Rhode Island and serving seafood from Rhode Island. It re-opens in spring (the market is open all year), however they can steam lobsters and sell handpicked lobster meat anytime by calling ahead to order, and live lobsters and crabs can be shipped to forty-eight states.
150 Long Wharf, Newport, 847-1700, newportlobstershack.com
Burger and Popsicle at Mission
Nothing says summer fun like a burger and popsicle on a hot day, especially from Mission, where patties, hot dogs, coleslaw and even relish are handmade using fresh local ingredients. Burgers are topped with Mission Sauce (house aioli that includes capers, cornichons, ketchup, red onion and fine herbs). Chef Sarah Rebello creates popsicle flavors such as a dark chocolate fudgesicle dipped in sprinkles, strawberry mint and lemon verbena, available in summer.
29 Marlborough St., Newport, 619-5560, missionnpt.com
Oysters and Champagne at Midtown Oyster Bar
Pairing oysters with Champagne is a genius move. Midtown's Champagne and Shells happens every Tuesday from 5 to 10 p.m. in the tavern. Order a glass of Champagne and receive three complimentary oysters or you can pair three different oysters each with a pour of Champagne, wine and beer. Order a whole bottle of Champs (or wine) and you'll score a dozen. At the largest raw bar in Newport, your oyster selection won't be easy with choices like East Beach Blondes out of Charlestown, South Bay Blondes from Onset, Massachusetts, and even Naked Cowboys from Long Island, New York.
345 Thames St., Newport, 619-4100, midtownoyster.com
Chowder at Black Pearl
There's New England clam chowder, there's Rhode Island clam chowder and then there's Black Pearl's clam chowder. Fifty to 100 gallons per day are made in the summer months. The ingredients include clams, quahogs, clam juice, potatoes, light cream, onion, flour, butter, garlic powder, thyme and more, plus a sprinkling of dill weed and drizzle of vermouth. Slurping a cup is worth the time spent securing a waterside table.
Bannister's Wharf, Newport, 846-5264, blackpearlnewport.com
Sticky Ribs at Perro Salado
Perro Salado's tender, sweet and tangy sticky ribs are braised for four hours in Coca Cola, brown sugar and spices and garnished with pickled onions and cilantro. Chef and co-owner Dan Hall previously worked at a Mexican restaurant in New York and wanted to open his own place with wife, Andi Johnson, and brother, Russ Hall, in Rhode Island. The restaurant puts a Mexican twist on dishes made with fresh, organic and local ingredients, whenever possible, in a relaxed atmosphere where the festive back patio is the spot to be.
19 Charles St., Newport, 619-4777, perrosalado.com
Polenta at Mike's Kitchen
One must have no thoughts of calories or carbs upon entering this VFW post. There is only one option: polenta, and lots of it. The molten brick of precisely cooked cornmeal, held together in wobbly perfection with ample cheese and cream, arrives at your table in an individual casserole, because this is not a dish meant for sharing. The house gravy blankets the entire dish. Mike Lepizzera, the culinary mastermind behind Mike's Kitchen, credits his mother with all the recipes, including the polenta, which has been lauded by restaurant luminaries and positively reviewed in the New York Times.
VFW Tabor Franchi, 170 Randall St., Cranston, 946-5320
Mole at El Rancho Grande
Boasting an ingredient list twenty items long, Maria Meza's mole poblano is a labor of love. Mole originated in Puebla, Mexico, and Meza, who was born in Oaxaca, migrated to Puebla when she was young. The recipe contains three different chiles, a half-dozen spices, aromatics, nuts, seeds, fruit and chocolate. To successfully manage a marriage of flavors and textures this diverse requires patience and experience, which Meza has in spades. Served with rice, beans and a hearty piece of chicken (or occasionally turkey), plus tortillas on the side, the savory-sweet mole transports the eater to Mexico, no sunscreen required.
311 Plainfield St., Providence, 275-0808, elranchogranderestaurant.com
Pho at Pho Horn's
Slurp your way to health and happiness with a bowl of pho (pronounced "fuh"), Southeast Asia's noodle soup filled with brisket, torn Thai basil, lime juice and slivers of hot chile. At Pawtucket's Pho Horn's, nestled into the shopping plaza "where Shaw's used to be" on the Providence-Pawtucket line, you'll enjoy slippery noodles and chewy beef comingling in a sinus-clearing brew. Overpriced Manhattan bone broth looks positively anemic next to the long-simmered, intensely beefy offering, which relies on a mixture of shank, neck, oxtail and marrow bones for body and richness.
50 Ann Mary St., Pawtucket, 365-6278, phohorns.com
Dan Dan Noodles at north
If the dan dan noodles were reincarnated as a piece of music, they would be something by Parliament Funkadelic: zippy and joyful with a groovy, driving, Bootsy Collins bass line — a little too "out there" for Top Forty radio. Inspired by a dish from David Chang's Momofuku Ssam Bar in Manhattan, for whom north co-owner James Mark once cooked, the noodles combine local mutton and squid in a twenty-first century surf and turf. Chewy, tubular Korean rice cakes provide a base for the tender meat and seafood; fermented chile lends stealth spice and heat. Garnished with fried shallots for crunch and cilantro for freshness, these dan dan noodles (kinda) put a Rhode Island spin on a Sichuan classic.
3 Luongo Memorial Sq., Providence, foodbynorth.com
Barrel-aged Cocktails at the Eddy
If it's cocktail hour and a sip of Chardonnay won't do, head to the Eddy, a brooding jewel box of a bar in downtown Providence, and order one of owner Jay Carr's barrel-aged palliatives. Just as barrel aging imparts vanilla and caramel notes to a wine, Carr's barrel-aged tipples are both mellower and more complex than their youthful counterparts. He employs unused charred American oak barrels to age the mixed cocktails and keeps track of the drink's progress with regular taste tests. The selection varies — Manhattans, Negronis, Old Fashioneds, Vespers, Vieux Carres — but a discerning cocktail drinker cannot go wrong with any of the options.
95 Eddy St., Providence, 831-3339, eddybar.com
Salad Dressing at the Big Cheese
The wood paneling, terra cotta floor and red leatherette booths hearken to an earlier decade and remind you that the Big Cheese is not a corporate, cookie-cutter joint. This old-style pizza pub is well-known for its generously sized pies and calzones, but is loved for its salad dressing. Garlicky, tangy and herby, the dressing gilds abundantly fresh and crispy Greek and house salads, but is good on so much more. Garlic bread? Check. Grilled chicken? Check. Bits of leftover pizza crust? Definitely check. We won't judge if you eat it straight off a spoon. It's that tasty. The good news: the dressing is available, bottled, to take home. Eating those five-a-days just got much easier.
606 Reservoir Ave., Cranston, 467-8210
Crazy Burger's Whassupy Burger
At a place called Crazy Burger, you'd expect some off-the-wall creations and that's exactly what you get with the Whassupy Burger. It's all about the spice rub, made with sesame, fennel and wasabi powder. On top you'll find melty Brie cheese, fried red onion rings and a wasabi chipotle mayonnaise. This crowd pleaser was created while experimenting with boundary-pushing spice rubs and it stuck. Whassupy, wasabi?
144 Boon St., Narragansett, 783-1810, crazyburger.com
Sun and Moon Vegetable Dumplings
A good dumpling is a work of art and the steamed vegetable dumplings from Sun and Moon are deserving of the highest praise. Made with garlic, leeks and Korean vegetables, these dumplings come out steaming fresh with a sesame soy sauce. It's hard to stop at just a couple. The recipe comes from chef Lee, also known as mom, who is at the helm in the kitchen of this family restaurant.
95 Warren Ave., East Providence, 435-0214, sunandmoonkorean.com
Loie Fuller's Duck Wings
A consistent bistro favorite, the duck wings were created by chef de cuisine Jason Timothy and are beloved by West Side regulars. The wings are salt-brined for a day and then confit and finally covered with a red curry sauce, peanuts, scallions and fresh cilantro and they come with a side of housemade pickles. This sweet and spicy dish is full of flavor and inspired by Southeast Asian fare.
1455 Westminster St., Providence, 273-4375, loiefullers.com
Macarons at Ellie's

Tasty fillings like chocolate ganache and fruity jams sandwich two delicate French meringue cookies made with whipped egg whites, confectioners sugar, granulated sugar and almond flour. There's a pastel palette of seasonally changing flavors, including varieties like pistachio, lemon lavender, chocolate mint, banana and more. In summer months, try those same cookies stuck together with ice cream from Millie's cart, or join Ellie's Bakery's Macaron of the Month Club for year-long treats.
61 Washington St., Providence, 228-8118, elliesbakery.com
Diners
The top local diner dishes across the state.
Photographs Giuliana Guarino.
Seaplane Diner
Venture in any time of day and there's always an eclectic mix of people, from renowned educators and law enforcement to club-goers trickling over from nearby smut spots. The go-to for breakfast is the Hungry Man Special, a combo that includes three eggs any style with your choice of bacon, ham, sausage, linguica or hash, plus two pancakes or French toast with home fries and toast. Still hungry and you're probably not human.
307 Allens Ave., Providence, 941-9547
Modern Diner
Last year, the Modern Diner's custard French toast rose to fame, earning the number one spot on the Food Network's show "Top Five Diner Dishes in America." Located in Pawtucket in the state that is the birthplace of the diner, the dish was created by owner Nick Demou who found a use for the extra vanilla pudding he had on hand. It became the perfect topping for French toast along with blueberries, strawberries, kiwi and candied pecans.
364 East Ave., Pawtucket, 726-8390, moderndinerri.com
Jigger's
Johnny cakes were originally called journey cakes because settlers took them on long trips, according to Kenyon's Grist Mill. Jigger's uses Kenyon's stone-ground white cornmeal to create these rounds that have played a part in Rhode Island's history and cuisine since Colonial times. Locals love the tradition, often eating them plain with butter — that means no syrup, blasphemy! — to appreciate the lacey, crisp texture created by a perfectly timed flip.
145 Main St., East Greenwich, 884-6060, jiggersdiner.com
Elmwood Diner
A neighborhood mainstay inside a historic diner, this spot collects ingredients from local farms and turns them into simple, satisfying dishes like the house-made corned beef hash. The meat is brined for nine days and braised for six hours then sauteed with diced potatoes, carrots, cabbage and celery, and served with two eggs and toast. They might be the best eggs you've ever had because they use the best eggs you've ever had from Baffoni's Poultry Farm in Johnston.
777 Elwood Ave., Providence, 781-0777, elmwooddiner.com
Patriots Diner
The only diner listed here that's open twenty-four hours a day, you can get breakfast anytime. The three-egg omelettes are the way to go, with the veggies cooked right into the egg mixture. Each bite delivers fluffy, eggy goodness with veggies that ease the guilt of cheesy indulgence. Go ahead, add on the bacon.
65 Founders Dr., Woonsocket, 765-6900, patriotsdiner.com
West Side Diner
The French toast here is the toast of the town, whether you choose the banana berry version (stuffed with cream cheese, banana, blueberries and strawberries and topped with whipped cream), nutella and bananas or the Texas style with a touch of vanilla and cinnamon.
1380 Westminster St., Providence, 490-0644, westsidedinerri.com
Middle of Nowhere Diner
Open seven days a week, this Exeter diner's fish and chips brings customers back time and time again for an ample portion of deep-fried fish served with french fries and coleslaw. It's worth a drive to the middle of nowhere for a taste of this Rhode Island favorite. 222 Nooseneck Hill Rd., Exeter, 397-8855, themiddleofnowherediner.net
Foodie Tours
Savoring Federal Hill
What to Expect: Join pastry chef Cindy Salvato for a three-hour cooking lesson on foot filled with visits to Federal Hill's Italian hotspots, including markets like Tony's Colonial, Costantino's Venda Ravioli, Antonelli's chicken shop, Gasbarro's wine shop and more, plus a behind-the-scenes tour at Scialo Bros. Bakery.
Fun Fact: You'll learn about D.O.P. certification on Italian cheeses, canned tomatoes and meat packaging, which means it's an authentic regional product of Italy, made using time-honored techniques. Tips about the authenticity of olive oils and balsamic vinegars will also be shared.
Hunger Rating: You'll sample cheeses, charcuterie, cookies and more, and enjoy olive oil and wine tastings, but after burning calories on the walk, you'll still have room for dinner at a Federal Hill restaurant.
Cost: $50 per person
Info: 934-2149, savoringrhodeisland.com
A Taste of the Azores and Portugal
What to Expect: Cindy Salvato teams up with Azorean cookbook author Maria Lawton to lead visitors on a tour through Portugalia Portuguese food market located in nearby Fall River, Massachusetts. Guests learn about Portuguese food and wine customs, including produce, tea, cheese, cured meats, salted cod, olive oil, sausage and more.
Fun Fact: The Azores is home to Europe's only tea plantation, and the Portuguese people are the ones who introduced the concept of high tea to the British.
Hunger rating: Following the tour, you'll enjoy a spread of Portuguese cheeses, charcuterie, olives, breads, chourico and canned tuna, as well as some extra treats. You'll be satiated, but not totally stuffed.
Cost: $40 per person
Info: 934-2149, savoringrhodeisland.com
Rhode Island Red Food Tours
What to Expect: A three-hour off-the-beaten path stroll takes you to neighborhood eateries that focus on fresh, sustainable and local ingredients in Newport's Washington Square and Point sections. You'll visit and sample from at least six restaurants that typically include Perro Salado, Mission, White Horse Tavern and more. Walk in between bites and learn about Newport's culture and history along the way.
Fun Fact: A Rhode Island Red is the official state bird, and the breed of chicken was developed in Little Compton in 1830. The name of this tour aptly reflects both the rich history and local food you'll experience. Hunger Rating: Enough tastings to add up to a good-sized lunch.
Cost: $62 per ticket Info: April–Nov. Fri. and Sat. at noon, expanding to four to five days in summer.
Info: 866-736-6343, rhodeislandredfoodtours.com
Newport Food Tours
What to Expect: Over two hours, you'll taste food from some of the best restaurants on Broadway, an alternative to Newport's downtown. Visit four to five restaurants rotating between Caleb and Broad, Norey's, the Fifth Element, Mission, Boru Noodle Bar, Tavern on Broadway and Hope (subject to change) while learning about the food, chefs, farms and purveyors. All the restaurants are close together, so there's less walking in between and more time for eating, mingling and fun.
Fun Fact: Two drinks (locally made beer and wine) are also included on the tour. Enjoy a dry Riesling from Newport Vineyards at BYOB Boru Noodle Bar while the beer might be a Hurricane Amber Ale from Newport Storm served at the Fifth Element.
Hunger Rating: After finishing dessert at the last stop, there's no need for dinner!
Cost: $62 per ticket Info: April–Nov. Multiple tours offered weekly; private tours available upon request.
Info: 662-1795,nptfoodtours.com
Blackstone Culinaria Food Tours
What to Expect: Blackstone Valley Tourism Council tours highlight a single restaurant in the Blackstone Valley with a behind-the-scenes demo and tasting. Past visits have included the Smithfield A and W, Pho Horn's, Bob and Timmy's and more. This April 20, visit Philanthropy Tea and Coffee Company to learn about its specialty panini sandwich and eat it, too. On May 18, go to 10 Rocks Tapas Bar to savor Cape Verdean cuisine.
Fun Fact: Diners discover the interesting techniques, details and background stories that set these places apart from the rest.
Hunger Rating: You will experience a meal, but not a three-course feast.
Cost: $22 per ticket Info: Tours begin at 6 p.m.
Info: 724-2200, blackstoneculinaria.com
Best Thing I Ever Ate
Local notables reveal their ultimate favorite Rhode Island dish
The Expert: Karen Deutsch, Rhode Island Monthly's food critic
The Dish: Parmesan soup
The Place: Persimmon, opening late spring: 99 Hope St., Providence, 432-7422, persimmonri.com
"Champe Speidel has never made a bowl of soup that hasn't astonished me, but his Parmesan soup is manna from the gods. The broth itself is everything: earthy, salty, smooth. But it's the melange of texture — tender gnocchi, chewy cubes of guanciale and a crisped brunoise of bread [plus pinenuts and sunchokes as garnish] — that makes every bite the reason that food means so much to me."
---
The Expert: Jim Nellis, founder of RI Food Fights
The Dish: Pasta marinara with meatballs
The Place: Tomaselli's at Rosario,
17 Rosario Dr., Providence, 464-4435, tomasellis.com
"I grew up in the South and we didn't — still don't — have Italian restaurants like we do in Rhode Island. The gravy recipe (calling it gravy gives me street cred) is from owner Joe Tomaselli's mother. Joe's son, Joe Jr., prepared it that day, adding his own magic to the sauce. It's a family recipe passed down and tweaked to perfection. You could see the pride in Joe's eyes as he and his son watched this Southern boy devour it."
---
The Expert: Kristen Adamo, vice president of marketing and communications of the Providence Warwick Convention and Visitors Bureau
The Dish: Crispy zucchini flower stuffed with herbed ricotta
The Place: Bacaro, 262 South Water St., Providence, 751-3700, bacarorestaurant.net
"Growing up Italian-American in Rhode Island, you pick up some really peculiar habits — like driving twenty minutes out of your way to get the 'good bread,' or thinking it's completely normal to bring a chicken parm dinner to the beach. You also develop a taste for the elusive squash flower, which is only available for the briefest window of time every year [usually July through September, depending on zucchini crops]. My favorite squash flower is at Bacaro [they use about ten dozen male flowers from Confreda Farms every day in the summer]. They are lightly fried, stuffed with a herbed ricotta and paired with a fresh San Marzano tomato sauce, fresh basil and Zisola olive oil. To me, they taste of summer and childhood. One bite and I am back in my nana's kitchen."
---
The Expert: Lisa Raiola, founder of Hope and Main
The Dish: Lavender lemon martini and fried olives
The Place: Simone's, 275 Child St., Warren, 247-1200, simonesri.com
"Since you made me choose, I'm in the parking lot right now of this establishment. I'm not going to lie. I'm about to enjoy a Friday night mind-cleansing at the white statuarietto bar at Simone's Restaurant while I suck down a lavender lemon martini (not too much lavender a la your lingerie drawer) and pop deep fried olives [filled with blue cheese] into my mouth, one after another, while noticing how other patrons covet the decadence of the whole scene. It's satisfying in every way. No dinner required. Guilty pleasure? You bet."
---
The Expert: Frank Terranova, NBC 10's "Cooking with Class"
The Dish: Magret de canard au cafe
The Place: Bouchard Restaurant and Inn, 505 Thames St., Newport, 846-0123, bouchardnewport.com
"Skinless, lightly coffee-crusted duck breast sauteed to a medium rare with a not-too-acidic cognac balsamic sauce, elegantly presented, always hot and with a wonderful flavor. If you like duck, I highly recommend it. Many places crust the skin but when it's sliced, there is an eighth of an inch of white fat under the crisp skin and it doesn't have a nice palatability. Restaurant Bouchard's duck breast, you can simply cut it with a fork, that's how tender it is."
---
The Expert: David Dadekian, founder and president of Eat Drink RI
The Dish: Margherita pizza at Figidini and the special fried chicken experience at New Rivers [reserve for eight guests with one-week notice]
The Place:  Figidini, 67 Washington St., Providence, 808-6886, figidini.com; New Rivers, 9 Steeple St., Providence, 751-0350, newriversrestaurant.com
"As if picking one must-eat dish isn't ridiculously difficult, now I have to try to pick one particular pizza at Figidini that's my favorite? I'm going to cop out a little here and say the Margherita. I'm saying cop out because it's the original classic and Frankie couldn't make a bad one if he tried. But all the pizzas are so good! As for Beau's fried chicken platter at New Rivers [every two months, usually announced on Twitter and Instagram], I'll leave it at this: It's far and away the best fried chicken I've had north of Mississippi. Good luck getting some."
---
The Expert: Janet Coit, director of the Rhode Island Department of Environmental Management
The Dish: Fresh fish with eggs for brunch
The Place: Nicks on Broadway, 500 Broadway, Providence, 421-0286, nicksonbroadway.com
"My favorite dish? Fresh fish from Galilee with my eggs for brunch! I love stopping by Nicks on Broadway where there are sure to be creative dishes, featuring fluke or other seafood from Point Judith. I always look for local seafood on menus; it's the taste of Rhode Island and always delicious. I appreciate the people and places that play a part in bringing this fare to my plate."
---
The Expert: Curt Columbus, artistic director of Trinity Repertory Company
The Dish: Vegetarian tasting
The Place: Gracie's, 194 Washington St., Providence, 272-7811, graciesprov.com
"It's hard to pick a favorite dish, because all of the great restaurants in Providence — Nicks on Broadway, the Grange, Broadway Bistro, to name a few favorites — change their menus seasonally, using the ingredients that are freshest and most flavorful. That said, something that is always on the menu at Gracie's is chef Matthew Varga's vegetarian tasting. It is filled with delicious surprises, and I order it a lot because it changes with the season. Plus, it's on their prix fixe menu, which makes it a great value at a world class restaurant."