Your New Favorite Band: The Horse-Eyed Men
Folk music on a molecular, biological level.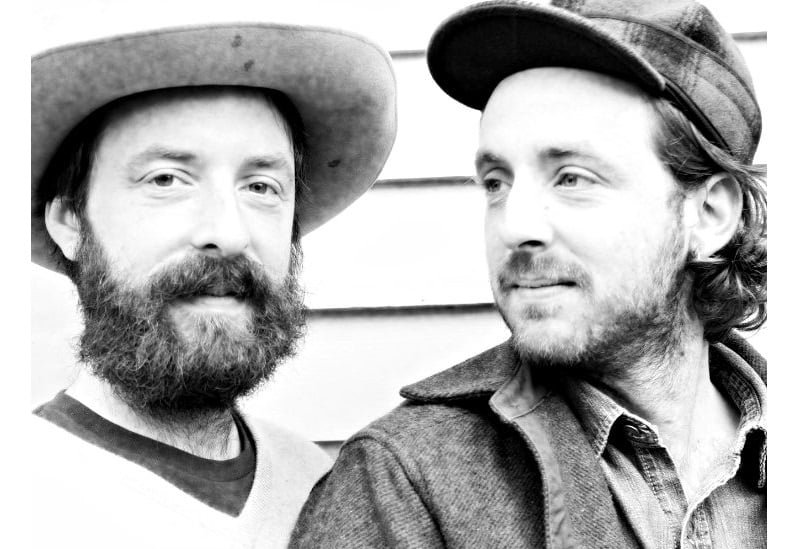 This Providence-based band of brothers crafts an unusual musical experience. Some tunes are dreamlike, others are visceral, others still are campy and fun — and they're all punctuated by the richest sibling banter you've heard in real time.
The Band: The Horse-Eyed Men
The Members: Dylan and Noah Harley
See Them Live: Thursday, April 9, the Columbus Theatre, Providence, with Spirit Family Reunion. Tickets here.
Writer's Pick: "Dyspepsius Majorum," a bluesy tune that "notes the distressing similarities between the condition commonly known as being in love and having a tapeworm."
Rhode Island Monthly: How long have you been making music together?
Noah Harley: We started really playing together in this band called Tik Tok. We played around in Providence a lot starting in 2009. And that lasted for a couple of years. Dylan was playing drums and I was playing banjo and upright bass. We put out a couple records and an EP, but there were a lot of complicated things going on. The accordion player lives in Berlin, so we couldn't really afford to practice.
Dylan Harley: The problem that Tik Tok had, this problem of being an international band — we're still trying to figure that out because I live in Providence and Noah's in New York.
RIM: Did you always want to get into music?
DH: I just started playing drums for Spirit Family Reunion as well and I had this moment on the last tour after sound check. I remembered all the shows I used to go to in high school, at Lupo's and the Met, looking at the drums on the stage and wanting to do that. I just had this moment like, holy shit those are my drums. For me, music has always been a part of my life.
RIM: This Thursday, you're kicking off a tour with Spirit Family Reunion at the Columbus. They're a pretty big deal.
NH: I'm really excited about it, I have no idea what to expect. We went out yesterday and bought a bunch of secondhand clothing, and we're silk-screening this logo that we have on it.
RIM: You're the prodigal sons of Bill Harley, one of the state's favorite contemporary performers. What's it like being his kids?
NH: Yeah, what is it like?
DH: It's funny for me now, making new friends, and somewhere down the line we'll be talking about what our parents do and Bill Harley comes up. And it's either like: Who? Or, Excuse me, did you say Bill Harley? It's incredible. I think the older I get, the more I realize what work he's doing, because when you're growing up, he's just dad.
NH: For me, the influence is too immediate to know what it is. I don't really know what fish tank he's built for me because I'm in it. But as kids, we had piano lessons. It was something our parents insisted on for both of us. Dylan played "Can You Feel the Love Tonight" for a year. Like four recitals. It was terrible.
DH: This great meatball of a man — he was like, "Nope, not good enough. Do it again." I still remember the smell of his leather jacket.
RIM: When did you decide to work together, just the two of you?
NH: It evolved over a period of time. It really took us like six months to figure out that I had to be playing electric bass and that Dylan should be playing electric guitar and doing this drum stuff.
DH: I think it was that, we both, um, we both…
NH: …Had no one else to play with?
DH: Well, there's so much in getting a band together in the first place and keeping that band together. And then, it's like: Whose project is it and whose songs are you doing? Being brothers, it's easier for us to squabble and disagree but there's also this base level of trust between us.
RIM: Is it easier, then, to write music together?
DH: Yes, actually. The hard part is getting on the same page and getting in sync with each other, and that happens naturally after like a day with us. It's the most efficient band I've been in.
NH: Playing with Dylan — it's the same genetic material. We have the same chromosomes. It's on a molecular, biological level; our vocal cords are shaped in the same way. Harmonies become a much different thing. You have a kind of intuitive connection. And also, the banter onstage is an ice-breaker. There's this level where we're interacting with the crowd but then actually it's a reference from when I was in fifth grade.
RIM: You two are practiced at sibling banter, for sure.
DH: Our set is much more about a performance than the songs we're trying to sell. That's another thing about watching our dad and growing up around storytellers. Just trying to have some semblance of an arc to the set — like, how do you get people in the room together and what do you make them feel.
NH: What kind of experiments you run on them.
DH: Like the song, "Work is for Suckers." We're trying to figure out how to play that to a more polite crowd, not just a bar crowd.
NH: I've been thinking about this recently. We're always supposed to be connected. And sometimes the feeling of individuality — I don't think that reflection is really encouraged. And, in the more noble realm, it's something I'd like to do. To give people the license to have a more fulfilling experience. But we're also just flying around this crazy planet, playing music.
RIM: Your latest release, Grave Country — did you co-write the songs?
NH: Those are mostly my songs. We co-wrote a couple of them and there are three traditionals on there.
You'd mentioned before that you'll be recording a new album together in the fall. Are you composing the songs together now?
NH: Yeah. For me, anyway, it's not from the ground up. Dylan will come in with a lick and a couple of verses, I'll add a part here and he'll add a part there. It's not like: What do you think of this note? There has to be an active impulse. It's easier to respond to something than decide everything together.
DH: And I think there are a couple different kinds of songs that we both write, one being conceptual, like "Beer and Meat." So that's more like being in a sandbox. And then there's more dreamy, impressionistic songs that come from a place specifically within one of us.
NH: "Hello, Houston" is one of them, but we really co-wrote it. All three chords of it.
RIM: You're recording in Berlin. Why did you decide to go overseas?
DH: To make things as complex is possible.
NH: The engineer is really great over there and he's excited to work with us.
DH: And last time it was paid for (by the Danish Arts Council), and we're applying for another grant. For me at least, recording is this weird process, the studio and musicians being the medium for whatever it is that you're trying to take out of the cloud. It's nice being in a place that feels like a bit of a dream.
NH: And we don't have the option of going home. You don't have the option of going to your own bed and seeing familiar faces every day. It's a good thing, I think.
RIM: Last question. Where'd the name came from?
DH: The crystal ball.
NH: We have to come up with a story for that.
RIM: You need an origin story.
DH: Okay, origin story: Originally, it was the Horse-Eyed Children because we had birthmarks on the sides of our heads that looked like eyes.
NH: I had one on the right side and he had one on the left side.
This interview was edited and condensed for clarity.