Your Last Summer to Party at Atlantic Beach Club
The Newport mainstay will close after Labor Day and reopen as a private wedding venue in 2016.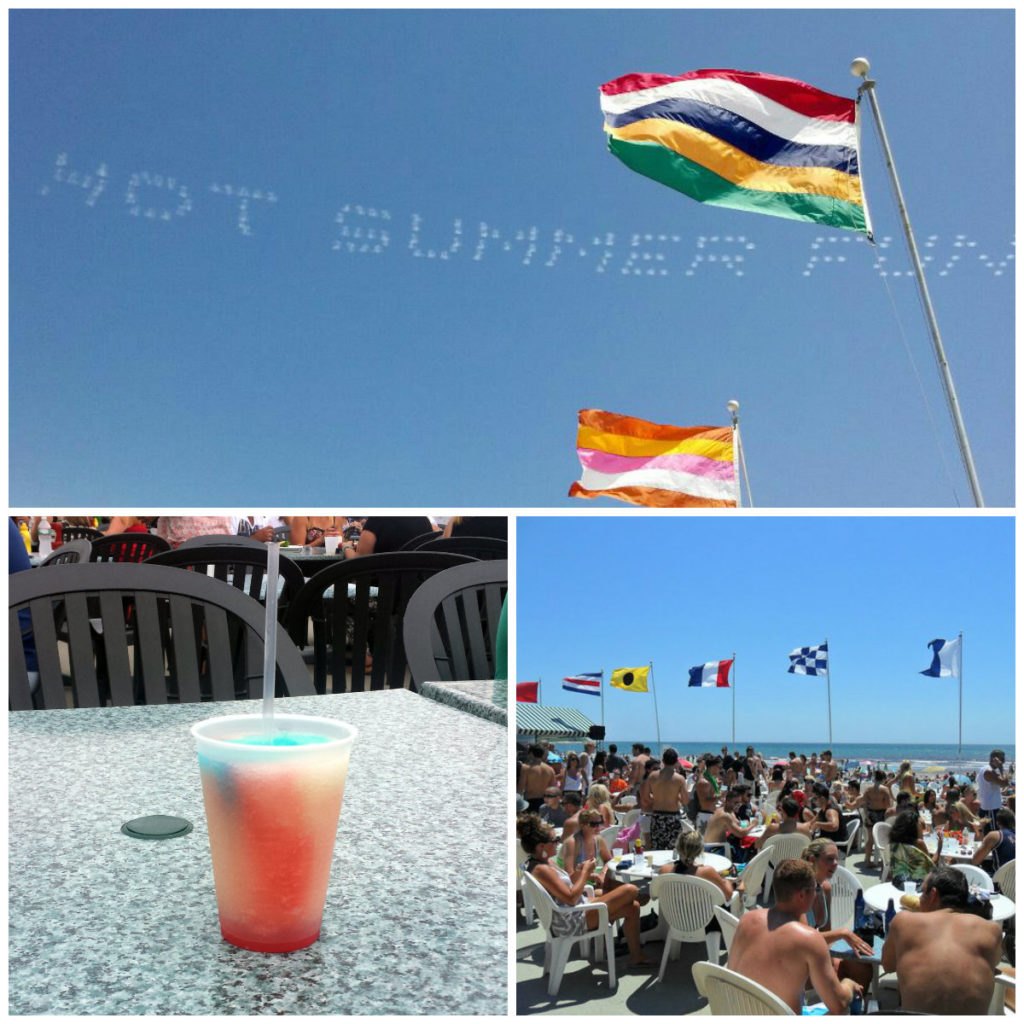 Johnny's Atlantic Beach Club: A place to kick back and listen to live bands over views of the Atlantic Ocean. And then there are the Astrobombs. Oh, the Astrobombs; red, white and blue icy alcoholic concoctions that resemble slushy patriotic popsicles in a cup. How I will miss those Astrobombs!
I recently learned that this is the last summer for the beloved Atlantic Beach Club patio. No longer will we be able to wile away the hours between lounging on the sand and pickup games of beach volleyball with casual eats and drinks at this al fresco oasis. Muscle men, frat boys and bikini babes aside, ABC has always welcomed an eclectic mix of young and old, from a twenty-first birthday bash to Hawaiian-shirt-wearing fifty-somethings. And who can forget the adorable little old man always dancing up a storm? Say what you want, but ABC will always be close to my heart.
The Atlantic Beach Club will close at the end of the summer because of a recent purchase of the venue. Longwood Venues and Destinations plans to turn it into a luxury wedding venue called the Newport Beach House. Longwood already owns Belle Mer on Goat Island, the State Room and Alden Castle in Boston, and Wychmere on Cape Cod. They plan to go in and begin renovations in January 2016 to avoid disrupting the current Atlantic Beach Club wedding schedule.
Newport Beach House is now accepting reservations for events and wedding receptions for the years 2016 and 2017. "We are closing the restaurant, so it will no longer be open to the public. It will be a private venue and beach for event clients," says Jason Mancuso, director of sales for Longwood Destination Venues. "We will have two different event spaces; one on the first floor where the restaurant is located. The second event venue will be upstairs on the second level where they are currently hosting events."
But the main attraction is the beach, as the Newport Beach House will be the only beachfront wedding venue in Newport. "If you are familiar with the Longwood-style on Goat Island and Belle Mer, chic beach is what we are going for; East Hampton meets Newport," says Mancuso. "The inside will be completely redesigned. Modern vintage is the overall look. There will be ceremonies on the beach and options for bonfires on the beach after the wedding."
Belle Mer on Goat Island is a modern mansion on the water, while the Newport Beach Club will be more causal. "There is a need for something more beachy in Newport," says Mancuso. "Instead of all the mansions and traditional venues, the Beach House will put a whole other spin on the beachfront venue."
The Atlantic Beach Club plans to finish up the season with a packed live music schedule to make it the best summer yet, including a final performance by Roomful of Blues on Mon. Sept. 7. Be sure to hit it up before the club closes for good. I will be pouring an Astrobomb out for a favorite Newport spot, and I hope that I can relive the memories one day as a guest at a future Newport Beach Club wedding.
Upcoming performances include:
Fri., Aug. 14, Honky Tonk Knights; Sat. Aug. 15, World Premiere; and Sun. Aug. 16, Dick and Jane.
Fri. Aug. 21, Diesel; Sat. Aug. 22, Never in Vegas; and Sun. Aug. 23, Ways and Means.
Fri. Aug. 28, Honky Tonk Knights; Sat. Aug. 29 and Sun. Aug. 30, World Premiere.
Fri. Sept. 4, TBA; Sat. Sept. 5, Ways and Means; Sun. Sept. 6, Never in Vegas, and Mon. Sept. 7, Roomful of Blues
Watch the farewell video, created by Atlantic Beach Club.