Young Actor Steals Spotlight in Catch Me If You Can
Catch Me If You Can has touched down at the Providence Performing Arts Center for its national tour, and it's about as racy as a Disney movie.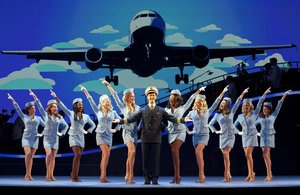 Tony Award-nominated Catch Me If You Can has touched down at the Providence Performing Arts Center for its national tour, and it's about as racy as a Disney movie. But who doesn't like a good Disney movie?
If you've seen the 2002 film starring Leonardo DiCaprio and directed by Steven Spielberg, you'll remember the alluring women and edge-of-your-seat drama based on the real life story of young Frank Abagnale, Jr. The conman forged millions in checks and posed as a pilot, doctor and lawyer, though he never fulfilled the education required to pursue these white collar professions. The musical version, directed by Hairspray's Jack O'Brien with a score by Marc Shaiman and Scott Wittman and choreography by Jerry Mitchell, is just as stimulating, but in a more G-rated way with impeccable song-and-dance numbers, fantastic solo performances and incredible set design complete with an on-stage orchestra.
Twenty-two-year-old Stephen Anthony plays young Frank, who learns the art of swindling from his father, played by Dominic Fortuna. In an engaging number called "The Pinstripes Are All That They See," father trains son how to fake it 'til you make it. They key is in the uniform, which he explains is why the Yankees have such an impressive record (not because they have deep pockets, but because opposing teams are distracted by the pinstripes).
Young Frank begins his path of deception as a school boy by wearing a blazer and posing as a substitute teacher. This impresses dad and reinforces his bad behavior. Meanwhile, dad makes too many luxurious purchases on credit, and puts the family finances and his marriage in jeopardy. After his parents finally split up, Frank Jr. decides against choosing between his mother and father, and instead runs away from home to make his way in New York City. He begins by forging checks and doctoring his identification to appear ten years older.
Right off the bat, he's surrounded by sexy flight attendants, and he immediately decides the life of a pilot is the life for him. He learns everything there is to know about the high-flying career. In no time at all, he nabs a uniform and is soon walking arm-in-arm with a crew of leggy women. Stephen Anthony is a talented young man who charms the audience and woos beauties believably, though he's more adorable than he is debonair. His confidence on stage is paramount and he succeeds with his self-assured tone and demeanor and an outstanding singing voice. Give him a few more years, and maybe he'll be as jaw-dropping as Don Draper from Mad Men.
While Frank deceives as a con man, FBI agent Carl Hanratty (Merritt David Janes) is on the case. With every bad check that bounces, Hanratty becomes more obsessed with catching him. The workaholic loner somehow identifies with the criminal, even if it's over jealousy for his lavish lifestyle. Merritt is outstanding in this role, delivering hilarious (and relevant) one-liners ("more bum checks than a prison") without so much as a smirk. As Frank continues to get away with his actions, the bond between good versus evil strengthens.
Whenever Frank feels the FBI hot on his trail, he switches names and locations, and chooses a new profession to make tracking him near impossible. His impersonation of a doctor is the most ridiculous as he heaves at the sight of blood. But it is this role, which leads up to the best scene in the whole musical, in which even agent Hanratty falls under the young man's charismatic spell and is fooled just like everyone else. It's heart-breaking and amusing at the same time.
All in all, expect a high level of entertainment and a lack of pants in the women's wardrobe department. The scantily clad ladies capture attention like Vegas showgirls (my husband joked that he designed their costumes). But the romance could be enhanced between Frank and Brenda (Aubrey Mae Davis), whose role is truly underappreciated in this musical. Such talent deserves to shine a bit more. Her character is very much like a Disney princess, rather than an enticing vixen, but that's the whole point as Frank has grown tired of promiscuous women and is looking to settle down.
If some roles have to be downplayed so that the story is more about the bond between Frank and Hanratty, so be it. The cat and mouse deserve to hog the spotlight.
Catch Me If You Can runs at PPAC, 220 Weybosset St., Providence, through October 14. For more information, call 421-ARTS (2787) or go to ppacri.org.