You Can Get There From Here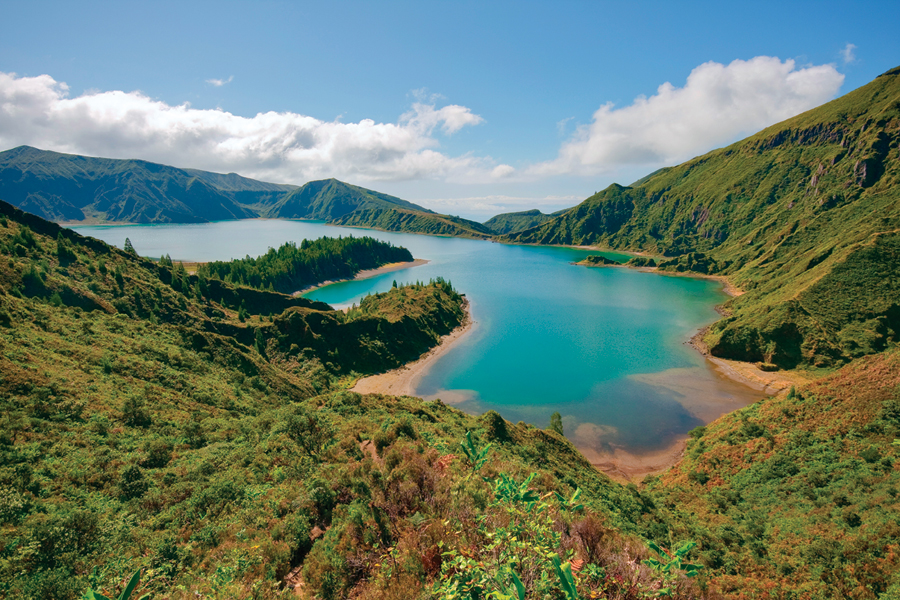 The Azores first topped my wish list of travel destinations several years back, thanks to an episode of Anthony Bourdain's "No Reservations." Between the sulfur-spewing geysers and the sausage-centric cuisine, Bourdain wasn't completely sold on this chain of nine Portuguese islands roughly 1,000 miles from the mainland — but I was. The wild and windswept images looked half-Maine, half-Hawaii and altogether exotic, stranded in the middle of the Atlantic like some anachronistic land of the lost. Too bad, I thought, that the islands' appealing remoteness also put them out of reach on my frugal traveler's budget.
But when my husband and I relocated to New England last year, we learned that the Azorean airline SATA operates affordable four-and-a-half-hour direct flights from Boston. Turns out, not only can you get there from here, but here and there are closely intertwined. Two centuries after a shared whaling industry jumpstarted immigration between the United States and the Azores, Rhode Island and Southeastern Massachusetts are home to the islands' largest diaspora; nearly ten percent of Rhode Islanders claim Portuguese — largely Azorean — ancestry. Visiting was practically a civic duty, we told ourselves. And who were we to shirk our duty, especially when it involved octopus stew and volcanic vistas?
So, we booked a trip and crossed our fingers. With no guidebooks written for an American audience, planning ahead was tricky, but we pieced together an itinerary. And we came back smitten.
That said, the Azores aren't for everyone. Vacationers shouldn't go for the beaches alone: Much of the black-sand coastline is too dangerous for swimming, and with restaurants few and far between, it's not a foodie — or a cultural or a nightlife — destination, either. Perfect, we thought. In search of rugged seclusion, we decided to skip Ponta Delgada, the largest city, entirely. We visited three islands, requiring a total of four flights, and although the warmer May-to-September high season appeals (when the Brits migrate here for sunbathing, and the Germans for hiking), we chose to travel in October. We relished the quiet and found the lower prices worth the occasional rain shower.
One last note: As a first-time visitor, I sought out Rhode Islanders born in the Azores to help fill in my picture of their homeland. I found their memories and stories as engaging as the islands themselves. I hope you do, too — maybe even enough to visit. Consider it your civic duty.
THE DETAILS:
Tourism desks are located in the airport on each island, as well as in some ferry terminals. Stopping for maps and directions is a must, as few villages have their own tourism offices. Most Azoreans employed in the tourism industry speak some English; we found communication easy. While many villages have a snack bar, full-service restaurants, gas stations and ATMs can be scarce. Websites, too, are fairly rare; only those that provide English translations are listed below.
► Getting there: SATA flies direct between Boston and São Miguel, as well as between all islands, with increased frequency during the summer months and round-trip specials as low as $400 in the off season. Flying is generally the best means of traveling between islands in different groups (for example, from São Miguel, in the eastern group, to Pico, in the central). +351-296-209-720, sata.pt.
►Getting around: A rental car is the best way to tour São Miguel and Pico. We recommend the rental-car agency Ilha Verde, which operates desks in every island airport except Corvo. Advance reservations recommended. +351-296-304-891, ilhaverde.com/en.
►Ferry is the most affordable way to travel between islands in a given group, for example, between Pico and Faial, in the central group, but keep in mind that many ferries are passenger-only. Routes increase during the summer; many are cut entirely during the off season. The ferry line Transmaçor updates its schedule monthly; for the latest, check in at airport tourism desks or any ferry terminal. 351-292-200-380.
ISLAND: PICO
Sights: Gruta das Torres, CriaçÃo Velha, Ancoradouro, Lajes
"I've always been a fanatic for the ocean. When I was fourteen or fifteen, I said to my father, 'Let me join the navy.' He said no, so I ran away. I left the Azores for Lisbon and enlisted. I traveled to Angola, Mozambique. Now I perform traditional Portuguese fado music all over the world: Brazil, France, Venezuela, Bermuda. First I toured the world in the navy; now I'm touring the world all over again, as a singer.
"I go to the Azores all the time. I just did five shows there. I have a house on Pico. Two houses down from me is the mountain: beautiful! And it's so easy to get to — four hours and you're there. One day I had breakfast in my restaurant in East Providence, dinner at the airport in Boston, breakfast in São Miguel while I waited for the plane to Pico, and lunch in Pico. In one day, you can do this."
Dinis "Dennis" Paiva, sixty-six, former radio and TV broadcaster, fado singer, and owner of O Dinis Restaurant in East Providence
THE DETAILS:
► Where to stay and eat: For the view, Casa do Garajau, in Prainha, can't be beat. The self-catered cottage, part of the group known as Adegas do Pico, sleeps two and runs €65–€100 a night. +351-933-256-277, adegasdopico.com.
The nearby restaurant Canto Do Paço is charming if uneven. Rua do Ramal, Prainha, 9940-062 São Roque, Pico, +351-292-655-020, cantodopaco.com.
For a home base near the airport, try Cancela do Porco, three cottages clustered around a pool. €100 to €140 a night. Caminho da Cancela, Rua da Igreja, 9950-026 Bandeiras, Pico, +351-292-622-133, canceladoporco.com.
The same owners run the excellent seafood restaurant Ancoradouro. Rua Rodrigo Guerra, N7-Areia Larga, 9950-302 Madalena, Pico, +351-292-623-490.
In Lajes, we like the simple but appealing Whale'come ao Pico for lodging and dining. €36 to €95 a night. Rua dos Baleeiros, 9930 Lajes, Pico, +351-292-672-010, hotel.espacotalassa.com/GB.
►What to do: Gruta das Torres lava caves. Take the main road south of Madalena through Criação Velha and watch for signs. Low season (Jan. 1–June 14; Sept. 16–Dec. 31): Tours Tues.–Sat. at 2:30 and 4 p.m. High season (June 15–Sept. 15): Tours daily at 10:30 a.m., noon, 1:30, 3 and 4:30 p.m. Call ahead to verify. +351-924-403-921.
Mount Pico. Ascent and descent average three hours each. Hikers are strongly discouraged from setting out alone, as the weather can change on a dime. Check ahead for fees. Ask for a list of guides at the tourism desk in the Pico airport or in Madalena. Rua Conselheiro Terra Pinheiro, 9950 Madalena, Pico, +351-292-623-524.
São Jorge. On a future trip, we'll catch the ferry from São Roque, on Pico, to Velas, on São Jorge, where pilgrims including Anthony Bourdain have journeyed for a variety of clams only available here. Other activities include hiking ravines that cut from the island's mesa-like plateau to the narrow band of shoreline below.
Espaço Talassa. Whale- and dolphin-watching trips run daily. €37–€118; private charters €280–€420. Rua dos Baleeiros S/N, 9930-143 Lajes, Pico, +351-292-672-010, espacotalassa.com.
Museu dos Baleeiros (Whaling Museum). May 1–Sept. 30: Open Tues.–Fri. 9:30 a.m.–12:30 p.m. and 2–5:30 p.m., Sat–Sun 2–5:30 p.m. Oct. 1–April 30: Open Tues.–Fri. 10 a.m.–12:30 p.m. and 2–5 p.m., Sat.–Sun. 2–5:30 p.m. Rua does Baleeiros 13, 9930 Lajes, Pico, +351-292-672-010.
It's past midnight somewhere over the Atlantic when I'm awakened by a duo of singsong voices: "Chá? Chá? Tea? Chá?" Two young flight attendants make their way down the airplane cabin, teapots in hand. The effect is like a mini Olympic Parade of Nations: crisp navy and white suits, healthy glows, all smiles and efficiency. I close my eyes and wonder whether the Azores will be overflowing with comely athletes. I couldn't have been more wrong. It's not that Azoreans are unattractive; there are just so few of them.
It's daylight by the time we land in Ponta Delgada, the archipelago's largest city, but, shrouded in fog, it could be the end of the world. We immediately board another plane for the island of Pico, a thirty-minute flight to the northwest. There, after picking up our rental car and a map, we're on our own. The area surrounding the airport seems so freshly carved from the jungle, I'm reminded of Cancun. It's the first of many comparisons I make in an effort to pin the Azores to a mental map of more familiar locales, none of them quite right.
Driving east along Pico's northern coast, we pass cacti the size of tree houses, lava cliffs black as pitch, mile after mile of the endless hydrangeas lining the island roadways, and hardly a single human. We've chosen Prainha, a silent and diminutive hamlet nearly identical to its brethren dotting the coast, as our first home base for one reason only: We've rented Casa do Garajau, a basalt bungalow clinging to the rocks at the edge of the sea. We arrive to find the cabin even more breathtakingly sublime than in photos, with a patio jutting over the ocean, a view of the fortresslike São Jorge across the water, and steps leading down to a private rock beach. I could spend the entire week here, dumbstruck, but eager to explore before exhaustion sets in, we head back out, following an inland route west. High in the mountains, sunny alpine meadows give way to foggy moors that become pine groves, then tropical forests. The landscape changes so quickly, it's hard to process our surroundings (Scotland? New Zealand?), although there is one constant: Everywhere there are cows. Make that two constants: cows and no people.
We arrive at Gruta das Torres, a series of underground tunnels formed by rushing lava 1,000 years ago, just in time to join a tour, the first of many happy accidents. The cave system is blissfully infrastructure-free, and at our guide's encouraging, we crawl over the formations armed only with flashlights before emerging, blinking, above ground. There's plenty of daylight left, so we head to neighboring Criação Velha, a verdelho wine-growing region along Pico's western coast. Here the terrain is littered with lava, the grapevines planted in nooks and crannies of the fertile rock. The walled vineyards are private, but there's a great vantage point from the fire-engine-red Moinho do Frade, a restored windmill in their midst. From its platform, we spot a ribbon of lava due west along the seashore where, in my mind's eye, a sandy beach should be. From afar, it looks otherworldly — and even more so a few minutes later, as we clamber over the inky, smooth-as-a-seal's-back terrain while the Atlantic fog begins to roll in. For the twentieth time that day, I try to make sense of the landscape (Northern California? Ireland?) and come up short. As jetlag and hunger close in, we point our Fiat back toward Prainha, stopping for local wine and treats: salty chorizo, sharp cow's milk cheese, passion fruit yogurt and milk. We fall asleep to the waves pounding around us.
The next day arrives with little change from night to dawn: gloomy and windy, the kind of weather that keeps tourists away for much of the year, though it's the only solidly rainy day of our trip. While we had considered hiking Mount Pico or catching an early-morning ferry to São Jorge for its famous clams, we discard both plans due to lack of visibility (see "The Details"). One day is a lot to lose on a weeklong vacation, and it's here that the Azores' undercommercialization could feel frustrating, but relaxation, we remind ourselves, is a priority for any vacation — as is eating. On the advice of our innkeeper, we head to Ancoradouro, a seafood restaurant just south of the city of Madalena. The formal tablecloths and breathtaking sea view belie the restaurant's friendly vibe and gloriously rustic cooking. We eat voraciously: seared morcela, or blood sausage, garnished with orange slices; hearty local tuna, served fish-and-chips style; and the richest, earthiest, most heartbreakingly tender octopus stew I've ever tasted.
Our last day on Pico dawns sunny and warm, quintessential island weather, and as we descend from the mountains into the village of Lajes, on Pico's southern coast, a rainbow hovers low over the harbor. I find it difficult to picture these pristine cobblestone streets as the gruesome route to the town's whale-processing factory, now the Center for Marine Arts and Sciences. But the whaling industry thrived here until the 1980s, when whale-watching finally gained a foothold as an economic replacement. That 180-degree change is due largely to Espaço Talassa, an outfit that continues to operate whale-watching excursions today — not to be missed, weather permitting. Next door to Talassa's headquarters is the like-minded Whale'come ao Pico, an inn and bistro that sources the bulk of its menu locally. If whale watching is off due to weather, a lunch of feijoada, or bean stew flush with linguiça, makes for a delicious consolation prize.
Down the street, the Whaling Museum — home to an astonishingly small whaling vessel, as well as ample scrimshaw and bones carved into trinkets of every shape, from toothpicks to crucifixes to dollhouse furniture — illuminates how the profession could have lasted as long as it did. So does a visit to a whale-watching tower — more of a shack, really — on a hill just outside of town, where a lone spotter would sit for hours each day, ready to sound the alarm at the first sign of prey for his colleagues down on the shore. The town's long connection to whaling, first bloody then symbiotic, helps explain its bustle and vigor. From the high schoolers loitering in the alleys to the fellow tourists lunching on tuna crepes, it's the liveliest place we've been, and despite our quest for solitude, it's hard to leave behind.
ISLAND: FAIAL
SIGHTS: CITY OF HORTA, CAPELINHOS
"I was born on Faial in 1958, the year of the volcano. We lived in Praia do Norte, the next town over. When the volcano erupted, lava splattered everywhere, including our town. The houses were sinking right into the ground. Everybody panicked. It was the end of the world. They thought the whole island was going down. It was my grandfather who told me this, when he came to visit East Providence in 1972.
"After the volcano erupted, the U.S. opened immigration from the Azores. My aunt came over and did the paperwork so that, ten years later, my dad brought his family over. We ended up in East Providence when I was eleven. At that age, in the Azores, I was a man. When you finished fourth grade, you went to work in the fields. I went from raising cows and pigs in the Azores to elementary school in America. We left with nothing: my parents indebted, five kids. It was a big sacrifice for the first five, ten years. We're not millionaires, but we've lived good lives. We've lived the American dream."
José "Joe" Faria, fifty-five, owner of Faial Restaurant and Lounge in Smithfield
THE DETAILS:
► Getting there: By ferry from Madalena, on Pico; about €7 round-trip, with multiple trips daily throughout the year. A new terminal in Madalena is under construction; check the harborside tourism office for updates.
► Where to eat: Cafe Internacional. Avenida 25 de Abril at Rua Conselheiro Medeiros, 9900 Horta, Faial, +351-292-293-057.
► Getting around: A one-day scooter rental at Açor Rent costs about €25. Ask for directions to the rental agency at the tourism desk in the Horta ferry terminal. Rua Conselheiro Medeiros, 2 r/c, 9900 Horta, Faial, +351-296-205-070.
► What to do: Capelinhos Centro de Interpretação do Vulcao (Capelinhos Interpretative Center) offers exhibits on the island's volcanic history. Jan. 1–June 14 and Sept. 14–Dec. 31: Open Tues.–Fri. 10 a.m.–4:30 p.m., with guided tours at 11 a.m. and 3 p.m.; Sat.–Sun. 2–5:30 p.m., with guided tours at 2:30 and 4 p.m. June 15–Sept. 15: Open daily 10 a.m.–6 p.m., with guided tours at 11 a.m., 1, 3 and 4:30 p.m. Farol dos Capelinhos, 9900 Horta, Faial, +351-292-200-470.
For thirteen months, from September 1957 to October 1958, a volcano erupted on the island of Faial, consuming hundreds of homes and leaving mountains of black sand in its wake. I stumbled across photos of the site early on, and if we had come to the Azores for one single view, this was it. We set aside a day before leaving Pico to catch the ferry from the town of Madalena, on Pico's western coast, to Horta, its counterpart on the eastern end of the island of Faial.
Thanks to a gloriously clear day, as we pull away from the port we see Mount Pico in all of its glory for the first time, rising more than 7,000 feet above the harbor, wisps of cloud encircling its peak. The mountain is so monumental, it has hardly receded in size by the time we dock in Horta, thirty minutes to the west. A brief stop at the portside tourism office settles a dilemma: While we could hire a cab or rent a car for the cross-island trek to the volcano, a scooter will let us soak up as much of Faial as possible. We stroll into town along Horta's seaside avenue, stopping for a lunch of salt cod casserole and pork roasted with chestnuts. With its sidewalk tables overlooking the harbor, plates clinking and
soccer on television, the cafe offers the most European vibe we've encountered yet — or maybe it's just the novelty of being surrounded by people after the weather-beaten isolation of Pico.
The sense of hubbub is fleeting. We pick up a scooter and begin the forty-five-minute ride to Capelinhos, on the island's far western tip. It's like something out of an Italian film (Cinque Terre? Croatia?) as we careen past dairy cows and clotheslines, the Atlantic dropping precipitously to our left. And then ahead of us: Capelinhos, like landing on the moon. Following its epic eruption, the volcano collapsed, leaving this lunopolis of a wasteland, with dusky charcoal sand swelling in every direction, and sweeping dunes falling abruptly into the sea. We have the entire place to ourselves. We hike to the top of the volcanic debris and are rewarded with the most stunning vista: spent volcano to our left, surf-carved caves below us, grassy slopes crowning black cliffs to our right and, directly in our path, a narrow crevasse emitting a sinister, belly-of-the-earth steam. Surveying the apocalyptic landscape, we could be the last people on earth. The view is mesmerizing, but with rainclouds gathering on the horizon and an open-air ride ahead of us, we hop on the scooter and retrace our route east.
Back in Horta, we wander the marina, a popular transatlantic yachting port and, before that, a New World trade-route pit stop, where captains have been painting tributes to their vessels on the jetties for decades. By now, Pico's summit across the channel is shrouded in clouds, and as our ferry leaves Horta, it, too, recedes into the mist.
ISLAND: SÃO MIGUEL
SIGHTS: PONTA DO ARNEL, TEA AND FURNAS IN THE EAST; FERRARIA, SETE CIDADES, LAGOA DO FOGO AND CALOURA IN THE WEST
"I came over when I was thirteen. Before that, I lived in Povoação, on São Miguel. My parents were poor, but it was beautiful there, surrounded by water. We worked in the cornfields and raised fruit. We lived off the land. My father would milk the cows and bring home the milk, and my mother would use it to make cornbread in the stone oven, the forno, because we didn't have a stove.
"There were about ten kids my age in town, and all of us kids used to go over to Furnas to go swimming. It was about an hour and a half walk. Sometimes we'd take the horse. We'd go to the baths, where the water was always warm. And we would go fishing for these little crabs, called petisco. We'd catch them under the rocks, and my mother would saute them in a pot with peppers, onions and garlic. I always loved my mother's cooking."
Antero "Walter" Cabral, fifty-nine, owner of the construction company Cabral Building in East Providence
THE DETAILS: SÃO MIGUEL/EASTERN
► Where to stay and eat: For sleek modern cottages with housekeeping, try Furnas Lake Villas. €90–€244 a night. Estrada Regional do Sul, Lagoa das Furnas, 9675-090 Furnas, São Miguel, +351-296-584-107, furnaslakevillas.pt/en.
Restaurante Tony's, for authentic cozidos. Open daily noon–10 p.m. Rua Victor Rodrigues 8, 9675-063 Furnas, São Miguel, +351-296-584-290.
► What to do: Ponta do Arnel. Watch for signs for the lighthouse on the main coastal road south of Nordeste.
Plantações de Chá Gorreana (Gorreana Tea Factory). Open daily 10 a.m.–5 p.m. Free. Gorreana, 9625 Maia, São Miguel, +351-296-442-349, gorreanatea.com.
Lagoa das Furnas. Stop at the tourism office in Furnas (on Rua Dr. F. Moniz; +351-296-584-525) for directions to the lake, the hot springs area in the middle of town, and the thermal baths. The lagoa, or lake, is located west of town, off Estrada Regional 2-1, in the direction of Villa Franco do Campo. While you can view the cooking pits on the lakeshore's northeast corner at any time, most cooks bury their stews by 6 a.m. and unearth them after noon. Ask for details at the tourism office.
Recinto das Caldeiras (downtown hot springs area). Ungated and open to the public. Rua das Caldeiras, 9675 Furnas, São Miguel.
Poça da Dona Beija, thermal pools with changing rooms. Open daily 7 a.m.–11 p.m. €1.5–€2. Lomba das Barracas, 9675-044 Furnas, São Miguel, +351-296-584-256, pocadadonabeija.com.
THE DETAILS : SÃO MIGUEL/WESTERN
► Where to stay and eat: The fishing village of Caloura is located near the midpoint of São Miguel's southern coast, about twenty minutes from the airport in Ponta Delgada. Caloura benefits from the island's best weather and is a good home base for day trips nearly anywhere on São Miguel. We like Quinta do Mar, a boutique hotel with breakfast included, run by expat Brits. Contact for current rates. Rua da Portela 43, Caloura, 9560-216 Água de Pau, São Miguel, +351-296-913-990, quintadomar-caloura.com.
Quinta Altamira, a collection of self-catered cottages down the street, is run by a German couple who speak fluent English. €40–€176 a night. Caloura, 9560-216 Agua de Pau, São Miguel, +351-296-913-980, quintaaltamira@mail.telepac.pt.
Outstanding fresh-caught seafood is available at Bar da Caloura. Porto da Caloura, 9560-216 Água de Pau, São Miguel, +351-296-913-927.
► What to do: Ponta da Ferraria. On the coastal road north from Ponta Delgada; watch for signs near Ginetes. Check tide schedule in advance; swimming is unsafe at high tide. Free to swim in ocean; fee for manmade pool. Changing rooms available in summer.
Sete Cidades. The best route depends on your point of origin; don't miss the Vista do Rei overlook at the twin lakes' southern end.
Lagoa do Fogo. Ungated and open to the public, on the main road between Ribeira Grande and Lagoa. Use caution when descending the trail and watch the weather for sudden changes. Just north of the lake, another natural spring and bath, Caldeira Velha, was undergoing renovations as of early 2013. Parking for both is well marked, no entry fee.
After several days in the comparable wilds of Pico and Faial, landing in Ponta Delgada is jarring. We respond by leaving the well-lit modern highways and high-rise hotels behind and taking a switchback-filled route into São Miguel's remote fringes. After spending the night in the hills above the village of Povoação (Colombia? Andalusia?), we set out for a driving loop of the island's eastern half.
Although nearly every half-mile presents another miradouro, or scenic overlook, you can't do better than Ponta do Arnel, just south of the town of Nordeste. We pull off the road after spotting a sign denoting a lighthouse, but when a second sign warns of a 20 percent grade and there's still no lighthouse in sight, we park the car and continue the sharp descent on foot. Suddenly, as we round a steep bend, the ocean appears ahead of us, the lighthouse below. The sensation of approaching a lighthouse from above is disorienting enough, but a few meters on, we peer over the cliff and spy a string of tiny shacks lining the road beneath us as it zigzags to the sea. Far below, a cluster of empty boats bobs in the surf. Between the waterfall tumbling behind us, the hidden lighthouse in front of us, and the toy-like parade of impossibly tiny, gravity-defying fishing shacks below us, this place feels out of time — the best discovery of the trip.
Back in the car, we round São Miguel's northeastern reaches and continue toward Gorreana, Europe's oldest, and one of only two, tea estates (the other lies just down the road). Operated since 1883, when tea and pineapples began to overtake the dwindling orange trade, the Gorreana plantation is open to the public. We wander the cultivated terraces, then the factory itself, before stopping in the cafe for scoops of gelato and free cups of fortifying orange pekoe.
From here, we turn south toward Furnas, the Azores' sizzling, stinky, sulfurous hotbed of volcanic activity. Outside of town, on the shores of the lake, locals bury their cozidos nas caldeiras, or cauldrons of meat and cabbage, at around 6 a.m. each morning then dig them up, post-volcanic-steam, several hours later in time for lunch. In the center of town, a colony of geysers — some gurgling gently, others boiling violently — populates a public park with a foul aroma, while two dozen different potable springs bubble up from the ground nearby, each with its own water temperature and mineral bouquet. We sniff, we sip, we grab a table down the street at Tony's and order our own cozido, unearthed hours before. A platter arrives piled high with blood sausage, linguiça, chicken, pork, cabbage, kale, potatoes and various cuts of beef. It's simple, hearty fare, filling enough for a party of four and laced with a limestone tinge from its time underground.
Lazy after our gargantuan meal and a long day of touring, we compare our two options for Furnas's final volcanic draw: the thermal baths. We skip Terra Nostra, a nineteenth-century-estate-turned-hotel beloved for its manicured gardens and clay-colored pool in favor of the smaller but warmer Poça da Dona Beija. Here, the springs feed into hot-tub-sized pools and the water temperature hovers near a steamy 102 degrees. It's divine, the perfect place to wait out the shower moving past overhead.
We devote the next day, our last in the Azores, to São Miguel's western half. On a tip from our innkeepers, we set off from the sunny hamlet of Caloura (Côte d'Azur? Jalisco?) and work clockwise to reach their recommended swimming hole at midtide.
At this blip on the map known as Ponta da Ferraria, a manmade thermal pool is open for business, but we follow the path to a natural swimming hole tucked into the base of the cliff. Here, enclosed on three sides by craggy basalt outcroppings, the cold seawater rushing in meets a thermal current rushing out. It's a vulnerable place where nature seems poised for a fight and negligent bathers seem likely to be swept to sea, but when we let go of the safety rope, we float gently on the waves, in and out, hot and cold. Heaven.
Back in the car, we continue to Sete Cidades. If there's such a thing as a tourist destination in the Azores, these twin lakes are it, as much for their star-crossed folklore as for their view. Legend has it that, long ago, the princess of the Seven Cities fell in love with a local shepherd boy. The Romeo-Juliet romance was not to be, and at their enforced parting each cried a lake of tears, one blue and one green. The two lakes sit at the bottom of a caldera, and it's easy to see how the view of lush green farmland studded with those mismatched irises could inspire a legend.
Sete Cidades is a Mecca for hikers, but we're saving our energy for another trek: Lagoa do Fogo, or fire lake, a volcanic crater with a serene crystal pool at its base. Several other carloads stop to take photos of the lake from the parking lot at its rim while we change our shoes, but once we descend the verdant slopes, we have the crater to ourselves. From the valley floor, we soak in the lake's glassy surface and the hills towering around us, green and golden and silent in the late-afternoon light.
The hike means we've earned our dinner, and back in Caloura we head to an outdoor cafe perched on the edge of the fishing pier. At the chef-owner's urging, we select our fish from the display on ice then help ourselves to local cheese drizzled with spicy tomato jam. When the fish returns, it's the meal we've been waiting for: seafood grilled within sight of the water from which it was pulled. As we drink our wine and spoon up our flan, the owner tells us stories of his first career, as a fisherman. There's only one other table of diners remaining when his family shows up to fetch him home, and we all smile at his reluctance to leave. The cafe is charmingly unpretentious, and as we climb the hill back to our hotel, it's the one place I wish, for the owner's sake, was more crowded. At least he can expect repeat customers. We'll be back.