Yacht Club Soda is Still Popping After a Century in Business
With its distinct personality and creative concoctions, the family-owned business is holding its own against the soda giants.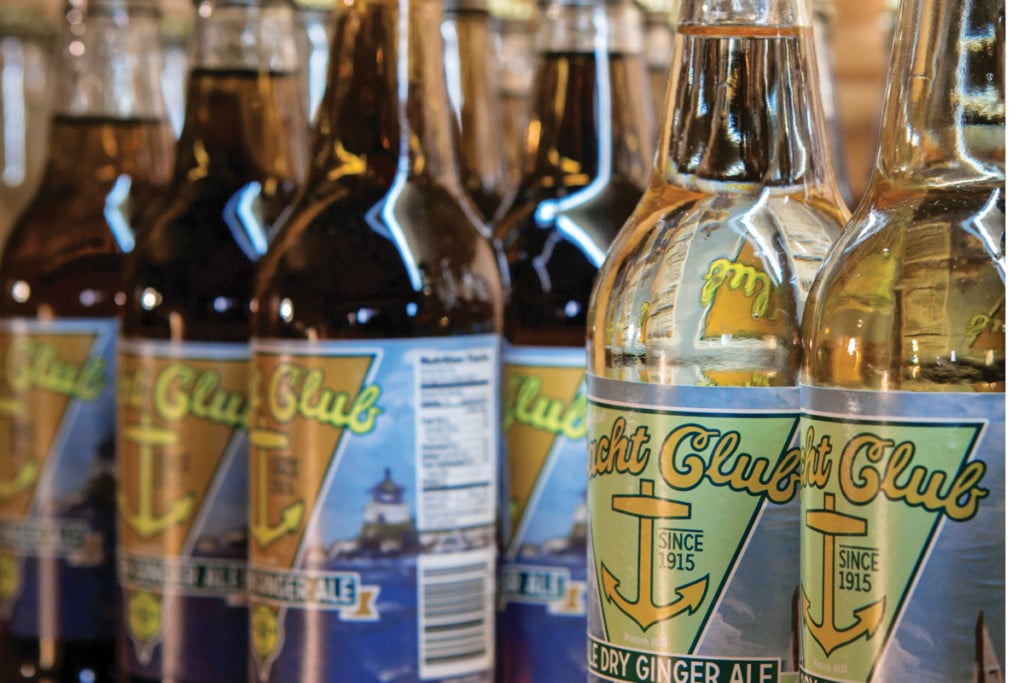 Back in the olden days, Yacht Club Soda, located in North Providence's Centredale neighborhood, was the obvious pit stop for families before they hit the beach or went to a backyard barbecue on a hot summer's day. They'd pick up a couple of bottles, put them in a cooler and head to their destination. More than 100 years later, history is repeating itself.
John Sgambato, who is president of Yacht Club Soda and runs the show with his brother and vice president, Michael, says the company has new faces stopping by to grab the sodas. This younger generation is driven by nostalgia for old-fashioned soda pop and the desire to shop small. But while Yacht Club Soda is seeing an uptick in new fans of their fizzy drinks, many may not know that Rhode Island's official soda is produced in an unassuming building at the furthermost corner of Mineral Spring Avenue, and that it has been bottling bubbly goodness since 1915.
Today, North Providence is a suburban haven of residential homes, restaurants, offices and beyond. Mineral Spring Avenue, named after the natural springs underneath Yacht Club Soda, is bustling with passing cars trying to get to their next stop. It's hard to imagine what the area around Yacht Club Soda looked like decades back, but Michael paints a vivid picture of Centredale's not-so-distant past based on his own childhood and tales from his father.
"My father used to tell me about the different shops and attractions they had back in the day in Centredale," he says. "There used to be a theater, a hardware store, and I even remember buying my Christmas trees here when I was a little boy. You could get anything right here in Centredale. Everything changes, sometimes not for the better."
While mom and pop stores were once abundant in North Providence, over time, they disappeared. But all is not lost. Michael says more local shops are slowly coming back, pumping life back into the once
vibrant neighborhood. North Providence overall is becoming a "small business hub," he says.
Yacht Club Soda, meanwhile, has in many ways stayed the same amidst its ever-changing landscape. It was founded in 1915 by a British man named Harry Sharp, who brought the company name from England to Centredale. John and Michael's grandfather, John Sr., worked for Sharp until he purchased the operations from him in the 1930s. Since then, the family business has been run by three generations of Sgambatos.
Surrounded by an assembly of machines, all from the 1950s, John is where the magic happens. He points to each machine and recites its individual purpose, detailing the intricate process. While the antiques are intriguing, John confesses, and Michael agrees, that this is the biggest challenge they face day-to-day: keeping old machinery running the way it is supposed to. Luckily, they are phasing in newer equipment in the upcoming months.
Twice a week, they start up the old machinery and fill as many as 12,000 bottles each day, which they then distribute to local vendors, specialty grocers and small restaurants throughout Rhode Island. And last November, they formed a partnership with mega-company, McLaughlin Moran, to extend their reach even further throughout the state. But the soda also makes its way beyond Rhode Island's borders, to the Boston area and even across the country in Oklahoma, California and other states.
With Rhode Islanders swinging by to pick up a pack, and with fans nationwide, what is it that differentiates Yacht Club Soda beverages from your typical Coca-Cola or Pepsi products?
"All of our syrups are made right here with pure cane sugar and natural artesian water from our well that's underneath the factory floor," John says.
You will never find any caffeine or high-fructose corn syrup listed in Yacht Club Soda's ingredients. The highly processed sugar substitute is ubiquitous in the food and beverage industry because it's much cheaper and sweeter than natural sugars. John also explains that natural mineral water allows for carbonation without cooling towers, which can have negative impacts on Mother Nature.
"Not only is it better for you and better tasting, but it's better for the environment," he says.
Currently, they offer twenty different soda flavors and a variety of seltzers and diet sodas, as well as classics like root beer and pale dry ginger ale. But the brothers admit they enjoy getting creative with the mixtures, releasing a new flavor every year: think Yacht Up (lemon lime), quinine tonic, grapefruit and a recent concoction of orange cream. To keep the Rhode Island connection, each bottle and flavor has a corresponding location in the state.
"Every flavor represents a different place. Rhode Island is rich with landmarks and people don't even realize it," John says.
There are familiar places like the Cliff Walk on the cola and Watch Hill on the pale dry ginger ale. But it's also surprising how many are unfamiliar, which proves John's point.
During the election last year, John was watching the news when he got an idea that would take Yacht Club Soda beyond Rhode Island: He decided to match candidates running for president with the funky flavors. The so-called soda pop poll featured various candidates on the labels. The poll garnered national attention, with many news outlets across the country reporting about the small Rhode Island company.
"We had a lot of success with that, so we're probably going to do that every election season to keep people involved," John says.
It is this creativity that keeps the beverage business going, when so many other independent soda bottlers have gone out of business. In 1925, two years after Yacht Club Soda's current facilities were built, there were seventy-five soda businesses in Rhode Island. Today, only two remain: Yacht Club Soda and Empire Bottling Works in Bristol. Yacht Club was named Rhode Island's official soda by state legislature in the early 2000s and had its centennial anniversary in 2015.
And Yacht Club doesn't plan on going anywhere thanks to the current trend of local, local, local.
"More people want to buy quality items that are locally made," Michael says. "They're realizing that it's better for the economy, better for everyone. We're seeing more young families come in that are happy to talk to somebody that's actually involved in the process."
This is not the only change occurring for the company. John walks into the front of the facilities, where customers pick up their bottles, and shows off its makeover. The walls are now made up of crates, and the countertops are formed from a colorful array of bottle caps, some of which are as old as the company. Along one wall are all thirty of Yacht Club Soda's beverages, illuminating the room with their vibrant hues. John made these changes to the building last year, and hopes to add a few more renovations in 2018.
"This was an idea I had to show off some of our history, and put little permanent pieces of us into the place," he says.
After all, Yacht Club Soda has proven to be an anchor in the North Providence community, as well as all of Rhode Island, resisting the perils of stormy times by remaining true to itself, stable and strong.