World of Extremes
In the state's smallest, most isolated, and most seasonal of towns, summer and winter are worlds apart. That's something Block Island residents love–or leave.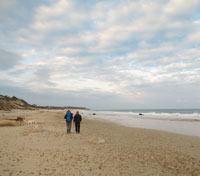 The unseasonably warm temperatures on a late fall day are accompanied by a shroud of fog that is hindering Jim Fiorato's ability to point out the most calendar-perfect scenes from his taxi.
I'm on an informal tour of Block Island with him. And I'm finding that the fog, the village shorn of summer tourists, and the narrow roads empty of swarming bicycles and mopeds combine to make the island's landscape almost more alluring. Not that weathervane-crowned Victorian hotels looking ocean-ward; fifteen-story cliffs nipped by roiling waves and topped by an 1875 lighthouse; and a landscape of hillocks scattered with cedar-shingled farmhouses and crossed by rough stonewalls are not alluring enough.
It's easy to understand why Fiorato and his wife decided to make Block Island their home five years ago after decades of summer visits. The move meant he gave up his long-time job as an information technology consultant for several New York hospitals in favor of a cab-driving gig, combined with a smattering of work checking on empty vacation homes during the winter and operating a boat launch service during the summer.
All this, and the two of them also vacate their four-bedroom island home for eight or nine weeks every summer to make way for tourists who rent it for $3,200 a week. They make do on a boat in one of the island's two harbors, allowing them to afford the island's sky-high cost of living (think electricity rates that are four times the norm, food that must be shipped over, average home prices of a million dollars) during the rest of the year.
It's nothing unusual among the 1,000 or so year-round residents on this island of less than ten square miles, tenuously linked to "the mainland," thirteen miles to the north, by weather-dependent boat and small-airplane services. Many Americans grow roots where their jobs take them. But here, people decide they're in love with the natural beauty, summer fun and old-fashioned community. Then they scramble for whatever work, and lifestyle, will allow them to stay.
"People who live here year-round are here for the place," says Kim Gaffett, who grew up on the island, is a member of one of a dwindling number of multi-generational island families and serves as First Warden (the town's top elected slot). "People decide it's the place they want to be."
Gaffett was not always certain her destiny would keep her on Block Island. After college, she lived for several years in Seattle. But as she was considering joining the Peace Corps, she realized she could make as significant a mark by returning home to assist her grandfather in an island economic development effort.
"I went away to find myself and I found myself back here," she says. "With a biology degree, I came back to Block Island to manage an art gallery."
She's had other jobs as well. At one point she drove the island's school bus and at another she led nature walks along pristine trails overlooking the island's seventeen beautiful miles of white-sand beaches.
And every single mile of those beaches, says Fiorato on his island-boostering tour, is public. He's also quick to point to the ubiquitous stiles, small staircases that go up and over stonewalls and signal that the paths they service are part of the island's network of "Greenway" trails linking conserved land. "About 44 percent of the island is protected as open space," he says. "The goal is to have 50 percent."
As we complete the tour, the island has an exaggerated small-town quiet, almost as if it has been struck by neglect—which it most definitely has not. But at this time of year, you'd be forgiven for thinking so. It's part of the striking seasonality of life here. During the winter months, most of the shop windows along Water Street display little more than "Closed for the Season" signs. The wide porches and tall staircases of the hulking National Hotel are occupied only by an occasional handful of tag-playing schoolchildren. Seats on the now-infrequent ferry service seem reserved for some two dozen construction workers clad in flannel shirts and boots. A long, meandering beach walk can be an exercise in complete seclusion.
It's a far cry from the frenetic, jam-packed days of summer, filled with sun and tourists, seafood meals, cocktails and ringing cash registers. But despite the coastal lashings that ground the airplanes and boats in mid-winter, cutting off access to newspapers, doctor's appointments, prescription medications and children's athletic activities, many here say it's a time when they reclaim their island.
They do it by coming together for impromptu pot-luck suppers at neighbors' houses, church-fundraisers and free Friday night clams at the Yellow Kittens tavern. They make sure to buy a pie from the school's annual fundraising sale, and groups of them take turns hosting the $3 community center lunches that provide hot food for older residents and a sense of community for all.
"This is the time of year we get to socialize with our friends," Kathleen S. Szabo, executive director of the Block Island Chamber of Commerce, says on a sparkling December day when her tiny o≈ce near the ferry dock was empty of visitors. "Most of us have more than one job in the summer. We do love the summer and its variety and crowds, but we like the slower pace now."
It's easy to love this morainal mound of sand when summer's heat hangs like a weight on the mainland. Dubbed one of the last great places on earth by the Nature Conservancy, the island's fragile natural beauty, protected harbors and eclectic collection of hotels, restaurants and shops have drawn tourists since the first hotel was built here in 1842. In June, July and August the island pulsates with thousands of boaters, countless ferry loads of day-trippers, and many more vacation homeowners and renters.
It's the side of Block Island that most people see for the first time, on sun-drenched summer vacations. John and Judie Kisseberth had come during the summer with their three kids, finding the relaxing pace and family time a welcome departure from the mucho materialism of their lives in Fairfield, Connecticut. But when they first thought about moving, they didn't consider the island. "We researched a lot of different communities from North Carolina to New Hampshire," John Kisseberth says. And talking to friends they'd made here, they realized what Block Island could offer: a tiny public school with an outsized teacher-to-student ratio; a community safe enough that they could give even their youngest child, who is eight, some room to roam; a beach never more than a few miles from the doorstep and, from their weathered wood deck, a pastoral scene and air scented by the ever-present salt breeze.
They join a growing number of year-round residents who are not long-time natives. With them, as for anyone here, conversations tend to quickly turn to three major obstacles to island life: the high cost of housing; the scarcity of jobs; and, for parents, the worry that island life may not be enough for teenagers hungry to experience the world.
John Kisseberth had worked in the financial services industry for twenty years. On the island, he works as a bookkeeper for a construction company and also spent many months "pounding nails." Last summer, he secured the first hawkers and peddlers license issued on the island in fourteen years. The license allowed him to operate a mobile lunch cart at the northern tip of the island, where he sold sausage sandwiches to tourists visiting the North Light.
"I think I was awarded the license because we are here year-round now," he says. "We are part of the year-round community, which helps each other out a lot."
With an eldest child in her teens, the couple doesn't know how long they'll stay. "We originally were going to try to stay here for one year," says Judie Kisseberth. "But now, one year has melted into three."
As for housing, the Kisseberths, like so many others, accept the phenomenon they call the "Block Island Shuffle." They move out of their homes during the prime tourism season and shuffle among friends' houses, boats, rented rooms and tiny apartments in order to rent to tourists. The dearth of housing that an average waitress, shopkeeper, teacher or municipal government employee can afford is one reason residents seem so proud of the commitment the island has made to build subsidized affordable housing.
Last fall, twenty families moved into a new cluster of cedar-shingled Cape Cod-style homes called West Lane, a development overseen by the local nonprofit Block Island Economic Development Corporation and made possible by tapping a wide variety of funding, from local to state and federal sources. The houses sold for between $130,000 and $280,000, depending on family income, and the neighborhood has become a landmark pointed out on the informal island taxi tours.
Even as twenty lucky families moved into the homes, ninety-four applicants who didn't win the lottery wonder when their number will turn up.
"My dream is to have a house here," says Morgan Rose, a twenty-seven-year-old island native with an infant son. "I am on a waiting list for one of the affordable houses for town employees, but I know it could take years before I get one."
That does not mean Rose has considered moving off-island. She lived on the mainland during college and spent a year in California. "In San Diego, it was overwhelming," she says. "I like going to the store and knowing everyone. I feel safe here."
On this late fall day, she is at her job in the island's public library. She just completed a story time for toddlers. Among those who whiled away a couple of cozy hours with her were Sarah and John Cullen and their younger son, two years old.
Not many fathers can enjoy the luxury of a mid-week library visit with their toddlers, and it's part of why the Cullens, who met waiting tables here the summer after college, have made the island their home.
"Originally, I came here looking for a fun place to be for a summer," John Cullen says. "I just felt at home in my heart here."
The price they pay for living here is that, despite having used the proceeds from the sale of a Colorado ski-town condominium to buy a home they say was the last good bargain on the island, they still work unstintingly all summer. They run three shops: a toy store, a T-shirt shop and a store specializing in Irish-themed items.
"From April to October, you pretty much work every day," Sarah Cullen says. "You never have a day off then."
But during the rest of the year, there is plenty of time for community service, children's activities, reconnecting with friends and drinking in the island's natural beauty. "There really is a heightened sense of the environment here," John Cullen says. "The kids want to be outside and active and they can do that here. There are no worries about letting them go. Our son (the older, a kindergartener) already is so in tune with the environment and conservation."
But while raising small children on the island has unique rewards, it also has its challenges. Every consumable, from diapers to fuel oil, is expensive; and there are needs that can't be met without a trip off-island that requires planning, cash for ferry tickets, a huge investment of time and, for those who go off island often, a second car to keep in Point Judith.
"It can take us nine hours to go for a thirty-minute swim lesson," John Cullen says, referring to their children's lessons at the University of Rhode Island. If there were a highway to URI, they might drive there in about a half-hour. Instead, they ride the ferry an hour each way and work around its limited wintertime schedule.
It's a price they're willing to pay, although island life can feel restrictive. "Sometimes there's a feeling of isolation," John Cullen says. "You can't just go bowling or to the movies. Even when you live in a very small town on the mainland, you can get in your car and drive someplace."
That feeling can be overwhelming and residents are quick to say that life surrounded by water is not for everyone. Chris Barrett, a 2008 University of Rhode Island graduate who works as a reporter at the Block Island Times, says he recalls what two local offcials told him shortly after he moved to the island.
One advised him to make sure he got off island as often as possible. The other warned Barrett that if he actually stuck out the whole winter, he'd be an alcoholic by the end of it.
While the advice may have been tongue-in-cheek, the lack of anonymity in such a small community can be a comfort in some ways, overwhelming in others. For example, some residents choose to suffer in silence with mental health problems, ra-ther than seek counseling. Over-consumption of alcohol is also a serious problem.
"There is no mental health practitioner on the island and even if there were, it would be di≈cult for people to go because everyone else would know they were going," Dr. Jan Miller, one of the island's two physicians, says. "The stigma is tough. Everyone knows your business."
As for alcohol consumption, Miller says that in the summer it's a ubiquitous part of the island's party atmosphere. In the off-season, it's self-medication for the lonely or depressed. Many patients call them- selves social drinkers, but she's learned to ask them to quantify their definition. So-called social drinking can mean having twelve to twenty-four beers in a day.
For those struggling to stay dry, there are addiction-support meetings at local churches, at least one—and sometimes more—each day.
Miller moved from Woodstock, New York, with her husband and three children seven years ago. Although she puts in long hours, with her o≈ce next door to her house and children's school, she can now spend more time with her family than she could in New York.
"It is intense on the island," she says. "You can't escape it. These are your friends and neighbors. When a patient dies, I go to the funeral. Not many doctors live and practice in the same community. But it's also a special place. I can drive downtown and everyone knows me. And people all support each other."
But that doesn't always translate to an easy social life—and these things are never harder than for children. With just eight or ten kids per grade, some island teens and tweens are ostracized by peers, just as happens at larger mainland schools. Judie Kisseberth, who works as a lunch room aide at the island school, says she sees some children who daily eat lunch alone or seem always to be in search of a friend. The school, which like all island institutions struggles with economies of scale and the di≈culty of keeping staff in the expensive housing market, found itself reluctantly in the news last year for creating an isolation room for special-needs students. The state attorney general's once ruled that the room—since re-purposed—was ill-judged but did not break any laws.
Even for popular kids, the island can be restrictive. While, admirably, most kids participate in most school sports, the wealth of extracurricular activities on tap for most children these days isn't available here. So some families send their kids to boarding school, move away for the school year but return to work the summers, or move away for good. The implacable escalation in real estate prices that began in the 1970s means that once most people get out of the property market, it's impossible to get back in.
But that doesn't mean they don't come back—to work. The high-end construction market here, in particular, keeps many non-residents employed. As transportation options have grown over the years, working commuters have become a familiar fact of island life. They help make the airport another community hub. Besides diners at the popular Bethany's Airport diner, the small-plane-only facility—which is undergoing an expansion—is a clearing house all year for real estate experts, lawyers, plumbers and carpenters, shuttling to and from the island via a fifteen-minute New England Airlines flight from Westerly.
On a day when fog makes it impossible to see the runway from the tiny airport terminal and planes have been grounded for four days due to the poor visibility, New England Airlines co-owner Lois Bendokas says the airline's thirty-plus work force is reduced to fourteen in the winter.
The off-season is a time when the business is more about community support than tourist transport. A January New England Airlines plane might carry nothing but the pilot, prescription drugs from a Westerly pharmacy, and a load of fried chicken and Chinese food for residents seeking a change from the two or three restaurants typically open all winter. Bendokas has lived on the island since 1968 and says she looks forward to the cyclical rhythms of life here. "By February, you are really looking for people again," she says. "But if you love nature, there's no place like it."
From her third-floor apartment, she can see the airport from one window and whales breaching offshore from another.
One of Bendokas's employees is pre-paring to leave the airline counter after a quiet Saturday shift. The two women share some small-talk about who came and went this morning before the employee bundles off, lest she be late for her second job as a clerk at a store near the harbor. Even at this time of year, she works a second job. It's just the price of this particular paradise.