Work Your Vacation Away in Rhode Island
Be a lighthouse keeper or caretaker for a week.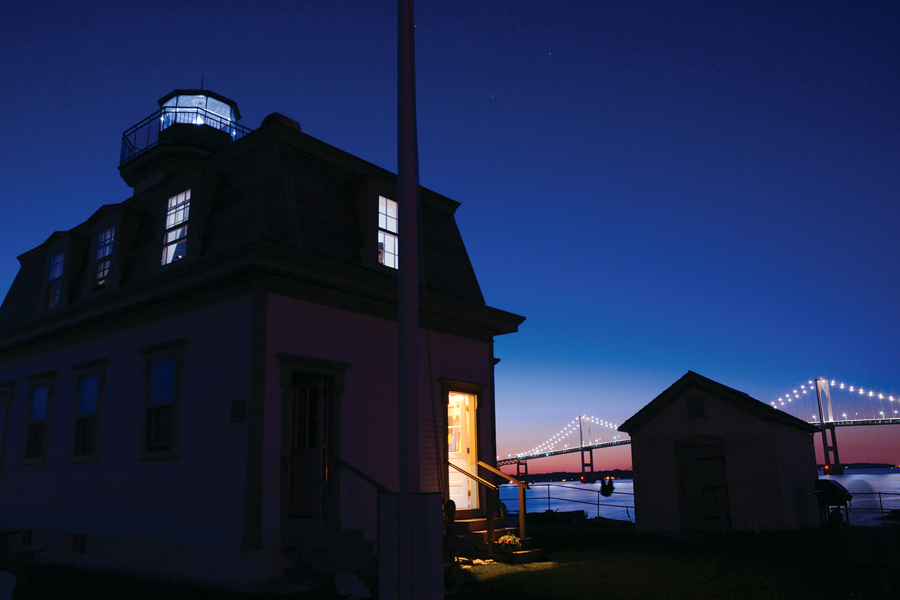 Job: Full-Time Lighthouse Keeper
Where: Rose Island Lighthouse, Rose Island, Narragansett Bay, roseislandlighthouse.org
Why go: Accessible only by boat, beautiful eighteen-acre Rose Island and its historic lighthouse have been taken care of by keepers and their families for the past 100 years. The island is also home to the stone barracks of Fort Hamilton, which was built in the Revolutionary War and later served as munitions storage for the Navy. It boasts a wildlife refuge where birds like egrets and American oyster catchers nest from March to mid-August, when it opens to the public. In your downtime, soak in views of Narragansett Bay, stroll around the gardens or just go fishing.
The digs: The first floor is home to the lighthouse museum and two overnight guest rooms and has been restored to be authentic to 1912. The full-time keeper's quarters on the second floor contain modern amenities, such as a fully equipped kitchen. It has a separate bunk room for families, but keep in mind that the lighthouse is powered by wind energy and rain water, so as they say, if the wind isn't blowing, get ready to sweep instead of vacuum.
The work: The work week runs with nautical precision from Sunday at 10 a.m. to the next Sunday. Your first duty? Taking the flag down at sunset. The next morning, you'll rise and shine for a 7:30 a.m. listen to the marine forecast, then raise the flag. Then you'll keep tabs on the wind-powered electric system, maybe do some painting, trimming and weeding, monitor the chlorine in the cisterns, greet visitors at the museum. At night, you'll take the flag down and collect the landing fees and money from the gift shop. Should any unexpected nighttime visitors materialize, as the "eyes and ears of the island," it's your job to politely tell them to scram.
When: Year-round. People come back year after year and reservations are particularly tight from mid-August through September. (Other accommodations are available for non-keepers.)
Cost: $2,300 a week. An application is required and if caretakers keep a log and photos of their work, then it's tax-deductible.

Job: Caretaker
Maxwell Mays, Courtesy of Audubon Society of Rhode Island.

Where: The Maxwell Mays Wildlife Refuge, 2082 Victory Hwy. (Route 102), Coventry, asri.org
Why go: The artist Maxwell Mays was best known for his "delightful and historic" paintings of Rhode Island, but he was also a dedicated conservationist who donated his 295-acre tract of land to the Audubon Society of Rhode Island.
The digs: Spend a week on a beautiful nature preserve with a range of habitats, from open meadows and streams to forests that are home to abundant wildlife. You'll stay in Mays Cottage, a historic cabin that sleeps four comfortably. After work, paddle the canoe or kayak around the lake, then watch the sunset from the screened-in porch.
The work: The program is new this year. Audubon Conservation staff will lead you through light work, such as marking trails, trimming overgrowth, picking up litter and light cottage maintenance. Birders can also keep a daily log of what they see.
When: May through October. Families with children are welcome.
Cost: Typically $1,200 a week, a working vacation at the Maxwell Mays Wildlife Refuge saves you $300. Contact Larry Taft at ltaft@asri.org for more information.