Woonsocket's Heavy D Heads to Round Two of "X Factor"
Local musician Deric Dubois will compete in the second round of auditions for "X Factor."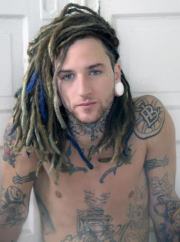 Meet Deric "Heavy D" Dubois: the dready, tattooed, beat-boxing extraordinaire with heaven-sent vocals and a commanding stage presence.
The Woonsocket native is one of 400 people who made it through the first round of "X Factor" auditions in May. Dubois will perform in front of Britney Spears, Simon Cowell, L.A. Reid, Demi Lovato and an audience of thousands at the Dunk this week.
"[I got a] great response from my 'X Factor' auditions, which I'm not allowed to really speak too much about because it's all still ongoing," Dubois says. "But more recordings are being done right now for what I hope to be an epic reggae, ukulele, hip-hop EP."
A working musician, Dubois has hit it big beyond the Ocean State and is booking shows in Cleveland and other cities. But his Rhode Island roots are strong; he remains tied to the Woonsocket community and, in particular, artist and street-wear designer Longston Johnson of Little Bastard Co.
"Little Bastard Company was in the news last week for their controversial logo, and sales are outrageous. I'm so proud and fortunate to be working with them. And it's all local hometown love from little ol' Woonsocket," Dubois says. Click here for the Valley Breeze story on Little Bastard Co.'s storefront mural.
"I'm really stoked with the progress of our movement," he says. "I mean it's not just with how well the music is coming together, but all of the growth with the people and companies I'm working with."
Audience tickets for this week's "X Factor" auditions are still available, so don't miss the chance to see Heavy D and others vie for the chance to win $5 million. To follow Dubois's music, like his Facebook page here, or watch his latest music video "My Mouth is Better Than Yours," featuring gear from Little Bastard Co. Some lyrics are explicit.
Below, watch Dubois's beat-boxing tutorial.