Woonsocket Hasn't Lost Its French Accent
The city to the north was home to waves of Quebecois at the turn of the twentieth century.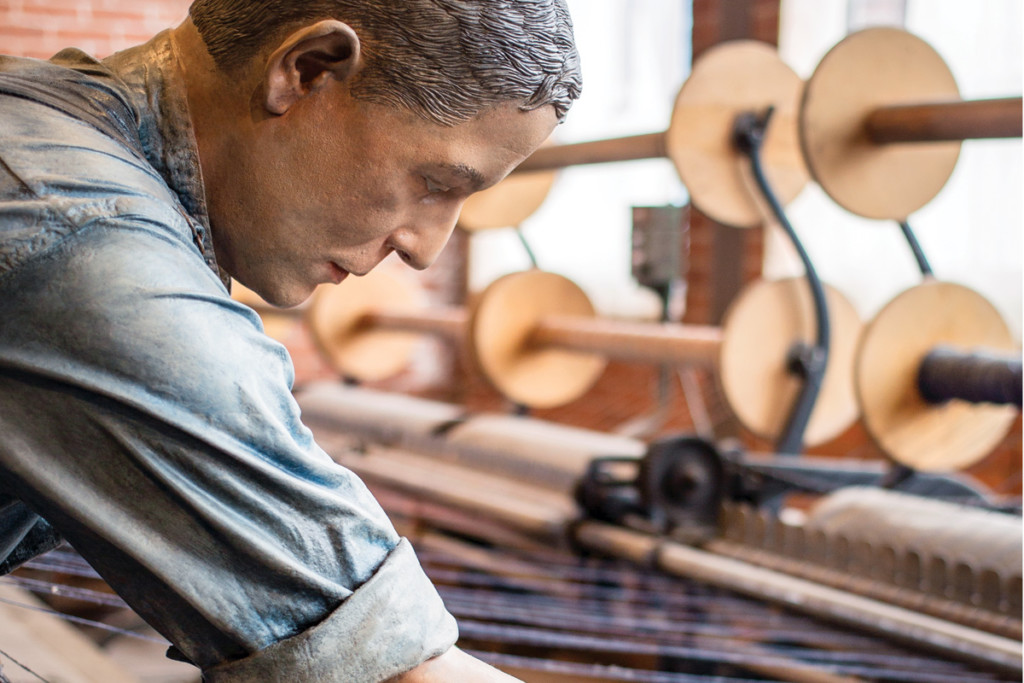 In 1920, about 70 percent of Woonsocket's population was of French Canadian or French descent.
For some locals, this may be old news, but for many, the fact that Little Rhody's northernmost city was once referred to as "Le Petit Canada" may come as a bit of a surprise. I, a Rhode Islander by way of Ireland who grew up surrounded by neighbors and peers with Italian surnames, found myself in the latter category.
But after taking a trip to the Museum of Work and Culture, I learned that it's true: Woonsocket was not only a pioneer in sloppy Joe making (a.k.a. the dynamite), but also in La Survivance — a designation French Canadian immigrants gave to their fight for cultural survival in America.
It all began with a mill town. While Woonsocket didn't officially become a city until 1888, the area had been capitalizing on the Blackstone River's ability to power a number of textile factories since 1810. With the Industrial Revolution in full swing (props to neighboring Pawtucket), it wasn't long before mill owners began sending agents outside of Rhode Island to recruit more personnel. The agents looked north and, while other options were explored, they found Quebec City to be a prime target.
"The bulk of French Canadian immigration to Woonsocket occurred between 1865 and the 1920s," says Anne Conway, director of the Museum of Work and Culture and a Quebec City transplant herself. "And a lot of this was due to the recruiting process; the mill agents promised farmers that they would make more money in a month working at the mills than they would in an entire year working the farms."
Often these agents would wear and show off a beautiful watch or a pair of shiny new shoes, things that the Quebec residents would have never dreamed of buying with a farmer's wages. But in reality, Conway says most people relocated not because they were enticed by the idea of fancy wares, but because they needed the money to feed their large families. Farm life just wasn't cutting it.
"The agents also promised that they would keep their culture, their language and their faith by coming to Woonsocket," Conway explains, "which was very important to them at the time."
After many a French Canadian immigrant wrote home to friends and family about their success in the States (a letter from one brother to another on display at the museum boasts: "We make more money than we can spend"), many more were inspired to head south as well. By the early twentieth century, Woonsocket was home to one of the nation's largest French Canadian immigration settlements per capita. The new northern Rhode Islanders ate French dishes every night, sent their children to bilingual parochial schools by day, listened to French sermons on Sundays and celebrated French traditions during the holidays. So why, then, does the Woonsocket of today paint a different, more "American" picture?
Housed in the former Barnai Worsted mill building, the Museum of Work and Culture revolves heavily around this idea of La Survivance. Nine exhibits take visitors through everything from a hardworking family's humble beginnings at a farmhouse in Quebec to French Canadians' new life working in the Woonsocket mills to the lasting effects this community has had on present-day Rhode Island. The museum is interactive and entertaining, featuring informative films, explorative touch screens, kid-friendly games and anecdotes from real people who once worked in the various mills. However, it also does well to show that their new reality was far from easy. Some might even call it brutal.
"The mill environment was extremely dangerous and there were many accidents throughout the years; pieces would get loose and go flying or clothing would get caught in the churning equipment. Some workers lost their fingers, limbs or even lives," Conway explains, gesturing around to an exhibit that mimics the interior of a nineteenth century mill. A speaker overhead sets the scene, playing the grating sounds of whirring machinery and the hoarse voice of a foreman barking orders. A life-sized male mannequin appears to operate a spinning mule while his "wife" sits at a loom in the corner and their "son" oversees another machine towards the back of the room. "Everyone in the family worked: man, woman and child. Children's labor laws didn't really go into effect until the 1930s, so kids as young as ten would be expected to help out after school or on weekends."
And, even though the French Canadian population had formed a tight knit community, they weren't the only ones inhabiting Woonsocket. An exhibit fashioned after a 1920s classroom is dedicated to the story of "the Sentinnelle Affair," which divided Catholics in the area. On one side was Bishop Hickey of Providence who wanted to use Sunday mass donations to convert Mount St. Charles (the very same one that stands today) into an English-speaking school where all Catholic children were welcome. On the other hand, there were the "Sentinellists" — French Canadians who wanted to maintain a French curriculum as well as a French student body.
"Parishioners who did not follow the bishop's wishes were excommunicated — the worst thing that could happen to a good Catholic," says Conway. "But all was eventually resolved: Mount St. Charles did turn over and the excommunicated parties were pardoned, but they had to apologize publicly first."
From there it became increasingly more difficult for the French Canadian populace to retain their culture. There were other workers in the mill including immigrants from Italy, Ireland and Poland as well as American-born individuals. Multiple languages spoken in a precarious environment made the work all the more complicated.
"So by the 1930s, a lot of workers' focus began to shift. It became: 'How much are we going to fight for our culture, our language and our faith versus fighting for better working conditions and wages?' It started to matter a little bit less about where you came from, and more about how you were going to ensure a better future," Conway says. "People learned English so they could better communicate with each other and form unions, and also so they could apply for U.S. citizenship and gain the right to vote. It was a gradual but steady Americanization."
Still, the French Canadian-turned-Woonsocket resident's plight has made a lasting impression both nationally and locally. One wall in the Museum of Work and Culture is dedicated to Napoleon "Nap" La Joie, a baseball Hall of Famer who got his start playing for a team he and his fellow workers formed to compete in games against other mills in the area.
Another wall provides insight into Woonsocket's role in the production of wartime materials. (Fun fact: The former Alice Mill on Fairmount Street helped produce the inflatable tanks used by the "ghost army" during World War II. If you don't know the story, I promise you it's worth a Google.) Although they ceased production back in the '60s, many of the former mills have been repurposed into beloved restaurants, storefronts and living spaces. Meanwhile, French Canadian dishes including the tortierre (who knew a meat pie could sound so sexy?) are alive and scrumptious at Woonsocket-based Al's Place while poutine (think cheesy fries but better — much better) reigns supreme throughout the state.
And of course, there are the forces behind the Museum of Work and Culture. Since 1997, the Rhode Island Historical Society-run institution has strived to keep local French Canadian and French pride strong through innovative exhibits, planning a month (La Francophonie in March) filled with cultural events and activities every year, working with organizations like the Canadian consulate in Boston and the Blackstone Heritage Corridor, and by regularly hosting school trips.
"All of the fifth graders in Woonsocket take field trips here, and students will often come to us not knowing why they have a French last name, so it's very important for us to keep telling these stories," says Conway. "And we get new stories all the time from other visitors. There's an on going invitation for people to come and add their experiences to our Mill Memory Bank exhibit; more than 200 people have registered already. Though every story is unique, there are a lot of similarities: They came here in order to make a better life for themselves and their children. But the stories I love hearing most are their holiday celebration traditions. Like stories of Le Reveillon, which usually involves going to midnight mass and then coming home to dance in the living room until four in the morning. Those types of stories are fun, and it's surprising to hear how many people have kept these traditions and passed them through the generations."
Vive la survivance, Woonsocket.