Wine Daytrips: Western Rhode Island
Head to the country for some under-the-radar pours.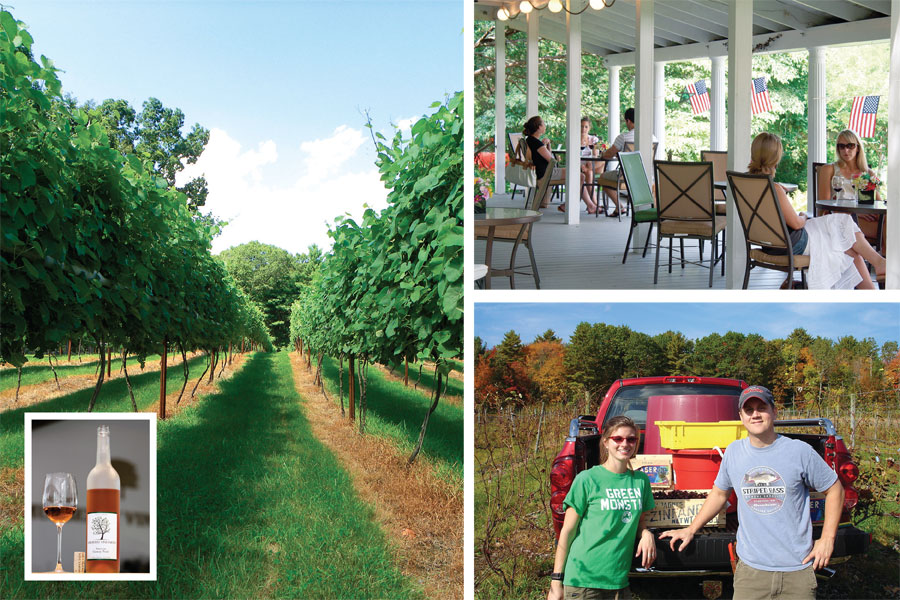 The minute I pull into the secluded lot of Verde Vineyards on Moswansicut Lake in Johnston, I know I've arrived somewhere special. I park my car and dodge a family of roaming guinea fowl to see owner and winemaker Giacomo "Jim" Verde puttering around the grounds. Verde, a retired CCRI biology professor who lives on the property and turned his grape-growing hobby into a commercial venture in 2012, is the kind of guy whose passion is simply contagious. It's a treat to follow him into the two acres of grapevines while he clears the occasional bird-ravaged cluster from the vines and plucks grapes here and there for a taste test, all while regaling me with stories and tidbits of winery trivia. Verde talks up his award-winning St. Croix, a French-American red hybrid oak-aged for two years, and the popular and bright Cayuga White, as we make our way through the vines. (Tip: You can find both on the menu at Gracie's in Providence.) By the time we step inside the tasting room, I'm thoroughly enamored. Verde himself continues to be captivated as well: "Aren't they gorgeous?" he asks, gesturing toward the vines. "I do love growing them — especially since my mower has a cup-holder." verdevineyardsri.com
Charmed and impressed, I drive twenty minutes down the road to Nickle Creek Vineyard in Foster, several planted acres run by husband-and-wife team Sheri and Steven O'Connor. Both their sons help with vineyard tasks to cultivate the three varietals (Cayuga, riesling and noiret). They yield about 1,800 cases per year, and they also produce seasonal fruit wines available in summer months — think: Summer Blueberry and Wicked Peach. On my way out, I make a mental note to return around Thanksgiving to pick up a bottle of Autumn Cranberry wine before it sells out. nicklecreekvineyard.com
If your tastes skew toward sweet and fruity, consider a separate trip to indulge in the luscious fruit wines of Diamond Hill Vineyards, a second-generation thirty-four-acre haven with more than four acres of pinot noir grapes. The vineyard is anchored by a divine 200-year-old home with two tasting rooms, where the Bernstons will treat you just like family while you sample. diamondhillvineyards.com
Mulberry Vineyards in Chepachet is a must to round off your day, but you'll need to keep a brisk (and responsible) pace at each winery to hit three in an afternoon — most are open between 11 a.m. and 5 p.m. A winding, wooded drive through countryside farms and bucolic stone walls will land you at a lovely little wooded hollow that shelters the historic 1730 Andrew Brown homestead and an accompanying barn-turned-tasting room. Husband-and-wife duo David and Melissa Wright purchased the forty-acre forested property in 2011 and, buoyed by David's background in entomology, microbiology and chemistry, opened the winery in late 2013.
Although the Wrights' excellent wine is, at the moment, made from a combination of their own grapes grown locally in Coventry and imported grapes, they're already clearing woods on their property to move their vines on-site. Meanwhile, Mulberry already has its share of devotees; even during off hours, a couple is bellied up to the bar chatting and tasting, having just stopped in to pick up a couple of bottles on their way to a cookout. I do the same and choose the full-bodied, citrusy semillon for that night's grill feast. mulberryvineyards.com

---
Make It a Weekend
Stay: For a serene lakeside mini-getaway in western Rhode Island's gorgeous woodland countryside — especially vibrant under a canopy of fall foliage — visit vrbo.com and search Chepachet or Glocester for a cozy rental cottage. You just might find a bottle from Mulberry Vineyards as a welcome gift when you arrive. Even better: Bring your own.
Eat: Indulge in the hearty menu of seafood and land lovers' classics, all served with a side of local history, at the Colonial-era Tavern on Main in Chepachet. Don't forget to check the house specials for creative takes on old favorites, like pumpkin-seed encrusted chicken and lobster-stuffed scallops. tavernonmainri.com
Don't Miss: Rhody's newest winery, the Purple Cat Vineyard and Winery, opened in Chepachet in December 2014. Wines are made with both locally grown grapes and some imported from California. The cavernous venue, once meant to be the anchor of a Sturbridge Village-esque working historical development, also houses the Philanthropy Tea and Coffee Co. cafe and the Theatre Company of Rhode Island, which performs in a black-box theater on-site. purplecatwinery.com