Wine Daytrips: Newport and Little Compton
You can vineyard hop without driving far.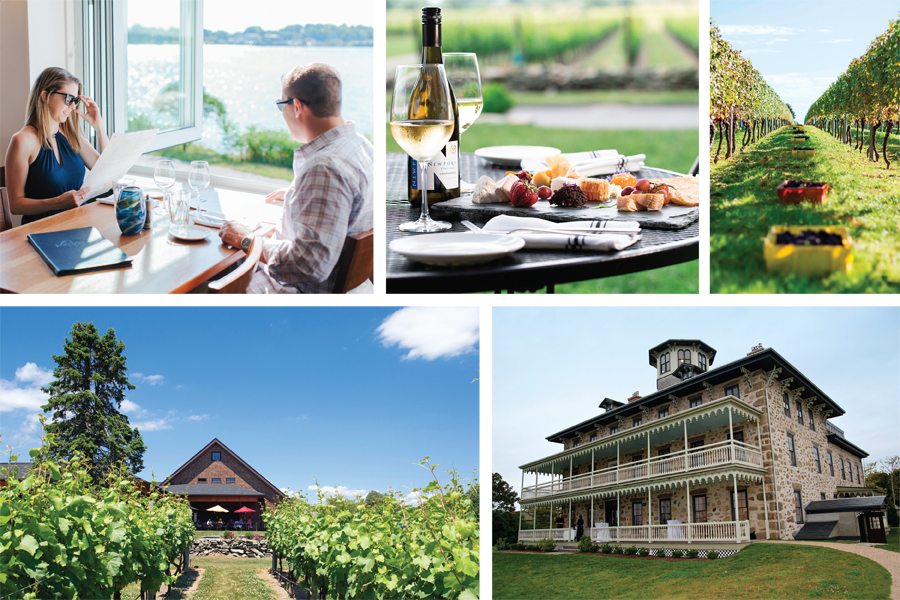 Autumn may be too cool for the beach, but the ocean breeze still beckons, especially when the sun is streaming down. What to do, then, when your family is visiting from out of town and you've exhausted Newport's waterfront wonders? We don't have to venture far from the harbor — fifteen minutes, to be exact — to reach a different kind of coastal delight at Newport Vineyards, New England's largest wine grape grower set on seventy-five acres of preserved farmland in the center of Aquidneck Island.
Fresh off its twentieth anniversary — brothers John and Paul Nunes purchased the vineyard on their family's historic farmland in 1995 — and a two-year multimillion-dollar renovation that added 17,000 square feet to its facilities, Newport Vineyards is more than an in-and-out tasting experience. The chic indoor-outdoor ambience of its tasting venue and bucolic charm of the vineyard itself is enough to rival any major wine-country destination out west. As we stroll in to get our winery tour tickets — $15 gets you a tour, tasting and souvenir glass — we admire the rustic-chic exposed beams and airy, open design of the new entry hall, which is flanked by a marketplace of tasteful sundries and the newly opened Vineyard Cafe, serving "farm-to-vineyard" fare like shaved asparagus salad and an Aquidneck Farms herb-roasted beef sandwich.
Our guide, winemaker George Chelf, leads us out to a sundrenched patio, where patrons sip dry rosés beneath table umbrellas while they look out onto endless rows of neatly trimmed vines. I resist the urge to try my hand at the life-size game of Jenga that sits among other wooden lawn games near the vines. Chelf explains that the rows run north to south to maximize their sun exposure and describes the intricacies of the upcoming harvest and grape-crushing in October. A peek at the vineyard's crown jewel of the renovation, Brix Restaurant, reveals a cozy second-story setting surrounded by giant windows that overlook the winery's barreling and fermenting operations. Brix is only open for dinner, and though I'm partial to the refreshing apricot-melon flavors of the Great White at this early-afternoon tasting, I already can't wait to come back on a chilly night and cozy up by the Brix fireplace with a hearty glass of cabernet sauvignon. newportvineyards.com
A thirty-minute drive over the Sakonnet River Bridge and through Tiverton is Carolyn's Sakonnet Vineyard in Little Compton. The vineyard itself was established in 1975 and purchased in 2012 by Carolyn Rafaelian, founder of Rhode Island-based jewelry company Alex and Ani. Rafaelian ushered the winery's transformation into more of an entertainment venue, where its seasonal concerts and Sunday jazz series are as big of a draw as the varietals. The 163-acre vineyard boasts thirty-three producing acres and draws crowds to its breathtaking scenery. Even the approach to the vineyard, which is lined with enchanted forest-like groves and thickets, is captivating.
For $14, you'll get a winery tour, plus seven pours, and a glass to keep (don't be surprised if you also leave with a bottle of the award-winning Blessed Blend White, a harmonious combination of chardonnay and vidal blanc that's a perfect pairing for your next seafood dish).
Pop into the Local Mercantile Vineyard Cafe for sit-down dining on flatbread pizzas, sandwiches and cheese boards, or head to the Vineyard Barn for some grab-and-go picnic options, including sandwiches and desserts. Wander about the property — a true treat in the summer when a local jazz quartet is playing on the outdoor stage, but just as enjoyable in the fall when you can hear the breeze off the Sakonnet River ripple through the vines. As the sun dips down, I sink into one of the many Adirondack chairs dotting the vineyard and take in the peacefulness of the waning daylight. sakonnetwine.com
---
Make It a Weekend
Stay: If you're willing to splurge, Little Compton's historic Stone House (circa 1854) reopened after $12 million in renovations, just ten minutes south of Carolyn's Sakonnet Vineyard on the tip of Sakonnet Point. Book a luxury stay in the main house or the renovated barn and enjoy the private beach and lovely water views over Round Pond. Head to the on-property Tap Room — once a Prohibition-era speakeasy — for a nightcap, a snack of stuffies and chowder or dinner. newportexperience.com
Eat: Time your trip between Newport and Little Compton with a lunchtime pit stop at Tiverton's Boat House restaurant halfway between the two vineyards. Nothing beats a cornmeal-crusted haddock sandwich or classic lobster roll overlooking the river. boathousetiverton.com
Don't Miss: Hit Newport Vineyards early on a Saturday to peruse the Aquidneck Growers' Market (9 a.m. to 1 p.m. on winery grounds) and pick up local farm-fresh produce, dairy and seafood to go with your winery purchases. Voila: dinner party one-stop shop. aquidneckgrowersmarket.org
---
Q & A: George Chelf, Winemaker, Newport Vineyards
Almost three decades of devotion to Newport Vineyards' vines and barrels have earned this winemaker universal respect and a keen understanding of New England's grape-growing tradition.
How do the ocean and salt air help or hinder the grapes? During winter, we don't have very many days that are negative degrees. And we have constant wind coming off the ocean. In fact, the water is sort of a climate control. While the mainland is getting five, six, seven inches of snow, we might only get one inch. If the mainland is at zero degrees, we might be at 15 degrees. It helps protect the vines during the winter, and in the summer, it's the reverse. In Providence, it might be 95 degrees, but we have a cool breeze from the ocean, making it 85 degrees. If we have a rainstorm or fog, the breeze will dry out the vines and help protect against fungus and botrytis that might affect the grapes.
New England weather is fickle and harsh. How do you overcome those instances? Mostly we pray a lot. [Laughs.] My biggest fear is always the rain at the end of the season. You have to decide if you need to bring the grapes in maybe a little earlier than you wanted to — and there may be consequences to that. You pick too early, you may sacrifice flavor. You have to weigh the benefits against the losses. That and hurricanes: The salt air typically doesn't hurt us, but with eighty- to 100-mile-an-hour winds that possibly come with a hurricane, you get a lot more saltwater in the air and you could have a lot more damage to the leaves and vines.
What's your favorite Newport Vineyards wine? The gewurztraminer and riesling — our climate does really well with both. The gewurztraminer is on the dry side, and reflects the flavors of the grape more. It has a little more alcohol, body and mouth feel. The good thing with wine is, everybody likes something different. There's never a right or wrong answer.
Wines go through waves of popularity. What's trendy right now? Right now, the drier rieslings and gewurztraminer — when people aren't afraid to say the word! A
lot of people think someone's going to laugh at them, so they don't ask for gewurztraminer because they're afraid they'll say it wrong. But you've got to have fun. It's not all serious.
You've said that winemakers grow into their style. How so? Influences from the vineyard — the temperature and longevity of the growing season, how much water you have, the soil composition — will affect how the grapes grow and how the flavors will come out. How hard or softly you press them, how many gallons per ton you get, how long and at what temperature you ferment: All of those things become your "style." You definitely change over the years to adjust to climate. You're not just following a recipe where you're doing the same thing every year and coming out with the same result. You're going to have to make some decisions on the fly. Every vintage will be a little different. It's the scariest thing to do, but also the most enjoyable — as long as you make the right decisions.
People say winemakers have the best job in the world. You have to make it fun and enjoy doing it, but there is a lot of stress and craziness. The benefit is, people who come to the winery can see that you did a good job. They're enjoying the product, and you're doing something that makes people happy, which is a good feeling. I take it for granted sometimes. I look out the window, especially when leaves and grapes are starting to come out, and it's beautiful.