Wine Daytrips: Connecticut
Experience the historic charm of the Connecticut Wine Trail.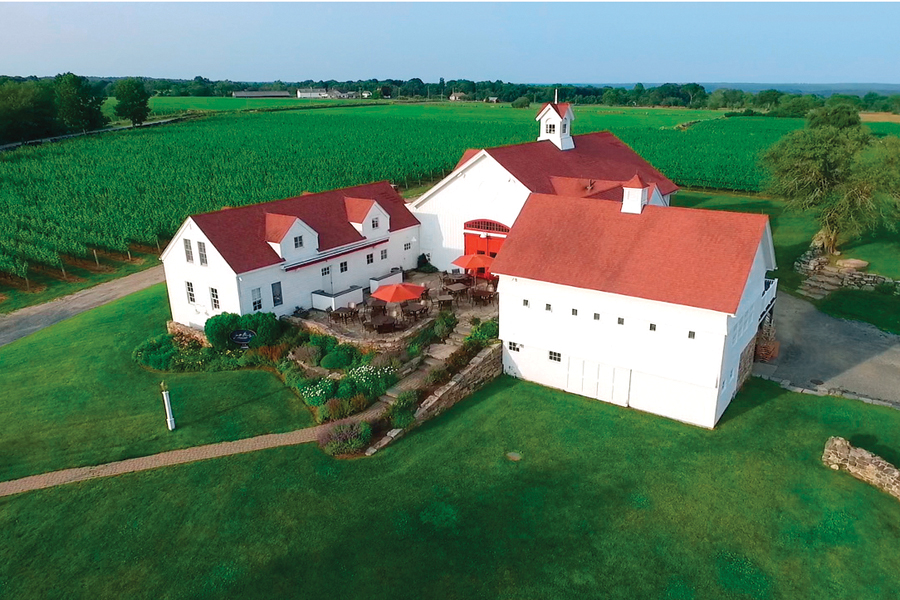 From the second-story outdoor deck of Saltwater Farm Vineyard in Stonington, my friends — houseguests from the Midwest — look out over the vines warming in the sun and breathe in the ocean air. I'm not sure what they expected when I told them we were going wine tasting in Connecticut, but I'm pretty sure they're impressed. We'd
arrived as the winery crew was preparing the stunning venue for a wedding — they book 'em year-round — though there's little required to improve upon the rustic charm of what was formerly a World War II-era airport hangar set on coastal farmland that dates back to the 1600s.

Wine barrels at Saltwater Farm Vineyards

As we tip back a bright stainless-steel aged Estate Chardonnay and move on to a dry cabernet franc, vineyard owner Michael Connery — a self-described "recovering lawyer" who retired from a Manhattan law firm — tells us how he and his wife, Merrily, embarked on the winery business. The couple purchased the 108-acre property in 2001 not knowing what to do with the land; they simply loved the property. Two years (and many a consultation) later, they planted the first vines with virtually no viticulture
experience, then decided to renovate the hangar and preserve the landing strip to uphold the property's historic integrity, in keeping with Stonington's heritage. The
bi-level tasting space features a vaulted ceiling with exposed timber trusses, original wooden beams, giant picture windows looking out to the vineyard and a cozy fireplace lounge. Eighty percent of the winery's annual yield (20,000 bottles) is from estate-grown grapes, while the rest come from growers on Long Island's North Fork just across the sound, Michael tells us; that's also where their winemaker, French-born Gilles Martin, hails from — and his nuanced grasp of the French terroir (qualities of the land) concept shows in the character of his wines. saltwaterfarmvineyard.com
Although we hate to leave the idyllic setting, we swing through the historic hamlet of Stonington Borough a few minutes down the road for a harborside lunch before heading north to Stonington Vineyards. One of the oldest in Connecticut, the vineyard underwent a massive renovation in 2014, and the tasting room (tastings are $12 and include a keepsake glass) is cheerful, chic and cozy. We take a few minutes to relax on the stone patio out front and enjoy our view of the vines. Inside, as we work our way from the barrel-free Sheer Chardonnay to the Pink Noir (a delicious blend of pinot noir and riesling) to the summery Triad Rosé, we learn about Stonington's September Harvest Festival — think: live music, food trucks and artisan crafts to accompany your wine tasting. Stonington's grapes are entirely handpicked over Columbus Day week in October with the help of volunteers. Reds are tough to produce in this region, our tasting room server tells us, but they do one — a cabernet franc — and they do it well. stoningtonvineyards.com
To cap off our day, we scoot ten minutes north to the Jonathan Edwards Winery, a restored farmhouse set on almost fifty pastoral acres the Edwards family purchased in 2000. We're immediately mesmerized by the postcard-worthy New England charm of the red-roofed, white-clapboarded structure accented by winding stone walls. A back deck with covered seating built for all seasons is filled with picnicking revelers soaking up the last of the late-afternoon sun. We wish we had time after our tasting ($10 for four pours or $15 for seven pours) to settle into the sun-dappled wooden patio with a spread of hors d'oeuvres and the lightly oaked Estate Chardonnay. Up to twenty acres of grapes are hand-picked here every harvest to make the Estate wines, but Jonathan Edwards and his family actually started out — and continue to produce wine — in California, including the Russian River Valley, Lodi and Napa Valley. California varieties include pinot grigio, chardonnay, sauvignon blanc, zinfandel, merlot, cabernet sauvignon, petite sirah and a port — some red varietals that generally don't do well in New England's climate. Both the California wines and the estate wines are lovely, and we're pleased that we've ended our day with such an iconic vintner. jedwardswinery.com
---
Make It a Weekend
Stay: Go all out and book a romantic night or two at the elegant eighteen-room Inn at Stonington on the waterfront, where you'll be in walking distance of shops, galleries and eateries. Fun fact: The inn and Borough served as the backdrop of Meryl Streep and Tommy Lee Jones's movie, Hope Springs. innatstonington.com
Eat: The Dog Watch Cafe on Stonington Harbor is run by two sailors, and their seafaring ways permeate everything from the menu to the decor. Grab a seat on the dock just for drinks, order food in the dining room or on the outdoor porch, and do not leave without ordering the sinful lobster mac and cheese. dogwatchcafe.com
Don't Miss: If you like Saltwater Farm, check out the Connerys' second conversion project, M/Bar, which opened in late-June in nearby downtown Mystic. The cafe did stints as Exxon, Mobil and Citgo gas stations before Merrily transformed it into its current industrial-chic status, serving breakfast, Intelligentsia coffee, lunch, wine, spirits and inspired small plates. mbarct.com
---
Q & A: Merrily Connery, Co-owner, Saltwater Farm Vineyard
Manhattanite Merrily Connery and her husband, Michael, fell in love with some farmland on the Connecticut coast and transformed it into one of the most
unusual and breathtaking vineyards in southern New England.
You planted your first vines at Saltwater Farm in 2003, but had no winemaking experience at that point? It's fair to say we've always liked to drink it, but we certainly could not have started this without very knowledgeable people guiding us. The vines initially came from Napa. We've done from the start only vinifera, no hybrids.
There must have been quite the learning curve. I have to give so much credit to the people who advised us, particularly early on. Gilles Martin was a wonderful find for us; he's been just fabulous — a very talented winemaker. He's actually from the Champagne region of France, worked around the world and ended up on the North Fork. With farming, you're at the mercy of the weather, too, so that's always a challenge.
Do you feel like you were meant to be doing this, or is it more like a happy accident? It just evolved. You read about people who aspire to start vineyards around the world, but we did not set out to do any of this. Once we got started, we took advantage of what we saw. We realized we had a very special place; Stonington is a unique community. And we're a mile up the street from the Borough, the historic village.
What's the most challenging aspect of running a vineyard? Just knowing that we're at the mercy of the weather. We had a fabulous growing season last year. We've encountered some unpleasant seasons with a couple of hurricanes. Fairly early on, we lost an enormous number of our merlot vines after a three-day cold snap. It took us quite a while to recover from that.
If you could do it all over again, what would you do differently? I'm not sure we'd change anything because it's been a fun process. Since we didn't quite set out to do any of this, it's just been a pleasure watching it all come together.
Do you have a favorite glass of Saltwater Farm wine? Oh my goodness. You can't ask me that question because I like them all, depending upon my mood. I'm quite fond of our pinot noir, I love our Gold Arc, which is our lightly oaked chardonnay. Our cab franc and merlot blend is excellent. Gilles has certainly outdone himself.
Why restore the airport hangar rather than design a new tasting room? We both are very respectful of its history and protecting the area and using it for farming in some capacity. We respect the land. As we renovated, it's remarkable that we designed some of the things the way we did. We didn't set out to be an event space, but it works very well.