Wine Daytrips: Cape Cod
Make a weekend of tastings on the Cape.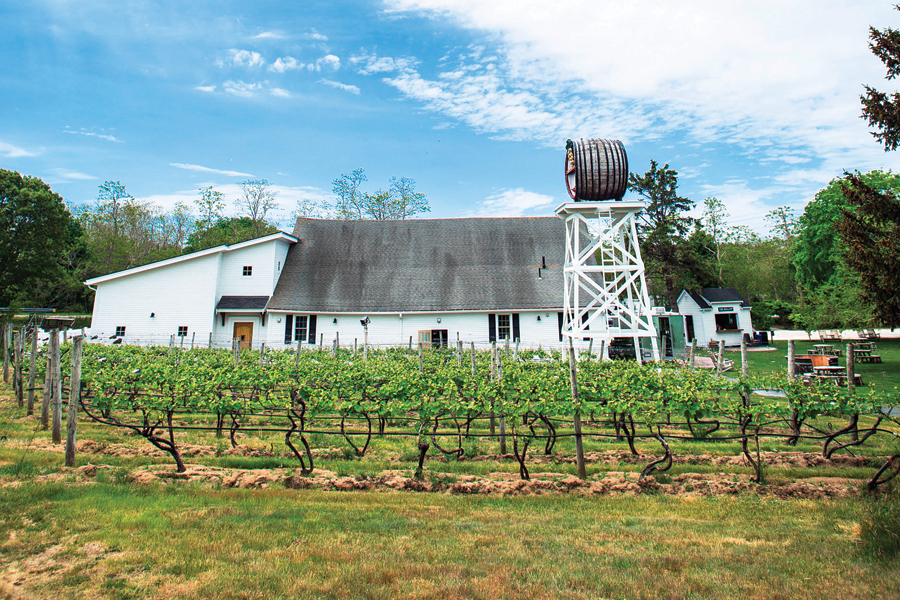 It's a drizzling late-November day as my husband and I arrive at Truro Vineyards in North Truro — a haul from Providence, but worth it for a spontaneous weekend getaway at this little patch of wine country at the end of the world. We have no trouble spotting the place beneath a 2,000-gallon wine barrel perched like a beacon atop a white tower. And, like most visitors, we admire the striking Chinese mulberry tree — a gift brought back and planted in 1850 by a ship captain returning from the Far East — that anchors the picturesque yard. The chill in the fall air makes it all the more appealing to belly up to the tasting bar ($10 for five wines and a souvenir glass) inside the restored 1830s farmhouse.

Wine barrel room and grape vines at Truro Vineyards. Enjoy dining with a view at Fanizzi's Restaurant by the Sea, which specializes in seafood and international cuisine.

The Roberts family purchased the land — six acres of planted vines — in 2007 after Dave Roberts, the former CEO of beverage distributor United Liquors, retired. Having vacationed extensively in the area, the Roberts family knew the region, and a run-in with the winery's then-owner changed Dave's life. "I took a bike ride one day," Dave says, "and came back with a vineyard." After learning the owner was selling the former dairy farm-turned-vineyard, Dave took the matter to his family. His son, Dave Jr., was a microbrewer in Atlanta at the time; he now shares Truro's wine-making with Matyas Vogel, who learned the trade in the Hungarian village where he was raised. Daughter Kristen manages the tasting room amongst other duties. In fact, Dave says, there's not a day that goes by that doesn't see family members involved with all aspects of the vineyard.
Truro, though, is more than just a winery. A converted carriage house on the property is home to the family's South Hollow Spirits distillery — the first on the Cape since Prohibition. Dave recounts Truro's Twenty Boat Rum namesake legend about a bunch of crafty rumrunners who eluded no fewer than twenty harbor police and coast guard boats in Provincetown Harbor in 1930. Don't leave without a bottle of the small-batch spiced rum, made with more than ten spices, or amber rum, aged in Truro's chardonnay-soaked barrels. Or, try the newest release: Dry Line Cape Cod Gin, made with local ingredients such as juniper berries grown on Truro's land and angelica root from a local farmer. Time your visit right and you can also grab a bite from the seasonal on-site Crush Pad food truck, courtesy of Truro's own Blackfish restaurant. But it's good to know other dinner options in Provincetown are close by. trurovineyardsofcapecod.com
---
Make It a Weekend
Stay: Book a room at Provincetown's Anchor Inn Beach House right on Commercial Street for lovely views of the harbor and the convenience of walkability to everything. anchorinnbeachhouse.com
Eat: Ask for a table by the window at Fanizzi's Restaurant by the Sea on the east side of town and take your pick from seafood and international cuisine. If the tide is high, you might feel like you're floating in the ocean. fanizzisrestaurant.com
Don't Miss: The beach. Take your pick of the Cape Cod National Seashore, even in the fall, when a mellow hike through beech forest and sandy dunes to Race Point and its historic lighthouse is a scenic way to spend an afternoon. Check with the National Park Service for trail information and maps. nps.gov/caco