Will Work for Grass-Fed Beef and Organic Produce
Local farms offer work-share programs in exchange for fresh veggies, meat and eggs.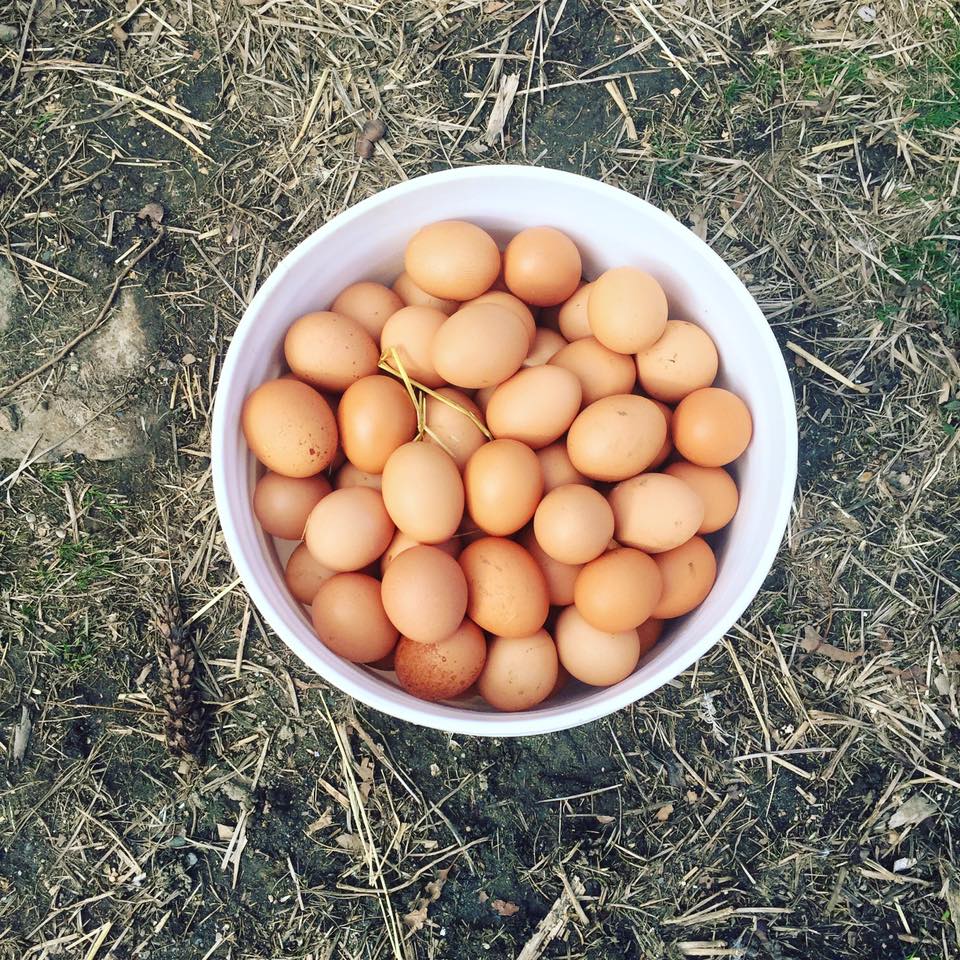 Four hours a week, a mom with a baby on her back washes fresh-laid eggs by hand.
It sounds like a pastoral scene straight from the eighteenth century. But this sweet duo participates in a twenty-first-century work-share program at Pat's Pastured, a farm in East Greenwich that specializes in pasture-raised and grass-fed meats.
In exchange for her time, the stay-at-home mom earns a share in the farm's community-supported agriculture (CSA) program. Every month, she collects a cache of meat — between ten and fourteen pounds of cow, pig, chicken and turkey products — plus a weekly supply of fresh eggs. A summer share in the CSA is worth $650.
Patrick McNiff, owner of Pat's Pastured, says he's always employed work-share volunteers through the seasons. He says the program fits within his farm's mission to educate the public about the origins of their food and keep it accessible, too.
"A lot of people can't afford a CSA share," McNiff says. "Not only is it education, but it's also an opportunity to trade labor for food. Good quality local food can be expensive. Some people have time to trade."
Others who can afford the CSA share, McNiff says, "might just want to feel like they're contributing to something and want healthy food for their families."
The farm is currently accepting applications for its spring CSA work-share program, which runs from May to October. Eight participants work with animals in the fields, package chickens, help out at farmers markets and wash eggs. The duties are geared towards the participants' capabilities. "Feeding pigs is harder with a child on your back, but egg washing, not so much," says McNiff.
While some of his work-sharers are "veterans who know the drill," McNiff says others have little agricultural experience. "Sometimes it's better to have no experience at all, because they might not have bad habits."
John Holscher, who owns the Good Earth Organic Farm in Hope and operates a CSA work-share program, agrees. "It's much more important to have people who are excited and interested in doing the work," he says.
Holscher runs the certified organic farm and gardening center with his wife, Joyce. His farm-share volunteers, who participate in summer or winter sessions, work six hours per week in tandem with the farm's biannual CSA programs. In summer, that means weekly work for up to ten work-sharers from July to mid-October. Weekly CSAs at the Good Earth Farm, valued at $480, include organic seasonal produce and fresh cut flowers or herbs.
"We feel the CSA concept is a great way for people, whether they're paying or working for their shares, to gain a deeper appreciation of where their food comes from," he says. "We hear it a lot these days but it's certainly true. To actually have a hand in growing and harvesting it — there's lot of satisfaction in participating in the process."
Unlike other farms that collect and refrigerate produce throughout the week, Holscher says his work-sharers come in early on CSA pickup days to harvest greens, cruciferous veggies, beans, squash, summer-loving nightshades, sweet potatoes and more fresh produce. Then, the workers take a lunch break. After that, they wrap up chores around the farm, from planting to weeding.
"We appreciate any help we can get because, based on the size of our farm and the number of people in the CSA, we benefit from the helping hands," Holscher says. "It's a good way for us to connect with the community at large. That's something that we like to do and we get a lot back from them, as well. They tell us about what they do with the food, the recipes they make. It's really a great community thing."
To learn more about CSA work-share programs at Pat's Pastured and the Good Earth Farm, visit patspastured.com or goodearthri.com.