Will Work for Food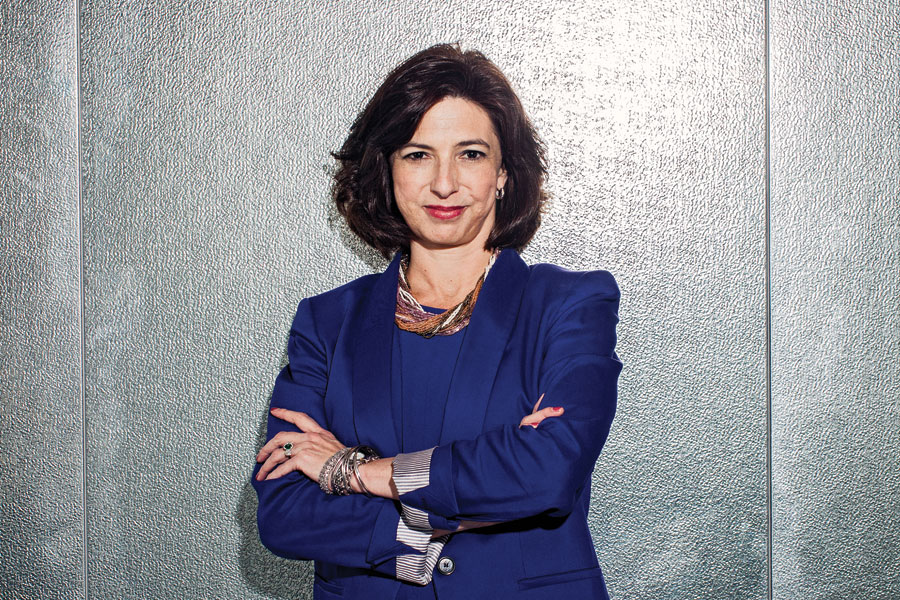 Standing in a vacant elementary school in Warren, a building that once buzzed with students and teachers, Lisa Raiola had a light bulb moment. She had been looking for a location to suit her business concept of producing and delivering food to medical shut-ins, something inspired by her own personal bout with illness, and the town planner had brought her here. The 17,500-square-foot brick building was more than five times the size of what she needed, but that was just it: "Maybe I could use this space for people like me."
That was 2009. Raiola has since invested $250,000 of her own and secured a forty-year $3 million loan from the USDA to support her redeveloped business idea. In a few short weeks that former elementary school will officially reopen as Hope and Main — an incubator for aspiring culinary entrepreneurs. "A modest investment will launch economic activity," she says.
Starting a food business comes with strict regulations and high overhead. Hope and Main will make it easier for culinary startups to get off the ground. The building has room for cooking demonstrations, an orchard run by New Urban Farms of Pawtucket, storage space, a loading dock and three kitchens for processing, baking and gluten free production. The incubator can accommodate fifty companies at a time, and applications are accepted on a rolling basis. Although its name is derived from the streets surrounding it, Hope symbolizes much needed optimism for a state whose starved economy might already have most of the ingredients it needs to thrive.
It's an optimism shared by Davide Dukcevich, co-owner of the family-run Daniele Foods in Pascoag. His refugee grandparents started producing charcuterie in 1945 after escaping Croatia for Italy, and Dukcevich's father, Vlado, brought the company to Rhode Island in 1977. Now led by Davide and his brother, Stefano Dukcevich, Daniele plans to open a new building in September that will hold a million curing hams, four times the capacity of its current plant. The expansion came with a $60 million price tag that Dukcevich says could have been avoided had Daniele relocated to one of the several states trying to lure it with incentives, states including Virginia, Texas and Massachusetts. Dukcevich says Daniele's decision to stay in Rhode Island was made because of the family's affinity for the state and a desire to see its food industry prosper. "We've made this big decision. We've made this huge commitment," he says. "Let's take advantage of the wonderful things that are here." Dukcevich believes Rhode Island has the potential to become a "Silicon Valley of food," and that Hope and Main is a step in the right direction.
Rhode Island has several assets that can help it become a successful food hub, says Betaspring co-founder Allan Tear. Those include reputable industry players, great geography between Boston and New York and an accepting attitude toward food that has been increasing over the last few years. In addition to Daniele, Rhode Island has other flourishing food businesses like Narragansett Creamery, Edesia and United Natural Foods. The state is also home to culinary figures such as John Warburg, a marketer who helped build Altoids into a $100 million brand and now has a private investment firm in Westerly, and Jonathan Gordon, a food scientist who helped develop Silk soymilk and has a consulting firm in Wakefield. "They need to not only be willing to invest financially, but they need to be willing to invest time and expertise," Tear says of the industry stalwarts here.
Tear thinks the next step is for more food entrepreneurship to happen, to go from dozens of food startups a year to hundreds, something that can be accelerated by Johnson and Wales University, and the emergence of food business incubators such as Hope and Main. Another incubator called the Armory Kitchen is in the works for the West End, and in April the Rhode Island Foundation awarded a $300,000 Innovation Fellow grant to EatDrinkRI president David Dadekian, who plans to create a centralized food hub complete with a farmers market, commercial kitchen, bakery, beverage production, fish market and more.
As is the case at every incubator, Raiola says the majority of companies at Hope and Main will most likely fail, but the amenities it provides will minimize the risk for budding entrepreneurs. While Tear says ecosystem development is pretty much the same regardless of industry, the founders and job ladder of food businesses differ from tech because advanced degrees are required for the latter. "It's a job ladder that has a better chance of addressing the real challenges we have in workforce development here in Rhode Island," says Tear, pointing out that large scale food production is essentially manufacturing, something that Rhode Island has traditionally done well.
Raiola says there have been a variety of personalities among the Hope and Main applicants and that several are pursuing food businesses as second careers. One of Hope and Main's first applicants was Zared Goldfarb of Fox Point Pickling Co. Goldfarb, a former public relations professional, started pickling after he bought his wife a pickle-making kit as a gift; he ended up using it more than she did. Goldfarb toyed with the idea of turning his hobby into a business last year and even made pickle favors for his wedding in September. Then, in February, he learned he was being laid off. His wife suggested it was the perfect time to give full-time pickling a try. "She said, 'You know, you're laid off again. This is the universe telling you not to do PR anymore; do something you love.' It was our idea, but it was really her kicking me in the ass to really go for it."
Two weeks after losing his job, Goldfarb interviewed for one of the spots at Hope and Main. Goldfarb, who says he has complete confidence in his product but zero business experience, has taken full advantage of the workshops the incubator has already offered. He plans to launch with garlic dill pickles, spicy pickles and pickled carrots. Raiola says companies at Hope and Main should be scalable after two to three years and, depending on the type of company, this can mean different things. For Goldfarb, scaling will mean selling in farmers markets, establishing a physical storefront and brand recognition for Fox Point Pickling.
Then there's the Backyard Food Company. Started by Louby Sukkar and Matthew McClelland, it'll launch with tomato jam and cowboy candy, a jalapeno spread in a brine of vinegar, sugar and spices. McClelland started tending a vegetable garden while recuperating from an illness. "I was going to start a garden just to get myself back to health and introduce the kids to healthy eating, and I ended up with a thirty-by-forty-foot garden on the side of my house," he says. McClelland soon had an abundance of tomatoes, so he started making tomato jam using an old family recipe.
After sharing it with Sukkar, who owns a restaurant in Charlestown, the pair realized they had a marketable product. Sukkar is experienced in the food business and McClelland has a background in inventory management, but they still value in applying for a position at Hope and Main. In addition to its resources, Sukkar says Hope and Main's supporters become Backyard Food Company supporters. "Right now we have Hope and Main behind us. We have [Commerce RI] behind us. We have the state of Rhode Island, the town of Warren, we have so many interests behind us that want us to succeed that it doesn't make sense for us to go it alone."
Daniele Foods employees work a line at the charcuterie's Pascoag facility. Stefano Dukcevich, co-owner of Daniele Foods.

While Hope and Main makes it easier for budding entrepreneurs to start and grow food businesses, the incubator is just one component of making food Rhode Island's flagship industry. Dale Venturini, president of the Rhode Island Hospitality Association, has thought of the state's food as an attractive and growing industry for the last thirty years. Its movement towards becoming a food capital has been organic. "We're going to figure out how all the pieces fit in the puzzle," she says. "It'll be done by a lot of different people and it'll find its place. But right now I see it as a puzzle. There are a lot of players and some new ones, which is really exciting."
Food trends identified by the National Restaurant Association align with Rhode Island's strengths. Top trends for 2014 include locally sourced meat and seafood, locally grown produce, farm/estate branded items, culinary cocktails and locally produced beer, areas Rhode Island has been nurturing for the past few years. For instance, Farm Fresh Rhode Island co-director Jesse Rye says the non-profit's Market Mobile program, which streamlines the wholesale of produce from farmers to restaurants and other clients, is slated to move $2.3 million of produce this year, up from $1.9 million last year.
Johnson and Wales University has long been a figurehead in preparing individuals for careers in the culinary world, producing local talents such as Derek Wagner of Nicks on Broadway, Champe Speidel of Persimmon and Melissa Denmark of Gracie's. Peter Lehmuller, dean of culinary arts at Johnson and Wales, thinks Rhode Island can be the center of a sprawling food cluster that brings together the different segments of the industry including production, distribution, retailer-consumption and, of course, education. "People from all sides of the industry would be attracted to this center," he says. "I think that's a great idea, and I think Rhode Island is well suited because of its size. It actually lends itself to the concentration of an industry."
For a thriving food cluster to develop, Lehmuller, who previously worked at JWU's Charlotte campus, thinks there needs to be a private-public partnership, something he says worked well in Charlotte when the city partnered with JWU to open a campus there, which ultimately helped build the city's Gateway Village area. Dukcevich has echoed the same sentiment and thinks public officials are only starting to get onboard, specifically Congressman Jim Langevin, who invited Dukcevich to be his guest at this year's State of the Union address. Langevin visited several food businesses as part of his Rhode Island Food Week and says Rhode Island needs rebranding. "It's a marketing issue. We're going to have to get serious and hopefully see the state put resources behind that kind of idea," Langevin says.
The Providence Convention and Visitors Bureau has been working on just that, setting out to position Rhode Island as a center for food nine years ago. "The emergence of Providence as a culinary destination, was really a strategic decision we made almost a decade ago because when you're marketing a city or a destination you have to figure out what you do that sets you apart from everybody else," says Kristen Adamo, vice president of marketing and communications at PWCVB. "We have a few things, but one of them is definitely the quality of our culinary offerings." One of PWCVB's most visible local initiatives is Providence Restaurant Week, which started in 2006 and now spans two weeks and occurs twice a year. The promotion offers patrons three-course meals at some of the city's best restaurants at $30 for dinner and $15 for lunch.
On a national level, PWCVB President and CEO Martha Sheridan says the bureau targets food groups for conventions, bringing in direct spending impact and exposing conventioneers to what Rhode Island has to offer. "Rhode Island being a great nexus for food is not anything new, quite frankly," Sheridan says. To spur growth, her team often works with Commerce RI, formerly the Rhode Island Economic Development Corporation, to attract exhibiting companies that may want to move here. The PWCVB also created national buzz by campaigning for Travel and Leisure's America's Favorite Cities poll that resulted in Providence earning the top spot in 2012 over competitors like San Francisco and New Orleans. "We're really glad that it happened, and we're glad when Rhode Islanders embrace those rankings and are very proud of their state," Sheridan says. "But the fact is they don't just happen. It was a strategic decision on our part to say 'Okay, here's something we can do.' "
The PWCVB is now looking to expand its economic development efforts. One initiative the PWCVB is considering is to approach the Rhode Island Convention Center and propose that convention menus showcase primarily local ingredients and products. "We've been very adept at connecting the visitor with our restaurants and traditional culinary offerings," says Sheridan. "We want to figure out how we let the visitor know that right up the road in Burrillville and Pascoag is this awesome prosciutto manufacturer, or down the street in Olneyville is this phenomenal cheese monger [Narragansett Creamery]."
Back at Hope and Main, Raiola's business idea is on the verge of becoming a reality. Though she isn't currently moving forward with her original idea of providing food to homebound patients, she gets satisfaction from helping others achieve their business dreams. The inaugural startups have hopes of becoming one of those companies sought by culinary tourists, the kind PWCVB wants to promote. But even with the workshops and code compliant kitchens, there are no guarantees for success — for the startups or the state. Building Rhode Island's food economy will take time, but it grows with every jar of pickles and tomato jam sold.