Will Rhode Island Women Take Over the State House in 2019?
Record numbers of women are running for office across the nation.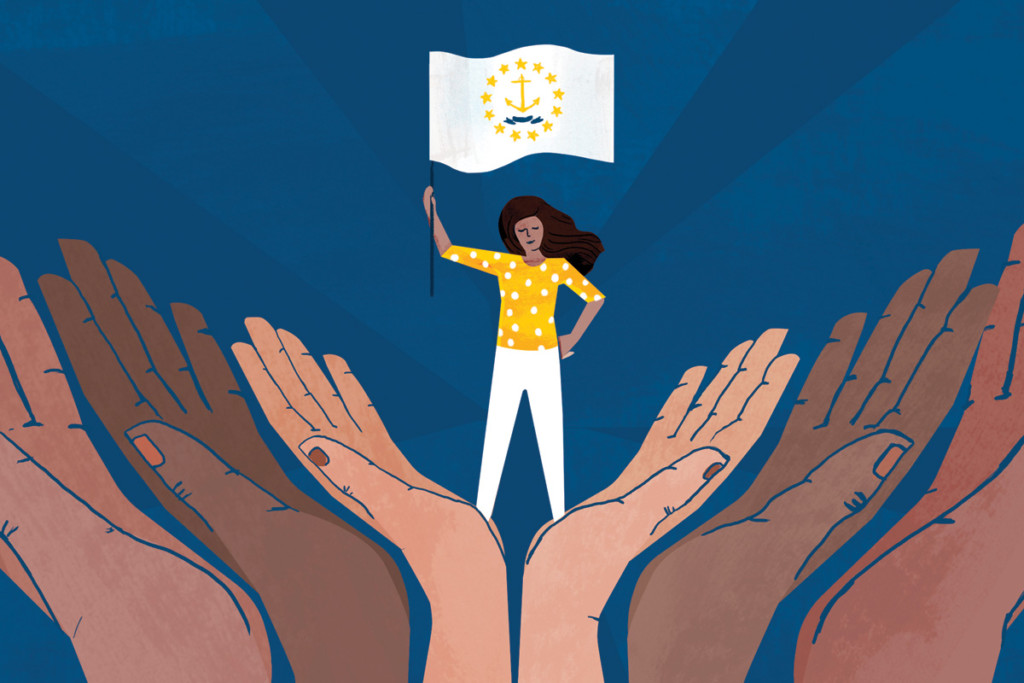 If any ground is fertile for the traditional GOP message of fiscal and social conservatism, it's the wealthy suburb of East Greenwich. Four out of its five town councilors, its state senator, Mark Gee, and its main state representative, Antonio Giarrusso, form a sunny Republican patch in the state's forest of Democrats. Into this clearing steps Bridget Valverde, with a clipboard and a calling card.
At thirty-five, Valverde already has a long history of Democratic activism — from canvassing for her mother's Glastonbury School Committee campaign to fundraising for the San Francisco Food Bank to testifying at 1 a.m. on a Wednesday morning for the Reproductive Health Care Act before the Rhode Island House Judiciary Committee. But in 2016, she concluded that she had not done enough. Donald Trump's ascendancy to the presidency, "and all the misogyny that went with it," combined with the newfound strength of women's political group, like the Rhode Island Democratic Party Women's Caucus, persuaded Valverde to challenge Gee in District 35, a skinny slice of the electorate stretching from East Greenwich to the tip of Narragansett.
"I always thought I would run for office, but I did not think it would be now," she says. "I have two small children, three and five years old, but I have the support, and just like anything else in life there will never be a perfect time to run for office. Now, it just seems urgent."  
It's the first warm Sunday in spring, and Wickford Highlands is out in force: rakes or balls in hand, dogs napping on porches. The $600,000, two-story houses in this North Kingstown enclave rise like oaks from well-tended lawns that, two years ago, had sprouted some Trump signs. But Democratic State Representative Julie Casimiro, who succeeded Republican Doreen Costa and volunteered to introduce Valverde to her neighbors, assures the first-timer, "These people can be won over."
They hit the first door.
"Hi," says a smiling Valverde to the woman on her threshold. "I'm Bridget Valverde and I'm running for state senate."  
According to the Center for American Women and Politics (CAWP) at Rutgers University, as of April, with deadlines passed in thirty states, a record 231 Democratic and 78 Republican women have formally declared their candidacy for the United States House in 2018. The previous high was 298 in 2012. In nineteen of the thirty-six states with governor's races and passed filing deadlines, forty women — twenty-four Democrats and sixteen Republicans — have formally declared their candidacy, surpassing 1994's record thirty-four female candidates.
"In the last campaign cycle leading up to 2015, 920 women reached out to us," says Julie McClain Downey of EMILY's List, an organization dedicated to electing pro-choice Democratic women. "That was largest to date. People were emboldened by Hillary Clinton's candidacy. This year, to date, 36,000 women have contacted us. That's a 3,993 percent increase. We literally get dozens of calls every day." 
As of press time, Rhode Island has at least ten female first-time candidates running for open seats and challenging incumbents in primaries or in the general election. Most are Democrats. (Julie Caiozzo of Warwick is running as a Republican against Warwick State Representative Evan Shanley.)
Democrat Deya Garcia, who works for the state Department of Labor, has thirty years' experience as a political activist, beginning with her first campaign to win fair wages for teachers' aides and bus monitors in Providence public schools. The fifty-two-year-old decided to run for Providence City Council's Ward 8 — South Elmwood, Reservoir Triangle and the West End — after deciding that the incumbent, Wilbur Jennings Jr. and challenger, Jim Ward, a retired Providence Fire Department battalion chief, did not represent the interests of her neighborhood.
"My heart sunk," she says. "As a woman and a woman of color, and an immigrant, everything I've been fighting for is at risk. When I see the names, they are disconnected from the community." 
Melanie DuPont, a forty-five-year-old freelance script supervisor who has advocated at the State House for a variety of issues, jumped into the Senate District 22 (Smithfield, Johnston, North Providence) Democratic primary after her senator, Stephen R. Archambault, in a private conversation, expressed indifference toward legislation to protect women's reproductive health rights. He also chastised DuPont in a public hearing on the topic.
"We talked, and by the end of the hour, it was clear that he was not going to do anything about it. That left me dismayed," she says. 
His public criticism for a minor infraction of the hearing rules left her wondering, "Why is he giving me guff at the moment where I'm fighting for women's rights? I thought, I'm going to have to take his job."
Attorney Rebecca Kislak, running for the open seat in Providence's House District 4, wants to continue pushing the progressive legislation championed by Aaron Regunberg, who is pursuing the Democratic nomination for lieutenant governor against incumbent Daniel McKee.
"I believe in the power of electoral politics. The more of us who show up at the State House, the better and more responsive the government will be to our needs," says Kislak.
Could 2018 be another Year of the Woman? Twenty-six years ago, a record 106 women ran for Congress, powered, in part, by the unusually large number of open seats and by their anger at the all-male United States Senate Judiciary Committee's hostile treatment of Anita Hill, a former law clerk of then-Supreme Court nominee Clarence Thomas. Hill had testified at his confirmation hearing to gross instances of sexual harassment. A record number of women — forty-seven; twenty-four of whom were newcomers — gained seats in the House of Representatives, up from twenty-eight female members in the 101st Congress. The number of female United States senators grew from four to seven.
Today's #MeToo movement offers a parallel to 1992, say political analysts. But translating outrage over the current president's predilection for grabbing women by the crotch into political office will not be easy, says Jean Sinzdak, CAWP's associate director. The power of incumbency is the biggest obstacle. Members of Congress are, on average, serving longer, from four years in the twentieth century to nearly a decade today. And when incumbents run, they win 97 percent of the time.
"Incumbency prevents more people from coming into political office," Sinzdak says. "It's a huge effort to think about going against that natural current. What's interesting about this year is we also have a lot more challengers. And this year it feels like all bets are off; it's a different atmosphere, and if there were ever a time when challengers could be successful against incumbents, this might be the year."
When women run, they are just as likely to win as male candidates. But many never make it that far. Child care responsibilities; lack of encouragement from the major parties; and women's own negative perceptions of politicking, their qualifications and of gender bias are also persistent barriers. Political scientist Jennifer Lawless of American University and her co-investigator Richard Fox have been surveying political ambition since 2001, and the gender gap in political
ambition has averaged about 16 percentage points. Even after all the provocations of the Trump administration, women are 15 percentage points less likely to run for office than men.
"It's depressing in one way because it highlights that the roots of the gap are so deeply embedded, that no one election cycle, no one candidate or no one set of circumstances will be enough to mitigate it," Lawless says. "But the flip side is: Even with the gender gap, a few hundred more elected women can fundamentally change the way our system works."
Republican Patricia Morgan, the House minority leader and gubernatorial candidate, says the State House needs "professional people from all walks of life; good, quality people." But South Kingstown State Representative Teresa Tanzi and Providence State Senator Gayle Goldin agree that gender diversity is needed, too. 
Rhode Island is running ahead of the 25.4 percent national average of women in state legislatures. Rhode Island House members are 30 percent female (twenty-three out of seventy-five) and the state Senate is 34 percent (thirteen out of thirty-eight). But it's not enough to change the dynamic.
"We all come up to the State House with previous life experience and that shapes how we legislate. If we have more women, reproductive health rights, equal pay, paid family leave, sexual harassment don't get categorized as women's issues," Goldin says, because "in fact, they affect the entire population." 
"Nothing against white, male lawyers, but I think we've met the quota," Tanzi says. "Women at the State House are realizing we have to band together to make sure we're getting heard. If we had six more women up there, we'd be getting those bills passed."
Even with record numbers of first-time female candidates, the results of the 2018 election will likely only chip away at the imbalance. Incumbency, the inexperience of first-time candidates and the crowded Democratic primaries point to modest gains. But, says Lawless, making the decision to run for office is a long-term process.
"It's an idea percolating for a while; 2018 might too early to see the effect of what might turn out to be ten Years of the Woman," says Lawless. "It could be the seeds planted, and a lot more women will run in 2022 and 2024."
Valverde knocked on forty doors that Sunday afternoon in April. Most homeowners were friendly but non-committal. One wanted to know why she was interested in "going up there to consort with that den of thieves." But one woman, who came to the door with her three small children, emphatically promised her support. 
"That kind of reaction is very encouraging," says Valverde. "It tells me there are a lot of women out there who are hungry to support other women."
Ellen Liberman is an award-winning  journalist who comments on politics and reports on government affairs for more than two decades.