Will it Be Hillary or Donald? You Are What You Drink
Yacht Club Bottling Works launches a "Soda Pop Poll" with a duo of drinks inspired by the presidential candidates Hillary Clinton and Donald Trump.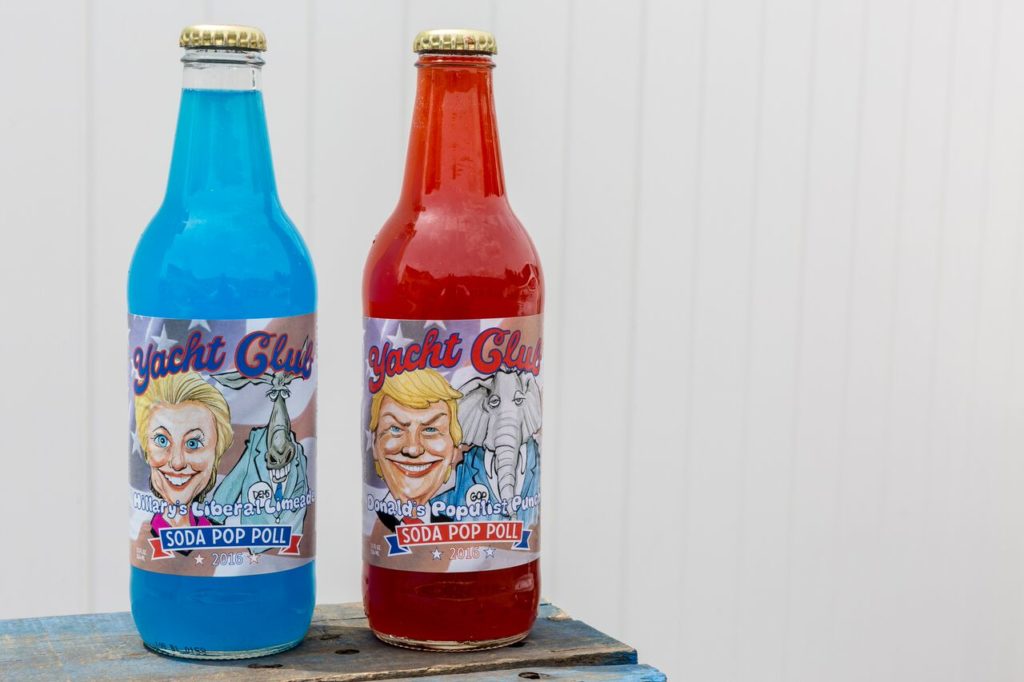 Yacht Club Bottling Works is looking to sweeten up this bitter election season with the release of its "Soda Pop Poll" duo of drinks, inspired by the presidential candidates.
Voters cast their vote by purchasing either Hillary's Liberal Limeade or Donald's Populist Punch. Then, after the election, Yacht Club will release the results of the "poll" to see which political pop New Englanders like best.
"This election season has been so negative with incredibly polarizing candidates," says John Sgambato, owner of Yacht Club Bottling Works, in a recent release. "We really wanted to have some fun with the election and let people have a little taste of the edgy candidates – both flavors have a slight bite to them."
Hillary's Liberal Limeade has a raspberry lime flavor (but, yes, it's blue), while Donald's Populist Punch is a bright red fruit punch that "begins with a strawberry flavor and ends with notes of peach." Rhode Island cartoonist Frankie Galasso created the limited-edition labels with caricatures of each candidate and his and her respective partisan mascot, while Mike Corsini of Skepsis Multimedia handled graphic design.
Regardless of what happens in the debates, you can be sure that there's no nastiness in the drinks, at least. All syrups are made onsite with only extra fine granular pure cane sugar (never high fructose corn syrup), and every drink produced by Yacht Club Bottling Works begins with natural artesian water collected straight from the source.
The sodas will be available through the election at the Yacht Club company store (2239 Mineral Spring Ave., North Providence) at select stores throughout Southeastern New England and at farmers markets.
Pop one of each in the fridge and enjoy a friendly debate with your family and friends – regardless of your thoughts on the candidate's actual potential. yachtclubbottlingworks.com