Hot Wieners: A Love Story
What it's like to be born into a wiener dynasty in Rhode Island.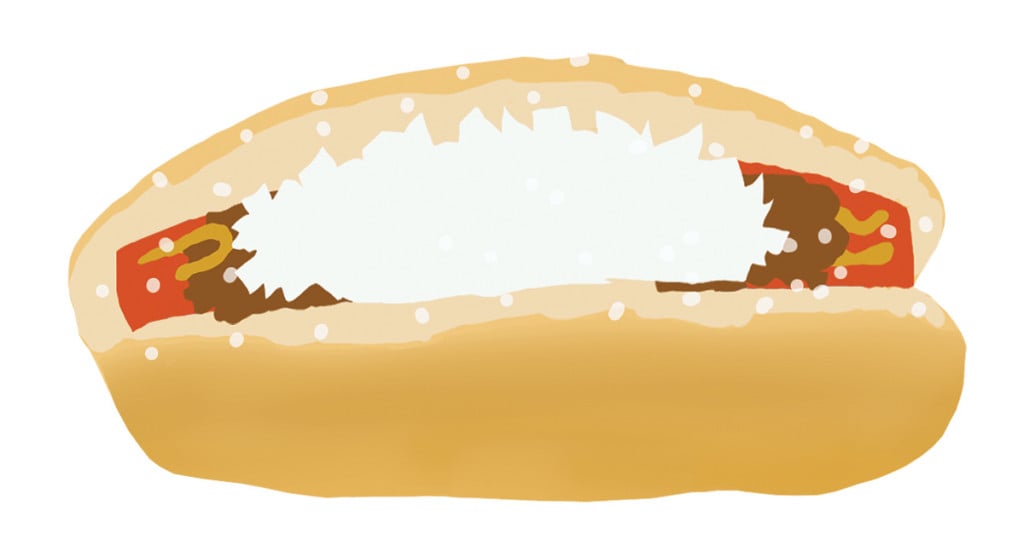 Hot wieners, stuffies and clam cakes: These Rhode Island delicacies are enough to engulf a pubescent boy in chuckles before he even finishes his order (an out-of-state pubescent boy, of course). The novelties that are Rhode Island foods parallel the small and peculiar nature of the state itself. Rhode Islanders are just as passionate about their food as they are opposed to driving more than a half-hour to cross state borders. This unique taste is also a direct reflection on the disposition of Rhode Islanders, who are stubborn and unchanging. New York System is the holy grail of such novelties.
New York System, the eateries in which hot wieners are the main attraction, are scattered throughout the state. The term "New York System" was coined in the early 1900s when hot dogs were largely associated with New York but simultaneously were being introduced to Rhode Island. The label of a New York System was ultimately a badge of authenticity.
New York Times journalist Paul Lukas wrote a profile on Rhode Island delicacies, hoping to provide clarity to confused out-of-staters. Hot dogs became popular in New York, but their specific hot wiener preparation began in Rhode Island. Lukas highlights the particular manner in which hot wieners are crafted. He credits such preparation to the wave of Greek immigrants travelling from New York to Providence in the early 1900s.
I can personally attest to Greek dominance in the New York System arena. Both my maternal and paternal grandparents owned New York Systems following their immigration from Greece. Celery salt ran in my blood, and I couldn't get away from it. I spent some of my high school summers as my aunt's waitress. I helped at the restaurant prior to turning sixteen, and when customers pointed out my age she would state, "Labor laws don't apply to family." My aunt's denouncement of labor laws, along with purposely yelling at me in front of customers, granted me sympathy tips of a considerable amount.
I spent the most time at the restaurant my aunt inherited after my maternal grandparents' retirement. It was named Nick's New York System, after my great-grandfather, Niko. Nick's was in West Warwick, adjacent to the Cumberland Farms convenience store and gas station. You could have likely missed the Nick's sign while complaining about the nation's rising gas prices. Though it has been six years since the restaurant's closing, its image is always etched into my mind. Nick's, along with many New York Systems, left little to the imagination. A small dining area that seats about forty-five patrons is just feet away from the grill. Pale pink booths and their respective tables line the wood-paneled wall of the diner. We added the personal touch of about three sets of curtains on this wall, though they didn't frame any windows at all. The only division between the grill and booths were the counter and stools occupied by lone customers. The cushions of the booths and stools had the same pink hue, and over time they cracked and frayed. An orthodox icon of "The Last Supper" hung above the entry to the back kitchen. The "OPEN" and "HOT WIENERS" neon signs buzzed and flickered by the front door all day.
Among customers and dedicated regulars, New York System owners become their own subculture of Rhode Island celebrities. They cannot spend a minute outside of their respective restaurants without being asked if they're "Sam? From the weenie joint?" Owners are so often recognized because they aren't in a suit and tie all day, gazing over their employers and giving orders. New York System owners certainly have a more hands-on approach. The owner greets a patron with each visit, and goes home each night with mustard stains on every visible body part. These personalities are engrained in a customer's brain forever. One summer, my father and I were at a gift shop on a Greek island when he was recognized. My father thought my family was playing a joke on him, and had told someone to approach him. "Excuse me, but are you Charlie from Timmy's Restaurant?" the man asked, sounding surprised. My father had owned Timmy's Restaurant, a family diner offering hot wieners, since his early twenties. We were speechless at how small the odds were of this happening. The man who approached us was a former regular and a Rhode Island native, and he had moved to Chicago nearly fifteen years earlier. My father got his own taste of international superstardom that day.
A customer will never forget the classic smell of a New York System. If I could, I would bottle the scent and sell it in Rhode Island boutiques. It can never be truly identified, because it is the smell of everything cooked that day with a kiss of fryer oil. The smell is baked into your clothes even if you're just picking up a to-go order. If you are an owner or employee, the heavy-duty wash cycle is a default at home. However, only those who are a part of this legacy can make fun of the pesky smells as well as patrons that bring their own scent. We will call you elitist and pompous if you dare downplay the New York System. Many Rhode Islanders will call them dumps, but in the same breath proclaim that they are craving a hot wiener.