These Women and People of Color Kept Colonial Wickford Running
Together, minorities, forward thinkers and unsung heroes maintained a sweet little community that enticed many a newcomer over the years.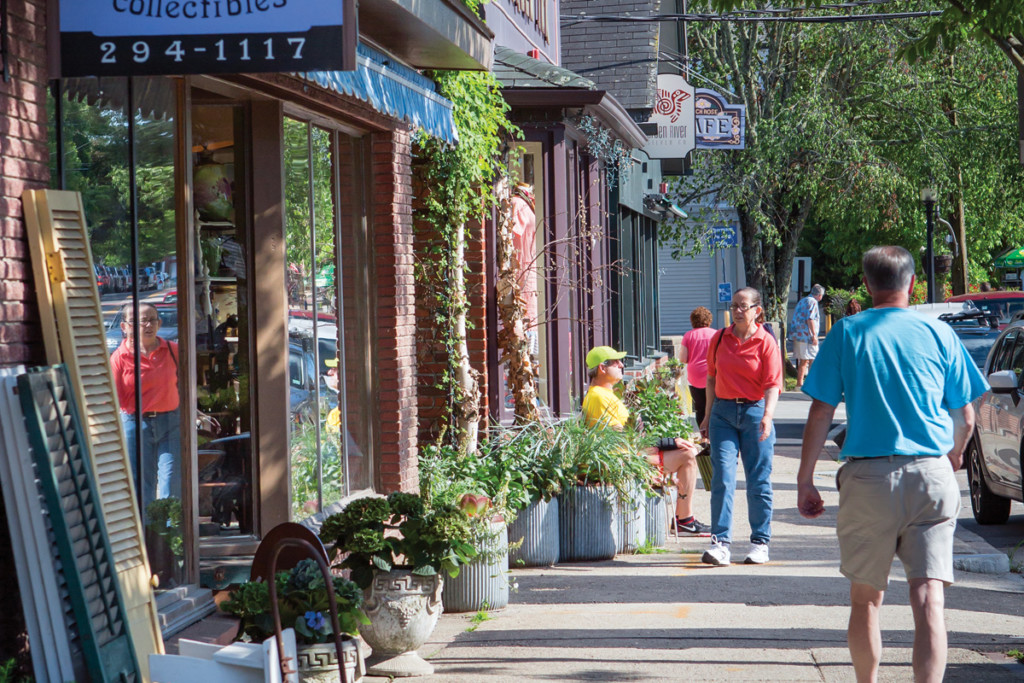 "One of the great things about Wickford, something that I think people miss, is how authentic it is," Tim Cranston says as we enjoy iced coffees at a local favorite, Beach Rose Cafe. It's just after 7:30 a.m. on a Thursday and we are flanked by regulars pleasantly picking at their pastries. "When people think of Colonial villages, they think of Sturbridge Village or Williamsburg, but those places are all contrived. Even Newport was essentially manufactured by Doris Duke."
This quaint little waterfront village near the southern edge of North Kingstown, on the other hand, has the largest collection of Federal and Colonial period homes that are owned and occupied in the United States, says Cranston. Pretty boast-worthy if you ask me. Newport may have a larger number of households from that era, but they aren't owner-occupied; a large portion are museums or properties owned by the Newport Restoration Foundation. Meanwhile, in Wickford, they aren't just houses, but homes.
In fact, the village is located in a historic district, which means that any work done to the homes has to be specific to the period. "If someone from back then came here now, I believe they'd feel right at home," he says.
I look past the occasional meandering Mercedes Benz or two; the polite smiles of a middle aged couple as they jog by in matching navy tracksuits; the loud-mouthed construction workers ripping up Brown Street.
Instead, I take in the chipped paint and slanting foundations of the Colonial buildings; the peaceful sailboats anchored in the surrounding bay waters that gleam with rays from the rising sun; the owners opening their shops for the day, warmly greeting young mothers walking about with toddlers in tow — snapshots that transcend modernity.
But the more I speak with Cranston, the more I think perhaps we might not feel so out of place if we found ourselves in this hypothetical time machine. A trip to Wickford's past would actually reveal quite a few familiar qualities, the most obvious being its affinity for all things nautical.
"In the beginning it was really all about ship building," Cranston says.
In the early eighteenth century, Newport, Portsmouth and Bristol were at the center of the shipbuilding trade in the colony, but with that, timber became scarce. This meant it had to be imported, which had a giant impact on costs and profits.
"The Updikes, who owned acres and acres of woodlands (that are now present-day Wickford), realized this and set up a village to entice shipbuilders to relocate. And they did: They came from not only Newport but also the nearby Massachusetts Bay Colony. It was a business idea that paid off."
From there, Wickford's shipbuilding industry took off, and along the way the village welcomed a number of sea captains into their community. Today, Cranston heads a walking tour that details these former residents' sea voyages and personal lives.
"I use about eight of the sea captains' homes as opportunities to share stories about not only Wickford, but Rhode Island history in general. These homes tell very succinct little stories. "For example, the Daniel Fones Tavern House was named after a privateer (read: pirate) who made a fortune while captaining Rhode Island's first warship, the Tar Tar," he says.
Wickford was a prosperous village, but it wasn't the white, male sea captains that kept it that way. Rather, Wickford was a place that was well ahead of its time; it was a place where women and minorities flourished.
"Because Wickford was a place where all of the men either went to sea or got involved in shipbuilding or other maritime things, all the other businesses needed a way to forge on," Cranston explains. "So, Colonial Wickford had a golden opportunity for women."
Almost two centuries before soldiers left for World War II and the resilient Rosie the Riveter was born, the women of Wickford were able to step out of their traditional roles as wives and mothers to take over "men's jobs" and tasks. These notions would have been unheard of in other parts of New England at that time.
"One that sticks out is a woman in the 1700s, Deborah Whitford," he says. "She lived on Main Street and she was the owner and operator of a large-scale bakery that made goods for the entire village as well as ship owners."
Whitford was especially known for making hardtack (hard, dry, tasteless biscuits), which she sold by the box load to incoming ships because it was a nutritious baked good that could last a voyage overseas.
Similarly, long before women were allowed to be fully educated, let alone accepted into the medical field, there were two sisters who ran one of the village's primary apothecaries.
"Back then most pharmacists were called doctors because there just weren't that many doctors around," Cranston says. "So these two women, Avis and Ann Smith, were providing medicine and advice to the community. One of them was also the minister of the Quaker church."
And then, there was Avis Ann Spink.
"She owned a lot of commercial property in Wickford, pretty much by herself, in the mid-1800s," he says. "Her husband had died but she didn't fall apart and say, 'I need a man to help me run my life,' and get remarried. She just did her thing."
At that time, Wickford was a happening place. If you needed to get to Newport you most likely passed through Wickford first. If you needed to commission a ship to be assembled, order ship parts or check on a ship that was already being built, Wickford was where you would go. Many Newport businessmen also conducted a lot of trade in the village, and many of them were interested in buying up property and settling down there.
"Imagine: Men coming from outside of the community down here to do a business transaction and they say, 'Who's in charge around here?' or 'Who's the majority property owner?' and they're taken to meet with a woman," Cranston chuckles. "It probably threw them for a loop."
But women weren't the only ones who discovered a newfound voice in this little community. A pale green house on Fowler Street tells the story of Domanai Smith.
"In my research that's the oldest house — in Rhode Island at least, perhaps in all of southern New England — that was built specifically by and for a black family," Cranston explains.
While slaves may have been freed after the Civil War, for many it didn't equal an immediate happy ending. Most didn't have the means or the funds to go off and make a life for themselves, so they often took up work as servants or similar jobs that required little skill and paid little money. Domanai Smith, however, had learned maritime skills under the direction of his former sea captain master and became an asset to Wickford's established shipbuilding industry. "It's pretty neat, considering the time frame, that he was welcomed into the community," says Cranston.
Together, minorities, forward thinkers and unsung heroes maintained a sweet little community that enticed many a newcomer over the years, including the likes of Benjamin Franklin, Henry Fonda, Henry Ford and John D. Rockefeller.
Today, things are a bit quieter. Wickford is known mostly for its small village charm and quirky shops filled with everything from new age dealings to nautical tourist pleasers to antique knick knacks.
"Tourists who come down here think this is Wickford, that this is all it has to offer," Cranston says, gesturing towards the storefronts along Main and Brown streets. "They don't go around the corner and take advantage of the rest of it, like those homes we talked about. I've researched essentially every single one of them and they all have a story."
Luckily, it seems the village is looking to highlight that history with a soon-to-be installed, self-guided walking tour funded by a Rhode Island Foundation grant. A number of Rhode Island-based artists are working with historians like Cranston to recreate scenes from Wickford's past in paint form. "Things that we don't have photographic evidence of today, like hundreds of men working together to create these massive ships near the harbor or scenes depicting how the Narragansett people first settled the area," Cranston explains.
Now, I'm sure it's too late for requests or commissions, but personally? I would thoroughly enjoy a close up portrait of a Newport businessman's flabbergasted expression when he's introduced to boss lady Avis Spink.