Why We Love National Chain's Holiday Display
The National Chain Group holiday display is celebrating its fortieth anniversary of bringing smiles to travelers' faces along a stretch of I-95 in Warwick.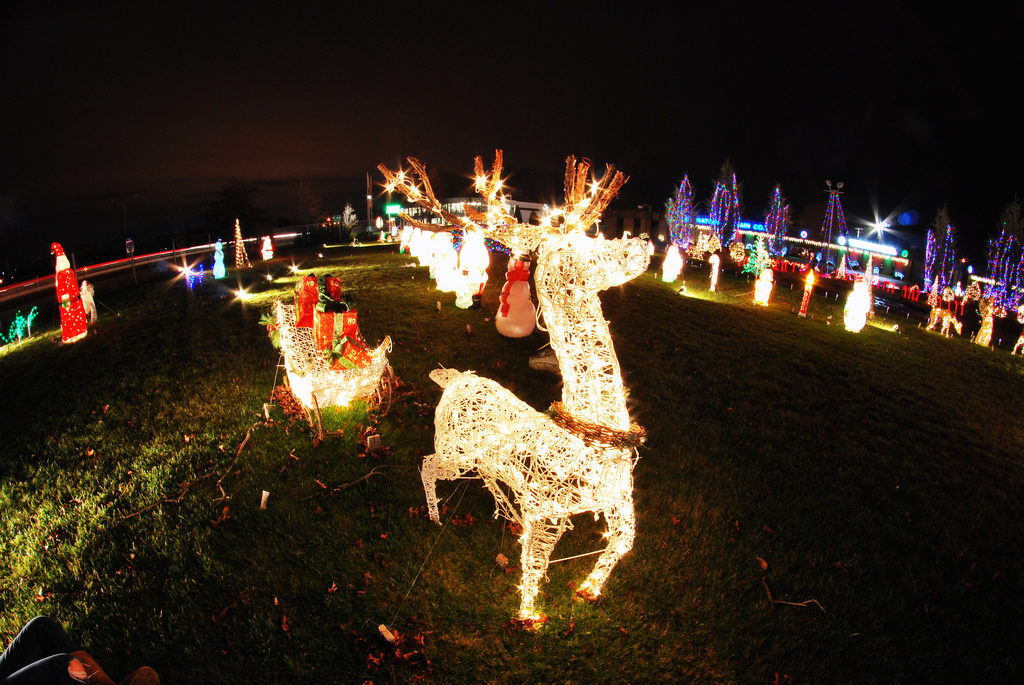 You can see it from Route I-95 in Warwick while driving sixty-five miles per hour on the highway; an unexpected collection of thousands of holiday lights and hundreds of plastic Santas and snowmen arranged on the lawn of National Chain Group. "We're running out lawn," says Vincent Ferrante, vice president of marketing at National Chain Group. But here's your chance to get an up-close glimpse of those kitschy Christmas decorations in daylight.
Photo by Jamie Coelho.
The National Chain Group holiday display is celebrating its fortieth anniversary. It began in 1974 with the owners of National Chain Group, the Cipolla family. "It started out as a gesture of good faith, but now the holiday display gets so much recognition, it's become something that people look forward to each year," says Ferrante. "People say Christmas must be coming because the National Chain holiday display is up."
Every year, the company adds more lights and additional lawn ornaments. This year, 50,000 blue, energy-efficient LED bulbs shine brightly along with the hundreds of Christmas tchotchkes, including an illuminated nativity scene. National Chain factory manager Deborah Tatangelo organizes the massive project of assembling the holiday display, including managing a team of company volunteers that helps construct the scene on weekends and evenings, buying additional decorations, coming up with a theme and scheduling the assembly and disassembly.
It takes a great deal of time to organize and take down the display each year. The switch is flipped over Thanksgiving weekend, and this year, it will remain lit through January. The lights are on from 5 p.m. to 5 a.m. the next day. "There is a substantial investment involved, between the equipment, the time it takes to put it up and the electricity to light it up. It takes over four weeks to assemble and another week to ten days to take down and store," says Ferrante. "It isn't just a matter of just putting them on the lawn; each one also has to be tied down so they won't blow away."
Rhode Islanders and interstate travelers alike appreciate the massive display of joy from an otherwise boring stretch of highway (actually, not that boring, thank you Nibbles Woodaway!) It's become one of those iconic and quirky things about the Ocean State that we have come to love. You can also view the display from the parking lot of National Chain Group at 55 Access Rd. in Warwick.
Top photo by Raymond Moy of Copius Photography on Flickr.