Whole Woman: Healthy Bites
A local foodies shares recipes for healthy snacks for girls on the go.
By Kaitlyn Murray and Dana Saccoccio
Nibbles are essential for keeping a woman on-the-move's energy on point throughout the day. "But there's just not enough time in the work week!" you may cry. We beg to differ: All you need to do is set aside your Sunday afternoon to prepare one or two of these tasty (and good for you) recipes by local foodie and author of Poor Girl Gourmet, Amy McCoy, and you will be set for the week. We promise, no matter your workload or lifestyle, there's a nutritious, easy meal for you.
For the Stiletto Snack Star
She's a trendsetting hipster; the strap of her Kate Spade brown leather bag is slung across her shoulder and the spikes of her pumps click across the runway (read: sidewalks of Providence) as she hustles into the office. She is ready to get down to business, but first, food.
Beet Poppy seed Muffins
Yield: 12 muffins
Ingredients:
8 tablespoons (1 stick) unsalted butter, softened
¾ cup granulated sugar
¾ cup (packed) light brown sugar
½ cup honey-roasted beet puree (From one 8-ounce beet, 1 teaspoon honey and 1 teaspoon olive oil, see McCoy's note.)
¼ cup fresh ricotta, such as Narragansett Creamery or Renaissance Ricotta
The zest of one navel orange
2 large eggs
½ teaspoon vanilla extract
1 ½ cups unbleached all-purpose flour
1 ½ teaspoons baking powder
½ teaspoon kosher salt
1 tablespoon poppy seeds
Notes from Mccoy:
The beet puree can be made a day ahead of baking (instructions below) and stored in an airtight container in the refrigerator.
Instructions for the beet puree:
Preheat the oven to 375 °F.
Peel and trim one 8-ounce beet (red or golden, either will work, though the red makes a more striking presentation), then slice the beet into 8 roughly equal wedges.
Line a baking dish with aluminum foil, place the beet wedges in the foil, then drizzle 1 teaspoon of olive oil and 1 ½ teaspoons of honey over the beets.
Cover the beet wedges with the foil and roast until they are easily pierced with a fork, 35 to 40 minutes.
Allow to cool, then transfer the beets and their cooking liquid to a food processor and puree until smooth.
Instructions for the muffins:
Preheat the oven to 350 °F.
Line a standard-size muffin tin with cupcake papers.
Use a stand mixer or handheld mixer at medium speed to cream the butter and sugars together in a large mixing bowl.
Add the beet puree, ricotta and orange zest. Mix on medium speed until they're incorporated into the sugar mixture, scraping down the sides of the bowl as needed.
Add the eggs, one at a time, and beat until they are incorporated into the batter.
Pour in the vanilla extract and mix until it is combined with the batter.
Add the flour, baking powder, salt and poppy seeds. Mix until they are fully blended into the batter.
Using a spoon or ice cream scoop, ladle out enough batter into each muffin liner to reach a quarter-inch from the top.
Bake until the edges of the muffin tops are are lightly browned, approximately 25 minutes. A toothpick inserted into the middle of the muffins should come out clean.
Allow the muffins to cool in the muffin tin until they are easily handled, then transfer them to a cooling rack and let them to fully cool before storing in an airtight container.
Too busy/can't cook? Get your cardio in for the day and walk down to your local Seven Stars Bakery for a cheddar cheese biscuit with turkey, avocado and tomato.
Or try: Mushroom, Bacon and Potato Frittata
For the Vogue-Winning Vegan
She is a socialite known for sporting the latest trends in organic and her slouchy "Free People" faux leather bag sways smartly from her shoulder. Her high ponytail swings freely as she pops in and out of shops, searching for the perfect dress for this weekend's art gala. Her stomach grumbles, but she isn't willing to interrupt her mission to impress, so she pulls out some vegan goodies from her bag and continues to roam the racks.
Maple-Roasted Fennel and Pears
Yield: 4 servings
Ingredients:
2 medium fennel bulbs (approximately 3-inch diameter at the base with both bulbs together weighing around 1.75 to 2 pounds), trimmed and any outer tough leaves removed, then sliced lengthwise into 8 wedges per bulb (as if you were slicing a pie, only it's fennel).
1 large firm-ripe Asian, Anjou or Bosc pear (10 to 12 ounces), cored and sliced into 12 wedges (same deal: it's a pie-pear)
2 tablespoons olive oil
¼ cup local maple syrup, preferably Grade B
½ teaspoon fennel seed
kosher salt
freshly ground black pepper
Notes from Mccoy:
Asian pear is recommended over Bosc and Anjou in this dish, as the texture of the Asian pear works best, though any of the three will work just fine.
Instructions:
Preheat the oven to 375 °F.
Place the fennel and pear wedges in a large bowl.
Drizzle the olive oil and maple syrup over the top, then add the fennel seed and season with salt and pepper.
Transfer the fennel and pears to a large baking dish, such as a lasagna pan. The fennel and pears soak up the cooking liquid, so it's best to roast in a baking pan rather than a rimmed baking sheet.
Roast until the fennel is easily pierced with a fork and looks slightly translucent (as opposed to opaque white), 45 to 50 minutes, stirring midway through the cooking time.
Too busy/can't cook? Between fittings, swing by Wildflour, an all-vegan bakery in Pawtucket, for a broccoli and cheese scone with avocado and tomato.
Or try: Sicilian-Style Roasted Cauliflower with Orange, Fennel Seed and Raisins
For the Tupperware Tote Traveler
A dimmed horizon greets her as she hikes the hillside, and her thirst for adventure complements her bold palate. As she sits at the stoop of an oak, watching the vivid tones of red rim the sky, she reaches into her canvas tote to find something that can replenish her energy.
Beet, Goat Cheese and Bacon Salad with Honey Lime Dressing
Yield: 2 salads
Ingredients
1 pound beets (approximately 3 medium), peeled, trimmed, sliced in half lengthwise, the halves then sliced lengthwise into 3 wedges
2 tablespoons olive oil
2 tablespoons honey
1 tablespoon fresh thyme
kosher salt
freshly ground black pepper
1 tablespoon extra virgin olive oil
¼ cup local honey
the zest and juice of one lime (juice will equal approximately 2 tablespoons)
kosher salt
freshly ground black pepper
1 head Butter, Boston or Bibb lettuce
2 slices of bacon, cooked to desired crispiness and crumbled
2 ounces local goat cheese, such as Reynolds Barn goat cheese or Simmons Farm goat cheese
2 tablespoons toasted walnuts (350 °F for 12 to 15 minutes if whole, less time if chopped)
Instructions:
Preheat the oven to 375 °F. Place the beets in a medium baking dish, pour in the olive oil and honey, sprinkle with the thyme, season with salt and pepper, then give it all a good stir. Cover the dish and roast until the beets are tender and are easily pierced with a fork, 30 to 35 minutes.
In a medium bowl, whisk together the oil, honey, zest and juice, then season the dressing with salt and pepper.
Rinse and pat dry the lettuce, then chop it coarsely.
Place half of the greens into two airtight containers, then place half of the beets into each container and crumble half the goat cheese and bacon into each. Seal and store in the refrigerator, topping with half of the dressing and walnuts just before serving.
Or try: Green Salad with Roasted Squash, Apples and Grapes
For the Mason Jar Mom
She piles her kids into the car and sets off. She drops her three year-old off at daycare, her six year-old at kindergarten and her eight year-old at grade school. She works from home, does laundry and runs errands until it's time to take the youngest to gymnastics at 2 p.m. and then the oldest to soccer practice at 3. She lives for her children's happiness, but she needs something to keep her energized as she jets from one place to the next. Luckily, her Michael Kors oversized cross-body bag holds a couple of packed mason-jars that also fit perfectly in her car's cup-holder.
Cherry-Almond Granola (mixed with your favorite 0% fat Greek yogurt)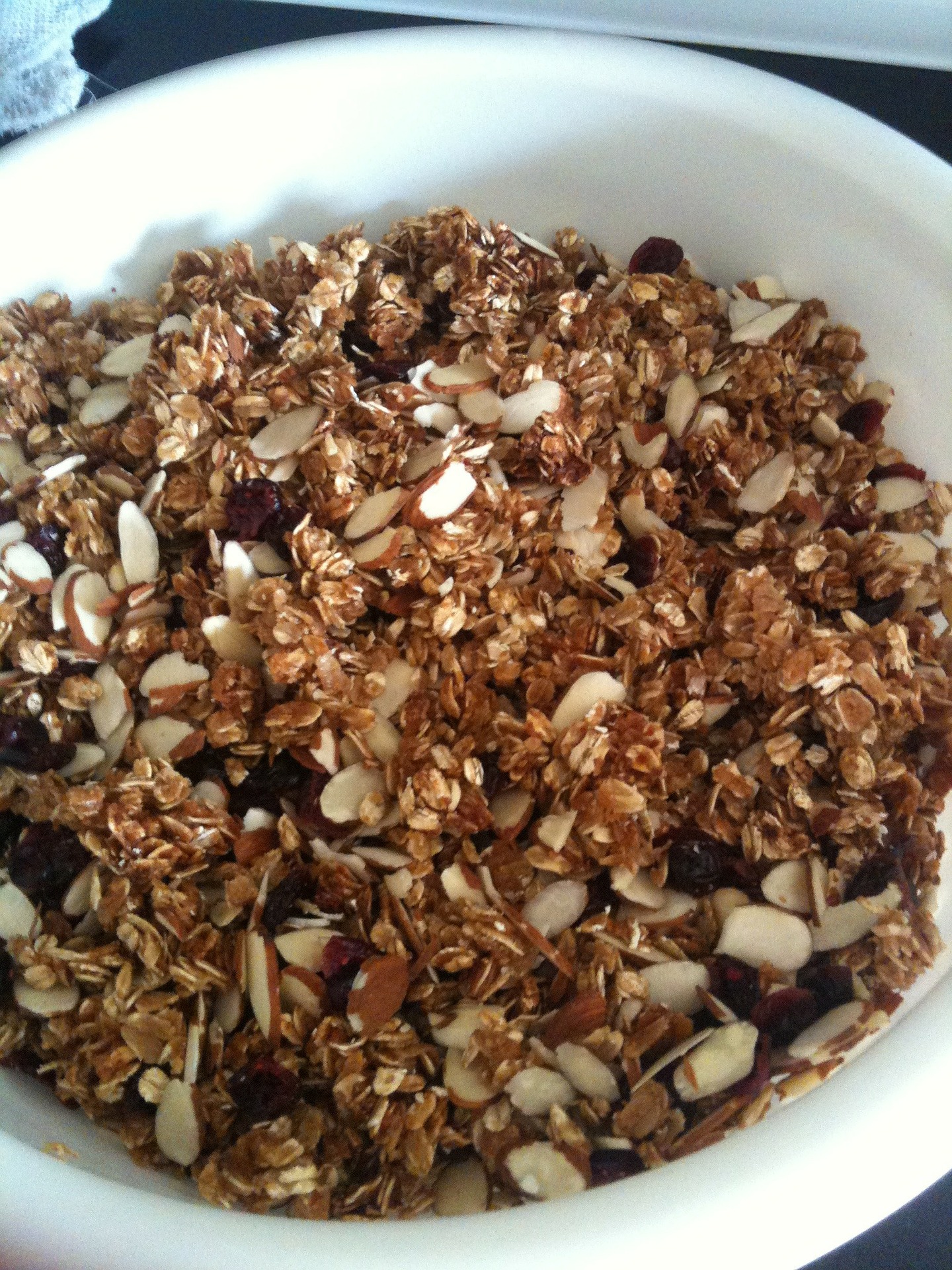 Yield: approximately 8 cups of granola
Ingredients:
4 cups old fashioned rolled oats
¾ cup extra virgin olive oil
¾ cup (packed) dark brown sugar
the zest and juice of 1 navel orange (approximately ¼ cup juice)
2 cups blanched almond slivers, toasted (see additional note)
¾ cup dried cherries, coarsely chopped (If you are unable to find dried cherries at your local market, substitute an additional ¾ cup of dried cranberries in their place.)
¾ cup dried cranberries
¼ cup roasted salted sunflower seeds
Notes from Mccoy:
This recipe is vegan if not served with yogurt. And be careful: It's the sort of thing that if you aren't paying attention, you could scoff down more than you'd intended. To keep the over-eating under control, measure a quarter-cup to pour over your favorite yogurt and drizzle with honey for a satisfying weekday breakfast. It should be noted that this very same granola and honey approach also works well with vanilla ice cream. In case you're curious.
Instructions:
Preheat the oven to 350 °F.
In a large mixing bowl, stir together the oats, olive oil, brown sugar, orange zest and orange juice.
Pour the oat mixture onto a 10 by 15-inch rimmed baking sheet, and spread the oats into a level layer.
Bake until the oats are golden brown, 20 to 22 minutes.
Remove the oats from the oven; scrape the oats on the edges back toward the middle of the pan to help prevent them from sticking.
Allow the oats to cool for 10 minutes before raking through them with a fork to break them up.
Transfer the oats into a large mixing bowl, then add the toasted almonds, dried cherries, dried cranberries and sunflower seeds.
Stir well, then transfer to an airtight container, where the granola will keep for up to 2 weeks.
Additional note:
To toast the almonds, preheat the oven to 350 °F, spread the almonds on a 9 by 13-inch rimmed baking sheet and bake until they are golden brown, 10 to 12 minutes.
Too busy/can't cook? Pick up some delicious pre-made parfaits for you and the kids from the Coffee Depot in Warren.
Or try: Pearl Couscous Salad with Roasted Sweet Potatoes and Greens