Who is Rhode Island House Speaker Nick Mattiello?
After Gordon Fox's sudden resignation, Nick Mattiello, a little-known public figure, hustled his way to the top job. But who is the new House speaker, and why is he called the most powerful man in Rhode Island?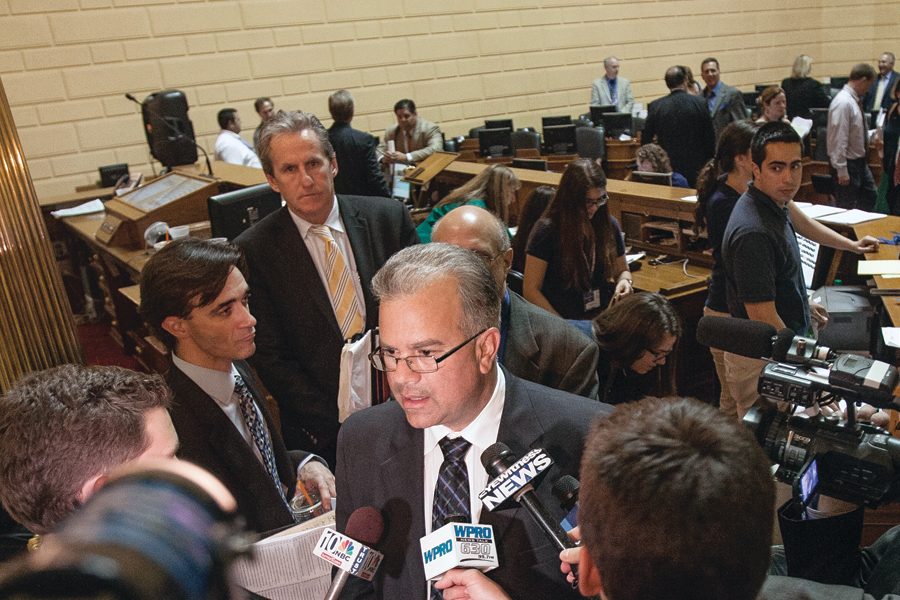 Nick Mattiello has the munchies.
It's past two o'clock in the morning and the speaker of the Rhode Island House — a.k.a. "The Most Powerful Man in Rhode Island'' — is kicking back in his State House office with a few dozen representatives, aides and supporters after a steamy marathon session in June ended past midnight with a signature triumph: passage of his first state budget.
Refreshments are laid out on a long wooden table in an adjoining conference room. People and liquor flow from room to room, amidst jokes and laughter, back slaps and hugs, political gossip and shop talk.
"I was only off by one on the final vote," says Mattiello, who prides himself on his ability to count votes.
The speaker, his tie unknotted, a Belvedere on the rocks in hand, prowls his high-ceilinged office, past the watchful portraits of John O. Pastore and J. Howard McGrath, former Rhode Island political giants who knew a thing or two about power. He stops at a box of sugar doughnuts that someone had dropped off the previous afternoon, and takes a half. Later, he circles back for the other half. In between, he gobbles a small bag of Lay's potato chips.
The seat of Rhode Island government in June is not a low-carb environment.
"It's tough to stick to a diet this time of year," he says with a rueful smile.
Three months earlier, this office had belonged to another man, Gordon Fox, until FBI agents and Rhode Island state police detectives swooped in one Friday morning with a search warrant and rifled through the speaker's files in the kind of mysterious corruption probe that Rhode Island has seen too many times before.
By Monday, after a whirlwind weekend of backroom maneuvering among rival contenders to the throne, the office belonged to Mattiello. In the blink of an eye, the speakership had passed from an openly gay East Side liberal who championed the passage of same-sex marriage in 2013 to a pro-business, pro-life, churchgoing, National Rifle Association-approved, Harley Davidson-riding former Little League coach and son of a demolition contractor from western Cranston.
Few Rhode Islanders knew who Mattiello was, despite his six years as Fox's majority leader, the number two man in the House. Fewer still selected the family law and personal injury lawyer to be the man who controls Rhode Island's legislative agenda and exerts a strong pull on the state's $8.7 billion purse strings — sixty-one of his fellow representatives, to be exact.
Yet here he is, the buffet of political power spread out before him, cramming endless meetings into twenty-plus-hour days, shepherding the budget, shaping public policy from economic development to education, tending to the care and feeding of his members, getting back to constituents, meeting with lobbyists currying his favor and political candidates seeking his blessing in this election year.
Mattiello likes to call the white marble palace on Smith Hill "the House of Ambition," a phrase coined by his good friend and key booster, former Speaker William Murphy.
Propping his feet up on his desk, Mattiello says he understands why certain lawmakers confided to him before the budget vote that they planned to vote against a $12.3 million appropriation toward repayment of the controversial 38 Studios bonds, even though they understood why it makes sense.
One of Mattiello's biggest battles in his first 100 days as speaker was convincing the people that, while politically unpopular, repaying $75 million in state-backed bonds for Curt Schilling's ill-fated video game company is necessary to preserve Rhode Island's credit rating.
"They know it's the right thing to do," he says. "But it's an election year."
To study the potential ramifications of a state default, Mattiello had visited Manhattan and met with the two largest rating agencies, Moody's and Standard and Poor's.
"They move world markets!" he exclaims. Then, pinching his thumb and forefinger together, he adds, "They'd squash us like a bug."
Mattiello says that he suspects defendants in the state's 38 Studios lawsuits — lawyers, banks and other financial firms involved in the bond sale — may have leaked headline-making documents regarding sordid details of the deal, to ratchet up public pressure against paying. If the state doesn't pay, he believes, it will have a weaker case in court in proving financial harm from the deal — and therefore the defendants will be less likely to have to pony up.
"It's in the defendants' interest to kill the appropriation, because then they're off the hook for damages," he says.
Shifting to that evening's floor fight, Mattiello laughs at the conspiratorial suggestion by a Republican representative that the live Capitol TV broadcast had conveniently crashed — a computer glitch that halted the proceedings for about an hour — just as the subject of 38 Studios came up.
"This is what I'm dealing with," he says, shaking his head.
"I should introduce you to the woman in my neighborhood who practices witchcraft," says Representative Patricia Serpa of West Warwick, a close friend and ally.
"I told you she was crazy," Mattiello says.
As for 38 Studios, Mattiello says that it was "stone-cold conservatives" — Schilling and former Republican Governor Donald Carcieri — "who put this together." Carcieri "was trying to throw a Hail Mary pass" to jump-start the economy.
Then Fox and friend Mike Corso, the shadowy 38 Studios agent and Providence tax-credit king, got involved and pushed it through a largely unsuspecting legislature. The state police are investigating 38 Studios, a probe that may or may not be connected to the spring raid on Fox's office that put Mattiello in power. And to illustrate Rhode Island's two degrees of separation, ex-Speaker Murphy — Fox's defense lawyer, Mattiello's friend and now a prominent lobbyist — had helped arrange a meeting between 38 Studios and the Massachusetts speaker prior to the company's move to Rhode Island.
"That's where it gets mucky," Mattiello concedes.
Nick Mattiello's father blew things up.
In the 1960s and 1970s, Anthony Mattiello traveled throughout New England dynamiting granite ledges to make way for the region's expanding network of roads and highways. At the age of twelve, Nick lugged sticks of dynamite and bags of fertilizer up mountains. Under his father's supervision, he packed the explosives into holes drilled into the granite and filled in the holes with fertilizer and dirt. Then his father would blow the rock to smithereens, having mastered the art of making all the pieces fly in the right direction.
The explosions kicked up a yellow cloud of dynamite residue that made Nick violently ill, until he got used to it.
Anthony Mattiello preached hard work and education. While Nick worked summers during school at Mattiello Drilling and Blasting in Cranston, his father expected him to study hard and go to college. He wanted his son to be a lawyer, and helped him out with the bills while Nick attended La Salle Academy, Boston College and Suffolk University Law School. The oldest of three children, Nick was the first in his family to attend college.
The year after he graduated, in 1985, he married his wife, Mary Ann, whom he had met during high school at United Skates of America in East Providence. She worked as a legal secretary while he attended law school, then helped raise their two sons, Nicholas, twenty-two, who just graduated from the University of Rhode Island's engineering school, and Anthony, twenty, who studies health sciences and plays baseball at Franklin Pierce University in New Hampshire.
The Mattiellos have lived in the same white Colonial in western Cranston that they bought after they married, and Mary Ann works as a teacher's aide in the Cranston public schools. An extremely private person, she dislikes politics. She fretted when Nick first wanted to run for office. "You can do this," she told him, "but you have to promise it will never change you."
Mattiello, who turned fifty-one in May, jokes that he's dull. For kicks, he likes to get out on his shiny black Harley Davidson Electra Glide Ultra Limited motorcycle. This is not a Hell's Angels ride, but a cushy wide-body that smoothly negotiates turns — "like driving a Cadillac or Mercedes on two wheels," he says. Mattiello tries to get out with friends on weekends to enjoy the New England scenery, taking rides as long as 400 miles through Connecticut, Massachusetts, New Hampshire and Vermont. In summer, he'll come home from court and ride the Harley to the family's beach house in Narragansett. He's also taken the bike to the State House at night to pick up paperwork.
"It clears out your head," he says, steering the Harley through his well-manicured Hillside Farms neighborhood on a sunny Saturday, the wind whistling through his helmet.
After he was admitted to the bar, Mattiello rented space from a Providence lawyer he had clerked for, Joseph Bevilacqua Jr. — the son of former House Speaker Joseph Bevilacqua, who went on to become chief justice of the Rhode Island Supreme Court until he resigned during his impeachment for his ties to mobsters. About a year later, another young lawyer moved in, Bill Murphy. Mattiello showed him the ropes, but says his pupil soon surpassed him. Murphy was "like a brother." They became close friends. In 1994, Mattiello ushered at Murphy's wedding.
By then, Murphy was a state representative from West Warwick, and rising quickly in the law and politics. Mattiello says he predicted early on that Murphy would become speaker, which happened in 2003, when incumbent John Harwood was toppled by a scandal.
In 2006, Murphy encouraged Mattiello to run for an open seat in his western Cranston neighborhood. Mattiello had grown bored with just practicing law and was intrigued by politics. He tapped his deep community roots, including Immaculate Conception Church and Cranston West Little League, and narrowly defeated the niece of a prominent Rhode Island labor leader, Frank Montanaro, in the Democratic primary in September.
His father, Anthony, then eighty-eight, and fading in and out of dementia, was proud of his son, the lawyer and soon-to-be state representative. He died on October 17, 2006, a few weeks before his son, the former dynamite apprentice, was first elected to the House.
"I saw him after the primary and he asked, 'Did you win?' '' recalls Mattiello. "I hope he's looking down on me now."
On a chilly Wednesday morning in April, three weeks after his election as speaker, Mattiello strides into the monthly breakfast of the Greater Providence Chamber of Commerce.
Chamber president Laurie White gushes as she waits to greet him in the lobby. At a legislative luncheon in February, she was struck by the then-majority leader's aggressiveness addressing Rhode Island's economic woes.
"He was jumping out of his chair," she recalls. "He's very bullish. Now that he's speaker, there's a more intense pace."
As majority leader, Mattiello would walk into Gordon Fox's office and complain about the state's abysmal business rankings, saying, "I'm tired of being last."
Mattiello's words fall like manna from business heaven on the corporate crowd gathered at the Marriott. Cut the corporate tax. Reduce the estate tax. Streamline regulations. Fix the schools and the potholes. Jobs, jobs, jobs.
"I have a good amount of influence over public policy, but I need your help," he tells them. "I'll set the tone and the direction. I'll take the hits. But please back me up."
Two months later, Mattiello will push through an $8.7 billion budget that lowers the corporate tax from 9 to 7 percent, giving Rhode Island bragging rights for the lowest rate in New England. The budget, which passes with very little resistance, also lowers the estate tax for the wealthy. Mattiello became convinced the change was necessary after hearing from accountants and estate planners who told him they advise their wealthy clients to leave Rhode Island.
But that lost tax revenue will contribute to bigger deficits in future years, critics argue, and would be better spent boosting the economy — on job training, education and infrastructure.
Progressives, who had an ally, if not always a reliable one, in the liberal Fox, also point out that Mattiello's budget raises regressive taxes for the poor and middle class — on gasoline (to pay for road and bridge improvements), on some motor-vehicle fees and on home sales. The budget also cut tax credits for the poor.
Kate Brewster, director of the Economic Progress Institute, calls Mattiello's budget a "desperation" move full of giveaways for business and the wealthy that research has shown will have a "negligible effect" on boosting Rhode Island's economy.
"There has always been a business tilt at the legislature, but in this budget the trade-offs are more stark," she says.
Samuel Bell, coordinator of Rhode Island Progressive Democrats, also criticizes the corporate tax cut for favoring large corporations over smaller businesses.
"A lot of Mattiello's rhetoric parallels Mitt Romney," says Bell. "It's shockingly underreported in Rhode Island how Mattiello is a right-wing Democrat who consistently sides with the Republican Party on the core issues that divide the parties on the national level."
Bell ticks off Mattiello's business and tax views, his opposition to abortion, his past support of a Choose Life license plate and voter identification, and his A-plus rating from the National Rifle Association. In his whirlwind campaign for speaker, Mattiello won the support of five of the House's six-member Republican caucus and made Representative Doreen Costa, a Tea Party supporter and staunch gun rights advocate, vice chair of the powerful Judiciary Committee that hears gun-control legislation.
When Fox was in charge, Bell says, progressives could exert grassroots pressure on the speaker if he drifted away from them on important issues, such as voter ID. But even as their disenchantment grew, they chose not to run a more liberal opponent against Fox — for fear of winning.
"We didn't want Mattiello to be speaker," he says.
Mattiello acknowledges the contrast, saying, "My constituents are more interested in jobs and the economy." But he doesn't consider himself "ideologically driven."
For example, in 2013, Mattiello reversed his longstanding opposition to same-sex marriage because he says its time had come. As a result, his pastor asked him to take a break from serving as a lector at his church.
"He came around — he evolved," says Representative Frank Ferri, the gay Warwick Democrat who had lobbied Mattiello.
Mattiello wants to steer Rhode Island away from being "on the leading edge of the social agenda." Fix the economy first, he says.
"I believe I represent middle-of-the-road Democrats," he says, citing his blue-collar roots. "Most of us serve a moderate constituency with middle-class values and a belief in safety nets for the less advantaged, the Democratic ideal."
In a speech to the conservative Rhode Island Taxpayers at the end of June, an appearance that would have been unheard of by Gordon Fox, Mattiello talked about changing Rhode Island's self-image.
"I'm very concerned about the reputation of this state," he told them. "You know, I often say, almost tongue-in-cheek, that if you go to Texas, and you go to a bar in Texas and you make fun of Texas, you're going to leave that place on a stretcher. You go to a bar in Rhode Island and you make fun of Rhode Island, twelve people are going to buy you a beer. That's got to change. Rhode Island is the best state in the union."
Representative Teresa Tanzi, a South Kingstown Democrat and a leading progressive voice, says that in the past she felt dismissed by Mattiello for her views; while they share the same party, they are "polar opposites."
Since Mattiello became speaker, she says, he has been more accessible. A few days before the vote on the budget, he met with Tanzi for forty minutes and listened to her proposal to phase in the corporate tax cut over four years and spend the money on revolving funds for school repairs and infrastructure improvements.
He was polite, but he was firm in rejecting her proposal. He told her that he was already publicly committed. They both cared about fixing Rhode Island, he told her, but had different approaches about how to get there.
"I hope you'll give me the opportunity to see this through," he said. "If it doesn't work, I'll be the first to admit it."
Tanzi calls it "the most honest, open exchange we've had." But she worries that the liberal-conservative balance that existed under Fox is gone.
During the floor debate on the budget, Republican Representative Joseph Trillo, a Mattiello ally, abruptly cut off Tanzi as she defended one of her amendments in opposition to the speaker. He didn't want to hear anymore, and wanted a vote. She protested, and earned about fifteen more minutes on the floor.
There is a scripted feel to a House budget debate. The air is thick with humidity and theatrical flourishes. The speaker stands on a raised oak rostrum flanked by pillars and backed by a red velvet curtain, like a Roman judge minus the toga. His seconds articulate his views. The overly polite language — "Will the representative yield?" — is interspersed with sparks of political anger as the Don Quixotes thrust and the leadership parries. Reps not involved in the debate look weary and hot, fanning themselves with the bills they're voting on and sipping Del's lemonade handed out by student pages.
Mattiello, presiding from the House rostrum, forced a vote. Her amendment was overwhelmingly defeated. The speaker, as he knew he would, had the votes.
Leadership, Mattiello likes to say, sometimes requires "pulling the public in the right direction."
People who know the speaker joke about "Mattiello time."
But on this Wednesday afternoon in May, Mattiello is uncharacteristically on time for a wedding rehearsal at the Botanical Center at Roger Williams Park in Providence.
Representative William O'Brien's niece is getting married here on Saturday, and Mattiello has agreed to officiate.
"I read about you in the paper," the bride's mother tells Mattiello. "They say you're always late because you can't say no."
This being Rhode Island, the bride's best friend is Mattiello's State House secretary's niece.
"We thought it would be something different to be married by the speaker," says the groom. "Originally it was supposed to be Gordon Fox. Speaker Mattiello was kind enough to step up."
Bride and groom take their marks before Mattiello in the airy greenhouse.
"Marriage offers great challenges," intones Mattiello, reading the vows. "It requires a willingness to grow and change, no matter what demands are placed on your day."
He finishes, then toes a loose stone tile. "This could be your escape hatch," he kids the groom.
The speaker's party hurries back to the State House, where meetings are piling up.
But first, an aide hands him a printout of a news story. Representative Karen MacBeth, whom Mattiello had made chair of the powerful Oversight Committee in exchange for her support for speaker, is publicly challenging him on 38 Studios.
MacBeth is upset that Mattiello won't allow her to subpoena witnesses to investigate, which she says he promised during a meeting at a McDonald's to secure her vote for speaker.
Mattiello says he never explicitly promised subpoena power. While he favors a full airing of the facts, he says, he doesn't want to interfere with the ongoing state police probe or civil suits. Furthermore, he questions going to the time and expense to subpoena witnesses who would likely take the Fifth, given the other investigations.
Now, the speaker is annoyed to learn that MacBeth will speak at a State House rally of citizens groups opposed to paying the 38 Studios bonds.
"I don't mind a spirited discussion," he says. "But to join a rally with people who are just taking an ideological position without the facts . . ." Colin Kane, chairman of the I-195 Redevelopment District Commission, and executive director Jan Brodie are ushered in to brief Mattiello on progress for developing the prime land in downtown Providence.
They're also seeking his support for a $45 million parking garage that Kane considers essential to lure big businesses but critics say is a waste of money given the lack of demand and high vacancy rates for existing downtown office space. It's a classic "if you build it they will come" argument that resonates with the speaker.
"I'll buy your garage argument, somewhat," Mattiello finally says. "But how much is it going to cost me to park there and eat at Capriccio? Will businesses pay for that?"
Stifling a yawn, Mattiello calls for coffee. Kane apologizes for boring him. Mattiello waves him off.
"Sorry, I had a late night. I was up until 12:30 and got up this morning at 5."
Leaning forward in his leather swivel chair, Mattiello asks if they're seeing any signs of the economy picking up. Brodie hesitates, then answers that the state is being held back by the cost of doing business and its declining population.
"We're still lagging in the shadow of our sister states," she says.
Next up is Pat Crowley, lobbyist for the state's largest teachers union, which is pressing a reluctant Mattiello to support a moratorium on the state's controversial graduation requirement, the NECAP exam.
The speaker has recently gone on record opposing a moratorium, saying that the unions' nemesis, Education Commissioner Deborah Gist, can issue waivers to students who struggle to meet the requirement. But privately, he has growing doubts. He is sending his policy director "over there all the time," he says, nudging RIDE to be more cooperative.
"Quite frankly, I'm getting frustrated," he tells Crowley. "I don't see a comprehensive policy. They're treating kids unfairly."
Still, Mattiello wonders if legislation can wait until next year.
"I don't want to bang (Gist) over the head with a sledgehammer," says Mattiello. "She is the education commissioner. We can work with her behind closed doors. I think she's getting the hint that there has to be a dialogue. If there's no dialogue, you don't know what you're gonna get."
By the end of the session, Mattiello will change course on NECAP, pushing through a testing moratorium until 2017 after reading about a student in Barrington with a mild case of Down syndrome who was denied a waiver to graduate. Moved by the story, he invites the girl and her mother to the State House.
As the meeting breaks up, Mattiello's majority leader, John DeSimone, sticks his head in, accompanied by his cousin, a Roman Catholic priest from Westerly bearing a gift for the speaker: a stick of cured, dry Italian sausage known as sopressata.
As young lawyers, Mattiello and DeSimone shared office space. As rivals in the jockeying to become speaker in March, they quickly joined forces when it became apparent that Mattiello had more support but DeSimone had a sizeable faction that could help put Mattiello over the top. DeSimone has been at the State House for twenty-two years, earning the nickname "Johnny Jobs" for his reputed ability to put allies on the public payroll.
"Sopressata — they make it in the basement," DeSimone says. "It's interesting to see it made."
"After that, you might not want to eat it," jokes Mattiello.
If laws and sausage are two things that the public should never see being made, add a third: power struggles.
When Murphy stepped down as speaker in 2010, it opened the path for Fox, who had been Murphy's majority leader. Mattiello was not Fox's first choice to be majority leader; Pawtucket rep J. Patrick O'Neill says he was. But another rep, Michael Marcello of Scituate, says Murphy confided afterward that he pushed Fox to tap his friend Mattiello. Murphy says he recommended Mattiello as "a good candidate," and that Fox "came to terms" with that.
The liberal speaker and more conservative majority leader made an odd couple.
"When Gordon became speaker he was still too hands-on, taking the job of the majority leader inside the speaker's office, and it created tension," recalls Marcello. "But one of Nick's best characteristics is that he's 100 percent loyal. Privately, he'd grumble, but not publicly. He stuck it out to be speaker."
Fox, who had faced ethics issues before, seemed to retreat even more after 38 Studios blew up, and he also was grappling with personal financial problems. Fox grew more isolated, says Mattiello. Meanwhile, Fox's chief of staff, Frank Anzeveno, seemed to grow in power.
"Together, they were able to freeze me out," says Mattiello. "When that door was shut, nobody came through. I tried to fulfill my obligations as best I could. I made my own way as a majority leader more independent of the speaker."
Despite his frustration, Mattiello bided his time. He enjoyed politics — shepherding legislation, building relationships with other lawmakers, the limelight — and he had set his sights on becoming speaker one day.
Early this year, speculation swirled that Fox would not run for re-election this fall, giving his backers time to line up their own candidate and deny Mattiello.
But then the FBI and state police swooped in. Mattiello was having lunch with another rep, John Carnevale, at the Old Canteen on Federal Hill that Friday when his cell phone exploded with the news. As reporters camped outside and the conversation turned to succession, Mattiello holed up inside, arranging a caucus for that night at the Providence Marriott.
A rival faction of Democrats held their own caucus that night as well, at Costantino's Ristorante on Federal Hill, but was slowed by their inability to settle on a candidate to oppose Mattiello.
The next day, Saturday, Fox resigned as speaker, and the jockeying intensified. Michael Marcello emerged as Mattiello's chief rival, as both sides scrambled behind the scenes to rally the necessary thirty-eight votes. Marcello called for ethics reforms and a curb on payday lending, which Mattiello opposed and Murphy was a paid lobbyist against. Mattiello said the focus should be on creating jobs.
As allegiances shifted and both sides postured that they had the votes, the turning point was Mattiello's efforts to win the support of Woonsocket's three-member delegation. Marcello says he came to Woonsocket City Hall, where he's the city solicitor, late Saturday night to find Mattiello and two allies already there with the mayor. After a subsequent meeting with two of the local reps, he left thinking he'd have their support.
But Sunday morning, he learned otherwise. The two local reps were city firefighters; Marcello says one told him they were being urged to support Mattiello by Paul Valletta Jr., president of the Cranston firefighters union and the State House lobbyist for the state firefighters union. Valletta, who has been friendly with Mattiello from Cranston since before he entered politics, says that people have overstated his involvement. The weekend of the speaker's race, Valletta recalls, he traded good-luck texts with Mattiello and told one newly elected Woonsocket rep and fellow firefighter that "Nick is a good guy who listens to people."
Brian Patrick Kennedy, a rep from Hopkinton, says that Mattiello has re-energized the House by being more open and accessible, making it a point to meet with members promptly and to mingle with them on the House floor before and after a session instead of retreating to his office.
"Nick's out in the community, showing up in districts across the state," says Kennedy. "He's really getting out there and being a great public face for the House."
O'Neill was one of six reps to vote for Marcello for speaker, and says he was never close to Mattiello as, rising through the ranks, they eyed one another as potential rivals. But he says that while the House under Fox had become "a rudderless ship," the hallmark of Mattiello's leadership is that he makes a decision and sticks to it.
"Nick pushed through some headline-grabbing things (like elimination of the master lever) that seemed to stall in recent years," says O'Neill. "He sends a clear message and he's consistent."
Adds Murphy, "He's not afraid to say no. You have to disappoint supporters at a rate they can absorb."
Marcello, his vanquished rival for speaker, acknowledges Mattiello is more accessible, but says that a "top-down leadership" still exists. Nothing moves without the speaker's blessing. Deals are cut behind closed doors. The rank-and-file too often vote on complex bills at the last minute without having time to properly digest them. And those who challenge the leadership are punished.
Interviewed in late June, after the session had ended, Marcello says he's in "Siberia." Besides losing his chairmanship of the Oversight Committee, he watched as Mattiello fired Marcello's committee secretary, his committee staff person and his twenty-two-year-old niece, who had been hired by Capitol TV after interning there. While the speaker has a right to hire his own top aides, Marcello contends, "low-level staffers shouldn't be collateral damage in power struggles."
Just the other day, Marcello notes, the speaker had met with a former Republican-turned-Independent who had filed to run against Marcello this fall, and offered to support his candidacy. (The man subsequently dropped out, though Marcello has two other opponents.)
Mattiello laughs when told of Marcello's criticism. Pointing out that Marcello is complaining about, among others, his niece getting fired, the speaker says with a broad smile, "Ask him how all of those people got their jobs…I may've corrected a wrong." The speaker also makes no apologies for meeting with a potential opponent of a political adversary. "This is a political process," he says. "Mike Marcello could have made the choice, which I would've preferred, to shake hands after the speaker's race and move on as friends as we always have been. For some reason he decided to take a lower path and remain critical of me for no reason at all, publicly and privately, and to that extent he's not someone I support."
Now, months removed from possibly being on his way out, the shifting winds of political fortune have put Mattiello on a new course, one in which his fate is intertwined with the people of Rhode Island.
And so he celebrates early into the morning the smooth passage of his first budget.
"I'm very pleased," he says. "In three short months, we successfully changed the direction the state is moving in."
The conversation shifts to past budget battles that did not go as smoothly, like the night a rep went home early and the leadership, desperate for his vote, had to coax him back to the State House in his pajamas.
The clock says 2:41 a.m. The party is breaking up. Someone asks, "Who's locking this joint up?" A vacuum cleaner echoes down the marble corridor. Birds trill outside in the sleeping city. Representative Billy O'Brien, whose niece Mattiello had married two weeks earlier, wanders into the office and plunks down in an armchair.
"My niece says you did an excellent job tonight," he says. "She flew in from her honeymoon in the Dominican Republic and watched some on TV. She wanted to see her Uncle Bill."
"No, she wanted to see her favorite speaker," croons Mattiello, smiling.
"I have to be her favorite speaker."